Picture the scene: Christmas dinner is over, you've eaten your weight in stuffing, drunk a vat of mulled wine and it's time for everyone to enter that food-induced comatose state on the sofa.
So far you have managed to avoid talking politics with your in-laws, but you've just had your ten-millionth snowball, there's a lull in conversation and well, you just can't be held accountable for your actions anymore. And, then, just as you are about to stick someone's head in the back of the half-eaten turkey, someone shouts, 'let's play a game!' All differences are forgotten and harmony is restored. Because who can really talk Brexit over a game of Throw Throw Burrito?
To help you prevent many a brawl over the festive period, we have rounded up the best board games for you to stock up on now...
1. Ticket to Ride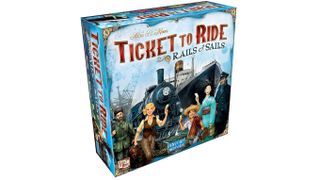 Ticket to Ride Rails and Sails | £34.49
If you haven't heard of Ticket to Ride before, it looks complicated but it's actually really easy to learn and has just the right amount of strategy involved to still be playable in the post-Christmas dinner stupor. It's suitable for 10 years plus, but there is a more child-friendly version called Ticket to Ride First Journey.
2. Throw Throw Burrito
Throw Throw Burrito | £24
Described as a cross between a board game and dodgeball, this is a slightly more active board game. It sounds a little bit like snap, but all played while having to duck and dodge a rubber burrito. You might not be sticking any heads in any turkeys but at least you can pelt them with burritos.
3. Linkee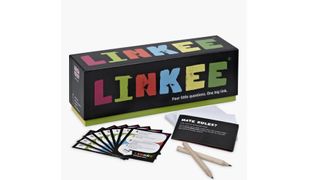 Linkee: £20
A classic, we are big fans of Linkee. It's a good family game, and like all good family games it can get a bit shouty. The basic rules are that you have to answer four questions and then find out the link between all your answers. Example: What is the name of Robin Hood's friend? Who judges the Great British Bake off? What is the name of Kate and Will's oldest child? Errr, this one is less straightforward... what would someone propose with? Got it?
4. Trivial Pursuit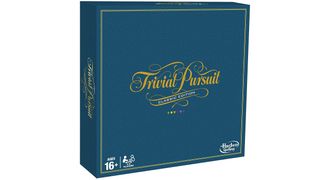 Trivial Pursuit: £25
Another classic. Even if you already own it, might we recommend you update your version to a more recent one that people born after 1960 can get involved with? We are tired of answering questions like, 'Where was the Olympic games hosted in 1994?' (Lillehammer, btw) and 'Who won Wimbledon in 1981?' (John McEnroe, durrr).
5. Gruffalo Mini Memory Card Game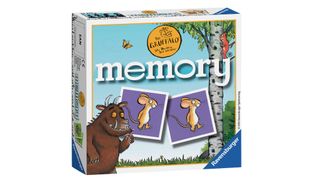 Gruffalo Mini Memory Card Game : £5
If you have kids under three to entertain, Trivial Pursuit probably isn't the one. John Lewis have some lovely games that are suitable for younger children. We couldn't resist this Gruffalo matching game, you just have to pair up the adorable tiles.
6. What Do You Meme?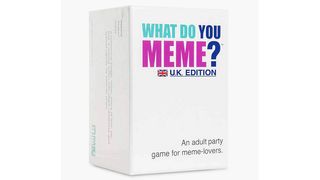 What Do You Meme? | £29.99
Definitely not child-friendly, this is game for adults only and probably only family suitable if you feel very comfortable being exposed to a side of your gran you never thought existed. The aim is to pair up popular memes with a caption, then someone will vote for the funniest. Mature? No. Hilarious? Absolutely.
7. Jaws Board Game
Jaws Board Game | £24.99
We can't work out exactly how this game works, but it sounds like one player is a three-ton great white and the other players have to pinpoint the shark's location. Don't worry, this is a board game guys, you don't have to run around your living room trying to catch Uncle Paul while he weaves in and out of the sofas shouting 'DUN DUN, DUN DUN DUN DUN, DUN (etc)'. Although that would probably be equally entertaining.
8. Settlers Of Catan
Settlers Of Catan: £44.99
If you are serious about your board games, you have probably heard of this. It has gotten itself a bit of a cult following actually. Players take on the role of settlers and have to build up a small holding. It's suitable for ages 10 up too so a great family game.
9. Ocean Bingo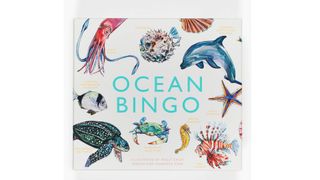 Ocean Bingo | £19.99
You just can't go wrong with bingo. You can shout, don't have to concentrate loads and all ages can get involved. We especially like this oceans edition, instead of using a dabber, you have to match the sea creature to the one on your board. There is also a bird, dog, cat and more!
10. Woof Board Game
Woof Board Game | £19.99
And we just couldn't resist including this. It's a board game you can get your dog involved in. Not only can they just play, they can actually win. It's actually quite a good gift for someone who is training their dog because as well as doggo related questions for the humans, there are tricks to teach your dog too.
More great buys for Christmas: