If one of the best nursing chairs is on your list of must-haves for your new baby's room, then you're in the right place. We've shared a selection of the top-rated chairs to make your choice much easier. Whether you're designing a brand new nursery or still deciding if the baby will be with you in your bedroom, a must-have piece of kit is a comfortable chair for feeds. Luckily, we've rounded up seven top picks that are as cosy as they are good looking – for your enjoyment as much as theirs.
If you're on the hunt for more baby buys, then see our best cot mattress guide to ensure your little one gets a good night's sleep. Otherwise, we've put together a list of the most suitable chairs for nursing, across a range of all styles and budgets – with some that are specifically designed to be nursing chairs and others that are intended to blend comfort and style.
If you need more support with learning how to design a nursery then head over to our nursery room ideas for more inspiration.
---
The best nursing chairs
Why you can trust Real Homes Our expert reviewers spend hours testing and comparing products and services so you can choose the best for you. Find out more about how we test.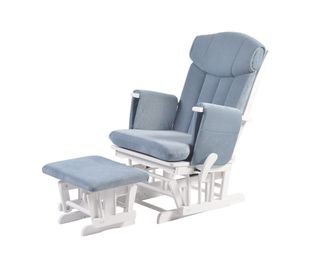 If you want to invest in a specialist nursing chair then this Kub Chatsworth is a great choice. The design is subtle and yet completely functional, and will look super cute in the corner of your bedroom or your nursery.
You can pick from seven recline positions to maximise comfort, and there's also a gentle rocking mechanism to help you and your baby relax at all times. Plus, the seat itself is nice and wide, so you won't feel cramped at any point, even as your baby grows. The extra footstool adds more support too, making this chair one you'll be able to slip into comfortably at any point in the day.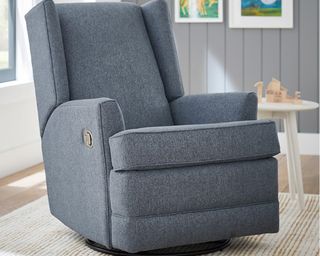 This nursing chair from Pottery Barn Kids looks just like a normal addition to any bedroom, but still has excellent functionality that will make life easier for you and your little one. Recline with ease using the subtle button on the side, and settle into the perfect position without issue.
The winged back design of this chair and the rolled armrests also offer much needed shoulder and elbow space, so that you won't feel restricted in your movements. The mechanism that helps you move this Pottery Barn chair is also quiet, which is essential for those fighting for more sleep whenever they can get it. If you need a chair that rocks, then this option won't tick that box for you, but it is a stylish option for anyone who doesn't see that as a necessity.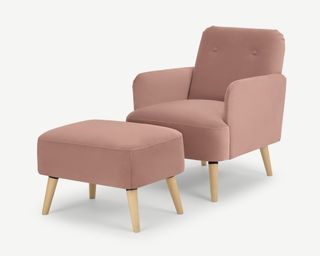 For those who don't want a chair that's specifically been designed for nursing, this gorgeous Made.com is a classic addition to a home, at a steal of a price. Available in four different colours, including one sheepskin option, this chair is fitting for any modern bedroom, and has a cute matching footstool for the price too.
When it comes to the design, it has a wide seat perfect for adjusting into a comfortable position. Though it doesn't recline, it's sturdy in its design, and will allow you to settle into it properly. If you don't want a dedicated nursing chair, this is a versatile option that you can rework into your space even after you've stopped needing it for nursing.
Check our Made.com discount codes to get the best price available.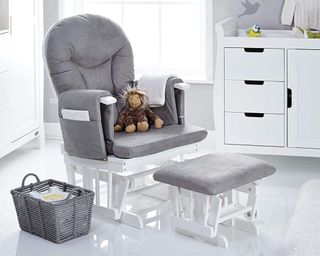 This Obaby Deluxe Reclining nursing chair ticks all the boxes if you need an affordable, but still high-quality option to settle into. You can choose from a range of seven different positions with this chair, which is great if you often find yourself restless. Not only is there a stool included with this choice, but it's also designed to match the rocking motion of your chair, so that drifting your little one off to sleep is easy and comfy.
There's practical measures taken with this chair too, including the arm cushions which have a handy pocket to keep books and toys within reach. The soft grey tones of this chair would make a subtle addition to plenty of rooms too, though it's not the most stylish on our list of the best nursing chairs.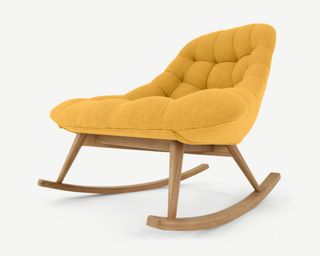 Made.com do some of the best armchairs around, so it's no wonder we love this nursing chair. This Made.com Kolton chair features a wide seat and has a thick cushioning material, giving it all the right specifications for a nursing seat. It's other huge draw is that it's a statement chair that is bound to earn compliments from your friends and family, and can be integrated into the decor of your home without thinking too much about it.
Available in a range of colours including marl grey and yolk yellow (as above), this chair adds a pop of fun to your space. It doesn't restrict you with any rigid sides, so that you can seat yourself however you like. It might not be for everyone to miss out on that structure, but if you want a more all-purpose chair, then this bold choice is a great one when it comes to style.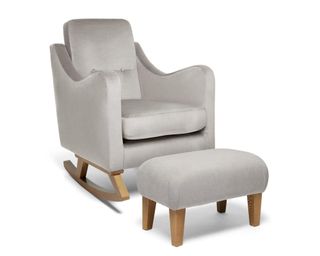 This Bowden chair is a high-quality purchase for anyone who knows they want a structured option for their nursing period. Kitted out with a co-ordinating footstool and a high back with armrests, you'll feel supported in this chair at all times, and able to soothe your baby to sleep thanks to the rocking motion too.
This chair also has a secret power in the fact that it has a reversible cushion cover, incase it does end up getting stains you can't get rid of so easily. Available in six different colours and manufactured in the UK, though this chair is a little more pricey, you're definitely getting what you pay for when it comes to quality.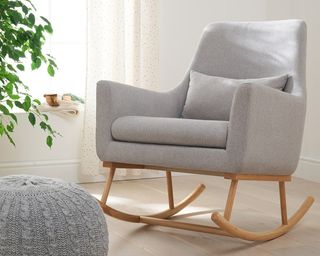 Sink into luxury with this Oscar chair from Tutti Bambini, which has lots of ergonomic features for that extra comfortable experience. That includes a supportive back cushion and pine rocking bars, so that you can drift off to sleep whenever possible (which we appreciate might not be often!).
Available with a knitted pouffe, this chair looks ultra-luxurious too, in either a soft pebble grey or a neutral beige colour. For such a high quality item, the price is pretty affordable too – and though it's designed with practicality in mind, it's subtle enough that guests might not even notice.
---
How to choose the best nursing chair
Where to buy the best nursing chair
Comfort is key when it comes to the best nursing chairs, but as you can see, there are plenty to choose from that look great too. Something with a slight recline is good for getting into a comfy position where you aren't leaning over baby as you feed. And something that rocks or has a footstool will help get you into the best feeding pose, and to settle bubba to sleep.
We would then recommend checking how easy the fabric will be to clean. Accidents happen during feeding – be it a bit of milky sick or worse – so be armed with a muslin to protect your clothes, but find washable upholstery, as you would when searching for soft play equipment for example. Some can be treated against stains, or just find cushions that can be unzipped and have their covers thrown in the wash.