If you're on the hunt for the best activities for kids, you're not alone! Everyone is trying to think up fun new ways to keep their little 'uns entertained this year, especially while we're still in lockdown mode. Children are essentially just little balls of energy and keeping them occupied can be pretty exhausting when you don't know where to start.
So, that's why we've put together a list of 10 super fun kids activities from arts and craft ideas to exploring nature and pizza making. Seriously, when you've got some ideas in mind, keeping your tots entertained is a walk in the park... Just keep reading to jazz up your family lockdown. We've got some time to kill thanks to the new lockdown but with enough tricks up your sleeve, you can make this time spent at home fantastic for you and your little ones.
1. Piece together the ultimate jigsaw puzzle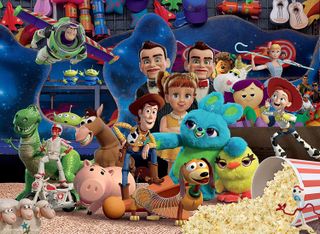 Jigsaw puzzles are a timeless form of entertainment. Honestly, from your grandparents to your toddlers, everyone enjoys getting involved in jigsaw puzzles. So, what better way to keep everyone entertained, from the little to the big kids? You can find a super fun and child-friendly 100 piece jigsaw such as this Disney Toy Story 4, 100 piece Jigsaw Puzzle with Extra Large Pieces or you can surf the internet for the ultimate 1000 piece solution which everyone can help to solve. Either way, this is a simple, affordable and brain-training way to keep your kids entertained while they're in the house.
2. Discover nature on your daily walk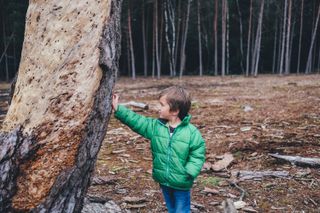 This solution to your kids going stir-crazy is a bit of a no-brainer but doing a bit of research yourself before you head out on your daily walk could make it a whole lot more exciting for your kids, and for you! Whether you're helping your child listen out for the tweeting birds, identifying different trees or pointing out mushrooms, squirrels and berries, paying attention to nature during this time is a fantastic way to nurture your child's curiosity and knowledge.
3. Create a den for a magical hideaway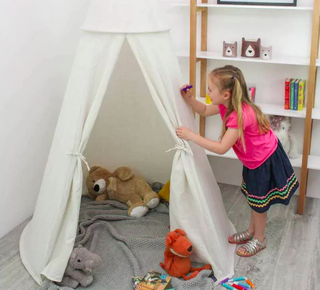 What kid doesn't want a secret den in their home? It's no secret that kids just love the idea of having their very own special den / hiding place. Whether you create your own den with a bed sheet and some chairs or you put up a small tent indoors, such as the adorable Decorate Your Own Canvas Teepee Tent from Hobbycraft, filling a little den with kiddie staples such as colouring books and cuddly toys is the perfect way to distract your little one from the outside world and keep them entertained for hours on end.
4. Get artistic and learn to draw your favourite cartoons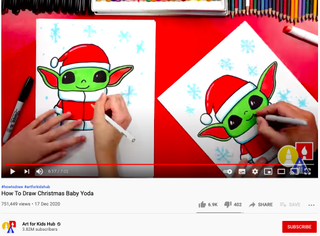 2020 was a year of many revelations and one of those was how brilliant it is to use Youtube as a home learning tool. So, if you have a budding artist on your hands but don't feel qualified to teach them the ropes when it comes to illustrating then head over to a trusted kids art channel such as the Art for Kids Hub with 3.82 million subscribers. Pop one of these easy to follow videos up on your computer and let your child's natural creativity flow. WIth everything from How To Draw Christmas Baby Yoda to How To Draw A Funny Sandwich, this channel is a fun outlet for artistic kids.
5. Put on a puppet show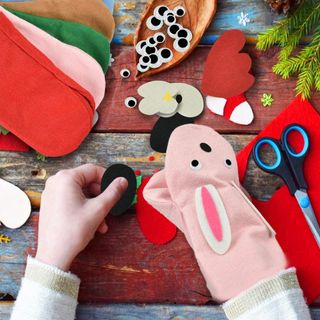 Putting on a quality puppet show for and including your kids is as easy as can be. Whether you go for a classic sock puppet show set up by attaching boggly eyes and pom pom hair dos onto some old socks or buy a budget Felt Puppet Making Kit from Amazon, getting create with puppets is a no-brainer to entertain young children. We also love the idea of creating a mini arena for your kids to put on their shows by buying an easy to assemble Floor Standing Theatre.
6. Make cards for friends and family you're missing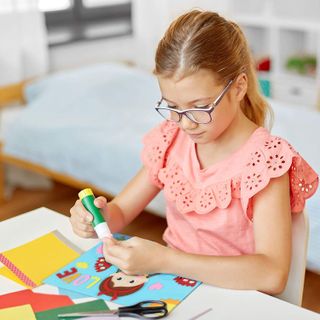 Why not buy a DIY Handmade Greeting Card Kit for Kids to put a smile on multiple faces this lockdown. Whether it's the grandparents or just friends they're missing from school, everyone would appreciate a little pick-me-up greeting card this month to let them know that they're special. This particular kit comes with 16 card-making kits, meaning that you're decked out with: 16 envelopes, 16 cards and a whole load of decoration embellishments. A creative and fun way to spend some time bonding with your kids and a warming gift for a loved one!
7. The great family bake off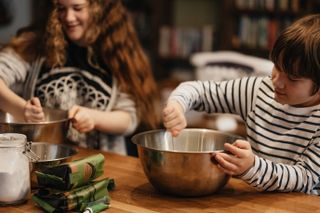 If we can take away one thing from the last lockdown it's the ability to make a cracking banana bread . So, what better way to kick off the New Year than with a family bake-off? If you've got teens on your hands, they may already be seasoned bakers. However, if you're dealing with little tots, just setting up an awesome decorating station with smarties, icing, colouring and lots and lots of sprinkles will do the trick! This activity will encourage creativity, a challenge and some healthy competition. Oh, and you get to eat some lovely baked goods at the end of it all – it's a win, win!
8. Get messy with a slime-making kit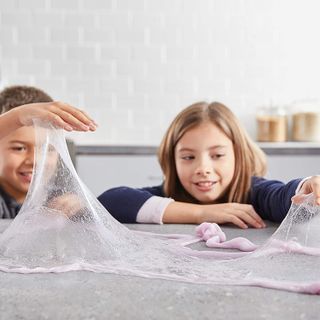 How many times have your kids pleaded with you to let them get a slime kit? Maybe lockdown is their chance. Elmer's Glue Slime Starter Kit is the perfect choice for any brave parents that are ready to loosen the reigns and give their little ones the chance to get slimey! This slime kit is packed full of everything you need to make ooey glue slime. With two clear glue bottles, four glitter pens to customise the slime and two bottles of magical liquid activator solution, this kit is great value for money. Plus, it has a safe and washable formula, too!
9. Let your mini chefs make their dream pizzas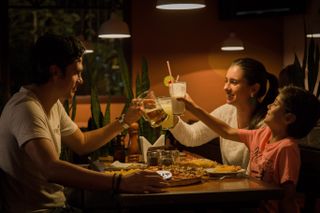 Let's be honest, this idea is one for the big kids, too! Everyone will enjoy the chance to get involved in a family pizza night. An activity for all ages, you can give your little ones as much or as little responsibility as you see fit. We are envisioning a topping station with cheese, veggies and the likes so that your kids can create their dream pizzas. Don't worry, making pizzas from scratch doesn't need to be too daunting, you can buy frozen pizza dough and make it feel like a real Italian restaurant by pushing the boat out and invest in this Large Baking Stone with Wooden Paddle and Server Rack from Amazon.