Marie Kondo has gone there, so we're going there, too. Book storage and better yet, organizing books raises high passions in the world of home interiors, amazing as this may seem to the uninitiated. Let's be brave, though, and check out the controversial along with the more orthodox.
With lots of books to store in our homes (and, like many people, collections that have grown hugely this year), when organizational genius Marie shared a book storage idea on Insta we wanted to check it out. There are actually three variations to inspire us all and we reckon you might have strong feelings about one of them.
What could we possibly mean? Check out the ideas below, along with some more book storage tips from us.
Marie Kondo may have a method when it comes to tidying, but there's room for manoeuvre still. As she says of these books, 'There is no hard-and-fast rule when it comes to storing items. Experiment to see what storage method brings you joy.'
You will note, however, that for a neat display and one that looks good in a #shelfie, aligning the spines at the front of the shelf is a must-do to avoid a chaotic looking arrangement.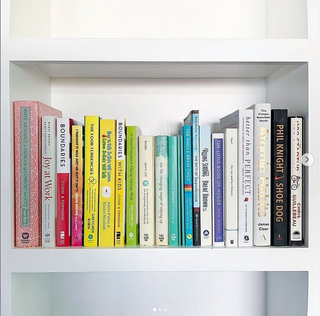 The first arrangement in the set Marie shared is one where color is used to group the books. We're big fans of this ourselves and it works on a single shelf as well as within a large bookcase where you can create impactful color blocks. Definitely joy sparking, we say.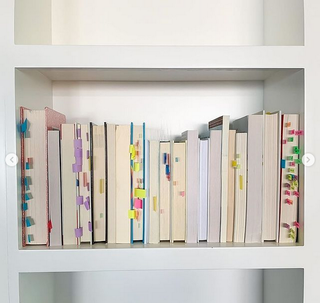 Yep, this is the hot-button book storage tactic. Turn them so the spines are to the wall and have the white pages on display. The benefits? Your shelf leaves a calm impression rather than drawing attention (after all it might not be the focal point of your room), and you don't have to organize an array of different hues in a pleasing fashion.
The downside is (as you're no doubt pointing out in the strongest terms if you aren't a fan) that you can't pick a book out by title or author. If you do like the idea of reducing visual clutter this way, though, you could have an alphabetical system to make finding books stored this way easier. Then you'll know you're in the right sort of area and can hook them out with a finger until you get the right volume.
If this was our shelf, we'd lose the notes on the pages as we find they detract from the calm impression this display would otherwise create.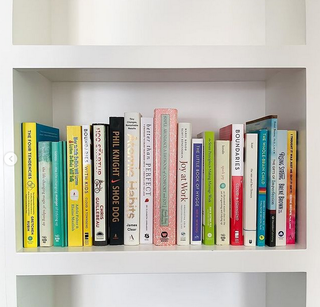 The third option here has the tallest book in the centre with the others roughly symmetrical by height. We like this arrangement as it gives an impression of an organized shelf without being too 'arranged'. Librarians will tell you this isn't the way to store your books, but even they'd have to admit it makes a great #shelfie.