If you keep adding home decor picks to your space and shifting items around only to feel like something still is not working, it could be that you're actually tapping into some trends that have simply had their moment.
In recent times, we've said goodbye to open-plan spaces, nodding to "broken-plan living" instead. Safe neutrals have been booted out in favor of serene but colorful hues, and classic farmhouse looks have been replaced with modern artisan aesthetics.
This doesn't mean you need to shelf every home decor purchase you've made up until this point. As Lilli Morgan of LS Design Studio rightly notes, it's hard to label something as "outdated" as almost everything comes back around eventually.
However, there are some trends and looks that we've grown tired of and if we're being honest, we can do better. As ever, there are cute alternatives to try in 2023.
Out: Subway tile
"Subway tiles will definitely feel outdated in 2022," says Steph Kaluza of @ohsorented. "The style lacks character and gives off a slightly jarring industrial feel." We couldn't agree more. We're not saying RIP to your choice of tiles if you've just redone your kitchen, but if you're considering a remodel or renting and have the option of trying something else, definitely do.
In: Statement backsplashes
Enter: An almost polar opposite to that classic subway tile look, statement backsplashes. Think star designs, like Kaluza has installed in her kitchen, tiles with scalloped edges, or a really out-there color. Thankfully, peel-and-stick tiles are now both renter-friendly and pretty aesthetically on point.
Out: Open storage
Sure open storage offers a designer-friendly way to display items, but actually, styling shelves or open cabinets are high maintenance that we don't need. To be honest, 2023 is not the year for clutter.
In: Cute concealed clutter
"Lately we have seen a lot of clients looking to avoid wood floating shelves," says Morgan. "Instead, they are wanting to opt for closed cabinets that have a fun glass detail instead. This allows you to be able to hide your not-so-perfect bowls and plates behind the doors while still adding a beautiful, decorative element."
We're here for keeping most (chaotic) items hidden, but don't be afraid to add personality by styling the exposed surface top of storage cabinets. Shop Kaluza's look, below.
Out: Brand new everything
Aside from slashing through your budget, huge shopping hauls aren't great for your eco-cred and are no longer a vibe if you want your home to have more personality and edge.
In: Statement thrifts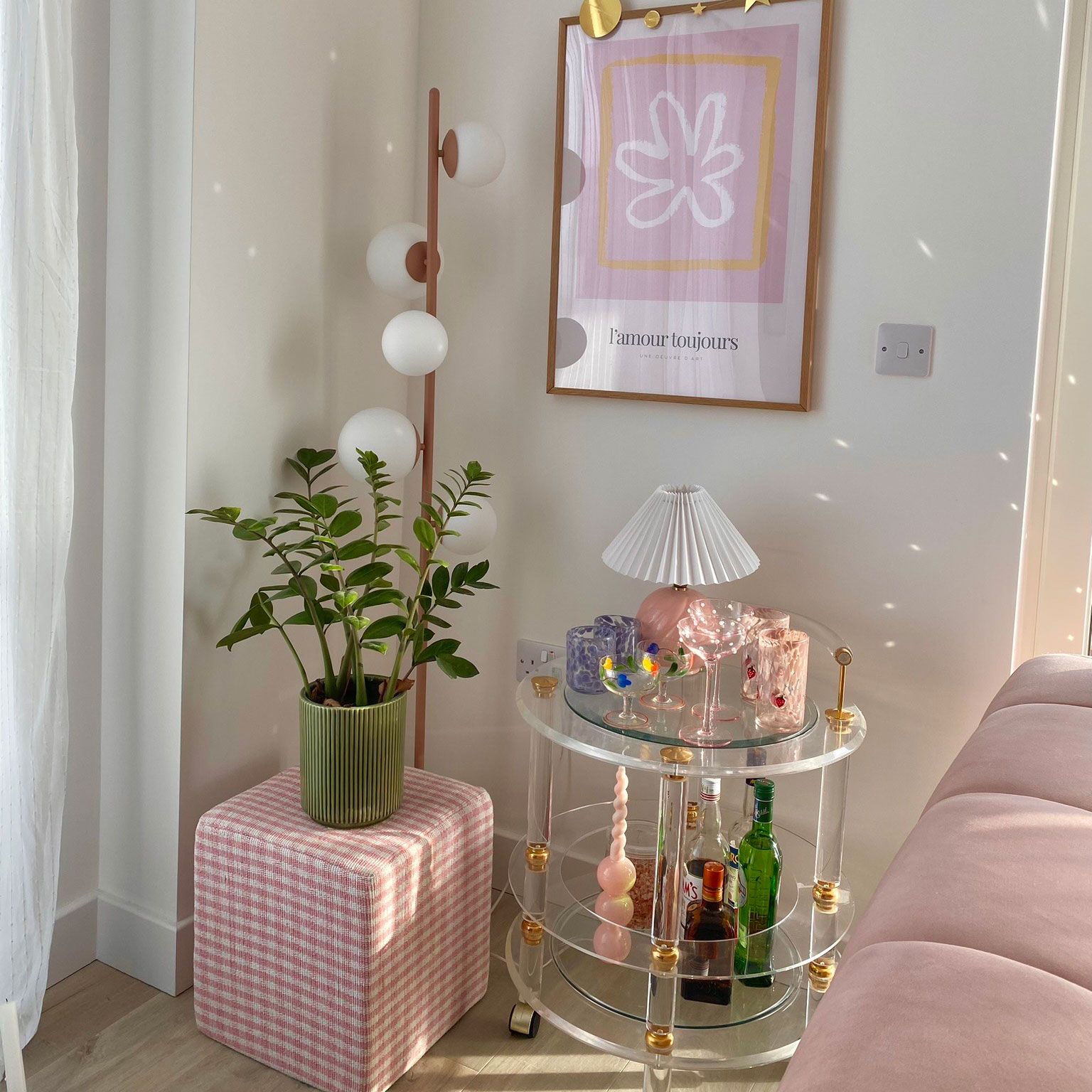 The "hipstoric home" was highlighted as a 2023 Pinterest trend prediction, and we're here for it. Combine brand-new picks with thrifted pieces for the ultimate finish that literally no one else will have.
You'll want to be selective, though, so your small space won't end up looking like the thrift shop itself.
Kaluza found her bar cart on eBay and it's gorgeous. Be super precise (and rigorous) with your search, have a little faith, and you might just find a total gem.
Out: All bouclé and all minimal
It was cute and fuzzy, but now, unfortunately, overdone. Note, this does not mean that we can't get behind cozy throws and cushions, because there are loads of alternatives.
"I think we will see a lot less of the minimalism/neutrals in 2023, " says Kaluza, noting how too much can feel cold and create a space that's lacking in personality. "People want their spaces to feel lived in. Less bouclé, more bold!"
Minimalism is generally more of a personal design preference and we've leaned into maximalist finishes before; the thought here is that you can find a happy medium.
In: Vanilla girl aesthetic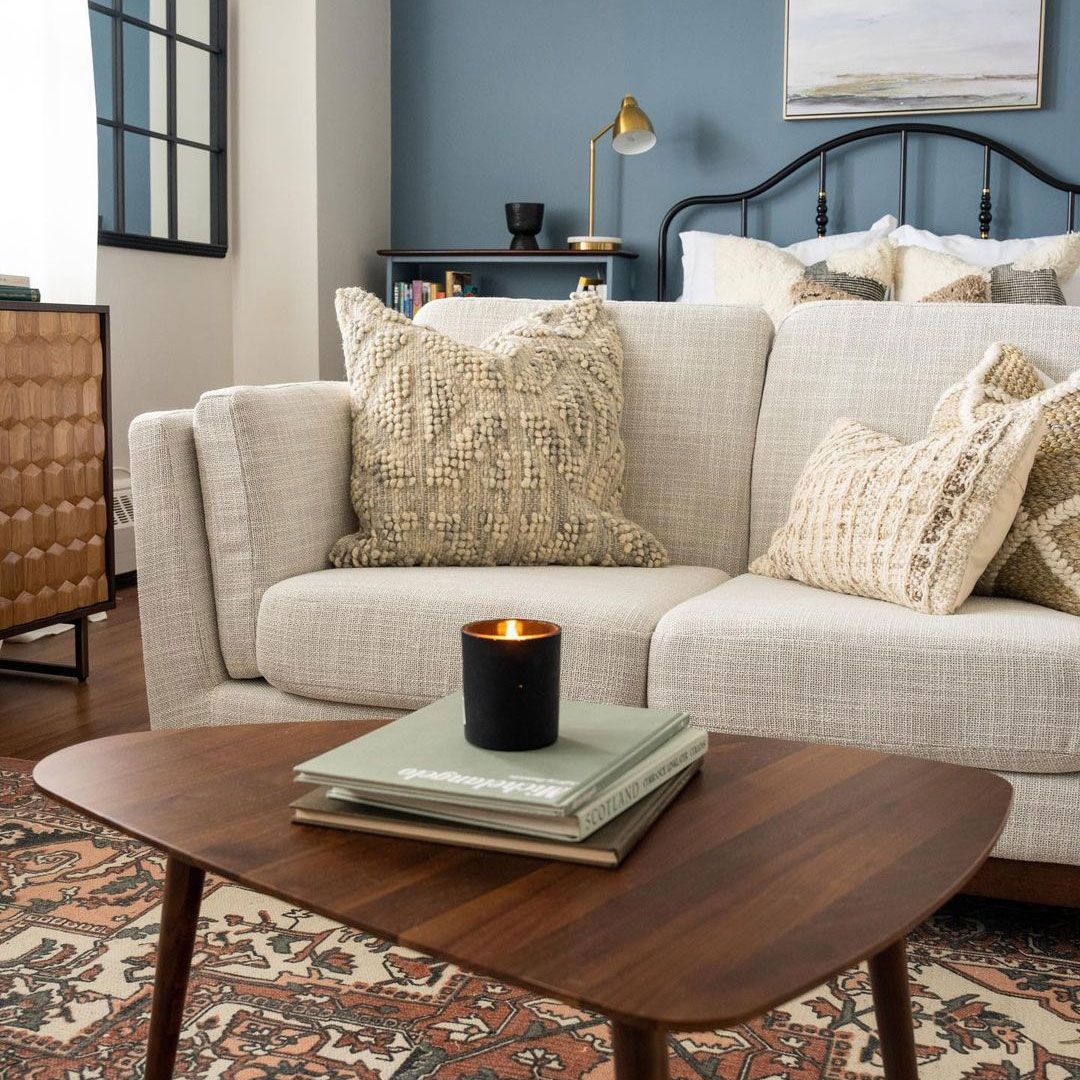 Think minimal but with the right kind of cozy aspects to it. You can still have a neutral space, but combine this aesthetic with new textures and shapes for extra character. Think fleece, knit blankets, and candles — lots of candles.
Out: Playing it safe
"I think the trend of 'playing it safe' and sticking to one decor style is starting to feel outdated (ironic, I know!)," says Alexandra Gater who specializes in decorating small rental apartments. "We've learned the past few years that our homes are so important and I think that's enabled people to take more risks and not focus so much on what is going to be outdated in five years' time."
In: Trend mixing
Instead, Gater suggests we let ourselves be eclectic. "I think more people are expressing themselves through their decor in their homes, and going for a more eclectic take by mixing and matching all kinds of styles and trends." So ironically, combining a few dated trends could actually capture this look successfully.
Out: Lots of green
We've all been bringing the outdoors in for the past year or so. While nature is always loved and never forgotten, there are more colors to incorporate into our homes if you want to keep your space fresh.
In: Splashes of jewel tones
It's about using color sparingly, but stylishly. Facing down green as its polar opposite, you'll find Pantone's color of the year: magenta. We wouldn't cover your entire space in it, but it's totally worth making room for small pops of color. In a TikTok, interior designer and remodeling expert Nina Takesh shares how splashes of magenta will work best, think a chair or a bold rug.