Refresh a small office without spending money with some expert-approved ideas. Just because your small home office is in dire need of a makeover doesn't mean your wallet needs to take a hit.
A wallet-friendly makeover is as easy as understanding how you want your space to flow. Comfort and personalization of your space are the two most important factors in creating the ideal workspace.
Although it may be tempting to throw money at the problem, there are plenty of cost-free small office ideas that don't require a trip to your favorite stores. Consider these free and easy ways to set yourself up for success in your ideal home office. No wallet required.
6 ideas to refresh a small office without spending money
Does your small bedroom home office need a revamp yet you can't spend a dime? Don't fret. From rearranging your furniture to opening a window, your revamped home office is just a few (free) steps away.
1. Rearrange your furniture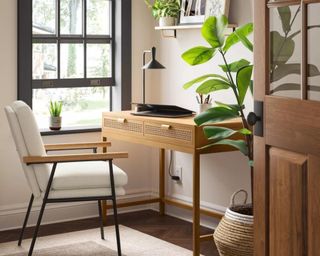 Trying to find an inexpensive and sustainable way to refresh your small office? Grab a Feng Shui book from the library and try rearranging your furniture.
Although understanding Feng Shui apartment ideas can be complex, a beginner's guide can help you determine the best layout for your office. By rearranging the furniture you already own, you're able to see your workspace in a whole new light.
2. Organize your desk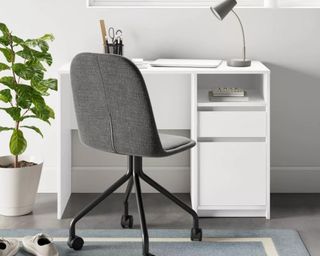 For small spaces, your desk is often the centerpiece of your workspace. This means it can get messy and the small office clutter can feel overwhelming. Instead of stuffing your office supplies and old mail away in corners and drawers, consider a total overhaul by organizing your desk. Group together messy cords using rubber bands and color-coordinate your pen collection. Keep your desk's surface as free from clutter as possible.
Organizing expert and Brand Ambassador for Modular Closets Christina Giaquinto makes one thing clear. "Create an effective and organized system," she says. But her other piece of advice means reaching a bit deeper.
"Simplify your office so you can focus on things that inspire you," she advises. "That is one of the most, if not the most, important parts of the home office. What inspires you toward your goals? What motivates you? Add these elements to your office. Family photos, vision board pictures, calming art, or work keepsakes are what you want to see every single day."
If your efforts aren't cutting it and you're still in need of an organizer, you can pick up this budget-friendly cable manager from Amazon for just $6.55.
Expert lifestyle organizer, Christina Giaquinto believes your best and happiest life can be achieved by getting organized. After realizing her love for color coordinating, creating binders, and decluttering was not considered fun by most people, she knew she had a slight (more like massive) obsession with organizing. She believes an organized life is a necessity and not a luxury, and it is her mission to help as many people as possible incorporate this life philosophy.
3. Declutter anything not useful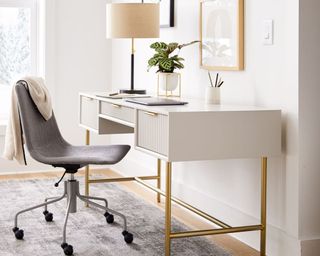 First things first, declutter your small space ASAP. Get rid of anything not useful to you by tossing it, donating it, or recycling it. Take a look around your office and have an honest conversation with yourself about whether you actually need the items you've stored in there.
Maybe there are holiday decorations that might be better off in the garage, or an extra chair taking up too much space. Whatever it is, freeing your small space will open your space up to new opportunities.
4. Improve the natural light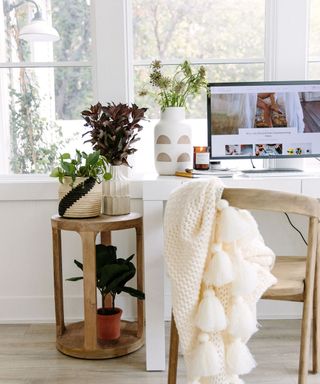 Changing out your lighting can be helpful but if that's not an option, consider opening a curtain or window to let in some fresh air and natural light. Especially great if you can see trees from your window, letting in a bit of nature will help you feel calmer and more collected in between back-to-back meetings.
Changing the amount of natural light that flows to your home office might also change the way you see the colors and textures already in your space. For those with no windows in their home office, consider leaving the door open between meetings for better flow.
Some sheer curtains are also great if you want to let in light but desire some privacy. If you have to break and pick up some new ones, these well-rated sheer curtains available from Amazon come in at less than $10.
5. Use items from elsewhere in your house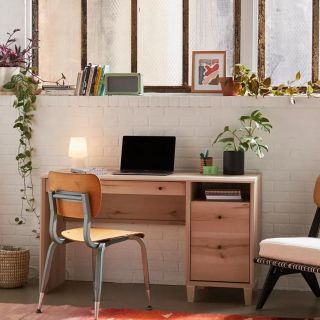 Do you have a bedroom lamp you've never switched on? Or a chair in your dining room that no one ever sits in? Searching around your house is one great way to find new items for your workspace without even having to walk out your front door. From decorations to bookshelves, finding items from your home that function better in your workspace can completely change the look of your small home office.
When searching for items, go further than finding pieces of small space furniture you can use. Adding personal items you find in your bedroom and living room can also serve to create your ideal office.
"What's often not spotted are personal touches," Artem Kropovinsky, an interior design expert and founder of Arsight, a New York-based interior design studio, says. "Think inspiring artwork or a fresh plant, These aren't just for show. They spark creativity and offer an escape from screen time."
Artem Kropovinsky is an interior design expert and founder of Arsight, an award-winning interior design studio based in New York, NY.
6. Join your local free groups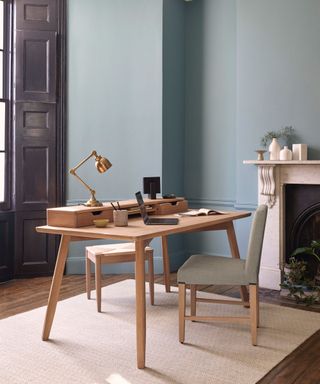 In the past few years, local Buy Nothing groups have sprung about on various platforms (most often on Facebook). Although these groups aren't a foolproof way to find the furniture you're looking for, they are a great resource on the off chance your neighbor needs to get rid of something you can use.
As always when meeting with anyone you meet online, be wary of scammers or anyone untrustworthy. Always take the proper safety precautions.
FAQs
What are a few ways to personalize my office space without spending money?
By framing family photos, rearranging or personalizing your computer's virtual desktop, and choosing how to display your books and supplies, you can personalize your space without going shopping.
How can I improve my home office's lighting without purchasing a new lamp or lighting fixture?
Let the light shine in by changing the types of light bulbs in your existing ceiling lights and lamps. This can be a major upgrade without having to purchase an entire new fixture.
---
Although it could be tempting to run out and purchase a lot of items to redo your space, the first step you should take is determining what you can change about your space for free.
Start by decluttering, reorganizing, rearranging, and understanding your space. From rearranging your furniture to changing your lighting and decluttering without throwing anything away, you deserve to have a workspace that works for you.