We're firm believers that everything in a room should look like it's meant to be there (and your wine rack is no different) which is why we've put together a list of the best wine racks; from the deliciously quirky to the deeply traditional.
A wine rack should deliver the right combination of functionality and design, which is why we've placed the Eaton Tall Wine Rack at the top of our list. Softly coloured and featuring plenty of shelving for wines and wine glasses, this unit is the perfect drinks station for homes decorated in a traditional style.
Of course, if you love a sculpture piece, try something modern, like the Alessi BarkCellar Wine Rack, while those who sit firmly in the middle (and are particularly savvy when it comes to space) may want to take a look at a wall hanging wine rack, such as our third pick, the ESI Ancona Wine Rack.
Whether it's elegance, statement or pure functionality you're after, we've researched the best wine racks so you can discover the perfect rack for your room.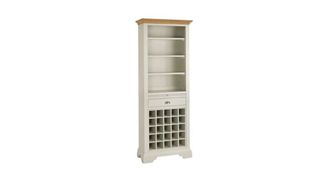 Painted in a soft grey, this drinks cabinet oozes traditional appeal. There are three shelving units which are perfect for storing glasses; for wine, whisky and the likes, while the bottom cubby is the perfect place to display your bottled collection. Underneath, there's a drawer, where you can keep a corkscrew and a bottle opener and most importantly, underneath the drawer, are 25 slots for 25 bottles of wine.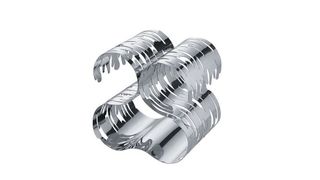 Nature heavily influences the decor created by Michael Boucquillon and Donia Maaoui, who are the people behind this modern wine rack sculpture. The intricate patterning is inspired by the bark on the trees that surround their home, while the stainless steel is the modern twist that makes it a standout feature. With room for 5 bottles, there's plenty of space to store your collection.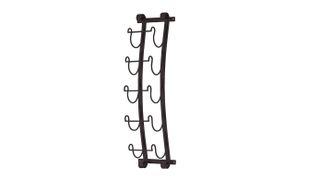 This wall mounted wrought iron wine rack is more than a space saver, it is a feature in itself. Making a beautiful art piece for both modern and traditional homes, its industrial style is universally pleasing. With space to store 5 bottles of wine, make sure you attach the rack to the wall with the right fixtures and fittings to avoid potential catastrophe.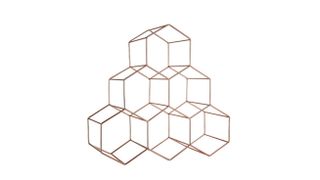 For homes that feature a strong linear style, this Vertex wine rack is the perfect feature. The designers intend for the iron wire frame to give the rack a warm presence, somewhat contradicting it's fairly harsh hexagonal geometry. The design is minimalist and airy, creating the illusion of light and space. And because the wiring is light, it should sit nicely against bold backgrounds.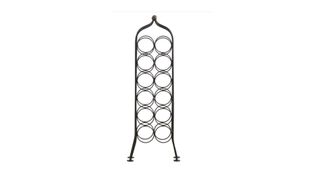 Featuring a classic cast iron design, this free-standing wine rack would probably look well placed contrasting against wooden furnishings. With its distressed finish, it should look great in both modern and contemporary interiors, while its capacity to store 12 bottles of wine ensures style hasn't overruled its functionality. Tall enough to be a feature, yet small enough so as to not be overbearing, this is great one for those looking for a sizeable wine rack.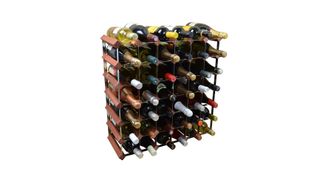 When it comes to functionality, this wine rack certainly takes the top spot. With space for 42 bottles, there's plenty of space to store your ever expanding collection, and there's even room to leave some to age, too. Made from a combination of pine and galvanised steel, there's no worry about its structural integrity and if you're looking for racks for your wine cellar, you can purchase clips to join two together.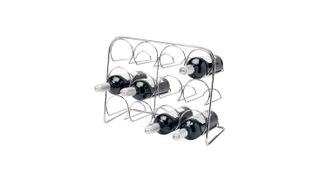 At under £20, this stylish metal wine rack is a bit of a steal and purchasers even mention that it looks like it cost more than it did. The spaces are large enough to store general sized and 75cl Champagne bottles, which great if you like to keep a bit of everything. Whether you place it on the floor or on your countertop, the size of this wine rack makes it suitable for both.
READ MORE:
Invest in some of the best wine glasses for your red, your white and your fizz!