Your entryway is often the hardest place to decorate but the best hallway wallpaper ideas can be a total game changer. Adding much needed style, personality and (the illusion of) space helps define this kinda awkward but fundamental part of your home.
Go bold or bring a little more serenity to this spot where kids love to leave muddy shoes and where you may forget your keys occasionally.
These looks prove hallway ideas are just as important as the rest of your home, and certainly shouldn't be an afterthought.
'Don't let a hallway stop the design flow of your home.' says, Jennifer Matthews, chief creative officer/co-founder of Tempaper.
'Just as ceilings are becoming the fifth wall to decorate, hallways should not be overlooked. Take the time to design the space. You can easily make it inviting by adding colorful peel and stick wallpaper prints, both small and large scale.'
Hallway wallpaper ideas that'll make a good impression
1. Vintage printed cork wallpaper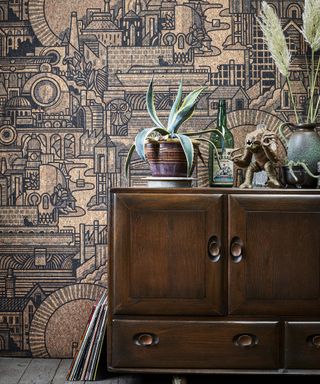 Add warmth to your favorite wallpaper ideas with textures finishes such as this striking cork hallway design from The Monkey Puzzle Tree.
Its intricate black print depicts worldly architecture and makes a real design statement too, a real talking point for guests or to get kids into geography.
Throw in some black furniture to pick out the rich black tones for an understated mid-century modern look or give it a vintage vibe with reclaimed wooden pieces.
2. Luxury safari theme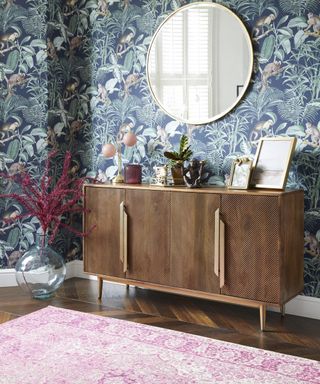 Part botanical, part jungle – this hallway wallpaper idea is perfect to bring a little escapism to a small space. Combined with a wood and gold console table, this is how to bring flair to a standard hallway setting.
3. Mix wallpaper with wall paneling for a modern twist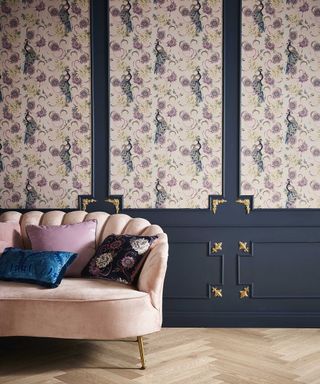 With their beautifully patterned feathers and show-off personality, a peacock hallway wallpaper pattern is perfect for adding elegance to your entryway – especially if you've an eccentric personality.
Using navy blue painted wall paneling and trim creates the perfect border for an Art-Deco feel.
4. Jazz up your stairwell view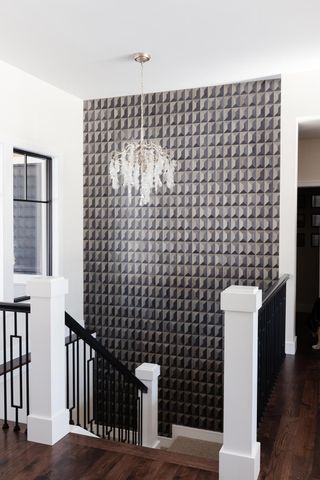 A strong geo print makes the perfect, energizing view whether you're heading up or down the stairs in your hallway. Reflect more light by adding an equally as extravagant lighting fixture and forget feeling tight for space.
5. Flamboyant and exotic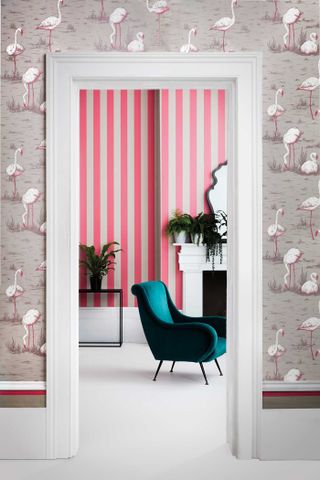 Hallways are a great space to use a statement wallpaper like this Flamingo design from Cole & Son. For a really smart look, consider using another wallpaper from the same collection or in the same color palette in a room that's off your hallway to create a really cool contrast.
6. Gold leaves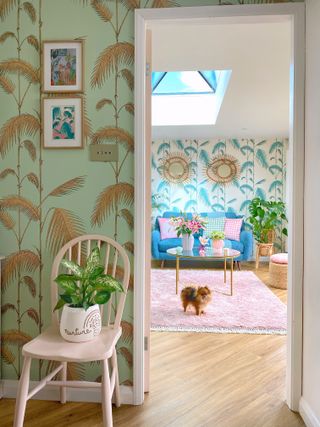 A leaf design in gold will make every modern home sing. Choose a vertical print to draw the eye up and match up the design but play with the colorway in the onlooking room for a playful finish as @homewithhelenandco does so well in her hallway.
7. Soften the look with a pastel hallway wallpaper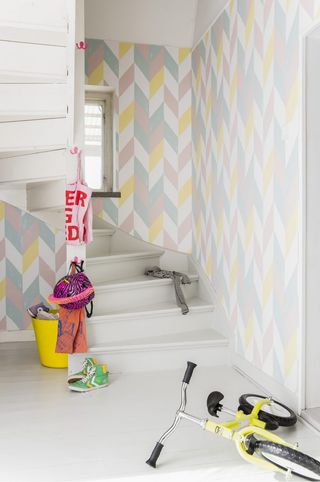 Perfect for brightening up a dark hallway, Sandberg's Kira design, with all over chevron pattern in pastel-shaded tones will complement an otherwise neutral scheme.
8. Add texture with wood effect wallpaper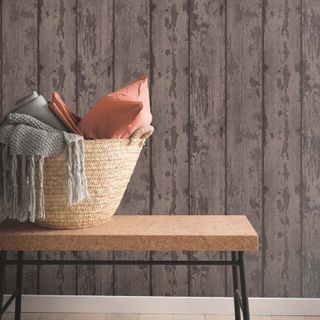 If you like the classic look of wood panelling, you will love the realistic wood lookalike Mahogany wood wallpaper from Arthouse. Easier to put up than cladding, it's more affordable, too – yet gives you the same warm, textural finish. Bonus.
9. Go for a contemporary twist on a vintage design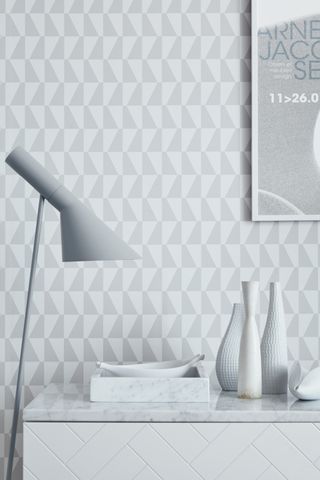 Designed by Arne Jacobsen, the Trapez 1778 from Borastapeter is based on a 1950s design, with the muted color scheme giving it a contemporary, Scandi twist. Perfectly understated and chic – and the perfect hallway wallpaper idea if your space doesn't get much natural light.
10. Max out hallway space with a fine print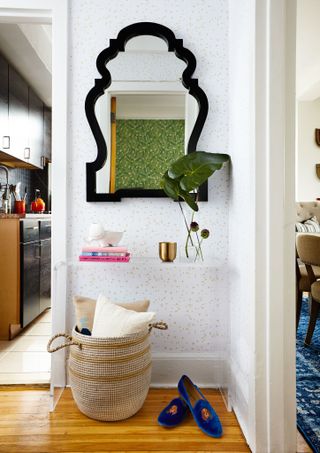 As with any room in the house, there are clever ways to decorate that will create the illusion of more space. Less is more when it comes to hallway wallpaper designs if you're working on a tiny scale. Chasing Paper founder Elizabeth Rees says, 'If you are wanting to make a hallway look bigger, I would recommend selecting a small scale print instead of something bright and bold, such as Magic Hand or Star Bright. The subtle print will add interest to a hallway without overdoing it. If you select a more bold, larger print, it can overwhelm the space and end up making it appear smaller.'
11. Give a nod to nautical chic with a striped design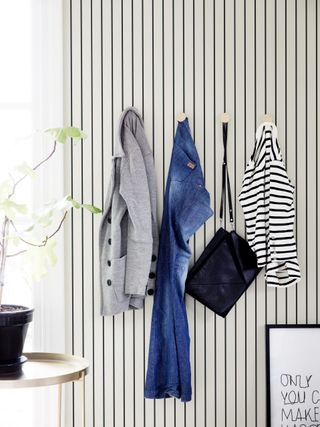 Stripes never go out of fashion – why not utilize their universal appeal and go for a striped hallway wallpaper? The Emilia from Sandberg takes its cue from Breton stripes and will complement a contemporary home with nautical accents.
'Additionally, adding vertical stripes with our Stripes Away print will draw the eye up and make the space appear taller.' Adds Rees.
12. Mix and match with your ceiling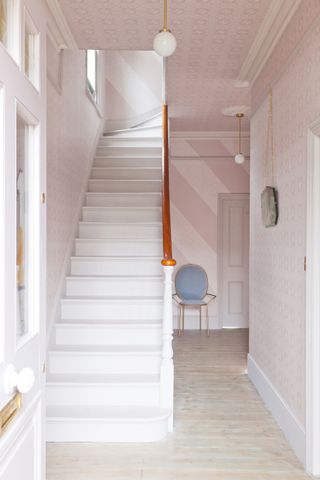 Using wallpaper from the same collection means you can easily mix two designs together without them clashing. In this hallway, the front walls are papered in Wonder Pink, while the back wall of the hall and staircase are papered in Rebecca, a bolder design with a diagonal stripe. Even the ceiling's got a look-in. Both from Graham & Brown.
13. Add interest with an abstract pattern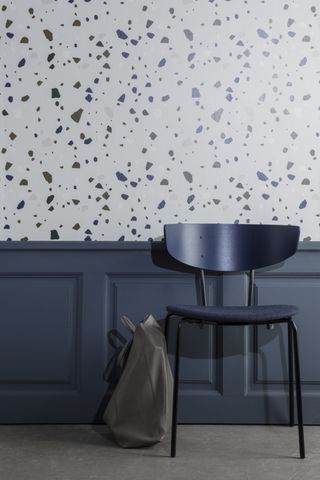 Looking for wallpaper for hallways that's a but more subtle? Mimicking the natural randomness of terrazzo tiles, the Terrazzo wallpaper by Ferm Living is a great choice for hallways that can otherwise look dark and sombre. It has a touch of sheen to it, too, creating a shimmering texture.
14. Dainty does it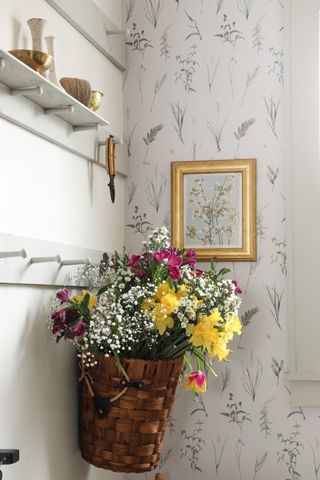 Wallpaper just part of your hallway to add a little character without being overbearing. Nod also to the rest of your decor, say flowers and an otherwise toned down color scheme.
15. Contrast vintage prints with bold color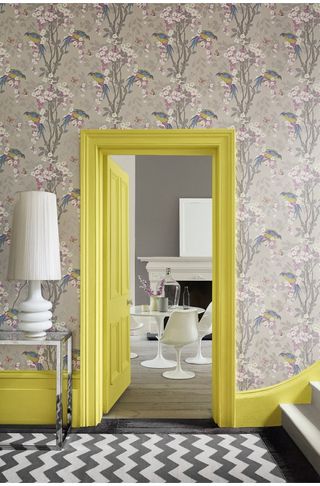 Give your hallway a vintage boudoir touch with the ornate Loriini design from Little Greene. The grey color scheme and subtle design is asking for a bold contrast so be sure to paint doors and trim in brights for a standout finish.
16. Bring the outside in with a woodland motif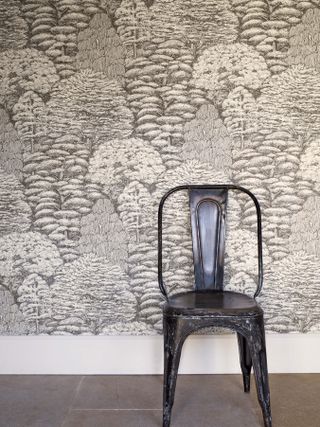 The botanical home decor trend shows no signs of going away – and for a reason. Picking botanical designs for your home is a great way to create a calm oasis in your home even if you have no plants; plant-themed wallpaper also adds plenty of texture to otherwise characterless areas of the home, such as the hallway.
17. Simple Scandi print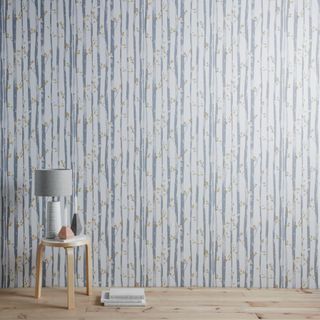 Likee the Scandi trend? Then you're sure to love the Lundby abstract tree design by John Lewis, inspired by the forests of Scandinavia. It's lovely and subtle but you still know it's there so will add a nice bit of interest. The muted colors mean it's really easy to adapt to any style too, whether that be contemporary or traditional.
18. Modern escapism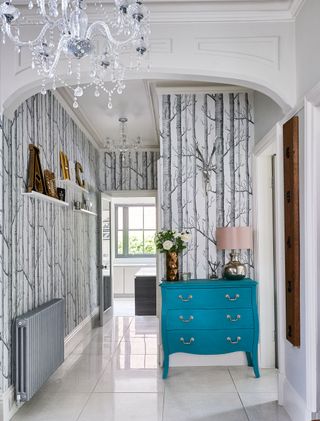 Bring more of the outside in (even if you're nowhere near the forest) with an imaginative print that will create the perfect backdrop in your hallway. Not to mention a little escapism too.
19. Peel and stick it to create a view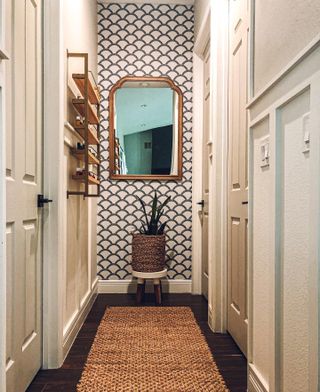 @Toscanosarah creates a view at the end of her hallway using a peel and stick printed Mosaic Scallop wallpaper design. 'I absolutely love making our home feel cozy! The peel and stick wallpaper from tempaper_designs is my favorite! This little hallway is so much more welcoming now. It's just amazing how wallpaper can transform a space!'
20. Teal elegance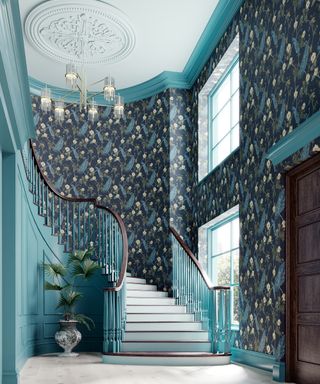 An English floral motif print will bring all the majestic night garden vibes to your hallways. This large repeat print from Graham and Brown uses original, delicate and hand-painted artwork with a mixture of mystical blues and rich greens.
While it's been paired with a teal paint on the walls and window frames, consider picking out the navy and yellow accessories to complement the pattern.
21. Black and white repeat prints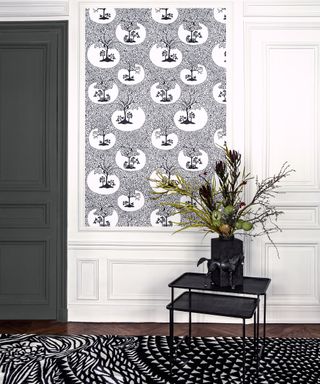 The simple color pairing of black and white is iconic and this motif is influenced by the popularity of cut-outs in the 18th century. The luxury monochrome design gives a striking finish that will look cool and understated with a fresh or dried bouquet nearby as your only source of color.
22. Add a retro feel with a geometric wallpaper design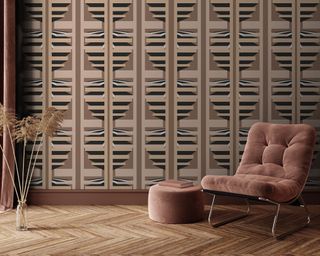 If you're looking to create a retro feel geometric style, this wallpaper designed by English artist and musician, Tim Muddiman is the perfect choice.
This brown and red geometric prints blocks, lines and angles to create a rhythmic pattern across the design.
Clever use of color creates shadow that draws us deeper into the rectangular latticework.
23. Match floral wallpaper with embroidered details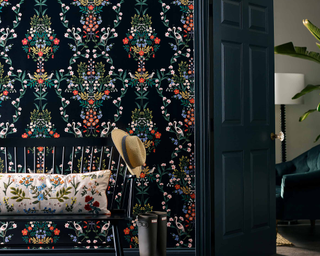 Drawing inspiration from French palace gardens, this hallway wallpaper idea features mirrored medallions of florals, greenery, and the occasional bird that create a pattern that is sophisticated and timeless. This peel and stick wallpaper from Rifle Paper Co can easily be removed, making it perfect for rentals and accent walls.
Pair with already-embroidered cushions, or buy plain cushions and get your sewing kit out for a beautifully-bespoke look.
What kind of wallpaper is best for a hallway?
'When considering installing wallpaper in a hallway, strong considerations should be made with how it will look and flow with the rest of the home.', says Chris Parise, digital brand manager at Milton & King.
'Unlike individual rooms like bathrooms and bedroom that can be visually disconnected by walls and doors, the hallway is the connector. It will almost certainly be seen from every room. So the consideration isn't really bold versus minimal. It is, what works with the majority of the space?'
'What design theme, pattern or aesthetic would you be happy to continue throughout the house or at least be seen from the main areas like the living room, kitchen and dining room.'