Amazon office chairs: Quick Menu
Take this as your sign to invest in one of these Amazon office chairs if you're stuck working from your couch or kitchen table. Your back will certainly thank you for the ergonomic upgrade. Plus, you'll be able to get more done in a comfy working space — a win-win!
And where better to do your shopping than Amazon? You can rest assured from other shoppers that you're spending your money on the right chair, without having to leave your home — and it should arrive the very next day. We've even done the hard work for you and have curated a list of the best Amazon office chairs on the market today. Whether you're looking to improve your posture, want something stylish, or need to upgrade your current home office, these are the seats worth scrolling through, no matter how you like to sit. All are highly rated for good reason.
If this is your first time shopping for one of the best office chairs on Amazon, there are a few factors worth considering. You'll want to think about adjustability, comfort, and support.
Amazon office chair deals
We've gathered some of our favorite finds so you can snag a great discount.
Prices were correct at the time of publishing.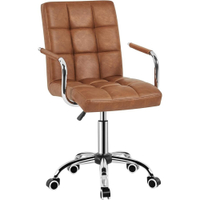 Yaheetech PU Leather Office Desk Chair Mid Back Height Adjustable Chair | Was $95.99 Now $65.99 (save $30) at Amazon
Give your home office a glow-up with this warm tan leather office chair. To me, it's the perfect mix of midcentury modern with coastal cowgirl vibes. But if the retro brown isn't for you, there are also offers on a classic black model, chic white, chocolate brown, smart gray... or be brave with a pop of pastel pink. Though we're crushing on the brown one, the dark brown colorway is only $62.99 (21% off its original price).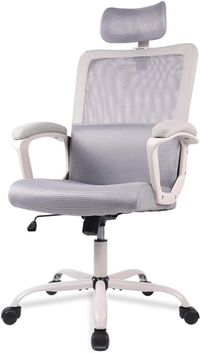 SMUG Ergonomic Mesh Office Chair | Was $79.99 Now $69.99 (save $10) at Amazon
If you're looking for some ergonomic back support, look no further than this mesh office chair. The high back provides structure while the cushioning offers extra comfort. With over 2.8k reviews it's a fan favorite online.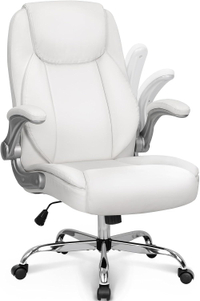 NEO CHAIR Ergonomic Office Chair | Was $179.98 Now $104.98 (save $75) at Amazon
Save a whopping 42% on this sleek, all-white office chair. It's super comfy with thick layers of cushioning. Plus the arms are adjustable so you can flip them up and sit cross-legged if you prefer (I know I do!).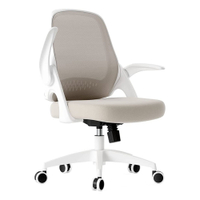 Hbada Office Chair, Desk Chair with Flip-Up Armrests | Was $159.99 Now $129.99 (save $30) at Amazon
While a little on the spendy side, I spend 40 hours a week sitting on my desk chair. And so, with an 18% discount, this seat will quickly pay for itself, if at least in productivity and comfort! Available in a tuxedo black or Vanilla Girl beige, this sophisticated penguin-style design means business.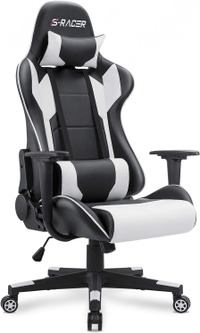 Homall Gaming Chair Office Chair | Was $123.34, Now $109.99 (save $13.35) at Amazon
If you're looking for an office chair that doubles as a gaming chair, this is the buy for you. This black and white office chair (which has 49,000 five-star reviews) is a total steal. It's available in nine colors including a pastel pink.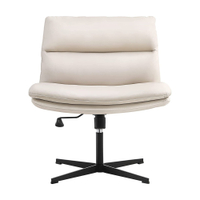 EMIAH Armless Office Desk Chair| Was $299.99 Now $229.99 (save $70) at Amazon
If you're looking for a soft, skin-friendly, breathable chair that is designed for a modern home office — this is it. Ergonomically, the U-shaped design gradually releases the back and hip pressure from the middle to the sides, to provide postural and back support.
The best Amazon office chairs
Why you can trust Real Homes Our expert reviewers spend hours testing and comparing products and services so you can choose the best for you. Find out more about how we test.
Ready to get started? I've sectioned out into best value office chairs, best office chairs for comfort, and best office chairs for small spaces.
Best office chairs under $100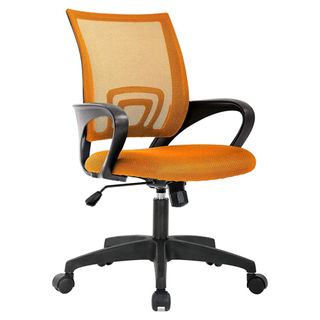 Most affordable
1. BestOffice Ergonomic Mesh Home Office Chair
Size (in. ): D22 x W22 x H35.2
Material: Nylon
Colors available: 8
Customer rating: 4.3/5 stars
Price: From $28.99 (depending on color)
+ Super affordable
+ Great color range
+ Ideal for smaller spaces
- No tilt (it leans)
Simple, affordable but still effective, this compact and ergonomic option is designed with a curve to provide optimal lumbar support and spine alignment. It also has a breathable mesh back and comes in several colors if orange isn't your thing. For less than $50, it's a total steal, and it swivels and is height adjustable. More than 50,000 shoppers rave about this desk chair, saying it's also great for small spaces. Don't get too worked up over the orange colorway if it isn't your thing, there are seven other hues to choose from.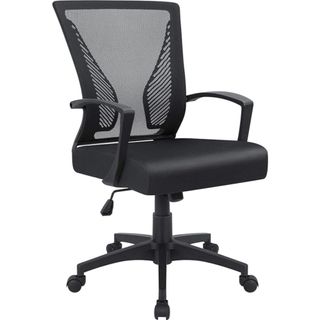 #1 bestseller
2. Furmax Office Chair Mid Back Swivel
Size (in.): H19.7 x W19.7 x D20.5
Material: Polyurethane mesh
Colors: 9
Customer rating: 4.2/5 stars
Price: From $44.99 (depending on color)
+ Lots of colors
+ Mesh design
+ Affordable
- Doesn't tilt (it leans)
Fully adjustable and fitted with a thick seat pad and handy armrests, this ergonomic option will be your new work bestie, especially since there are nine colors to choose from. It's a pretty basic pick though it still ticks all our boxes apart from the fact it doesn't tilt. It swivels, it spins, it can sit at any height you like, and it's just very convenient. It has more than 55,000 reviewers backing it up, with most saying it's great value for money.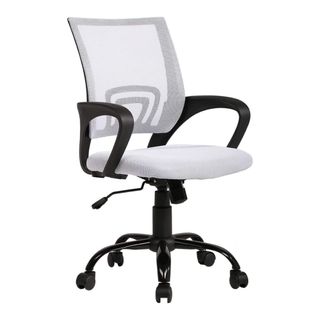 Tested for safety
3. BestOffice Ergonomic Mesh Office Chair
Size (in.): H37 x W23.2 x D22.6
Material: Mesh
Colors: 8
Customer rating: 4.1/5 stars
Price: From $44.99
+ Affordable
+ Huge color range
+ Average size
+ Breathable
- No tilt
This office chair ticks all of our boxes, and 45,000+ reviewers agree with us. Not only is it super affordable, but it comes in a range of colors, it's wrapped in mesh to make it super breathable and its frame is an S shape for your comfort. It's perfect for all-sized homes, even apartments. Plus, it's adjustable in height and it swivels. Shoppers claim it's easy to assemble but it gets the job done, and most of all — it's comfortable and supportive, and tested for safety by the Business and Institutional Furniture Manufacturers Association (BIFMA).
Best office chairs for comfort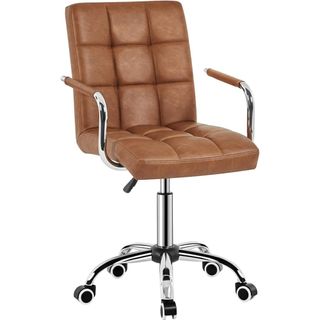 Luxury looking
4. Yaheetech Mid Back Desk Chair
Size (in.): H40.06 x W21.7 x D24
Material: PU leather
Colors available: 5
Customer rating: 4.4/5 stars
Price: From $63.59 (depending on color)
+ Sleek design
+ Easy to clean
+ Great for small spaces
+ Affordable
- No tilt
- Not for 9hrs+ use
We love the sleek midcentury modern style of this office chair which is actually nice and affordable, plus it comes in five colors. If you don't have a dedicated home office, then the PU leather seat won't look weird sitting in your kitchen or bedroom. It sits on wheels, swivels, and is height-adjustable. Although thin, its arms are padded with PU leather for comfort, plus it's easy to keep clean thanks to its design. More than 8,000 reviewers also rate this desk chair, and shoppers say it's easy to assemble and great for working from home. If you spend more than nine hours a day at your desk, you might want to go for one with a higher back.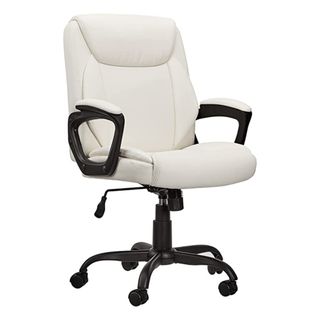 Padded
5. Amazon Basics Classic Puresoft Padded Mid-Back Office Chair
Size (in.): H42 x W23.75 x D26
Material: PU leather
Colors available: 3
Customer rating: 4.2/5 stars
Price: $89.34
+ Super comfortable
+ Padded arms
+ Tilts
- Quite large
- Only three colors
- Difficult to assemble
You can't go wrong with this simple yet sturdy Amazon buy. It's padded for sink-in-ability and is made from soft faux leather. There are a few colors to choose from and the shape makes it work with most homes. But do measure it first if your home is small. It tilts, swivels, and is adjustable in height, and its padded arms will ensure your working day is spent comfortably. Reviewers say it's definitely worth the money and it's super comfortable, but lots of people say it's difficult to put together.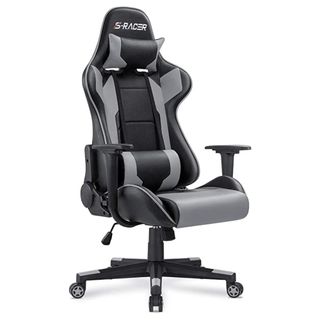 Gaming chair
6. Homall Gaming Chair Office Chair
Size (in.): H47.8 x W20.5 x D20
Material: PU leather
Colors available: 9
Customer rating: 4.4/5 stars
Price: From $109.99 (depending on colorway)
+ Super comfortable
+ Great back support
+ Tilts
+ Huge color range
- Not for small spaces
If you're always working (and sitting) for hours on end, then this high-back executive ergonomic chair may be the answer to your back pain. It comes with a removable headrest and lumbar cushion, both of which are perfect for offering the back support you really need. It's understandably quite bulky, so you might want to avoid it if your home is small as it will become the focal point of a room. It tilts back 150º, it swivels and it's height adjustable, too. With a whopping 70,000 reviews, this is a true bestseller and reviewers say it's easy to put together. The pink version is one of the most aesthetic gaming accessories for gifting.
Best office chairs for small spaces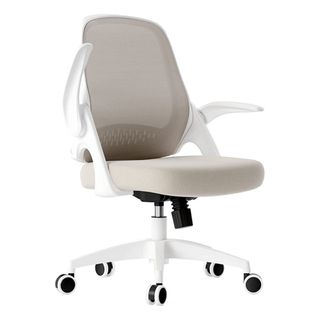 For small spaces
7. Hbada Office Flip-Up Arm Desk Chair
Size (in.): H21.3 x W19.7 x D19.7
Material: Nylon mesh
Colors available: 3
Customer rating: 4/5 stars
Price: $129.99
+ Tilts
+ Looks great
+ Mesh design
+ Flip-up arms
- Only three color options
If you are after an office chair that is comfortable, supportive, and stylish, this Hbada model is ideal. It's adjustable in height and has a 120-degree tilt tension to customize to you and your desk. Working never felt so comfy. It has over 17,000 customer reviews and is rated 4 stars out of five. Shoppers say it's easy to assemble, it offers great back support and it's amazing value for money.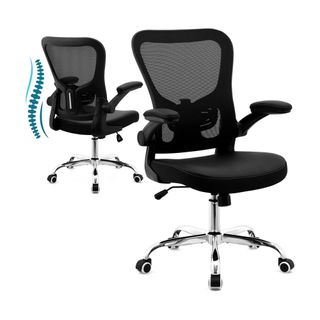 Highest rated
8. X Xishe Ergonomic Office Chair
Size (in.): H44 x W24 x D21
Material: Mesh
Colors: Black
Customer rating: 4.8/5 stars
Price: $169.99
+ Breathable
+ Flip-up arms
+ Tilts, rocks
- Only one color option
This is the highest-rated office chair at Amazon, ringing in 4.8 stars from almost 500 reviewers. More than 80% of those reviewers gave this chair five stars, which is super impressive. Otherwise, as expected, it has every feature you want in a desk chair — including flip-up arms that move 90º. It swivels, tilts, rocks, and is height-adjustable and it's wrapped in a breathable mesh to ensure it stays looking (and smelling) clean, even after everyday use. It can definitely work in small spaces but the only things we dislike are that it doesn't come in more colors and that it's not the best looking — it's a little basic.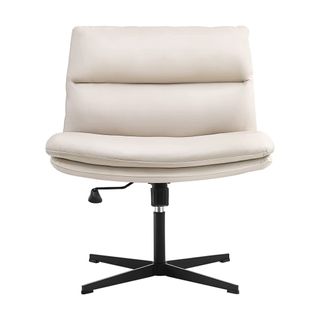 Viral pick
9. Emiah Armless Office Desk Chair
Size (in): H34.2 x W25.52 x D19.3
Material: Faux leather
Color: Beige
Customer rating: 4.5/5 stars
Price: $299.99
+ Looks lovely
+ Wide seat
+ Great for small spaces
- Only one color
- No arms
- Expensive
- Not on wheels
If you haven't seen this seat before, feast your eyes on the TikTok Amazon office chair flooding everyone's FYP. It's not just another TikTok impulse buy either. The Emiah Armless Office Desk Chair has a super wide padded seat which means you can sit cross-legged at your desk. You can push it all the way under your desk as it's armless, which is a bonus and a disadvantage at the same time/ It's ideal for apartments thanks to its slim design. It doesn't sit on wheels which is a total bummer, but it can swivel and it is adjustable in height. It only has 400 reviews, but they are positive with lots of people saying it's super comfortable.
---
What to consider before buying an Amazon office chair
There are around 50,000 office chairs on Amazon. Instead of scrolling through unlimited pages, we recommend considering these factors before you make your final decision.
Ergonomic, executive, task, and stackable styles: There is a wide variety of office chair types and each offers different levels of support. If you suffer from back pain, an executive chair's height and padding will give you great support. However, we'd suggest an ergonomic option for anyone who finds themselves sitting down for more than a few hours at a time. These fit the curve of your lower back, relieving pressure and pain. If support isn't a priority, then swivel chairs offer comfort without the technical fuss. Speaking of support, many of us knowingly (or unknowingly fidget) so if you like to rock or lean back in your chair, it's important to find one with this functionality.
Cushion width: No one wants their thighs and hips to be squished in their seat, so it's important to take note of cushion width. Many of us work 8-hour days so it's important that you are cozy without feeling claustrophobic. Almost every chair on this list has height and arm adjustment, which should be at the top of your chair checklist. Why? Fitting your chair to you and your work desk will make all the difference in your posture. If more than one person is planning on using the chair, this feature is essential.
Material: There are leather, mesh, and padded chairs to choose from. While this mainly comes down to personal preference and whether it fits with your current home aesthetic, the type of material can impact your comfort. The fill material will also affect the comfortability with memory foam being one of the most popular substances used in the seat. Most office chairs have a wheeled base, which is important for limiting strain and improving your mobility while seated. Choosing between a swivel or caster style matters, too. We'd suggest opting for a swivel chair that can move 360 degrees.
Size: Most of us use our office chairs either in the nook of our lounge or in the guest room, so it's imperative that you can get the chair in and out of the space. Often, the weight of the chair is an important factor, as is whether the armrests are collapsible (at least while you're moving the item between rooms).
How we chose these Amazon office chairs
There's no denying that there is an overwhelming number of office chairs to choose from on Amazon. While we didn't call in every product to test, we chose only the best products with great customer reviews. We read through all the pros and cons and considered the specs for each one. We also picked out options from our favorite Amazon furniture brands.
FAQs
How should I choose an Amazon office chair?
When looking at different Amazon office chairs, we would recommend that you take the time to consider what you want and need from an office chair (such as size, height, personalization options, and comfort level), as well as reading customer reviews. At Real Homes, we also use price tracker sites like camelcamelcamel to track when and where prices were lowest.
How much should I expect to pay for an Amazon office chair?
We've included a range of chairs in this guide to suit all budgets. The cheapest in this round-up $28.99, and the most expensive nears $300. So, having done the math, you should expect to pay on average about $110 for a seat.
---
Investing in the right office chair is not only a style decision but a functionality one too. For a more extensive range of WFH seating, see our guide on where to buy an office chair.
Not everything gets delivered for free at Amazon, so it's best to double-check before you make this decision. Also, take a look at the lead time of the product if you need it ASAP.