An office chair that's both comfortable and supportive is essential for anyone who works from home. If you're spending long hours sitting at a desk, you'll want something better than your dining table chair or fold-out stool. While your couch may look totally cozy, it won't do you any favors when it comes to keeping your back intact. So whether you're looking to invest in better posture or replace your current desk chair that's worn from constant use, then we've got you covered.
With such an array on offer, Amazon is a great place to get your new home office buy — especially during Black Friday and Cyber Monday. There are cheap but chic chairs, as well as more premium styles with all the support you need, like ergonomic and executive options. Plus, you can have it delivered without even needing to leave your home. Forget transportation costs and lengthy wait times, you can be sitting in your new chair ASAP if you're a Prime member, and if you order with next-day delivery.
We've read the reviews and compared comfort and price point to find Amazon's bestsellers and the top Cyber Week deals. Besides, we've sat in some of the best office chairs out there, so we know what we're searching for. And if you're wanting to upgrade your entire WFH set-up, you can find inspiration with our home office ideas.
Amazon office chair Cyber Monday deals we've spotted
Why you can trust Real Homes Our expert reviewers spend hours testing and comparing products and services so you can choose the best for you. Find out more about how we test.
Yes, the Black Friday and Cyber Monday deals are live. So, we've done the hard work for you and gone shopping for Amazon office chairs. Here are the deals we've found: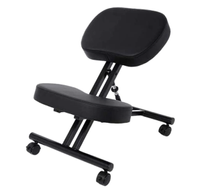 (opens in new tab)
1. Bathwa kneeling ergonomic office chair| Was $109.99, Now $87.99 (save $22) (opens in new tab)
Think outside the box when it comes to home office seating with an ergonomic kneeling chair. The riding-style seating is specially designed to keep your back in an upright position. The kneeling pad and seat cushion are at a 90-degree angle, to distribute weight evenly and keep your spine aligned. The seat is adjustable, and the kneeling chair can also double up as a meditation chair or exercise bench — for when you're crunching abs and glutes rather than numbers!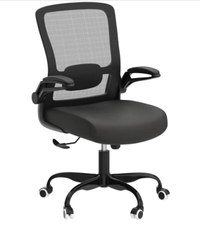 (opens in new tab)
2. Mimoglad Ergonomic Desk Chair | Was $189.99, Now $124.09 (save $65.90) (opens in new tab)
This desk chair is all about comfort. The design of the backrest fits the shape of the spine and can be adjusted to give strong lumbar support. The thick comfortable seat also relieves pressure on the hips, while the high mesh back will keep you cool as you work. Flip-up arm rests make it easy to get in and out, and to pull up as close to your desk as you want.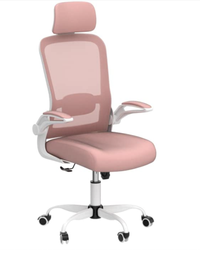 (opens in new tab)
3. Mimoglad office chair | Was $189.99, Now $151.99 (save $38) (opens in new tab)
Who says a WFH space can't be fun? The pink hue of this Mimoglad office chair adds a pop of freshness — but this is a seat that means business, as its headrest is designed to stop slouching. The S-shaped back encourages a healthy posture rather than flattening your spine, while having a place to rest your head prevents shoulder scrunch from hunching forward. It has a padded seat and a tilt and rock system, so you can be upright when working hard, and relax back when it's time for a power nap.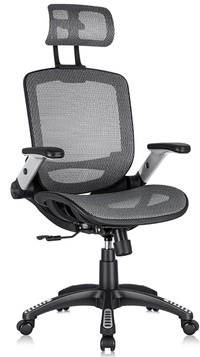 (opens in new tab)
4. Gabrylly ergonomic mesh office chair | Was $329.50, Now $231.60 (save $97.90) (opens in new tab)
Get ahead with this high tech chair that gives extra comfort for your head and neck with an adjustable headrest. The Gabrylly ergonomic chair offers support in four places, including the head, back, hips, and hands, and it gives you great posture as you're working away. The mesh back and seat help the air circulate, keeping you cool in meetings. Choose from dramatic black or stylish gray colors.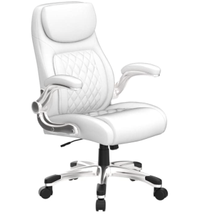 (opens in new tab)
5. Nouhaus +Posture Ergonomic PU leather office chair | Was $349.99, Now $263.49 (save $86.50) (opens in new tab)
Get chair-of-the-board vibes with this executive office seat. Made by Nouhaus, it has five stages of lumbar support so you can gently tilt back to relax or stay upright for total focus. FlipAdjust armrests mean you can create a task chair with arms, no arms, or somewhere in between. The PU leather looks luxurious, and there's a choice of three colors.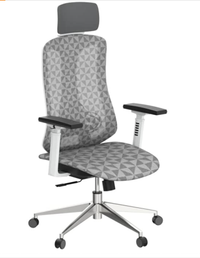 (opens in new tab)
6. Logicfox ergonomic office chair | Was $359.99, Now $269.99 (save $90) (opens in new tab)
Going for a promotion? We got your back — or rather this Logicfox office chair does. The sturdy back and adjustable head are curved to fully support your spine and head, and it reclines and locks into three different positions, so you can work upright and relax back. Arm rests are easily adjustable to relieve pressure on your hands, wrists, and shoulders. The patterned fabric on the seat and back is actually a highly elastic, breathable, and skin-friendly mesh. The saddle-shaped seat has high-density sponge to offer comfort in places you might not think about, such as the backs of your legs.
9 of the best Amazon office chairs
---
How we chose these office chairs
There's no denying there are more than many desk chairs to choose from on Amazon. It's one of the worlds largest retailers of home office supplies. So how did we go about sorting the best from the rest? Well, we spent time reading reviews and rating, looking at price points (and more) and comparing against our sitting experience from testing the best office chairs.
Besides, Amazon is a reliable marketplace for some of the best offers on home good. So we (and you) can rely on their rankings. In fact, we've made sure to find some office chairs from the Best Amazon furniture brands too.
4 things to consider before you buy
There are thousands of office chairs, if not more, on Amazon. So scrolling through pages and pages worth would be a lengthy process. Therefore we'd recommend considering the few factors below before you start your search:
1. Style and support
From ergonomic and executive chairs to task chairs and stackable styles, there are a variety of chair types, each with different types of support. If you suffer with back pain an executive chair type will give you a great amount of back support by offering height and padding that moulds to your spine. Though we'd suggest an ergonomic option for anyone who finds themselves sat down for more than a few hours at a time. These fit the curve of your lower back, relieving pressure and pain. If support isnt a priority, then swivel chairs offer comfort without the technical fuss.
2. Adjustability
Almost every chair on this list has height and arm adjustment, which should be at the top of your chair tick-list, in our opinion. Why? Fitting your chair to you and your best desk will make all the difference to finding your best posture. Some of the top chairs come with a minimum of five adjustment options so your chair can suit you down to a t. If more than one person is planning on using the chair too, this feature is essential.
3. Material
There are leather, mesh and padded chairs to choose from. And while this mainly comes down to personal preference and whether it fits with your current home aesthetic, the type of material can impact on comfort.
4. Wheel base
All office chairs have a wheel base, which is important in limiting potential strain. No need to reach across a desk to retrieve items that are too far away. But choosing between a swivel or caster style can impact ease of movement. We'd suggest opting for a swivel chair that can move 360 degrees.
Need a new desk now? We've got you sorted with our best desks roundup