Looking to buy a new office chair for your home? Whether you work from your dining table ATM or you've got a cute li'l home office in a corner of your bedroom, your office chair is arguably one of the most important pieces of furniture that you'll own in your lifetime. Just after your mattress and sofa, that is. How come? Let's say you work eight hours a day, minus one hour for lunch. That's seven hours that you're spending on this chair. Arguably, this is similar to the amount of time that you spend on your mattress every night. Get where we're going?
So, we've done the hard job for you and we've already rounded up the very best desk chairs on the web today. We've collated the best-rated office chairs, as reviewed by shoppers far and wide — from Amazon to Staples to Wayfair — to help you choose wisely. This way, you'll only have to pick between actually decent office chairs that stand the test of time. So go for whichever one will look the best in your home, underneath your stylish desk!
Quick Menu
1. Ergonomic office chairs
2. Faux leather office chairs
3. White office chairs
4. What to consider
5. How we chose
Remember that a desk chair needs to offer good support for your back, but depending on your preference, it might also be handy for it to sit on wheels — and for it to swivel. For most, height adjustability is a non-negotiable, too. We've whittled this guide down to three sections to make it easy for you to digest. While we will be adding more sections as our research continues, for now, we've listed ergonomic office chairs, (faux) leather office chairs, and white office chairs as these are the most popular types of desk chair RN. All of our picks below sit at less than $250, so you can sit comfortably for less.
12 of the highest rated office chairs — for function, style and all budgets
Why you can trust Real Homes Our expert reviewers spend hours testing and comparing products and services so you can choose the best for you. Find out more about how we test.
Before you choose, there are a few features that you might want to make sure your new office chair has, and these are:
- A swivel base so that you can spin 360º without having to stand
- Wheels so that you can move around the room with ease
- A waterfall-style seat to reduce the pressure on your legs
- A tilt mechanism so that you can lean back on your chair without the legs lifting off the floor
- Height adjustability so that you sit at the perfect level for your height
- Arm adjustability for extra comfort
- Lumbar support which means the back of the chair is S-shaped to support your spine
For some people, a few of these will be non-negotiables. We've listed the features each chair has below, although in some cases you can see the features in the images (for example lumbar support and a waterfall-style seat).
Ergonomic office chairs
If you'll be using your office chair for long periods of time, then it's best to go for an ergonomic one. They're very popular and for good reason. What exactly is an ergonomic office chair? It's the most supportive type of desk chair that you can buy, and usually, it boasts an S-shaped backrest to offer support where you need it the most. This cradles your lower back and supports your spine, right up to your neck. This encourages better posture as you type or video call your day away. Ergonomic desk chairs are also height-adjustable and may have other parts that can be adapted to your most comfortable sitting position. Here are our three favorites, as rated by happy reviewers.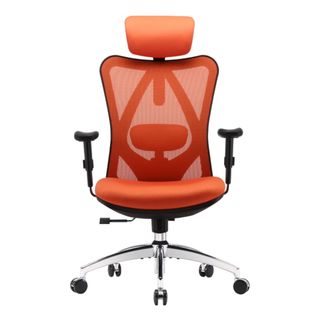 Best ergonomic
1. Sihoo Ergonomic High Back Office Chair
Size (in.): H21.94 x W20.87 x L39.62
Material: Mesh
Colors: 2
Price: $149.99
+ Breathable
+ High back with pillow
+ Adjustable arms
+ Tilts 110º to 116º
- Only 2 colors
- Not for small spaces
If you need extra back support and have a little more to spend, then this Walmart buy is the one. It has all of the usual features, from wheels to a swivel base and height adjustability, plus height-adjustable arms. You can also adjust its head pillow and its lumbar support if you want it to sit further forward or tilt backward. With an S-shaped back, it should hold you in all of the right places. It's made from mesh so it's super breathable. It's quite big, so make sure you have ample room for it! Walmart reviewers rave about it, with 800+ reviewers rating it 4.8 stars out of five.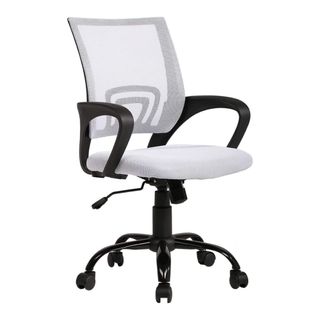 Budget
2. BestOffice Ergonomic Office Chair Mesh
Size (in.): H37 x W23.2 x D22.6
Material: Mesh
Colors: 8
Price: From $44.99
+ Affordable
+ Huge color range
+ Breathable
- No tilt
- Arms aren't adjustable
- No waterfall seat
This Amazon office chair is the best desk chair you can buy if you're on a budget, and 45,000+ reviewers agree with us. Not only is it super affordable, but it comes in a range of colors, it's wrapped in mesh to make it super breathable and its frame is an S shape for your comfort. It's perfect for all-sized homes, even apartments, plus it's adjustable in height and it swivels. It's Amazon's #1 bestseller for a reason, and shoppers claim it's easy to assemble, basic but it gets the job done, and most of all: it's comfortable and supportive.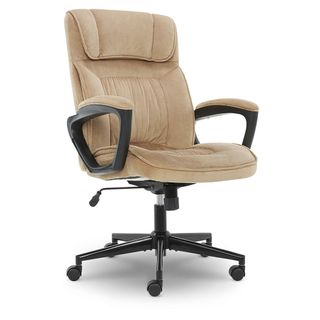 Luxury
3. Serta Hannah Upholstered Executive Office Chair
Size (in.): H44 x W24.75 x D28.75
Material: Microfiber/Leather
Colors: 4
Price: From $176.99
+ Tilts 100º - 122º
+ Fabric or leather
+ Padded with non-toxic foam
- Arms aren't adjustable
- High price tag
Yes, mattress brand Serta has created a super comfortable office chair — this truly is the best of the best for comfort, but it comes at a larger price tag than the others. It sits on wheels and it tilts back and forwards for your comfort, plus it's adjustable in height. Inside it's padded with a thick layer of non-toxic foam (even on its arms) and the chair is wrapped in your choice of a microfiber fabric or real leather. Reviewers rate it high for comfort and say it's comfortable to use in all seasons, plus it's easy to assemble. It gets a 4.4-star rating.
Faux leather office chairs
We've done more research around faux leather office chairs, too. So if you've got a modern space to decorate or if you love the leather look, then you're all set! The leather desk chairs below are all easy to keep clean as they're wipeable, just bear in mind that they might have a larger frame than you're used to, so be sure to measure and check that it fits into your space before you buy.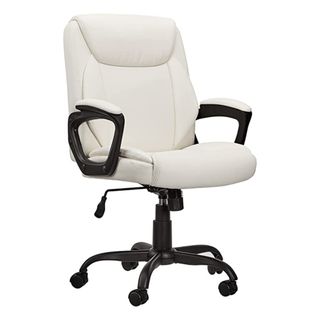 Faux leather fave
4. Amazon Basics Classic Puresoft Padded Desk Chair
Size (in.): H42 x W23.75 x D26
Material: PU leather
Colors available: 3
Price: From $75.65
+ Padded arms
+ Tilts
- Quite large
- Only 3 colors
- Difficult to assemble
- Arms aren't adjustable
This leather office chair gets top marks from us, hence why we've rated it the very best leather office chair you can buy. It's padded on both its seat and arms, and is made from soft faux leather. It tilts, swivels, and is adjustable in height, and it sits on wheels. Reviewers have rated it Amazon's Choice of office chair, with 28,000 reviews backing up the fact it's worth the money and is super comfortable. While it is rated 4.2 stars out of five, lots of people say it's difficult to put together.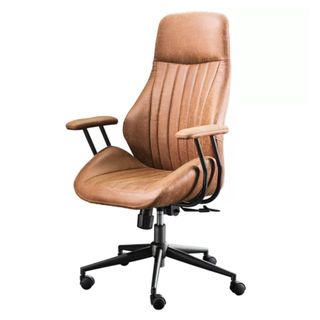 Stylish
5. Williston Forge Albaugh Executive Chair
Size (in.): H48.62 x W27.56 x D26.48
Made from: Faux Leather
Colors: Brown, Dark Brown, Dark Grey
Price: $206.99
+ Stylish
+ 3 colors
+ Tilts
- Arms aren't adjustable
This stylish selection from Wayfair caught our eye immediately as it's not your usual boring leather office chair. Yes, it's made from faux leather, but it comes in three colors including a lovely brown, and it boasts all the features you'll need to get comfy and stay comfy. It has a high back that's S-shaped for your comfort, plus its sides are curved to cradle your hips. It's height-adjustable, it swivels and it titls, too. Wrapped in a gorgeous wipeable faux leather, its design looks like it should cost double its price tag. And more than 3,000 Wayfair shoppers agree, rating it 4.5 stars.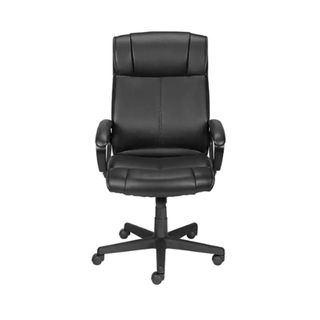 Large
6. Staples Turcotte Luxura Faux Leather Desk Chair
Size (in.): H42.5 - 46.3 x W27.8 x D29.3
Made from: Faux Leather
Colors: Black
Price: $109.99
+ Super padded
+ 7 year warranty
+ Tilts
- Arms aren't adjustable
- Not the most stylish
A Staples bestseller, this faux leather office chair offers super support where you need it the most, and it's seriously comfortable according to 3,000+ reviewers who give it a 4.3-star rating. It's probably best for larger desks or rooms as its back is high and it boasts a slightly bulky design. It's great for working long hours, nonetheless. Its seat can be adjusted and the chair can tilt, plus it sits on wheels and also swivels. Plus, it reclines backward for your comfort. We know it's not the most stylish desk chair out there, but if you want something basic yet comfy, it's your best bet.
White office chairs
White office chairs are seriously popular, and it's quite easy to understand why. No one wants their office chair to standout, right? And a white one will be sure to blend in seamlessly with your decor. Here are three white office chairs we're obsessed with, and that shoppers rate the highest. With prices from $50...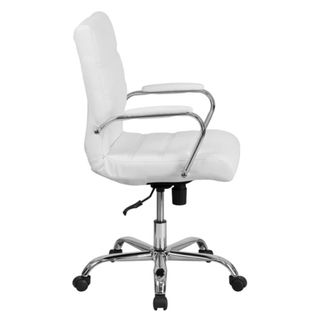 Top-rated
7. Upper Square™ Mid-Back Swivel Office Chair
Size (in.): H40.75 x W23 x D24
Made from: Faux leather
Colors: Black, White, Gray, Brown
Price: From $167.99
+ Several colors/finishes
+ Tilts
+ Super stylish
- Arms aren't adjustable
- High RRP
This super stylish faux leather desk chair comes in four finishes and four colors, including white, so that you can ensure it fits with the rest of your decor. Not only is it stylish, but it puts comfort first, too. With height adjustability, a swivel base and tilt tension adjustment for extra lumbar support, it's great. It also has slightly padded arms. It has an all-star rating from Wayfair reviewers, too, with more than 11,000 people giving it 4.6 stars. Its RRP is a little high, but it's usually on sale with a lot of money off.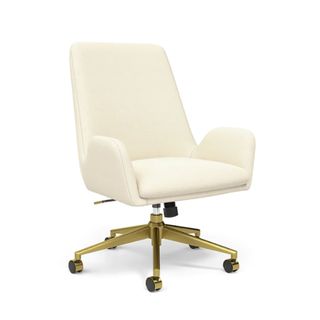 Low arms
8. Union & Scale MidMod Fabric Manager Chair
Size (in.): H36.1-39.8 x W27.5 x D29
Made from: Fabric
Colors: Cream
Price: $169.99
+ Super stylish
+ Fits under a desk
+ Tilts
- Only one color
- Arms aren't adjustable
- No waterfall seat
If you're in the market for an office chair that doesn't massively look like an office chair, then this one from Staples should be in your basket already. With low arms and a gold finish, it's super stylish and functional, too. In fact, reviewers gave it a 4.7-star rating. Yes, it's not brilliant white, it's more of a cream color, but it's also fitted with all of the bells and whistles you'll want while you WFH, too. From a height-adjustable seat to tilt tension and tilt lock. It's on wheels and it swivels, FYI. It's the perfect bedroom desk chair or living room office chair that won't stick out like a sore thumb.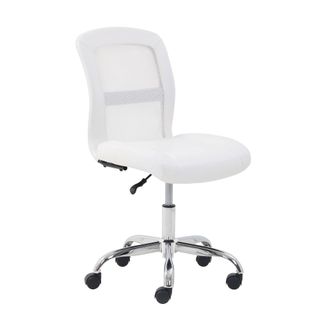 Budget
9. Mainstays Mid-Back, Vinyl Mesh Task Office Chair
Size (in.): H36.5 x W21.5 x D25.25
Made from: Vinyl, Mesh
Colors: 5
Price: $48.47
+ Under $50
+ Great for small spaces
- No arms
- No tilt
This Walmart office chair proves that you can buy a brilliant desk chair on a budget. It costs less than $50 and has all of the features you'll need, apart from arms! But this does mean it will tuck neatly under your desk! It's also ideal for small spaces. It's height-adjustable, on wheels, it swivels — all the basic features. It won't, however, tilt, and since it doesn't have arms, these aren't adjustable. It gets a 4.4-star rating of approval from more than 3,000 reviewers across the country, with most complimenting how comfortable it is, especially considering its price tag. It's also apparently very simple to assemble.
Armless office chairs
Armrests can often add bulk to an office chair, so keep things streamlined and contemporary by finding an armless design. These space-saving chairs can be tucked under your table when not in use. They can also be moved in and out of a room/doorway with ease.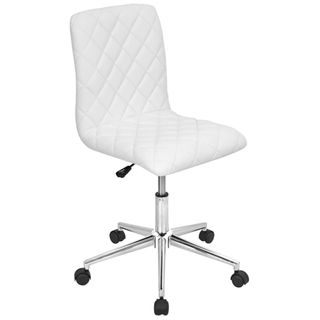 Vegan leather
10. Claire Faux Leather Office Chair
Size (in.): W20.5 x D23
Made from: Faux leather/metal
Colors: 2
Price: $109.99
+ 5-pronged wheelbase
+ Steel base
- Assembly required
- Not for the larger framed
If you're obsessed as much with *those* Chanel ballet pumps, then this is practically the matching office chair to go with it. Available in black or white, this height-adjustable, waterfall seat will have everyone saying "Ooh la la".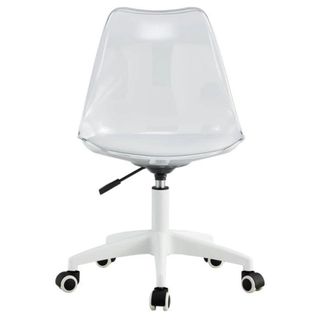 Transparent
11. Wrought Studio Bonaldie Task Chair
Size (in.): H10 x W10 x D18.9
Made from: Acrylic / PU
Colors: 1 (Clear)
Price: $82.99
+ Padded seat
+ PU material casters move easily and won't damage floor
- Short 60-day warranty
- Assembly required
Remember that iconic Louis Ghost chair that went viral circa 2002? Well, even 20+ years later, acrylic chairs are still the height of fashion. While plastic, bucket-shaped seats aren't known for being comfy, this cushioned choice means you can use it for 8+ hours without getting a numb butt.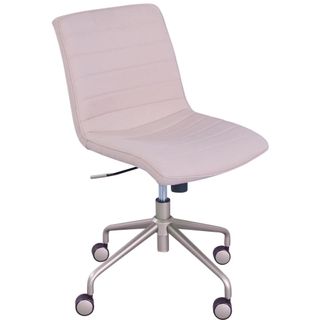 Feminine
12. Elle Decor Adelaide Fabric Task Chair
Size (in.): H36.5 x W19.5 x D23.75
Made from: Fabric / Metal
Colors: 2 (Pink or ivory)
Price: $159
+ 250-pound weight capacity
+ Reclines
- Full assembly required
- Wheels do not insert all the way into the chair legs
The Barbie movie proved that women can be smart and stylish. And this armless office chair proves it! Cozy and comfy, feminine and tailored — this seat is the equivalent of wearing a power suit and bossing it at a new job on the first day. JSYK, it's also available at Walmart, but it is a li'l more expensive.
5 things to consider before buying an office chair
There are many factors to consider when buying an office chair — we've listed a few of them here. Remember, your personal preference for each of these considerations might be different than someone else's. There's no right or wrong!
1. Comfort
Comfort is almost entirely subjective, however, you should keep an eye out for the material used in the seat. If it's padded, make sure the foam is not too hard, and if it's mesh, make sure you feel well-supported. The back should also make you feel supported (see more on that below), and the armrests should be well padded.
2. Back/Lumbar Support
One of the most important aspects of an office chair is back/lumbar support, but the amount of support you need will be based on the shape and size of your body. What you'll want to look out for, then, is adjustability, which leads us to...
3. Adjustability
Adjustability shouldn't be limited to lumbar support. Your chair should be as adjustable as possible — from recline to armrest positions to seat depth — to ensure the best possible fit for your body.
4. Style
Obviously, you'll want to pick an office chair that matches the decor of your home! Most of the contemporary office chairs that provide the best support aren't very design-forward, though. However, many models are customizable to some extent, so you can at least pick a nice color.
5. Material
If you typically run hot, consider a mesh desk chair — they're far more breathable than chairs with upholstered seats and backs.
How did we choose these office chairs?
Each of these office chairs has been very carefully chosen by our Head Ecommerce Editor and Ecommerce Editor, who both (before writing this guide) did a whole bunch of research into desk, task, and office chairs. They then browsed the best places to buy an office chair, as if they were shopping for themselves, and checked the credentials of those that grabbed her eye (and were in that all-important sub $250 budget).
Only desk chairs with top ratings from shoppers have been included in this guide, and it has been split into sections based on what people search for the most. Rest assured each of the desk chairs featured are comfortable, stylish, and best of all: rated more than four stars.