Working from home for the foreseeable? These traditional home office ideas will help you create the working nook of your dreams. The coronavirus situation has forced many of us to from from our homes, which means that now is a good time to make your home office as comfortable and stylish as possible.
Traditional home offices can include an imposing desk and comfy armchair, but if your space is quite small, take heart: lots of the ideas in this gallery are suitable for the tiniest of crannies. We've got open-plan layouts covered, too – there's truly something for everyone here. Find more home office ideas in our super-guide.
1. Hang a gallery wall for an eclectic look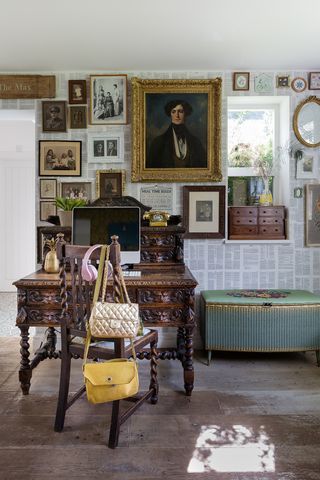 What is the easiest way to add personality to your home office? Creating a gallery wall. In fact, the home office is the space where a gallery wall makes a lot of sense, since you are likely to spend a lot of time looking at it. To maintain a traditional look, pay attention to frames, picking ornate rather than plain ones.
Need more tips? Find out how to hang a gallery wall.
2. Pick an ornate traditional writing desk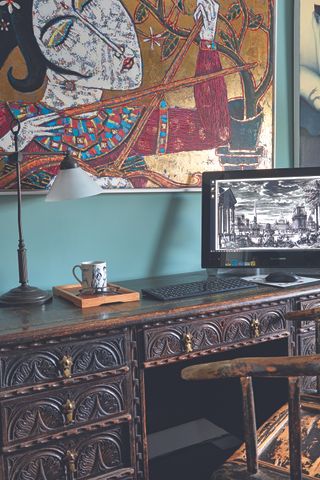 The desk is by far the most important and visible piece of furniture in your home office, even more so when it's part of a traditional design scheme. This is your opportunity to invest in a really gorgeous piece of furniture with a history.
The antique desk in this home office is an old barrister's desk. You can, of course, buy a new desk with a more traditional look – check out our best desks edit.
3. Convert a landing into a mini office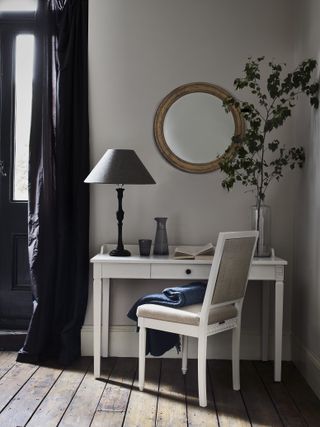 Not all homes have a separate room for a home office; if space is limited, think creatively about where in your home might be suitable for a work space. You don't necessarily need lots of room, but natural light is a must. This study space on a landing benefits from lots of daylight coming through the window.
Find more traditional hallway design ideas in our gallery.
4. Pick a desk that doubles as a console table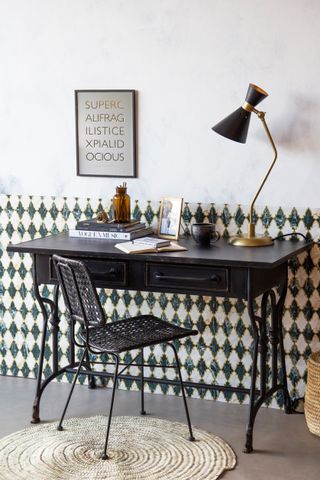 If you are only working at home temporarily then opt for a desk that can double as a console table, that way it can be repurposed at a later date. This industrial style black metal sideboard is the perfect piece to do that with – it would look great in a hallway or in a living room with vases or books on.
5. Mix furniture from different eras for a bespoke look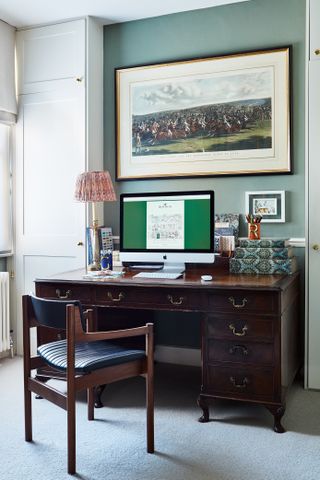 A traditional design scheme doesn't have to adhere to any one period, so feel free to mix and match furniture from different eras. This home office cleverly juxtaposes antique and Mid-century furniture and accessories.
If it is authentic home office design ideas you're after, find out how to create a Mid-century modern home office in our guide.
6. Combine traditional home office design ideas with contemporary accents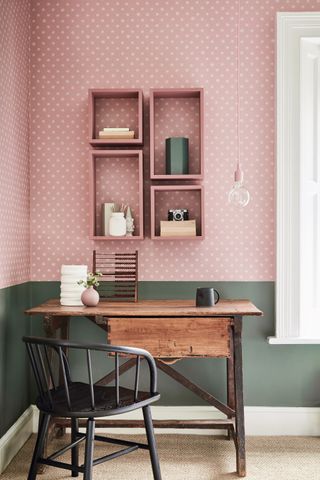 Live in a period home, but want to experiment with a more contemporary look? The home office is the easiest room to achieve a nice balance between classic and contemporary. This home office, for instance, combines a traditional desk and classic wingbone chair, with modern pink polka-dot wallpaper and open cube shelves.
7. Utilise spare corners in small houses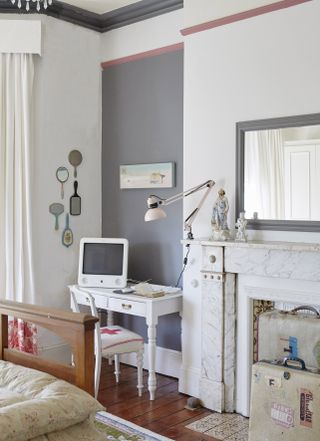 If space is really limited, you may well be able to create a decent study space in the corner of a living room or bedroom. Always position your desk in the corner closest to the window.
8. Create a designated workspace in the dining room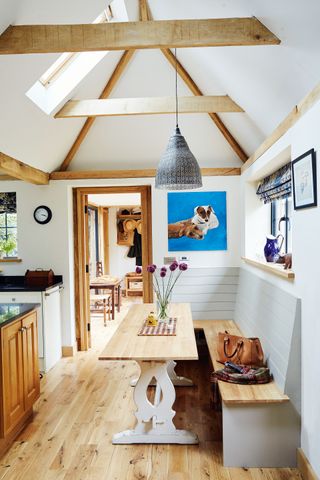 Dining rooms and kitchen diners also provide plenty of opportunities for creating a work space. Our advice is to create a designated area in the dining room that isn't used much for serving food (so that you don't have to clear the table every time you want to do work).
This kitchen features a dedicated workspace that's perfect for someone who mainly works from a laptop. Bench seating with lift up lids provides a handy place to stash away paperwork and office equipment when it's not in use.
9. In an open-plan home office, go for a multi-use table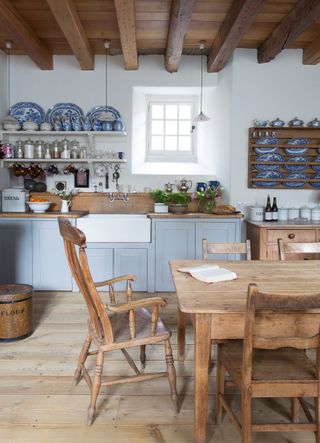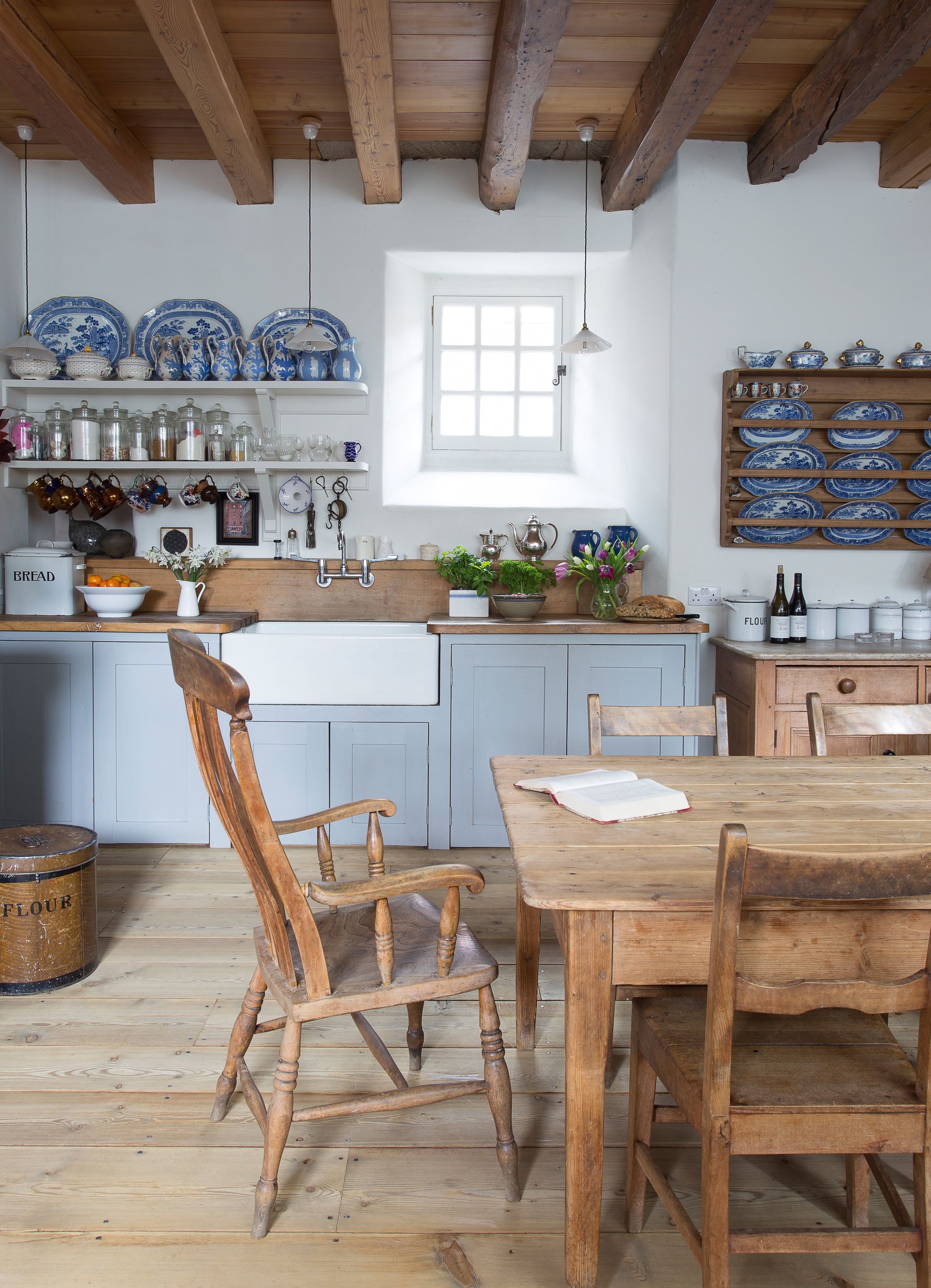 If your home is open plan, you might have to combine living space, dining space, and work space. The way to make it work? Go for a large, multi-tasking table.
Then, find out more about creating an open plan layout.
10. Create an airy artist's studio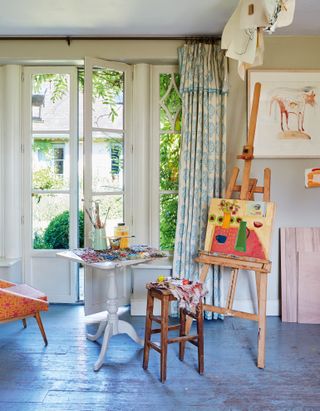 If you work from home, but the kind of work you do requires an artist's studio rather than a home office per se, you'll still need to consider access to natural light and how much furniture you'll need. If you'll be standing up for long periods of time, consider getting a comfortable armchair to relax in when you take a break.
Have a look at our pick of the best armchairs for inspiration.
11. Make the most of a narrow space with a skylight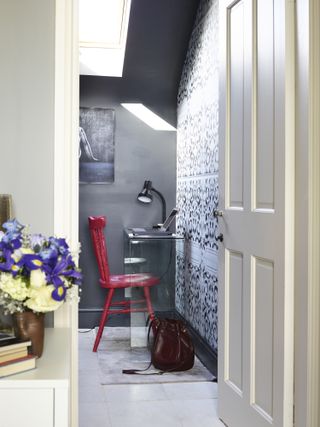 This study space is probably one of the tiniest we've seen, but it really makes the most of the natural light coming from the skylight, and the painted chair adds design pizzazz.
To create a similar upcycled accent piece, find out how to paint furniture in our guide.
12. Combine storage and a writer's desk with a bureau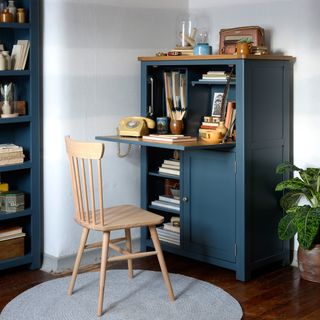 Bureaux are the perfect pieces of furniture for study spaces that don't have their own dedicated room. Storage and writing desk in one, this bureau fits seamlessly into a living room design scheme.
Got space for a bit more storage? We have lots more home office storage ideas.
13. Integrate a study space into a traditional living room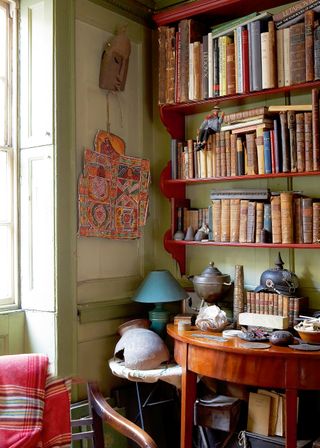 If you've taken a lot of time putting together your traditional living room design, you'll want your work space to integrate perfectly and not disrupt the overall look. Consider a bespoke fitted solution that will be sympathetic to the rest of the room, or choose a small half-moon table, like this one to make room for a traditional home office in a small living room.
We have more lovely traditional living room design ideas for your to browse. Love this look? See more inspiring spots for book lovers.
14. Accessorise with smart Mid-century lighting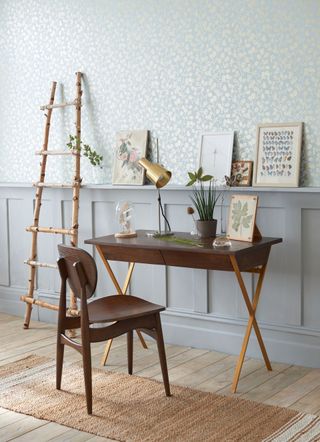 The right lamp can make all the difference in the home office. In a traditional design scheme, choose classic, Mid-century task lamps or vintage side lamps. Pair with pale toned botanical wallpaper to help clam and focus the mind.
And take a look at our pick of the best home office accessories.
15. Shutters to add interest and sun protection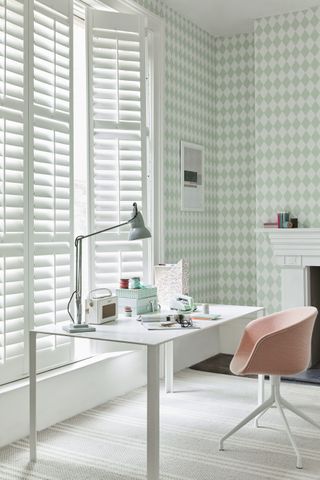 South-facing rooms are ideal for many purposes, but the home office is actually not one of them. Direct sunlight and heat can be a problem, so you'll need to invest in a good window treatment. Shutters will look great as well as protecting you from the elements.
Check out more home office window treatment ideas.
16. Add character to a traditional home office with dark paint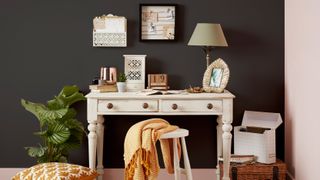 Dark and moody decorating schemes are in, but an all-dark design scheme might be too much for a home office (just think about trying to focus in a very dark room on Monday morning). So, instead pick a mid-toned neutral that will give the room a calming, inviting appeal, without starving it of natural light. Ensure the window itself remains uncluttered to allow as much daylight as possible in, and plan your home office lighting well to ensure you can work when days are shorter.
Set on a dark room scheme? We have lots of dark and atmospheric decorating ideas for you to consider.
17. Use space under the stairs for a traditional office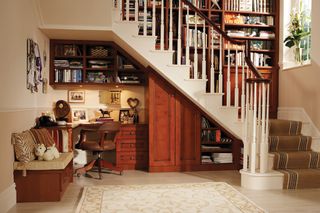 If you have space under the stairs, you might well have room for a study space; in some cases, the understair space is large enough to accommodate a fully-fledged home office, as in this bespoke space by Neville Johnson. To keep the decorating scheme traditional, stick to wood and leather as your main materials.
Wondering what else that space under the stairs might be good for? Check out our gallery of understair storage solutions.
18. Warm up the room with an orange colour scheme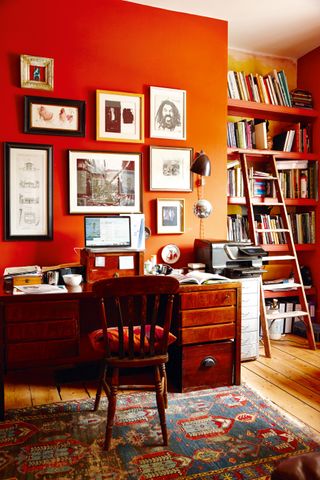 Guess the colour that's been scientifically proven to improve concentration and creativity? It's orange. Which is just as well, given how gorgeous it can look when paired with traditional home office furniture.
See more orange room design ideas in our gallery.
19. Go for a bohemian decorating scheme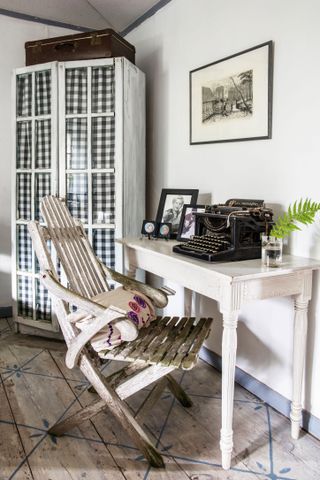 If you prefer a more casual look, or if your home office is part of a boho home decor scheme, go for lighter, slimmer furniture. This home office looks charming and quirky thanks to the painted console table and folding chair.
We have more brilliantly boho design ideas for you to browse.
20. Invest in a traditional desk with storage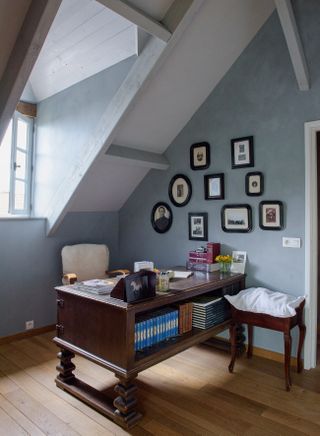 If your work requires you to consult a lot of reference material, or you use a traditional filing system, invest in a desk with storage. This will allow you to avoid cluttering your office space with filing cabinets.
See our favourite home office storage ideas.
21. Get an armoire for an all-in-one home office solution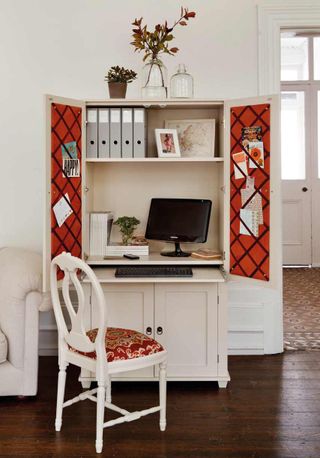 If you're tight on space, or can only invest in one good piece of home office furniture, an armoire will cover all your needs, from desk space to storage. The New England home office armoire from The Dormy House looks great, too, and can come in a paint finish of your choice.
22. Face the desk into the room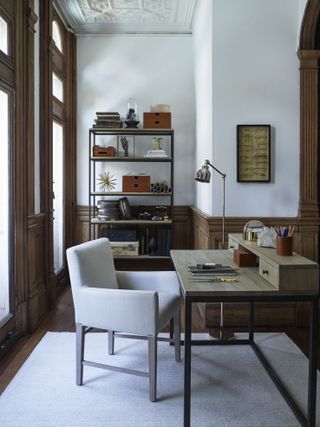 If your home office is spacious, facing the desk into the room can give a feeling of grandeur. If you do take this route, you'll need to plan the wiring carefully to ensure that no ugly wires trail down the back of the desk or across the room to the nearest wall. The window treatments need to be carefully thought out, too, to ensure that you don't suffer from glare on a computer screen.
Furniture by Neptune.
23. Looking for traditional home office ideas for a garden room?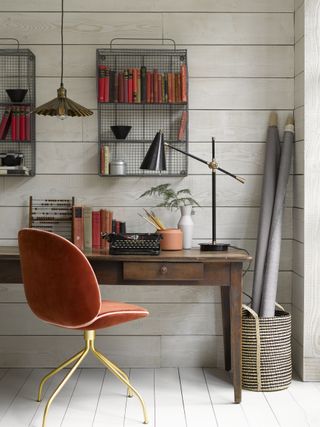 If your home office is in a garden room, you can really go to town with an idiosyncratic decorating scheme, incorporating a light industrial or gardener's theme into it. Pick upcycled furniture that's comfortable and and pretty and invest in good lighting and – of course – heating to ensure your room is welcoming all year round.
Find out more about outbuildings and garden rooms in our guide.
Want more fabulous traditional design ideas?