If you are hunting the internet for gorgeous basement bathroom ideas, well you have landed in the right place. Basements can be tricky spaces to design and decorate, and they can be tricky places to find inspiration that's actually realistic for too. So we have gathered together all our favorite bathroom basements that are stylish, practical and something we love to see, achievable.
From practical advice on how to light your space and give that all-important feeling of height, to style tips on picking cute tiles and decor, we have you covered right here. So just keep on scrolling to see just how chic even the smallest of basement bathroom can be...
1. Think about the positioning of your basement bathroom
If you are starting from scratch with your basement remodel, before you get carried away with the design and decor, first think about positioning and layout.
'If you are considering having a bathroom in your basement area, the most important technical aspect is to have a sump pump for drainage from the bathroom. These are typically installed in basements anyway for concrete drainage, but they are extra important if you are also having a bathroom installed. With a basement bathroom, it is also good to consider the fact you do not need to place it next to the windows, as bathrooms don't necessarily need any natural light at all to look good and function well.' advises Robert Wood, Managing Director Simply Basements.
You'll also save on costs and time if you can position your basement bathroom near to or, even better, underneath existing plumbing. That way you can just extend your water pipes rather than add completely new ones.
2. Add a light well to you basement bathroom
If you are designing your basement from scratch and have the option of adding a light well, they can be the best way to bring natural light into your bathroom. Even a small roof window will make your space feel less cramped and avoid that claustrophobic feel you can get in windowless spaces.
Adding one above the shower space would be our first pick. It highlights the most clutter-free part of the room so the light goes uninterrupted and can flow freely around the space. Plus there's something very chic about showering and looking up to see the sky – just make sure you aren't overlooked, maybe think about going for a frosted window.
3. Remember good artificial lighting is key too
So as you have probably guessed by now, what usually takes a basement from a glorified storage space to a lovely stylish space you actually want to spend time in is light. And don't worry if you aren't blessed with windows or a fancy light well, you can create just as an inviting space with artificial lighting. The key is to layer your lighting and make sure you have multiple sources.
'Lighting zones are a key consideration, as getting the lighting right can make all the difference to the ambiance and the look created in your bathroom. I always recommend installing multiple layers of light, so you can control the atmosphere in the room, however, this is not always possible in smaller-sized bathrooms.' recommends Yousef Mansuri, Head of Design at C.P. Hart.
'Think about a dimmer switch instead, so that you can still control the intensity of light depending on your mood without taking up any extra space. Alternatively, if you've wall-mounted your vanity unit, you can fit an LED strip light beneath it that will provide you with ambient lighting. '
4. No windows? Go for a lighter color scheme
We all know that in small spaces, especially if you are dealing with low ceilings and a lack of light in a basement, you are best playing it safe with a really light color scheme. Keep your backdrop neutral with white walls and sanitaryware and then bring in color and personality with your decor or your tile choices.
This mainly monochrome scheme in this bathroom is ideal, it's very clean and bright but thanks to the touches of gold and that fabulous green floor it doesn't feel too stark.
5. Add color on the ceiling
How fab is this basement bathroom designed by Interior Fox? We think ceilings have been neglected for too long now and they deserve to be treated as any other wall!
Painting the ceiling in a basement is a great way to bring some color into the space, especially if, like in the bathroom, you've gone pretty neutral with the rest of the room. We would say make sure your ceiling is high enough to handle a color as bold as this, if you are dealing with very low ceilings maybe stick to more muted tones so you aren't bringing down any height.
6. Expand the space with clever tiling
If you are wanting to visually stretch your basment bathroom, making it feel less narrow, choosing horizontal patterns is the way to go. Here, a horizontal(ish) stripe makes this smaller space feel wider and by having all that pattern on the far wall it actually makes it feel longer too as that is where the eye is drawn. Match with large format, fuss-free floor tiles for the floor so as not to overwhelm the room.
7. Low ceilings = cute tub
If your ceilings are too low for a shower, it's the perfect excuse to go for a really luxurious freestanding bath. Height is less of an issue for a soak in the tub!
You can still add 'height' to the room with some clever design tricks. Like, look how in this basement bathroom the walls are spilled halfway which helps make the ceilings appear taller than they are. This is only enhanced by the darker tiles used on the floor and then the lighter colors kept on the walls and ceiling.
This design is really practical too since the area around the bath will need tiling, but to tile floor to ceiling would definitely create a very clinical vibe, especially since this space has no windows.
8. Go for a soft and subtle vibe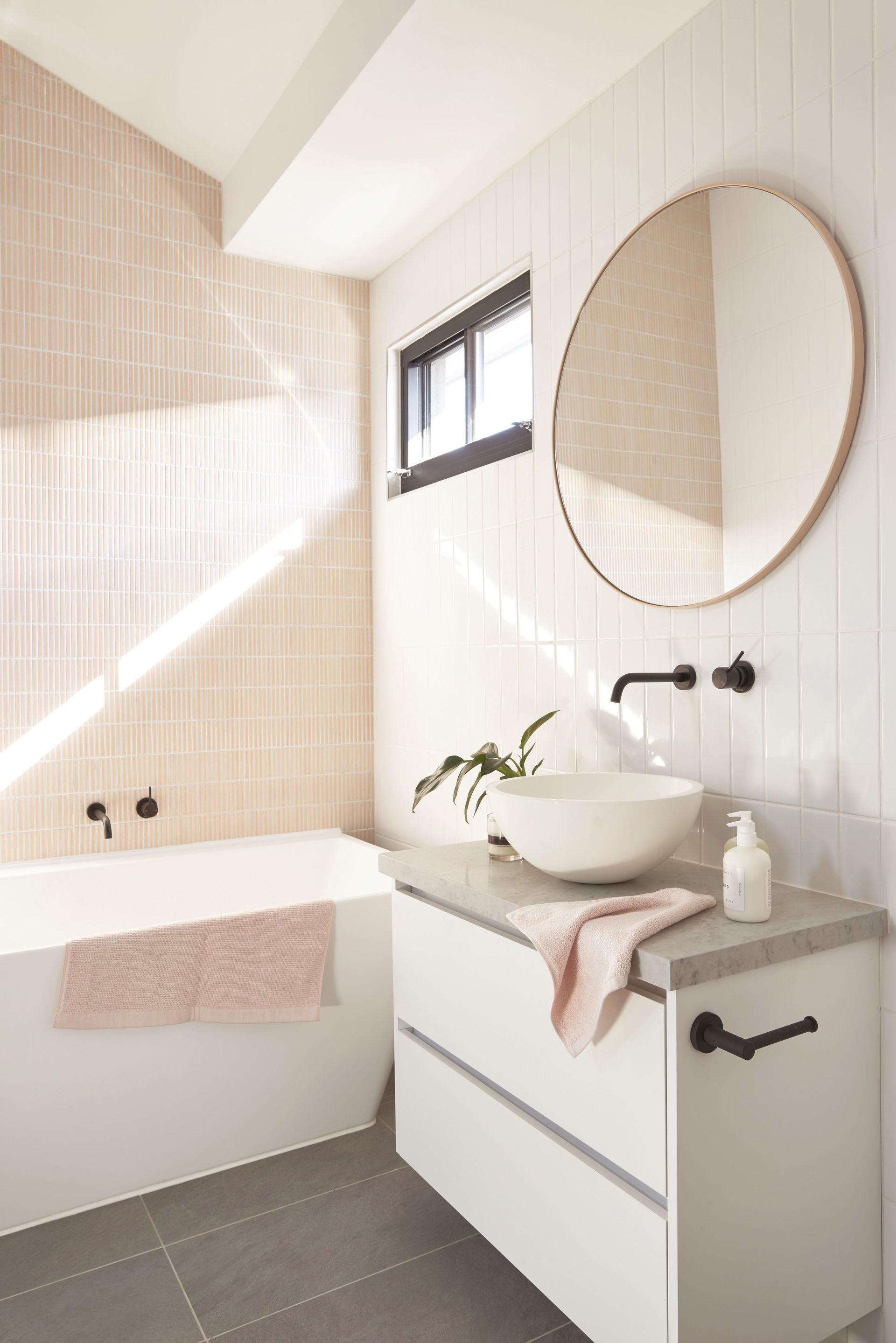 There's just something about basements that makes them that much harder to feel like soft, warm, inviting spaces. It's like you never quite forget you are underground. But check out this basement bathroom! Soft? Check! Warm? Check! Inviting? Check! Underground? Check!
That wash of warm pale pink, with the matching towels, and the light streaming in even from the smallest of windows creates such a serene feel. So when decorating your space opt for a slightly warmer color palette to counteract any gloominess that often comes with basements.
9. Keep the space feeling open with a walk in shower
Thought walk-in showers were only reserved for luxury bathrooms that have tons of square footage? Think again. Walk-in showers are perfect for smaller bathrooms, especially if they are darker because they reduce the visual clutter and allow light to easily flow around the room. Plus you don't have to worry about being able to fit in a shower enclosure if you are dealing with low ceilings because you can mount your fittings to the wall at a height that suits you and your space.
10. Don't under estimate the power of mirrors
We bet you are sick of hearing us say it but it's designed 101 for a reason. Using mirrors in a small space that lacks natural light is a must!
This basement bathroom has actually been blessed with windows but even if your light source is only artificial, placing a large mirror in your space is going to bounce more light around. Plus it visually expands the space too, creating the allusion that the room actually goes on beyond the mirror. It's simple yes, but it works.
How much does it cost to put a bathroom in the basement?
So how much does it cost exactly to add a bathroom to your basement? The overall costs can vary massively depending on your space and the quality of finish you want to go for.
Since a basement bathroom has more specialist needs than a normal bathroom, you can expect to pay more than your traditional bathroom remodel. The average cost is around $10,000 - $15,000 and around $2,500 and $5,000 than a bathroom above ground. Plus there would be labor on top of that to have your bathroom fitted.
Do you need an upflush toilet in a basement?
An upflush toilet is the best option in basement bathrooms especially if your bathroom is going to be below the sewer line. What is an upflush toilet we hear you shout? Well unlike a normal toilet that flows down to the soil stack, an upflush toilet pumps waste into the sewage system or a septic tank, meaning you can install one anywhere in your home.