We're guessing you'll want stair railing ideas that are stable and stylish, whether you've got an elderly member of the family who needs to hold onto something for safety or a young toddler who's taking their first steps.
Today's staircase ideas are far more fashionable than past planks of wood and dull designs. They are functional and fresh from the design studio.
And, if you don't like something that's off the rail (if you'll pardon the pun), you can buy a bespoke balustrade or banister to fit the exact needs of your home. Simply put, stair banister ideas needn't be boring.
Stair railing ideas to step up your stair game
'Beautiful handcrafted balustrades and handrails in natural materials are making a resurgence,' says Richard McLane, design director, Bisca.
'Adaptable to suit any interior, from a period home full of traditional features to contemporary new build property, they can be designed to make a big impact or add elegance. It's all in the detail – a traditional staircase will look entirely different with forged steel uprights and a handrail in polished wood.'
1. Add color with an Art Deco-inspired design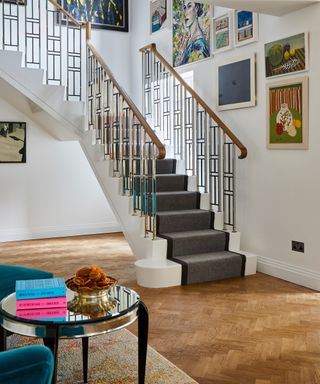 In this Art Nouveau-inspired house, the staircase railing ideas was made in laser-polished steel with blackened infill panels. The design features the same striking geometric shapes found on the property's front door.
Blue velvet chairs and a mirrored table offer the perfect speakeasy-style entryway idea for this twenties inspired scheme. The latter is a perfect hallway storage idea to display some colorful books and ornaments.
2. Create drama with black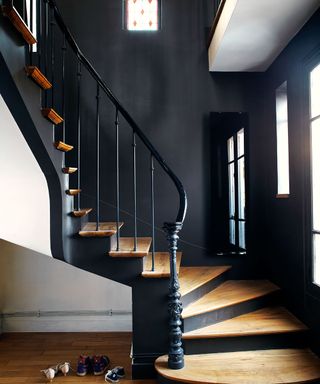 We're not sure about you, but we love black for it's instant appeal and ability to create drama! And this triple combo: a black staircase railing idea, wall decor and radiator is not to be messed with.
We think it looks great with the Gothic-style stained glass window peering in from above.
3. Go Scandi with light wood and white brick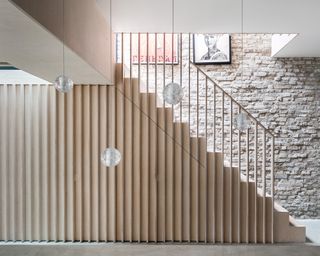 This light wooden staircase railing idea by David Money Architects evokes peace and tranquillity and is giving us Nordic vibes! Fresh, clean plywood with vertical slats echo the strong, tactile forms found in nature. This simplistic beauty is further reinforced with a painted exposed brick wall which brings the outside in.
Natural light from the upper tier of this home brings in an airiness and we think the hallway lighting idea looks like ice orbs which creates a fresh, Scandi-like scene.
'The stair acts as a spine to the house, rising through three floors with some of the balusters continuous through three storeys,' explains David Money.
'Space below the ground floor stair is devoted to a bike store, a laundry cupboard, and access to a basement. The balusters also continue across the doors to these elements, fusing them together into a single object.'
'Construction is from limewashed birch faced ply wood, with reclaimed floor boards to the treads and risers, elemental material to complement the polished concrete and rough brickwork of the interior.'
4. Or grunge it up with dark grey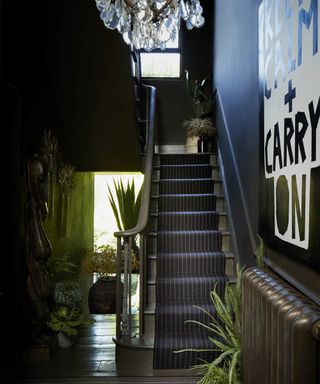 If you don't fancy committing to an all-black look, consider a dark grey hallway instead. This slightly softer shade means you can play with different undertones in wall paint and the color of your staircase railing ideas.
Interior designer, Abigail Ahern's hall also includes a metallic silver radiator design which is cool and quirky. The introduction of houseplants freshens up this entrance.
5. Glam up your staircase with silver leather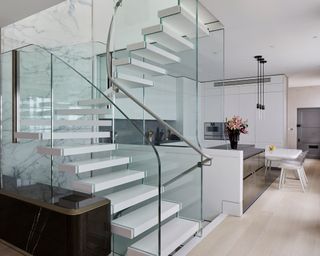 Mixing glass and marble is one way to achieve a luxury staircase railing idea, no matter how small or large the space. This multi-flight staircase was designed by Bisca for a mews house in London where space is at a premium. The open tread design and the glass balustrades make sure as much light as possible flows through the house.
The treads, made in white Corian, blend seamlessly with the kitchen units and with no visible fixings they appear to float in between the glass balustrades. The handrail which runs from the basement up to the second floor is clad in pearlescent silver leather and has integrated LED lighting for a luxury look.
6. Spiral stair railing? Keep it simple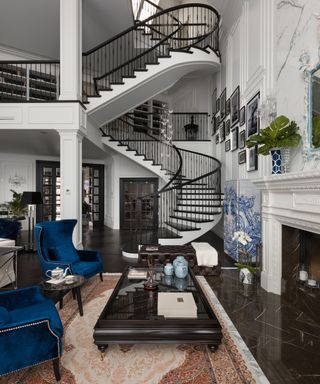 This stunning contemporary design project by the design firm and studio Bolshakova Interiors incorporates a stand-out spiral staircase railing idea. Make use of the grand scheme, they chose to keep things simple with a monochrome design and let the surrounding finishings speaks for themselves.
Blue velvet chairs, an ethnic-inspired rug, marble and wall paneling all envelop this modern hallway-cum-living room.
7. Make a statement with an unusual design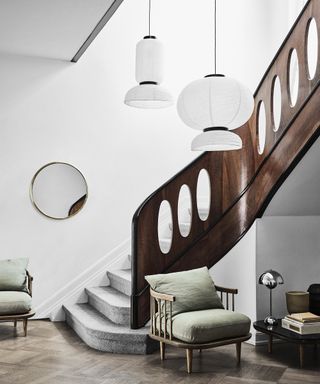 For most of our family and friends, our hallway is the first 'room' they'll see as they enter our homes – so you'll want your staircase railing ideas to make a statement.
This dark, rich wood hallway idea with oval detail is a beautiful contrast from the light grey carpet, white wall paint decor, and sage green cushions on the chairs. The round and curved features are echoed in the lantern-style lighting.
8. Mix black and bronze for a luxe look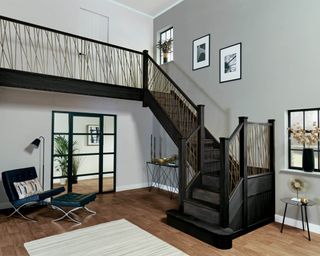 This striking staircase from Neville Johnson instantly creates an impactful statement. The gold steel design against the dark oak beautifully contrast each other, leaving you with an opulent and eye-catching look.
The risers are finished in their unique material, Torro Bronze, mixing rich colours with a modern steel design. We think you'll agree, it's guaranteed to be the centrepiece of any home.
'When it comes to unlocking new and original staircase ideas, we've seen a lean towards industrial interior design using materials such as polished concrete on walls and floors and rustic decor with timber and brass finishes – for furniture and lighting.' says McCann.
9. Install a white oak banister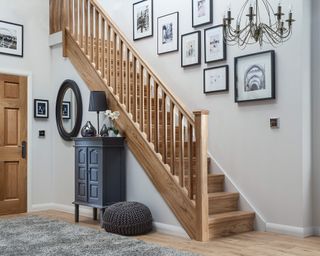 Light and bright, this classic white oak staircase is guaranteed to suit a multitude of interior designs. Oak's hardwearing properties mean that you will have a stylish feature that will last for decades – an important point when considering staircase renovation or how to design a staircase.
We particularly love the contrast of light wood and dark, black framed art that has been used in this gallery wall design. On the lower ground, the same discipline to design is continued with a black hallway table, round mirror and lampshade – with pale flooring providing some visual respite to the inky items.
10. Or warm up pale wood with lighting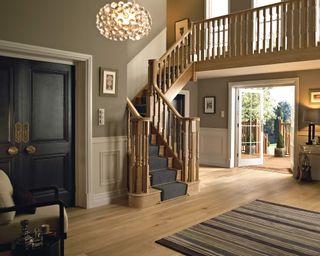 If pale wood seems too wishy-washy to use in your interiors, there are ways to manipulate the way it looks without applying staircase paint ideas, oils or stains.
Using a taupe wall paint with warm undertones with warm white lighting can make your stair railings look less cold and uninviting.
Here, multiple sources do the trick, with a statement pendant ceiling light, lampshade and natural sunlight working in tandem to create a welcoming atmosphere.
11. Choose a curved railing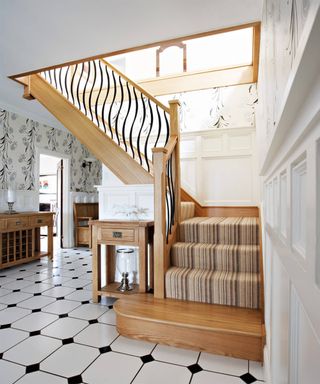 Contrary to what you may think, using steel in your staircase railing ideas won't instantly masculinize your interiors. Here, a curved railing with floral wallpaper and black and white tiled flooring work well in a trendy but still traditional hallway idea.
'The combination of warming timber and our elegant forged steel spindle creates a dramatic and stylish statement. The beauty of bespoke design is that we can completely transform your hallway into a space to be proud of, and using steel in your staircase will certainly make you stand out from the crowd.' says James McCann, 3D design office team leader, Neville Johnson.
12. Go for a sleek metal railing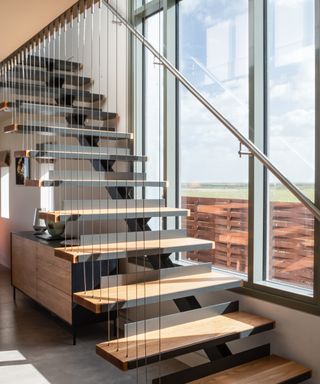 Modern home design is all about create space and clean lines. So, when looking for a contemporary staircase design – less is more. Floating wooden treads are held up by vertically-suspended metal rails for a slimline but stylish effect.
Positioned next to the window, this staircase railing idea creates gorgeous cagey shadows and silhouettes as the sunlight peeps into the home. A sleek and solid stainless steel bannister provides stability while travelling up and down the stairway.
13. Pair an oval rail with scrolled steel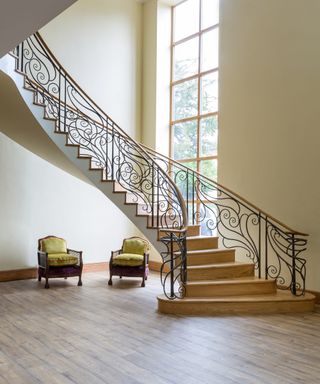 Bisca designed an imposing new staircase for this grand hallway in Newcastle with a beautifully ornate balustrade. The sweeping design has pale oak treads and risers and the staircase widens at the foot to include a feature tread.
The balustrade was forged by hand by their in-house team of multi-skilled craftspeople, made in tapered and scrolled steel. Over 150m of steel bar was used to create balustrade, which is capped on both sides by an oval-shaped staircase railing idea.
14. Wow with an intricate wooden design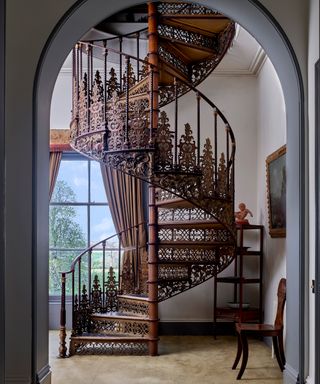 This grand staircase railing idea in this Grade I listed house is gorgeously decorated with intricate details carved from the wooden foundations. Paired with the arched wall design, it is fit for royalty.
'Turvey House has been in our family since the 1790s, when it was built as country house by John Higgins who had inherited land at Turvey from a distant cousin,' explains the owner, Charlie Hanbury.
'The original house was in the style of a Georgian manor house; however, in the mid 1830s the house was heavily remodelled by his son Thomas Higgins, following a 'Grand Tour' of Italy. It was this tour that inspired the neo-classical style of the house as it stands today.'
15. Go for bespoke spindles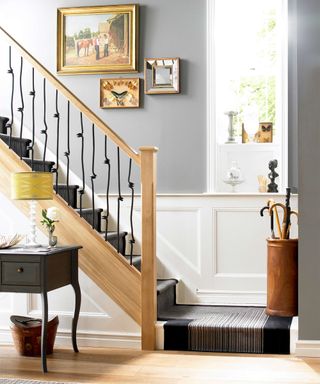 Staircase railing ideas, including spindles don't have to be straight and narrow – as this knotted design proves.
While it looks very conservative in this scheme – especially with the accompanying hallway table with curved legs – if you've got a hallway that's a little more grungy or brutalist, you could use it as a sort of barbed wire-esque execution.
16. Color match your railing to your stair decor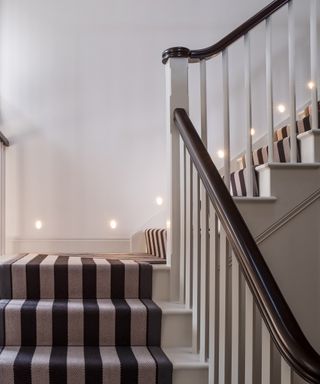 Warm and inviting, brown is a cozy color that denotes comfort – especially in the winter months. So when thinking what shade you'd like your staircase railing ideas go for this cocoa-colored hue.
In this scheme, a chocolate banister is matched with a striped taupe and brown staircase runner idea. The staircase lighting also provides directional guidance and a gentle glow.
17. Industrialize your stairs with a caged design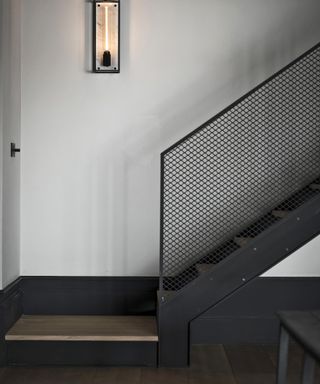 Industrial chic is all the rage in interiors, but if you don't want to go full on brutalist with concrete decor and burnished metal – you can create opt for an edgy staircase railing idea.
This black hole punched fixture is design-led and is made for cool digs. The accompanying wall light by Nest is crafted from metal and marble for an uber chic look. The contrasting materials unite to form a graphic, stylish construction that elegantly houses a striking, tubed lightbulb.
18. Furnish with foliage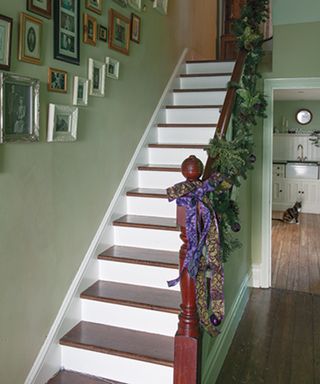 If you're wanting to bring the outdoors in, without dragging in mud and debris – you can do this by adding real or faux foliage to your staircase railing ideas.
In this scheme verdant walls and green decor add to the forest-like feel. Dark flooring and wooden picture frames add to the woodland theme. This is one way to display plants in a small hallway as you don't need to find space for pots and vases.
19. Go for a floating rail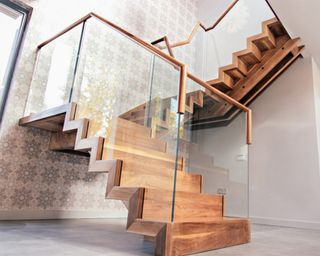 Using a floating design, this staircase railing idea with glass balustrade gives the downstairs lobby area a bright and open feel, and frees up space for your under stairs ideas. We love the contrast between the contemporary furnishing and retro tile-like wallpaper motif.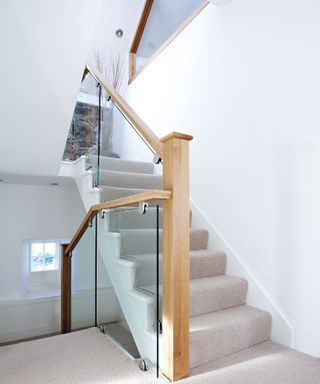 20. Treat your stair railings like a work of art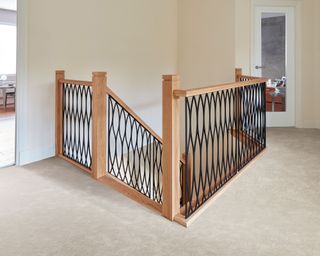 What's not to love about this staircase railing idea? Laser cut, powder-coated forged steel black spindles are successfully matched with light wood to create a sculptural masterpiece centered in the heart of the home. It's black and wood combination pays homage to mid-century design.
'I love the way that our Stanza design works in a variety of spaces, making it as adaptable as it is beautiful.' says James Murray, senior staircase designer at Neville Johnson.
'Its sculptural spindles are delicate, yet strong; it's almost like having artwork in the hallway, and yet it doesn't impose. Instead, it allows light to flow through to light up darker corners and maximise the size of the room.'
21. Pair a simple design with bold wallpaper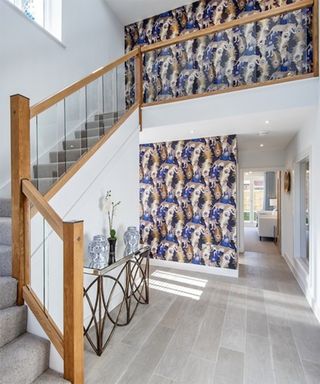 If you want your hallway wallpaper idea to shine – sometimes less is more with your staircase railing ideas. Here, a bright blue peacock design dominates the space. All other furnishings have been considered with the same rationale.
Note how the types of flooring – including the light grey LVT flooring and stair carpet do not draw attention, and the mirrored table adds only subtle, understated interest.
'The Immix collection has a distinctive minimalist elegance. Its sleek gunmetal connectors and light and space enhancing glass panels with light oak newels create a modern yet traditional feel and allow the rest of the home to shine,' says Goff.
'It is typically fitted in homes with a modern luxury style and décor.'
Which railing is best for staircase?
'Railings make up the vertical support of the staircase, often called a 'balustrade', they stop us from falling off the side of the staircase,' says Murray.
'These can vary in materials from glass, to steel, to timber. All offer the same structural support so it really depends on what aesthetic you're looking for. The combination of oak paired with glass has become a very popular choice for hallway and staircase designs in recent years, particularly for more contemporary schemes.
'Lighter coloured woods such as oak help to create a light and airy atmosphere, and the addition of glass really opens up the space – allowing light to flood through, creating the impression of a bigger hallway area. Lighter woods are becoming increasingly popular as homeowners are realising that they can complement a wide variety of colour schemes.'
What's the difference between a banister and a railing?
'The banister is often a term used to describe the full side structure of the staircase, including the handrail, balustrade and base rail,' says Murray.
'There are many components of a staircase that make up the banister. However the railing (more commonly known as the balustrade), is simply the collection of spindles that make up the vertical support of the staircase, in between the base rail and hand rail.'