On the hunt for small basement ideas? Well, we have you covered with loads of inspiring small spaces that just prove what you can do with even the diddiest of basements.
It might seem like that square footage under your home is not really good for more than just storing your holiday decs, or the ski gear or the furniture you inherited from your in-laws. But by turning that space into an actual functioning room, whether that be a home office or an extra bedroom, not only will you be giving yourself the extra space but you could also add value to your home.
Decided it's time to start making the most of your small basement? Well just keep on scrolling to get inspired to remodel...
What can you do with a small basement?
You can do so much with a small basement!
If you are looking for the best ways to add value to your home, turning your basement into a second living space or a guest bedroom, complete with a small bathroom would be the best way to go. However, if you are just after a space to add a home office, a gym, or even a home cinema, basements are the perfect place to do so.
Of course, we can't ignore the fact that basements make for amazing storage spaces too. Just make sure if you do use your space for storage you don't allow for it to come a dumping ground. Make sure everything is kept accessible and organized to boxes, bags, drawers etc. Keep it a space you don't dread having to go down to!
1. Create a cozy den like space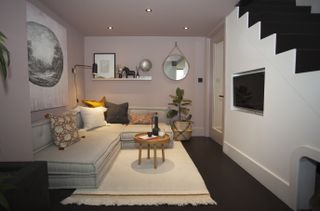 If your small basement has not been blessed with windows, which we know is super common, your best bet is to embrace the darkness and the smaller proportions. Turn your space into a really cozy, go on let's just say it, grown-up den.
This space designed by Interior Fox, might be dark, small, and have low ceilings but you don't notice that. All we see here is a really pretty inviting space that would be perfect for watching a film with a couple of G&Ts on the weekend.
'Given the same consideration as other rooms, the basement can become just as stylish and functional as a main-floor living space. Start by considering how much natural light the room has; this will determine how much electrical lighting is required. Spotlights are always a great place to start: they are low profile and, paired with a dimmer, will allow for full control depending on the time of day or activity. Layer with wall lights, floor and table lamps to really help to set the tone.' explains Jen & Mar from Interior Fox.
'For smaller spaces with low ceilings, try to keep the furniture low to the ground and not too bulky to maximize the feeling of space. This will make the room appear larger and prevent it from feeling overcrowded.'
2. Add a second living room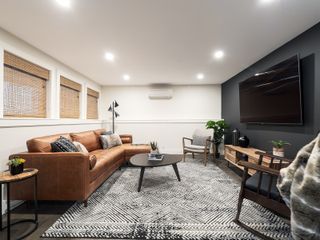 Adding a second living room in your basement is a great use of the space, especially if you have kids. But also it can just be nice to have a second space to chill in, watch films and hunker down, especially in the colder months, we think a basement living room is even more inviting than one in the main house.
Again, pick low slung furniture if you are dealing with low ceilings and stick to a simple neutral color scheme to keep the space feeling light and airy. Loving this basement space styled by Staged for Upsell, the monochrome vibe here that's been warmed up with brown leather and wooden accents is perfect in this small space.
'I would suggest adding pot lights in the basement during a reno, however, beyond that don't feel like every wall in the space needs to be painted dark. Keep some walls painted white or light grey and play with dark accent walls. The odd accent wall and using some dark leathers and black in your throw pillows for example will be enough to keep it feeling more masculine and moody.' explains Joanna Lane Owner and Creative Director of Staged for Upsell.
3. Divide up your space with sliding doors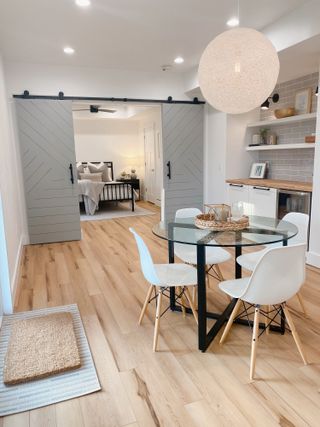 How gorgeous is this basement space by Katie Gelsheimer? The small bedroom area is actually windowless, but it feels far from gloomy because it's so beautifully lit and decorated. Those sliding doors are such a feature of the space and they allow for all the natural light from the kitchen area to flow through and keep the open plan feel but can be closed when privacy is needed.
4. Turn a small basement into a guest bedroom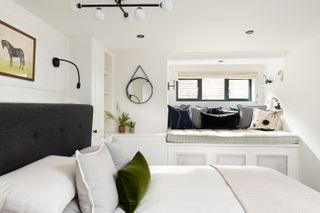 A small basement is the perfect opportunity to add an extra bedroom to your home. You might be looking at your basement thinking, there's no way anyone is voluntarily sleeping in that, but what usually takes a basement from a glorified storage space to a lovely cozy bedroom you'd actually not be terrified to sleep in is lighting. Whether that is natural or artificial, you need to make sure there is plenty of it.
If you are lucky enough to have windows in your basement, chances are they will be positioned at the top of the room, not ideal for bringing in lots of light. However, you can maximize it by keeping the space around the windows as clear as possible, and pick light and floating window treatments – a mix of blackout roller blinds and a nice voile curtain would be our recommendation.
Also make sure you have plenty of artificial lighting in the form of overhead lights, wall lights and some lovely soft lamps too.
5. Experiment with darker colors
We've been swooning over Amy Wilson's basement for over a year. Just look at it! That small basement is cooler than any room in our houses. Plus it proves you don't have to always play it safe with the colors in your basement. If you are a lover of dark and dramatic interiors then roll with it.
'It is often a misconception that dark colors make a room feel smaller. In fact, this can work brilliantly in compact spaces, and can help a room to feel co-ordinated and cozy. Paint is a great way to define a space, so don't be afraid to introduce different colors to the walls. We love to mix it up with different tones to create interest but also to reflect our clients' individual style and personality.' explains Jen & Mar from Interior Fox.
6. Create a home gym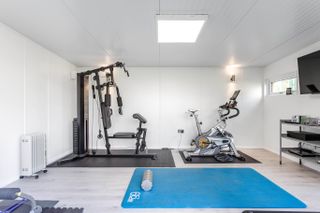 Gym closed? No problem, create your own in your small basement. Imagine you can blast your tunes as long as you like or even put a TV down there and you can catch up with shows. One episode of Married at First Sight Australia = a good hours workout.
Depending on how fancy you want your at-home gym to be, you could create one in your basement on a pretty cheap budget. You could of course lay rubber flooring and add speakers and air-con and go all out creating a space you are going to use really regularly. Or if you are just looking to create an area to escape the kids and the dog to do a quick workout, or you could just paint the walls, lay down a few mats and arrange your equipment.
Pop up some pegboard on the walls to store your weights and bands on the wall and to make the gym feel more... like a gym.
7. Add a cinema room
Surely it's everyone's dream to have a home cinema? And what better place to create a movie room than in your basement. This space by A House We Built is so gorgeous, we love the shiplap paneling, which works so well to make a basement feel cozier. Plus the wooden paneled ceiling really brings in warmth and because they are so light you don't notice the low height.
If you want to create a more immediate set up, spend the weekend giving your basement a clean out, maybe give the walls a fresh coat of white paint. Then get some old sofas down there, a big area rug and set up a projector to up your movie night game.
8. Create the ultimate games room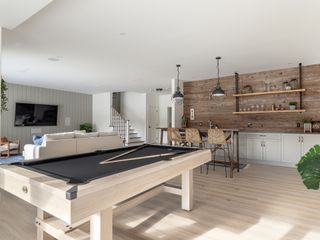 Where else can you justify having a pool table in your home than in a basement? Even if you aren't a fan of pool, they really add a focal point for a socializing space, and we are sure your guests will get into it! Add some retro arcade games, a foosball table and of course a mini-fridge to create a great space for entertaining.
9. Turn a small basement into a home office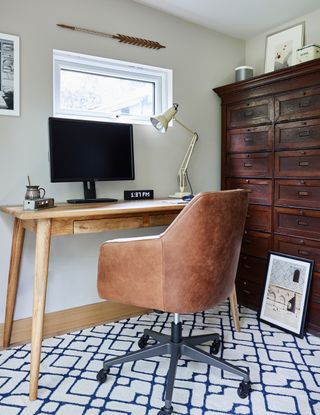 With so many of us working from home a whole lot more, creating a separate space is super important for feeling productive. Also, it's nice to be able to 'leave' your work away from your living spaces, just to further encourage that work-life balance that a lot of are trying to master right now.
Just make sure your space either gets some natural light, or has plenty of light sources that are enough to work by. Add position your desk under a window if you are lucky enough to have one, then just get decorating your space to suit your style.
We have plenty of small home office ideas in our gallery, so be sure to check that out too.
10. Use a small basement for storage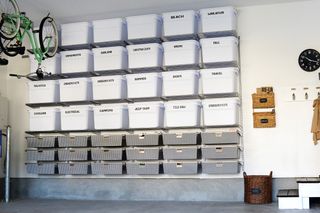 Sometimes, it's best just to except a small basement really is best used as some amazing extra storage space. They are so much easier to access than an attic and you can really organize your stuff so you know where everything is, rather than having to brave the black hole that is the loft every time you need to get to your ski gear or the blow-up beds.
Here, A Bowl Full of Lemons has used a clear labeling system to organize her garage. Come on, you have got to admit that is one satisfying picture. And if organization really is your thing, check out her Instagram.
Find more basement storage ideas in our gallery.