Looking for basement storage ideas? We have you covered. Let's be honest, if you have found yourself here, it's likely your basement looks like something from Storage Wars. A maze of bikes, Christmas decorations, dog crates, ski gear and more! But it's time to turn that black hole into organized, accessible storage that's going to make finding your suitcases the night before a trip a whole lot easier.
Whether you're remodeling a basement and need good storage for it, or simply shopping around for the best basement storage going for an unruly cellar, start by working out whether you want wall-hung for floor-standing storage. Floor-standing basement storage will be quicker and easier to install, but there may be issues around drilling into a tanked wall; wall-hung storage, on the other hand, will be neatly off the floor, handy if your basement or cellar is prone to flooding.
So if you are looking for plenty of ways to manage the growing clutter under your home, just keep on scrolling to get inspired...
1. Install sturdy open shelving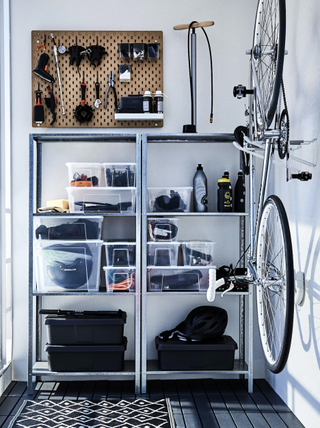 In keeping with the store off the floor mantra, invest in some heavy duty shelving. Opt for ventilated, open shelving in durable metal or sturdy plastic (avoid wooden units as any damp that might lurk in your basement could damage and warp it).
Box up everything you put on the shelves too – airtight, waterproof, clear containers would be our top choice. This is also one of the best garage storage ideas!
2. Always store in airtight containers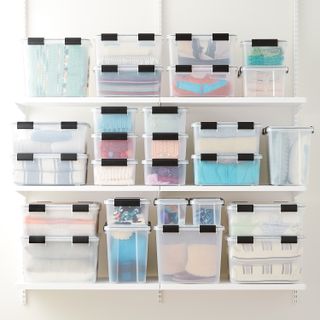 A basement can quickly become filled with precariously balanced boxes, the contents of which are a mystery. Going for clear lidded storage boxes that can be neatly and safely stacked means you never have to rifle through Christmas decorations to get to the ski gear again. If the boxes are airtight your possessions will be protected from mold spores and pests, such as moths or mice, too.
These weathertight boxes from The Container Store have strong latches and an airtight seal; they come in 12 different sizes so you can mix and match based on your storage needs.
Top tip: Store the heaviest boxes on the bottom shelves or at the bottom of the piles to avoid any catastrophes when try to access them.
3. Banish bulky items to baskets
For items that are an awkward shape or size and don't fit neatly into a box, baskets are a good option.
These wire storage baskets from Big Dug can be stacked to create a complete storage unit. They also come in four different sizes and dividers are available, so you can customise them based on what you are storing.
4. Label your storage boxes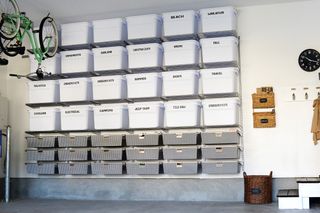 Go label crazy. You will thank yourself later. Organizing all the items you want to store in boxes or containers into groups, and giving each group a label will not only tell you what is in each box, it will also give you a good idea of where the box will be stored. Tools and DIY equipment? Keep them somewhere low down and accessible. Broken things you promised to fix but never got round to? Well, safe to say that can probably be stored on a top shelf...
Here, blogger A Bowl Full of Lemons has used a clear labeling system to organize her garage. Come on, you have got to admit that is one satisfying picture. And if organization really is your thing, check out her Instagram.
5. Add in clothes rails too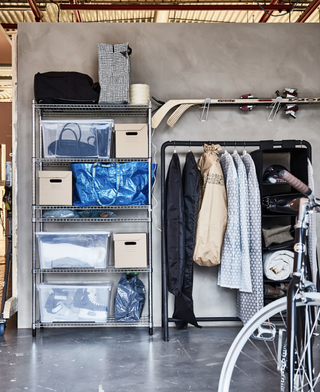 If you need to store bulky clothes in your basement like winter jackets, that are just going to take up an entire box, add a clothes rail instead. Just make sure you keep any clothes you want to hang in clothes covers to protect them from any moisture or dust. You can also hang extra storage from your clothes rail to stash away any small items.
6. Discover the joys of pegboard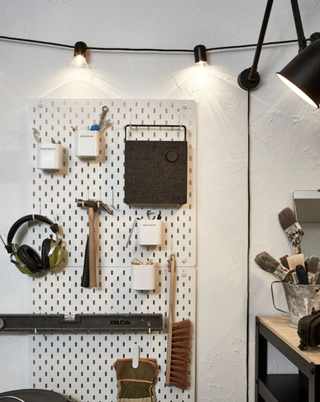 Surely, by now you will know we are big advocates of pegboard. It's just the perfect way to store smaller bits that would otherwise clutter up your surface spaces. The Ikea Skadis pegboard is great because you can get add ons like pots and shelves to make everything even more organized. Pop one (or five) on your basement wall to keep everything easy to access.
7. Use ceiling space for storage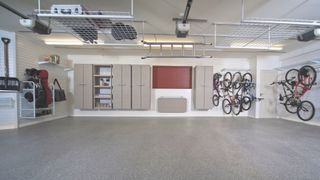 If you are lacking in floor space, use heavy duty hooks and overhead racks to make use of ceiling space. Overhead storage is more suited towards lighter items, so use it to get those awkwardly shaped or longer things out of the way. Think skis, planks of wood, Christmas trees, spare piping, ladders, surfboards.
8. Create a fold away work space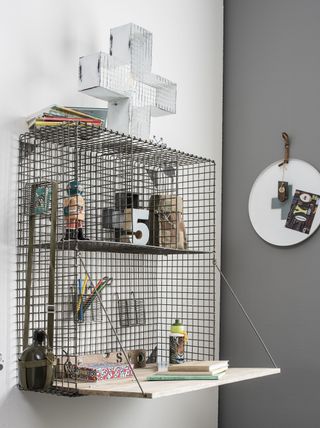 If you are an occasional DIYer and use your basement as a workspace, a fold down desk offers a sturdy surface that tucks out of the way when it is not in use. You can then use the wall space above to mount shelves, pegboards and hooks to store all the tools you need to keep accessible.
9. Use a trolley as a portable DIY trolley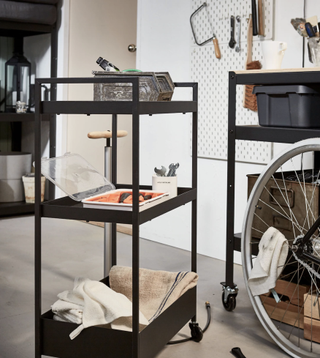 Much like pegboard, the humble trolley is something we have gushed about many a time. They are great for basement organization too because you can clearly see where everything is on the shelves, plus it's portable so you can move it around the space with you. We think it would make for a great bike repair station.
10. Build a customisable shelving system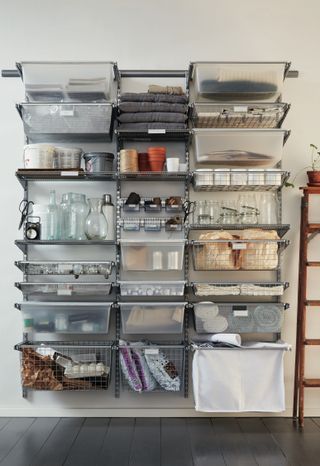 Choose a basement shelving storage system that can be customized to maximize your space.
Elfa's systems are perfect for basements as they are completely flexible and provide so many types of different storage – shelving for larger items, baskets, pegboards, tool hooks and drawers can all be added.
11. Get some smart bike storage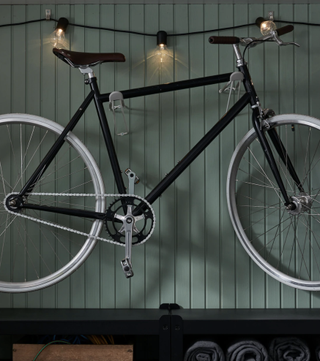 Need bike storage ideas? Bikes can be one of the bulkiest items in your basement, so save some space by mounting bikes on hanging racks or hooks instead. Just make sure you hang it at a height that you can safely get your bike down.
12. Save space for the good stuff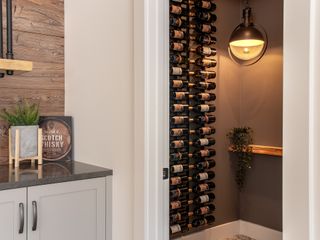 If your love of wine has overflowed from the small wine rack in kitchen to the larger wine rack under the stairs and then to the even larger wine rack in the garage, the basement is your next best bet for stowing just a few more bottles. Basements tend to already be the perfect conditions for storing wine – they are dark, cool and the temperature doesn't tend to fluctuate too much. Just make sure your basement is free of dampness and mold and doesn't go below 40°F.
Check out more wine rack ideas in our guide.
13. Stash your shoes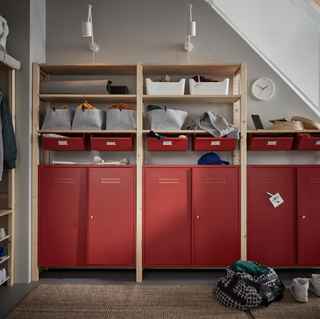 So you keep saying you will have a cull of your vast shoe collection, but who are you kidding? If you simply can't let go of your assortment of strappy kitten heels - we all know they are going to have their moment again - then get some added shoe storage ideas for the basement. Always opt for closed storage to protect shoes from any damp or dust.
14. Add storage under the stairs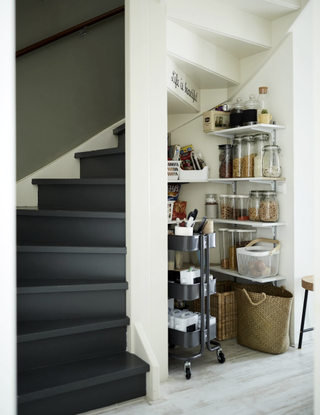 One thing all basements have in common – stairs. Under the stairs is very valuable real estate and shouldn't be wasted. You could go with a built-in option or just create your own using wall shelves, boxes, baskets, jars, all the storage. We like this idea of creating a bit of a pantry in your basement if you need a bit of extra room in your kitchen. This would work particularly well if your basement is accessed from your kitchen.
Find more under stair storage ideas in our guide.
15. Go for built in storage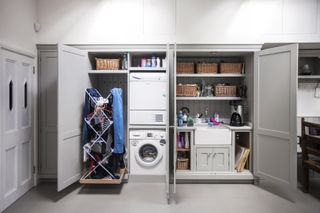 Built in cabinetry has got to be the most aesthetically pleasing of all the basement storage. It looks gorgeous yes, so makes sense if you are remodelling your basement, rather than just using it for storage. But it's also a super practical choice as you can really personalise it to your storage needs, or if you have an awkward space that no off the shelf storage is going to work in.
Love how this set up is like a mini utility room, complete with a sink! Definitely an effective use of the space and means you free up room upstairs as you don't need to fit a bulky washing machine and dryer elsewhere.
16. Create an island in your basement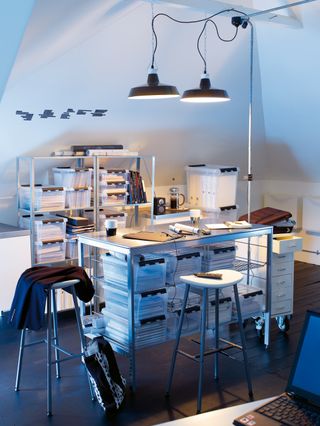 It works in a kitchen, so why wouldn't an island work in a basement too? They add extra storage but are also a good idea if you use your basement for DIY and need a surface to work on. Make it feel like more of a 'room' by adding in some pendant lighting (if the ceilings will allow) over the top and pop a couple of stools down there too.
How do I organize a basement?
Start organizing your basement by having a cull, check everything you are keeping down there is needed. Anything you no longer use or need, put aside to donate. Then think about what you will need to access most and make sure those things are front and center, things you only reach for, say once a year, they can be kept in slightly less accessible spaces.
Get friendly with your label maker. Even if you are storing things in clear boxes it still helps you have a clear idea of what is in each box. You could even write down what is in each box so you have a guide to your basement storage.
How do you store things in an unfinished basement?
If you are mid basement remodel but still want to store things in your unfinished space, you totally can. Just make sure any boxes are kept up off the floor, everything is stored in airtight, waterproof containers. So plenty of shelving and make sure nothing is at risk of getting damp.