Designing a home office? Well after you've found the best desk, the perfect office chair and picked out all the office accessories you need, it's time to think about storage.
So we've compiled a selection of the best home office shelving from the likes of John Lewis and Marks and Spencer to provide you with a list that is full of both stylish and functional shelving units...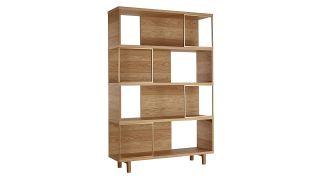 1. Design Project by John Lewis No.004 Display Unit
The ideal shelving unit if you love linear designs
Specifications
Best for: Contemporary style
Colour: Oak
Material: Solid oak, oak veneers
Dimensions: H180xW120xD35
Reasons to buy
+ Solid and hard wearing + Made from real wood
Reasons to avoid
- Perhaps too modern for traditional homes
This contemporary home office shelving unit from John Lewis is both stylish and functional. The designers have chosen to use both oak and oak veneer to give it a sturdy, hardwearing structure, perfect for storing files, books and other necessary office items. The boxes at the end of each shelf can be used to frame a lamp, ornaments or even a vase, so you can extend your unique taste to your home office.
2. Sanford Parquet Bookcase
This rough and ready shelving unit provides ample storage
Specifications
Best for: Shabby chic interiors
Colour: Dark wood, black
Material: Solid Mango Wood, iron
Dimensions: H170xW100xD35
Reasons to buy
+ 5 shelves provide ample storage + Fairly lightweight for moving
Reasons to avoid
- Perhaps too industrial for traditional homes
If you're a fan of shabby chic, this shelving unit from Marks and Spencer combines iron and wood to create a rough and ready, industrial feel shelving unit that would look great as a statement piece for your office. Featuring five shelves, there's plenty of room for you to create an organisation system as complex as you like. Whether it's baskets of spare stationary on the bottom shelf, books on another and files on top, you won't be stripped for space.
3. Cox & Cox Two Industrial Shelves
Cleanly designed shelves for a completely uncluttered office
Specifications
Best for: Minimalists
Colour: Black
Material: Iron
Dimensions: H35xW100xD25 and H34xW70xD25
Reasons to buy
+ One large, one small + Made from sturdy iron
Reasons to avoid
- No fixtures and fittings included
Of course, home office shelves can be decorative too. This pair of industrial shelves combine a black iron frame with a shelf surface to create units that are minimal yet stylish. They therefore lend themselves to displaying rather than storing, so any picture frames or business awards would look great taking pride of place on either of these shelving units. Bear in mind that fixtures and fittings aren't included with these units and will come at a separate cost.
4. Garden Trading Aldsworth Wide Shelf Ladder
An upcycled chic shelving unit that provides lots of storage room
Specifications
Best for: Shelf space
Colour: Wood
Material: Wood
Dimensions: H180xW80xD35
Reasons to buy
+ 6 shelves + Shelves have various depths
Reasons to avoid
- Takes up more floor space than a regular unit
If you're looking for a substantial shelving unit that contributes to the interior design of your home office, this rustic unit from John Lewis could be just the thing. Whether you're looking for plenty of room to store files and books or display decorative items, the varying depths of the 6 shelves gives you plenty of ways in which to use the unit. Because the shelfs are angled like a ladder, this unit will take up more room than your standard set of wall shelves, so it may be best suited to large home office spaces.
5. Heart of House Elford 3 Shelf 2 Drawer Bookcase
The perfect buy if you're looking for additional storage too
Specifications
Best for: Storage and shelf space
Colour: Various
Material: Wood and metal
Dimensions: H189.5xW90xD40.7
Reasons to buy
+ 4 shelves, 2 drawers + A range of colours available
Reasons to avoid
- Doesn't have much character
This shelving unit comes in variety of effects, including white, oak, walnut and grey, so there's plenty of choice if you're stuck trying to find one that fits in a traditional home office. There's four shelves, perfect for storing a combination of books, files and photos. There's the added bonus of two drawers at the bottom of the unit, which are great for storing clutter that you'd rather keep hidden. Plus, Argos say that the unit comes fully assembled, so you won't even have to take time out of your busy schedule to put the unit together.
6. Reclaimed Wood And Steel Industrial Style Shelf Unit
Try this alternative iron and wood unit for size
Specifications
Best for: Stylish, yet compact
Colour: Wood and grey
Material: Wood and steel
Dimensions: H60xW60xD15
Reasons to buy
+ Made from recycled material + Great for shabby chic offices
Reasons to avoid
- Not as much shelf space as others
If you like the look of our pick from Marks and Spencer but you are working with a small home office, you may be interested in this selection from Not On The High Street. Combining steel and reclaimed wood, it's industrial in style, even in the way in which the brackets fix the unit to the wall. There's three shelves which are fairly short in length, so it's a great choice if you're only looking to store stationery or trinkets.
7. Hygena Squares Plus 16 Cube Storage Unit
Use this shelving unit for decorative or storage purposes
Specifications
Best for: Versatility
Colour: Various
Material: Wood
Dimensions: H145xW146xD39
Reasons to buy
+ Lots of shelving space + Available in a range of colours
Reasons to avoid
- Takes up a fair amount of room
This versatile unit can be used in multiple different ways depending on your purpose for it. Each individual cube is perfect for those who love creating organisation systems, but you could also mix and match with drawers to create places where you can store items that you'd rather keep tucked away. You may even use some cubes for filing and some for displaying ornaments. The unit is available to purchase in white gloss, white matt, beech, or oak, so it should offer a colour suited to your taste and existing decor.
8. House by John Lewis Mix it 120cm Floating Shelf Unit
The solution to running out of desk space
Specifications
Best for: Simplicity
Colour: Various
Material: Foil wrapped chipboard
Dimensions: H22xW120xD20
Reasons to buy
+ Contemporary touch + Compact unit
Reasons to avoid
- Not real wood
Sometimes all you need is a unit above your desk where you can easily reach important documents, spare stationary and books. This shelving unit from John Lewis offers two rows on which to store necessary or decorative items. It comes in variety of colours to suit contemporary and traditional home offices and at less than £100 per unit, you could purchase a couple to ensure everything in your office has its place.
Looking for more home office inspiration?