Whether you lived through it and loved it the first time around or have only fallen for it during its recent revival, Mid-century modern is a design trend that isn't going anywhere. Retro drink carts, Knoll sofas and Eames lounge chairs have been creeping back into our homes ever since Mad Men graced our screens.
But you've given your living room a Mid-century overhaul and Eiffel chairs have taken over your kitchen, so what next? We think it's time to turn your home office into a working space that Don Draper himself would be proud of with our top design ideas...
1. Choose the right desk for your office
We know it's easy to get carried away with creating the perfect space to sip Old Fashioneds and contemplate world domination, but don't lose sight of the fact that an office is primarily a place to work in. This means spending some time picking the right home office desk that fits with the Mid-century vibe but also works for you. This desk from Maison du Monde looks the part but is also super practical, with lockable drawers and an extendable desk - can we also spend a second admiring that faux leather desk chair?
Top tip: If you are strapped for space in a small office don't take up valuable floor space with a bulky desk - opt for something more slimline or even better a whole wall unit with a desk that folds away.
2. Mix and match different Mid-century styles
Mid-century embraces both natural and synthetic materials, so don't be afraid to mix them up. We love how this chunky wooden desk and the vintage filing cabinet looks paired with the uber modern plastic and leather chairs.
3. Opt for closed storage units
When it comes to creating the retro home office of your dreams, storage is key because, let's be honest, your blue plastic stapler and neon sticky notes don't quite fit the overall theme. So go for closed home office storage. With this unit from CB2 you can mix and match open and closed shelves, keeping your mid-century finds on display and hiding away your 21st century clutter.
4. Go bold with Mid-century modern lighting
When choosing lighting, think simple but sculptural. In an otherwise minimalist interior the right light fixture can make a striking statement - the curved silhouette of an arc lamp or a bright anglepoise adds an instant Mid-century feel to a room without going overboard. West Elm have some great retro lighting similar to the one below.
5. Re-vamping your home office on a budget? Focus on accessories
Unfortunately, not all of us are advertisers working on Madison Avenue. So if you don't have the budget to completely overhaul your office space but still want the Mid-century look try choosing a few accessories. Hang some artwork that fits with the vibe, go for a vintage phone (even if it doesn't actually work it's a nice touch) or a choose retro alarm clock like this one from Newgate.
6. Experiment with different colour palettes
Traditionally, Mid-century interiors lean towards more earthy colours - dark wood, burnt orange, mustard yellow, dark red. But if you aren't a fan of brown furniture and olive upholstery, you can still hijack the Mid-century style, just change the colour palette to suit your home. Check out how this mid-century inspired office has injected pops of bright blue…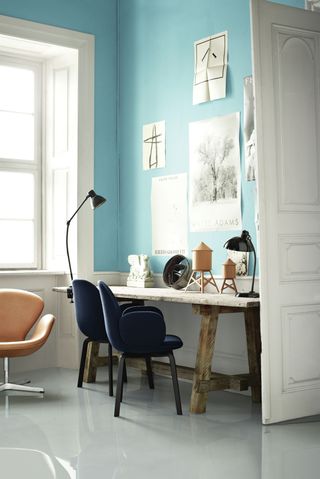 We also love how the desk and vintage chair in this room nods towards the Mid-century style but the pale pink palette gives it a fresh, girly look.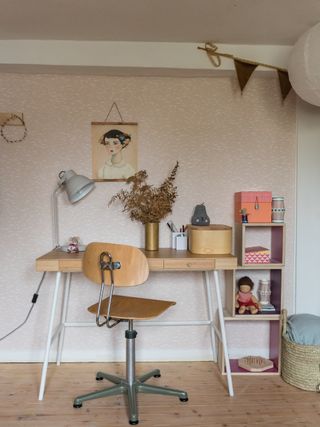 Looking for more home office inspiration?