Even as our in-house expert, there are things I wish I knew before buying a small coffee maker. For me, a morning cup of Joe is akin to a multivitamin, so I consider a coffee maker an essential part of the kitchen.
As much as I love the local bakery's cold brew and cappuccinos — particularly with a pastry on the side — I require bean-brewing access at home. Especially when it's close to payday and I need to cut down on my extra-curricular spending.
Just as I sampled cups from the neighborhood spots, finding a small coffee maker device that suited my caffeine needs would also involve some research — there's a lot to consider. If you're planning to fill your cart with Black Friday home deals, including the best coffee maker your money can buy — keep these helpful tidbits in mind.
11 things I wish I knew before buying a small coffee maker
Pod coffee maker or single-serve coffee maker? Brewing solo or with a roommate? Dark or light roast? There's an awful lot to consider before you take your first sip at 7 am — but that's where I come in. I'm our customer advisor, and literally wrote the manual on how we test coffee makers. So learn from my caffeine catastrophes of years past.
1. It might need rinsing before you go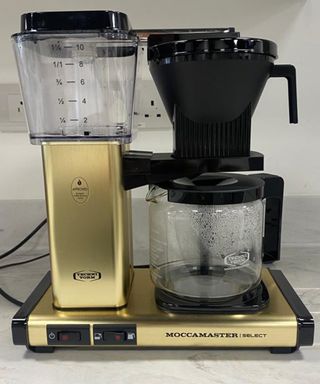 Are you still working from home and have time to bounce between the kitchen and your desk? Or are you back on the daily commute, sprinting out of the house and spilling your coffee on your way towards the subway? This could be a huge factor in determining what works best for you. If you're in a rush, you're likely going to want to skip out on something that requires a service early in the morning. Or you're going to have to set your alarm for an ungodly hour.
(As a gentle reminder, this is what happens when you don't clean your coffee machine. It's not pretty.)
2. How much the coffee will cost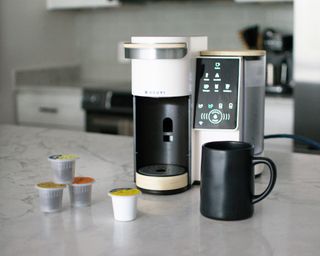 A generous-sized cup of coffee from your local coffee shop could cost upwards of $5. Likely more if you fancy a little extra syrup, whip, or want to upgrade to the guest blend. Making coffee at home is likely significantly less, even if it means putting in more work. Replacing that daily $5+ cup of coffee with a bag of beans or K-cups sounds economical, but there are still things to keep in mind.
For example, Nespresso Vertuo makers are bar-coded, which means you're not able to buy alternatives for the machine. Are you willing to stick to one brand, or do you want to venture out of your comfort zone and try new things from time to time?
According to Millie Fender (an appliance expert and our former head of reviews), buying a machine might mean you have to stick to one brand. She stated, "Don't just look at the machine itself, take a look at the range of pods available and see if they sound like drinks you'd like."
If you like to sample, the best Keurig coffee makers sport more compatibility. Amazon coffee pods available offer a lot in the way of diversity if you like to taste test. (Did anyone catch a glimpse of Maud's holiday flavors?) But if you're true blue, this is where to buy Nespresso pods when you'd rather stay comfy at home than shop for groceries.
3. Size counts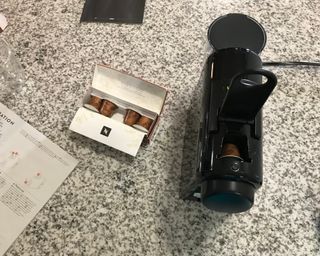 Size matters when it comes time to shop for appliances, especially if you're looking to maximize countertop space in a small kitchen. Save yourself the hassle of a return by measuring the dimensions of your counter and the space between your cupboard to see what you'll need for the machine itself and the coffee it'll brew. Every inch counts, folks! FYI, the Nespresso Essenza Mini we reviewed recently is the tiniest machine the brand offers.
4. Material and colorways count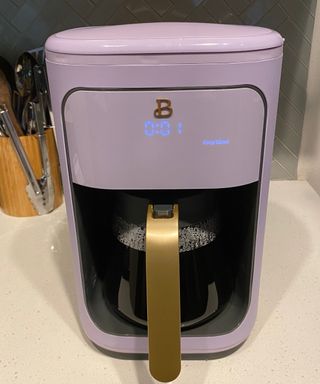 If our Beautiful by Drew Barrymore coffee maker review isn't proof that looks matter, we're not sure what will convince you otherwise. Appliance aesthetics play a huge part in how the room looks, as evidenced by a new hue in her Beautiful line called "Thyme," a deep forest green. Color selections, like Thyme, are intentional, if you ask interior designers.
"Dark green, as seen in Drew Barrymore's kitchenware, brings a grounded elegance to kitchens," says interior design expert Artem Kropovinsky. "Pair it with muted gold hardware for a touch of opulence. Incorporate earth-toned ceramics to balance the depth of the green. And, for a modern twist, mix it up with pale wooden textures and white countertops."
When you take material into consideration, it could be a make-it-or-break-it situation. Can said material handle your needs? Will it make the rest of the kitchen look glam...or gross? If you sneak a peek at my De'Longhi Rivelia coffee maker review, you'll see how closely the sand beige hue matches my fridge panel.
Artem Kropovinsky is an interior design expert and founder of Arsight, an award-winning interior design studio based in New York.
5. The crema might not be real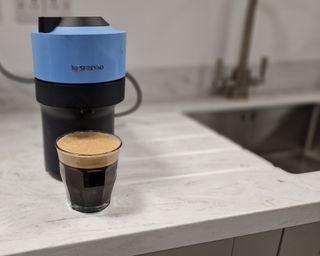 For some coffee connoisseurs, the small details matter, including the crema. This is the light, frothy part of an espresso that we find at the top of the cup. According to Rachel Thomas, coffee expert at KitchenAid, this sensation happens when hot water is forced through the coffee grounds at high pressure, which ultimately emulsifies the oil of the coffee bean and produces tiny bubbles.
As demonstrated in our Nespresso Pixie espresso maker review, small coffee makers do give consumers the option to froth themselves — but this particular machine is artificially spun. Does it make a difference? In my opinion, it does. That's not to say that you should be deterred from buying one of the best Nespresso coffee makers.
6. Commitment to descaling
No matter what you opt for, you're going to have to learn how to descale a coffee maker and discern how often your machine requires a little TLC, lest you'd like to sip on some pretty gross java.
What happens when it's time to descale? As Chris Clark, founder of Brew Coffee At Home, previously told Real Homes, there are signs to watch out for: "The volume of coffee brewed is less than expected; water is leaking from the machine; your coffee starts to taste bad; it takes longer to brew a K-cup."
Some machines will require a descaling solution, others allow you to use distilled white wine vinegar to get rid of the gross stuff; read the specifics before you shop.
Chris Clark is the founder of Brew Coffee at Home, "a dedicated coffee blog that offers hands-on reviews of coffee-related products, from coffee machines and grinders to beans and accessories."
7. The noise
Is this machine quiet — like whisper quiet — or is it a bit louder, perhaps what you'd expect when having a conversation? Or, is it so loud that you are going to disrupt not only your whole house but perhaps even your entire neighborhood? Don't be *that* neighbor at 6 am. Usually, manufacturers will list the noise levels in decibels. This decibel level chart by Yale University is a good resource to refer to. Ideally, if you want to stay pals with the peeps next door, aim for nothing louder than 75 dB. If you are concerned about excessive volume, my advice is to compare something like an Aeropress vs. French Press as these coffee makers are not only quiet but are also easy to transport.
8. How to dispose of the pods/coffee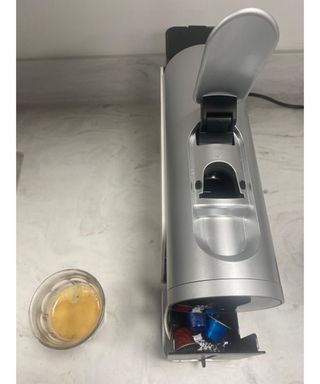 Although some brands are built with sustainability in mind, getting rid of their coffee remnants can be a challenge. Can the trash go with regular recycling, or will it require a little extra work? For example, for almost three years, 100% of Keurig K-Cup pods have been recyclable, as they're made from recyclable polypropylene (#5 plastic). Though polypropylene is accepted throughout the country, that doesn't mean all facilities will accept used K-Cups, so you'll have to venture over to sources like BeRecycled.org to see what is permitted in your area.
9. Not all coffee makers brew at the same time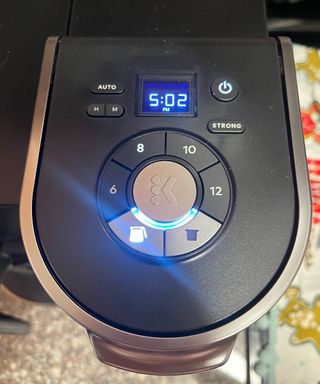 Sometimes we can get a coffee within minutes with a K-Cup. However, other machines might be a tad more complex, as I learned when reviewing the Morning Machine coffee maker. Though the results are worth it, sifting through ten brewing modes on an OLED screen for a cup of Joe might be too much for someone who just wants to make it to work by 9 am.
10. If my coffee maker has credentials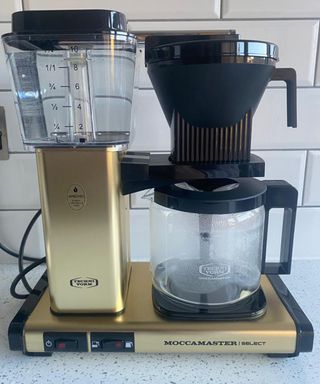 Unbeknownst to some, the Speciality Coffee Association (SCA) has requirements for brewed coffee quality based on factors like proper water temperature and brewing time that determine whether or not a machine has met the proper standards. Is your machine SCA certified? If not, perhaps it's important to see what factors prevented it from reaching this status — and how that will affect your morning cup of Joe. It's no biggie to most people, but it's definitely something that stood out in our Technivorm Moccamaster review, Oxo Brew 8-cup coffee maker test, and Zwilling Enfinigy drip coffee maker write-up.
11. Machines are customizable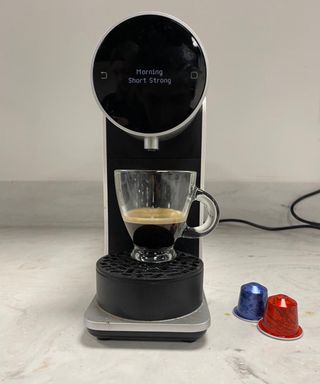 Gone are the days when you are forced to settle for the basics. Sure, the simple start-and-stop mechanism was a unique selling point in our Lavazza A Modo Mio Jolie Plus review. But if you're on the hunt for the best coffee produced by a pod machine, the Morning Machine has ten brewing options. You can opt for something low-key, or you can customize your preferences with helpful features (for example the Nespreso Vertuo Next we tested is Wi-Fi compatible). The coffee-making process can be as simple or intricate as you'd like it to be.
---
So hopefully by now, you're equipped with enough knowledge to buy a compact coffee maker confidently. Next on your to-do list might be to upgrade your drink vessels. These $17 Kourtney Kardashian coffee mugs look stylish and won't burn your hands either.