Investing in one of the best single-serve coffee makers is one of the proudest purchases I've made for my self-care. Raise your eyebrow at me all you want because you haven't seen me before I've had my morning brew. Trust me — it's for the Real Homes team's safety! Of course, I share the benefits of a single-serve coffee machine with others. On weekends, I like to use one of the best small coffee makers to enjoy a ground bean beverage with my fiancé and friends. We're all particular with our pod preferences, so an appliance that makes a customized brew is suitable for our space.
Why a single-server vs. a "normal" carafe coffee maker? Well, Unless you're serving a small army, you don't need a huge, multi-cup machine to start your mornings. Plus, your skin (and bladder) definitely thank you when you're not obliged to chug a jug as it's a diuretic.
So all you need to do is choose the best coffee maker that's well-reviewed and reasonably priced, right? Well, not quite. It turns out, each machine has a bunch of different features that make some models more compatible with your lifestyle than others. To help, I've curated a collection of tried-and-tested favorites to narrow down your decision whether you prioritize convenience, versatility, or price.
The single-serve coffee makers we've reviewed below include your conventional capsule-taking gadgets, as well as those that have a "permapod" in place (just add grounds) and even machines that make iced coffee too.
And, you'll be pleased to know that all of the machines below take on average two minutes to make your order.
The best single-serve coffee makers
Why you can trust Real Homes Our expert reviewers spend hours testing and comparing products and services so you can choose the best for you. Find out more about how we test.
The prices below were correct at the time of publishing this article.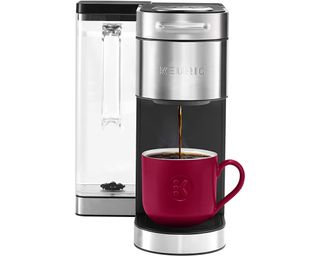 It's no surprise a Keurig coffee maker sits at the top of our list. Let's just say, I've found the highly customizable and sleek K-Supreme Plus Coffee Maker a cut above the rest. It works with K-Cup pods, which offer a dizzying array of coffee options, as well as specialty tea and hot chocolate options, too. Plus, it brews a batch of coffee in under one minute. Oh, and it's nice and compact if you have a small kitchen or minimal countertop space.
In review
How exactly does it work? Well, the K-Supreme makes use of Multi-Stream technology which uses five needles instead of the standard one, like a rainfall effect, for better saturation and flavor. Simply insert the pod of your choice into the machine, select your brew size, and Keurig will take care of the rest.
When testing this machine, we played with all five single-serve settings. We found that a 12-ounce brew is perfect for anyone who wants a subtle pick-me-up but doesn't want to feel wired all day. Whereas, a 4-ounce brew size will create the strongest cup of coffee. Our "coffee jury" found 8 ounces to be the perfect happy medium. The machine also lets you select brew strength and temperature adjustments. There's an easy "Over ice" button so you can have a chilled coffee and don't have to fork out on a dedicated iced coffee machine. The only things you can't make are lattes and cappuccinos, so if they're your go-to orders, perhaps look into another machine. This machine is packed with small details that will help start your day on the right foot. Unlike most multi-cup coffee makers, which require you to refill the water every time you want to make a new batch, this model has a massive 78-ounce reservoir that will allow you to brew as many as nine cups before you have to refill it
Good to know
If you live above 5,000 feet, there's also a cool high-altitude setting so you can make a drink even if you live way up in the mountains. It alerts you to descale after every 250 brews, so you can know exactly when it's time to give your machine some attention to keep it in tip-top shape.
Read our Keurig K-Supreme Plus review.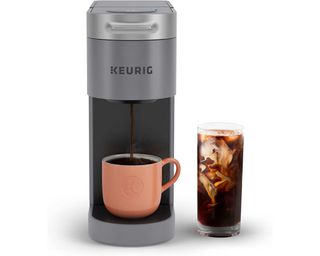 In review
The Keurig K-Slim + Iced truly couldn't be easier to use, according to one of our reviewers. Unboxing to brewing took less than five minutes. Clean up is so easy too — literally, just pop out your K-cup. And it's smart in that it will remind you to descale after every 250 brews. A descale button makes that process super easy too, though if you need to — we have a complete how-to on descaling your Keurig machine.
For iced coffee, the ice cubes did melt enough that it diluted the final product a little bit, and necessitated adding in more ice for the right chill factor. However, this brewing method feels very standard for iced coffee — quite literally the definition of adding ice to coffee that was once hot. The advantage here is the special feature that cools down the coffee during brewing so your coffee can get the heat it needs for a swift extraction without coming out too hot. This is opposed to cold brew when the brewing process is chilled the entire time.
Good to know
Keurig also makes K-cups designed to work in conjunction with its Over Ice function, as a growing feature across its lineup, or you could simply just add ice and brew as normal. Jaclyn tried both the Caramel Vanilla and Classic Black flavors from Green Mountain. She was most excited to try the flavored variety, but thought that the coffee came out weaker, and had more ice dilute than the Classic Black.
Read our K-Slim + ICED review.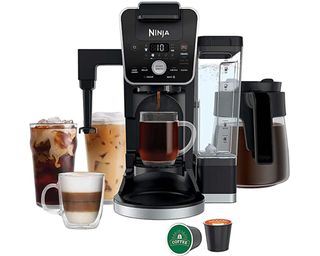 Ninja's new DualBrew Pro is one of the most luxe options out there, with special features like the ability to brew a specialty brew, iced coffee, fold-out milk frother, built-in measuring spoon, and a hot water spout, all in a narrow, space-saving footprint. But let's be clear — it is the biggest on our list.
In review
This 3-in-1 machine is the crème de la crème of single-serve coffee makers in our opinion. Unlike typical Keurig machines, it offers three entrance points for a richer, smoother coffee. When you do want to brew a carafe, you will have to remove the Ninja Pod Adapter and slide forward the ground coffee component with a rainshower-style head. The switching of the pieces took some practice to get the hang of, but from there, it's muscle memory. Operating the digital touchscreens is really very simple, and it'll stay on your last used setting. You have the option to brew filtered coffee from 2-ounce to 55-ounce pours or K-cups that go from 6 to 12 ounces. Want an espresso-style drink? Choose a 4-ounce specialty brew, which works with K-cups, too. You can also indulge in stronger coffee with a Rich brew, or cool off with Over Ice. There's even a hot water knob that almost instantly delivers hot or boiling water. One thing to note however is that the frother isn't a steam wand, so while it will give your milk a foamy texture, it won't heat it.
Good to know
Fail to prepare, and you'll prepare to fail with this machine. In short — it honestly pays dividends to read the instruction manual as the versatility of this machine is both a blessing and a curse. The former of course, once you're comfortable and confident with operating it. It is on the pricier side, so look out for it on sale during those familiar sales-y periods e.g.: Presidents' Day and Black Friday.
Read our Ninja DualBrew Pro review.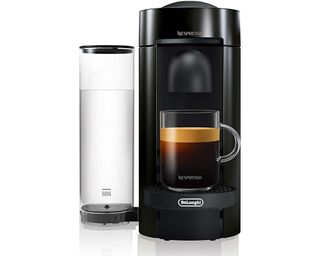 Want to add some more oomph to your morning routine? You might need a latte or cappuccino. Since espresso generally has more caffeine per ounce, it's a great way to add some extra pep to your step. Nespresso has been the gold standard of at-home espresso machines since its founding in 1986 and the Vertuo Plus is our choice for its reliability, convenience, and delicious coffee and espresso it brews. In fact, it's our top choice when it comes to choosing among the best Nespresso machines.
In review
Making a coffee with the Nespresso Vertuo Plus is easy. Simply select your pod of choice, gently press on the underside of the hinge at the front of the machine, and it will lift automatically. When you've used the machine prior to this it will lift up and slide the formerly used pod into the bin, which sits at the side of the machine and is easy to remove and empty. Then, it's a case of dropping your pod into the holder, pressing down on the hinge, and allowing it to lower itself down, puncturing the seal on the pod with an audible "pop." Once you've inserted your pod and selected the designated brew size, this machine uses its patented Centrifusion technology to spin the capsule up to 7,000 rotations per minute. Since Nespresso's Centrifusion moves so quickly, it mixes the ground coffee and water just right to create the perfect crema every time. This machine only takes 15 to 20 seconds to preheat, and once it makes some creamy caffeine, it will automatically eject the used Nespresso pod. That way, you can spend less time fumbling with your machine and more time enjoying your coffee. Have an extra minute to spare? Often, online you can find the Vertuo Coffee Machine bundled with a Nespresso Aeroccinno3 milk frother. This milk frother makes it easy to whip up lattes and other specialty beverages at home.
Good to know
One thing to mention is that the crema (or foamy layer on the top) is made artificially by the machine. It does this by spinning the pods to extract the coffee and create foam as it brews. Though not the most authentic method — it's still enjoyable. But drink it quickly before the bubbles disappear. Aesthetics aside, investing in this machine comes at a cost when caps are concerned. Because of the unique barcode-reading technology, you can only buy capsules made by Nespresso.
Read our Nespresso Vertuo Plus review.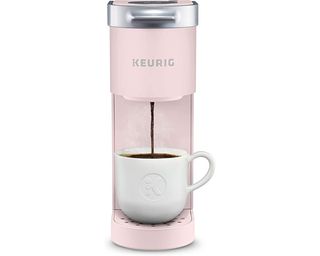 This machine is not only designed to use any K-Cup of your liking — yes, that includes both Starbucks and Dunkin Donuts brands, which I love — but also says on the instructions you could use ground blends as well. At under 5 inches wide, you can squeeze this single-serve coffee maker into almost any space.
In review
After unboxing this compact cutie, all that's left to do is remove the drip tray (which you can later use to add extra K-Cups for future mornings) and add a cup of water. With one press of a button, the machine will start on its own. Getting used to the size of this cord is one adjustment you might have to make. In the past, our reviewer had a longer cord that made moving her machine easier and presented more options aesthetically, whereas here, she was pretty limited. It measured in at roughly 3 inches, and when it came to our reviewer's specific kitchen layout, this machine had to go right in front of the outlet, or else she needed to research alternative ways of use. But, all in all, for a machine that rings in at under $100, it exceeded expectations. And, despite its size, having an auto shut-off feature is well thought out.
Good to know
For the most part, it's a seamless experience, apart from the occasional overflow of water on our counter. The instructions specifically say to watch out (and that this could be a result), and there are a dozen different factors on why this is happening, but it is worthwhile to mention. Again, it's not a big deal, but if you have any papers or important items out on the counter — take them off your worktop first. "My Keurig K-Mini ruined my homework" isn't much better than blaming it on the dog.
Read our K-Mini Single-Serve review.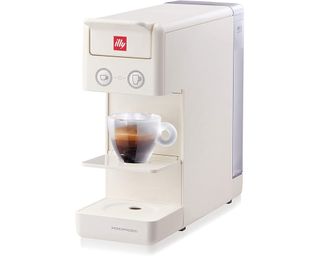 Short on space, but uncompromising in coffee quality? Well, the Illy iperespresso coffee machine is here to fit the bill where pod coffee makers are concerned. It's under four inches wide, slim enough to fit in the most narrow spaces, and delivers coffee with Italian flair.
In review
Once plugged in and powered on at the back, all you need to do is press and hold down both "cup" buttons at the front until they start flashing. From then, it's incredibly simple to operate with just two touch buttons on the front for a short or tall cup. Beyond those two functionalities, you won't find much else, and you'll need to stock up on iperespresso or iper coffee capsules so you never run out. But if you seek a quality machine with the convenience of espresso — look no further.
Good to know
Available in four eye-catching colors including black, cream, red, and blue, the illy y3.3 may be small, but this Bella is stylish. It would be a great buy for college students and older teenagers who frequent coffee shops in search of authentic Italian coffee. One downside to the iperespresso/iper coffee capsules is that they come individually wrapped in plastic, so it loses some brownie points for sustainability here. Oh, and It's definitely worth seeing if you can try before you buy when it comes to the capsules. Similar to the Nespresso Vertuo, you're committed to one type of cap.
Read our Illy Y3.3 iperespresso coffee machine review.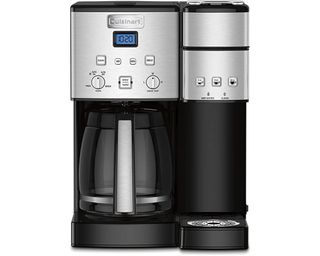 Sure, a single-serve coffee maker might be great for your current needs. However, whether you live with a roommate or decide to host a decadent brunch, there's a good chance your caffeine needs will change over time. Why rotate between a large and single-serve coffee maker when you can find one machine that does it all?
What reviewers say
Unlike most coffee makers — which are designed for large quantities or a single serving, not both — Cuisinart's Coffee Center machine is built to have the best of both worlds. One side features a 12-cup carafe and a 60-ounce fixed water reservoir (with an easy-view window), so you can brew enough java for a large group. (Or, you know, have plenty of leftovers for a day where you need a second cup.)
There's also a single-serve side, complete with a separate 40-ounce removable reservoir, so you can make coffee for one. Simply choose between a six, eight, or 10-ounce brew, and Cuisinart's Coffee Center machine will take care of the rest. The single-serve side also features a charcoal water filter, which will remove volatile organic compounds, unfavorable tastes, and bad odors from your blend.
Another bonus: The single-serve side is surprisingly versatile. While Cuisinart's Coffee Center machine is compatible with pre-packaged K-Cups, it also comes with a reusable filter so you can use your favorite ground coffee.
Drinking a cup of coffee should be an enjoyable experience; a small reward for stopping the snooze button and finally starting your day. The very last thing the coffee-making process should be is a nuisance. Fortunately, Cuisinart's Coffee Center machine is designed to make brewing a cup of joe a breeze.
This option features 24-hour programmability, so you can set it up the night before and wake up to the smell of freshly brewed coffee. (Isn't that the dream?) If you want to give some extra oomph to your beverage, select the "Bold" button for a stronger coffee flavor. While a pipin' hot cup of coffee might be the norm, it's not everyone's preference. Fortunately, Cuisinart's Coffee Center machine has a temperature control feature, so you won't have to worry about scorching the roof of your mouth on your beverage.
Good to know
Once you're done making the perfect blend, you can press the "Self-Clean" button to rinse and keep your coffee machine in mint condition. And, thanks to its auto-off feature, you can rest assured that your coffee isn't draining your home's energy.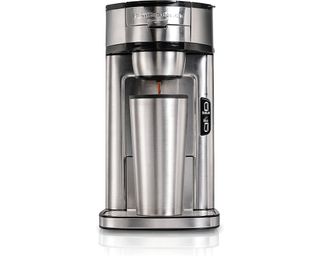 Just because most single-serve coffee makers use pre-packaged pods or filter papers doesn't mean it's the status quo. If you want to blend a delicious cup of coffee that meets your standards time and time again, you might want to consider Hamilton Beach's Scoop Single Serve Coffee Maker.
What reviewers say
At first thought, choosing freshly ground coffee over pre-packaged pods seems like a strictly personal decision. Freshly ground coffee might give you the freedom to enjoy whatever blend you please, but injecting a pre-packaged pod is quicker and more convenient. That said, there are plenty of benefits to opting for ground coffee. Not only does it typically have a stronger aroma and better taste, but research suggests it's also packed with more antioxidants. This option from Hamilton Beach uses a metal mesh scoop filter to measure and brew your favorite blend with ease — no spoon needed. Of the 18,000+ 4.3-star reviews, most buyers commended how easy this single-serve coffee maker is to use and clean.
Good to know
Made with durable stainless steel construction, this drip filter coffee machine is built to deliver. It features fast-brewing technology to make an 8-ounce cup in 90 seconds and a 12-ounce travel mug in under three minutes. (Translation: This model will do the legwork for you as your brush your teeth.) While Hamilton Beach's regular (aka automatic) drip will create a rich cup of joe, you can select the machine's "Bold" setting for extra flavor. Once you're done using the machine, it will automatically shut off to help preserve energy. For a metal machine, it's surprisingly light, too, weighing a little over 5 lbs.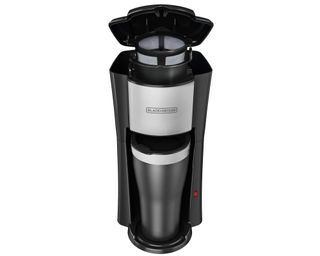 Believe it or not, you don't have to spend a small fortune on a great single-serve coffee maker. With nearly 5,000 positive reviews on Amazon and a rating of 4.2 out of five stars on the site, Black+Decker's option strikes a great balance between convenience and affordability.
What reviewers say
Consider Black+Decker's coffee maker a great option for anyone who wakes up craving a jumbo cup of coffee. Instead of having a number of brew sizes, this machine dumps your java into an accompanying stainless steel travel mug. That way you can enjoy up to 16 ounces of coffee in a snap. Simply add a mug of water and coffee grounds — this machine comes with a reusable filter — and Black+Decker will take care of the rest.
Good to know
When compared to the rest of the single-serve coffee makers on the list, Black+Decker's option feels incredibly simple. However, as this option proves, there's nothing wrong with simplicity. This model has a single switch, so you won't have to worry about fussing with superfluous buttons. Plus, once your coffee is brewed, the coffee maker will automatically shut down. An easy, effortless option that will get the job done. It also comes with a two-year limited warranty so you won't have to worry about being deprived of your favorite beverage.
---
FAQs
What are the benefits of a single serve coffee maker?
There are four main advantages: freshness, lack of waste and cost and time. To put it simply, it's typically cheaper to buy a single-serve machine versus an all bells and whistles gadget. The time it takes to brew a fresh cup of coffee is significantly quicker than a full jug. And, if you're only after a 10 fl oz of the strong stuff — why make more than you need? You'll only pour it down the drain, or get a serious case of the caffeine jitters.
What is the best brand of single cup coffee maker?
This is a seriously subjective question. If you're after an abundance of beverage choices — get yourself a Keurig coffee maker. There are around 200 different cups (including non-coffee drinks) such as flavored grounds, tea, and even hot cocoa. But, if you're a coffee purist, who cares about the environment, a Nespresso machine is a winner in our eyes.
Read our Keurig vs Nespresso feature for even more head-to-head comparisons.
3 things to consider when buying a single-serve coffee maker
With so many brands, price points, and special features to choose from, finding the right single-serve coffee maker for your needs is easier said than done. To help, check out a few pieces of criteria you'll want to add to your wish list:
1. Which serving sizes can it offer?
Just because you're on the hunt for a single-serve machine doesn't mean you have to cut down your coffee consumption. While some coffee makers are designed to dump the caffeinated goodness into a travel mug, others will give you the luxury of choosing one of a few sizes. But, depending on the model, smaller serving sizes usually mean more concentration.
2. How big (or small) is its water reservoir?
Very few things can cramp your coffee-making process like refilling your water container every time you're craving a cup of joe. Fortunately, many single-serve coffee makers have large water reservoirs that can make a few cups of coffee before you need to refill it. While a small water reservoir may not be a deal-breaker, it's something to keep in mind when you're looking for the best bang for your buck.
3. Does it take capsules or ground coffee?
When selecting the machine, know the type of coffee pods you'll likely need to keep in stock, or if you can use your own ground coffee. While ground coffee usually tastes better (and is better for you), pods offer an easy, mess-free way to enjoy a cup of coffee with minimal thought. There is no right or wrong answer. At the end of the day, it all boils down to personal preference.
It seems like Keurig's K-Cups are almost universal, compatible with third-party brewers like Cuisinart, Chefman, Mueller, and more. After normal ground coffee, K-Cups offer some of the most variety in terms of coffee options from Dunkin' to more specialty flavors. There's also a Keurig reusable K-Cup that lets you fill it with your own coffee. Meanwhile, Nespresso uses its own Vertuo or Original line capsules, as does illy which are only compatible with their respective machines. And, if you've been concerned about sustainability, all parties, including Keurig, Nespresso, and illy have created recyclable pods, it's just up to you to dispose of them properly.
How we tested these single-serve coffee makers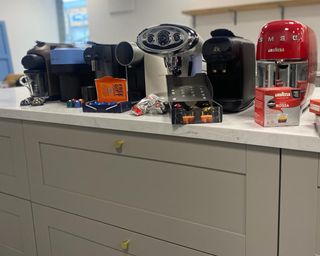 In the U.S., coffee is the second most popular beverage, only overshadowed by, you've guessed it — water. So in a society where we're looking for quality and convenience at a low cost, it only makes sense that a good single-serve coffee maker should be at the top of your appliance wishlist.
Not just a great Destiny's Child song, it's true; we're a bunch of independent women, so purchasing a good single-cup coffee maker comes with a legitimate reason. As more and more single ladies choose to live alone, buying a machine to make coffee is much more financially feasible than frequenting a franchise on a daily basis.
So, in order to ensure you spend your coin well, we call in samples (straight from the manufacturer) to review in our dedicated test kitchen, and in the comfort of our own homes to see how well they slot into a Real Homes reviewer's kitchen. Sometimes, we're allowed to keep loan samples for a number of weeks, and other times, we can keep the item permanently. In the latter case, this means we can update our review over a long period of time to see how well the machine performs and if there is any wear and tear you should expect.
We know you've got high expectations, so we risk bouncing off the walls by drinking copious cups of coffee, all in the name of a rigorously watertight buying guide. We'll see how high a layer of crema forms, and how long the coffee takes to brew (because time is money, people). Of course, there are more obvious things like serving size, strength, and taste too.
Meet our single-serve coffee maker reviewers
Our head of reviews Millie tested out the Nespresso Vertuo Plus in her two-bedroom South London apartment. Though she has a bean-to-cup machine, she found this single-serve coffee maker saved her from all the prep associated with crushing and tamping beans from scratch each morning.
Our former U.S. shopping editor Brittany tested the small-but-mighty K-Mini Keurig coffee maker. As far as machine matchmaking goes, this was the perfect appliance for her compact New York apartment.
The Keurig K-Supreme Plus and Ninja DualBrew Pro were both reviewed by our former ecommerce editor Jaclyn. She has tested more than eight coffee makers for us and has also served up some broader kitchen content.
The illy Y3.3 Iperespresso was tested extensively over a period of two weeks. This was while Cynthia and her husband were working from home, which meant it got plenty of use with regular (and much-needed!) coffee breaks. Although a cappuccino and latte fan, she was very impressed with the delicious, smooth espresso.