If you want to make a coffee at home then the chances are you're going to be looking for one of the best coffee machines to make this happen. What will make this an even sweeter deal is if you shop a coffee machine sale because it'll help you save yet more money in the short and long term.
You'll see that we've covered all types of coffee machines going; from the pod coffee machine to the filter coffee machine, and even the bean-to-cup coffee machine. They are all yours for the taking, for a fraction of the price they once were from a selection of your favourite brands and highstreet stores. We've also included some super cheap options, too, which are around the £20/$15 threshold so (hopefully) you'll find the coffee maker of your dreams.
Like something you've seen? You'll need to be quick to shop because we're not sure how long these prices or stock will hold for.
Coffee machine sales by retailer – UK
Coffee maker sales by retailer – US
Best coffee machine deals
Below we have listed our pick of the the best coffee machine deals we've seen (so far) this month.
At the time of writing these deals they are all still in stock but we're not sure for how much longer or when the deals are expected to end, so hurry to shop.
UK coffee machine deals
Why you can trust Real Homes Our expert reviewers spend hours testing and comparing products and services so you can choose the best for you. Find out more about how we test.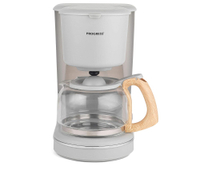 Progress Scandi Coffee Maker | £29.99 £24.99 (save £5) at Amazon
This scandi-inspired filter coffee maker will make you a delicious coffee just when you need it. It'll make up to 10 cups at once, and is simple to use with a keep warm function and an anti-drip feature which will keep worktops tidy. Save £5 on the grey version - the black colourway is not on offer.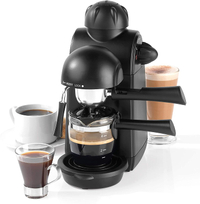 Salter EK3131 Espressimo Barista Style Coffee Machine | £59.99 £34.99 (save £25) at Amazon
This five bar pump pressure coffee machine will create a wonderfully smooth espresso with intense flavour. It'll make latte, espresso, cappuccino and more in a matter of minutes whilst looking great on the kitchen worktop.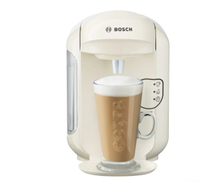 Tassimo by Bosch Vivy 2 TAS1402GB Pod Coffee Machine | £106 £35 (save £71) at AO
Save a mega £71 on the Black OR Cream colourway of this pod coffee machine by Tassimo. Compatible with the whole range of Tassimo T discs, you'll have a vast selection of hot drinks to choose from at the touch of a button.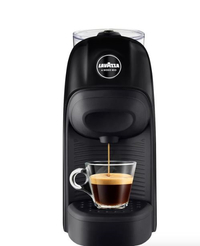 Lavazza Tiny Pod Coffee Machine | £78 £39 (save £39) at John Lewis & Partners
Tiny machine, big coffee. This Lavazza coffee machine will make you an authentic Italian espresso and lungo using Lavazza ECO 100% compostable capsules. It's easy to use, and easy to keep clean so there's no fuss.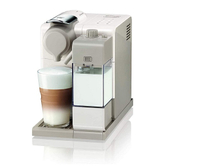 De'Longhi Lattissima Touch, Single Serve Capsule Coffee Machine | £208.31 £169 (save £39.31) at Amazon
Ready in approx 25 seconds, the De'Longhi Lattissima with a milk frother has six buttons so you can easily make your fave drink: Espresso, long, creamy latte, cappuccino, latte macchiato and hot milk. All drinks can be personalised and memorised, too, by varying the quantity of milk and of coffee.
US coffee maker deals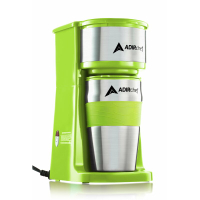 AdirChef Grab and Go Personal Coffee Maker with 15 oz. Travel Mug | $39.95, $22.50 at Wayfair
Now life is starting to return to normal you may be looking at going back to work or thinking about taking the kids back to school. This coffee maker will ensure that you always have a coffee in hand. Then, at the end of each day, it can be washed by hand or put through the dishwasher. Available in six awesome colours.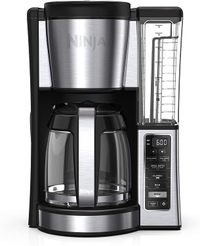 Ninja CE251 Programmable Brewer | $99.99 $79.99 (save $20) at Amazon
This 12 cup programmable coffee maker will make you a fresh brew as and when you want (need) one. Can't wait? It has a mid-brew pause so you don't need to wait to fill the carafe. And with a 24-hour delay brew, you can literally wake up smelling the coffee.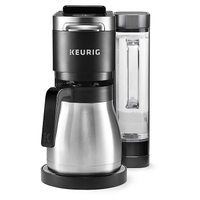 Keurig® K-Duo Plus™ Coffee Maker | $229.99 $199.99 (save $30) at Bed, Bath & Beyond
This brewer uses both K-Cup pods AND ground coffee to brew a cup and a carafe of your favorite varieties so you have the best of both worlds. It can brew up to 12 cups and can be set to make you a carafe of coffee in 24 hours time.
Cheap coffee machines
Below, you'll find some super cheap coffee machines which make an incredible bargain however you look at it. Priced this low they'll make a really good gift, too.
UK: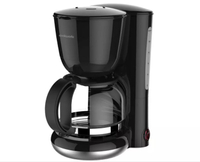 Cookworks CM2058SH Filter Coffee Machine | £21.99 at Argos
If you're looking for a cheap filter coffee machine then this is it. It'll hold 1.25 litres and come with a permanent filter so it's not only fuss-free but will also save you some (more) money in the long-run.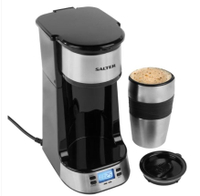 Salter EK2732 Digital Coffee Maker to Go | £23.99 at Ideal World
This digital coffee maker will effortlessly switch from coffee maker to travel mug in a matter of seconds. It has a 420 ml capacity and a silicone grip to ensure maximum comfort, making your mornings that little bit better.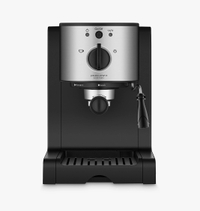 John Lewis & Partners Pump Espresso Coffee Machine | £70 at John Lewis & Partners
This is one of the cheapest pump coffee machines we've seen (when not in the sale) and by the look of the reviews, it does not disappoint. It'll make you a espresso, latte or cappuccino, and even a hot chocolate with the milk frother.
---
US: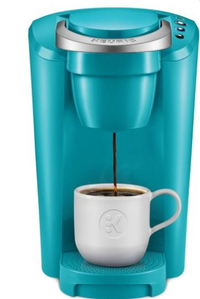 Keurig K-Compact Single-Serve K-Cup Pod Coffee Maker | $59 at Walmart
A current bestseller on Walmart, this coffee maker is available for you to (also) buy in a selection of five colors. It uses Brews K-Cup pods which means that you'll have a coffee ready for sipping in under a minute. It's also easy to use and easy to keep clean.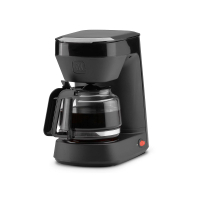 Toastmaster 5-Cup Coffee Maker | $24.99 at Kohl's
This coffee maker is a must-have if you want a decent filter coffee with no frills. It's a bargain at this price and is one of the cheapest we've seen around so we don't expect it to hand around for long.
Deals on our top-rated coffee machines
Want an affordable coffee machine but also want to ensure you're buying the best? The coffee machines below have been given the Real Homes seal of approval, meaning they're worth the investment. We've also listed their cheapest prices.
Coffee machine deals by brand
Already know where you want your coffee machine to come from? We hear you. Below we've featured the ever-popular coffee machines from brands such DeLonghi, Nespresso, Tassimo, Sage, and Lavazza which are all displaying the best prices on the web across some of our favourite models.
DeLonghi coffee machines
De'Longhi coffee machines are the best choice for coffee lovers who want a lot of versatility to how they make their coffee. Want to be able to switch between ground coffee and pods? Choose the De'Longhi Scultura model. Want to experiment between grinding your own beans and using pre-ground coffee? The De'Longhi Caffe Corso is your guy. These are the best prices on the web today:
Nespresso coffee machines
Nespresso coffee machines hardly need an introduction – for many people it is always 'Nespresso, what else?'. Nespresso's pod coffee machines are known for being super simple to use while producing excellent quality espresso with proper crema. The Vertuo Plus model can even do an espresso lungo. If you like your coffee barista-style, though, go for the Creatista Uno, which is the most advanced Nespresso model complete with its own steam wand.
Tassimo coffee machines
Tassimo coffee machines are made by Bosch, and they're very reliable, as well as being versatile. The Tassimo My Way, for example, will accept forty different types of coffee. Our favourite, though, is probably the Tassimo Happy, which features Intellibrew technology that ensures that the correct amount of water at the right temperature is used every time.
Sage coffee machines
Sage are like the Rolls Royce of coffee machines – these are serious investment pieces for true espresso aficionados. The Heston Blumental range is especially impressive, with tonnes of different settings that will help you achieve exactly the consistency and temperature you desire. Not cheap, so definitely worth hunting for a deal.
Lavazza coffee machines
Lavazza coffee machines have a passionate following with fans of the authentic Italian coffee experience. The A Modo Mio Idola has garnered five stars from our expert coffee machine reviewer – but all of the Lavazza machines, especially in the A Modo Mio series, boast super-easy interfaces, compact design, and amazing quality coffee.
Cheap coffee machines
Jump to deals by category:
If you didn't find the coffee machine sale you were after above, don't worry, we've got tons more cheap coffee machine options below. We're kicking things off with our best coffee machines and their best prices, then you can use the links on the right to jump to cheap pod coffee machines, cheap espresso machines and more.
Filter coffee machine deals
Looking for a cheap filter coffee machine? There are plenty below. All from different retailers, too. Have a browse.
Cheap espresso machine deals
Big espresso drinker? Buy a dedicated espresso machine to suit your needs. Just to help you out, we've put a list of the cheapest models below.
Pod coffee machine deals
After a pod coffee machine? From Nespresso to Nescafé and Bosch, there's a deal to suit everyone below. And we've listed prices from the cheapest retailers, too.
Pump coffee machine deals
Below we've listed the cheapest pump coffee machines on the internet right now. What are you waiting for?
Bean to cup coffee machine deals
Found your favourite coffee beans and don't ever want to change brand? Buy a bean to cup coffee machine to experiment with your beans and create barista-style coffee at home. Imagine all the money you'd save.
What type of coffee machine should I buy?
Whether you're a coffee aficionado or just like to have a brew to help you out of bed in the morning, we can advise you on the best coffee machine to buy.
If you're a lover of American-style coffee, you prefer to make a pot of coffee rather than a cup, and you ideally want a machine that's cheap to run, opt for the best filter coffee machine. Not only are they easy to use, they're more often than not reasonably priced, and ideal for large households with several coffee drinkers.
If you often spend your mornings in a rush, are stuck for worktop space or you like to experiment with your coffee, the best pod coffee machine will suit you: simply pop in a pod, press the button and within seconds, out comes your drink. They're more often than not compact, can make several different drinks and flavours, and many models are smart, meaning you can get your coffee going by using an app on your phone.
Known for your love of espresso? A pump machine should be your next purchase. If you want silky coffee (who doesn't?), these machines let you grind, tamp and craft your own coffee. They do come in automatically operated versions, too.
If you're a committed coffee drinker, then we suggest you splurge on the best bean-to-cup-coffee machine you can find. They're the easiest way to make several drinks at one time, and it's all fresh and of the best quality. It'll definitely impress guests, too.