If you're wondering where to buy Nespresso pods — consider your prayers answered. However, I sincerely hope that you haven't committed that cardinal sin. Because according to my commandments: Thou shall never run out of coffee capsules... ever.
I review some of the best single-serve coffee makers on a regular basis in our test center and essentially get paid to ensure I'm fully stocked up to do my job. But IRL, I get it. One day you've got a cupboard full to the brim then *blink* — you've gone bust.
Rather than using that jar of powdered coffee you'd swear you'd only use in dire emergencies, here are the best places to get your caps shipped in an "instant." Unlike a supermarket or retailer on Uber Eats, most of these places don't require a certain spend to qualify for home delivery. And a few of them are eco-friendly, too, so you won't need to worry about the effect your coffee habit has on planet Earth.
4 of the best places to buy Nespresso pods
1. Amazon Nespresso pods
Why you can trust Real Homes Our expert reviewers spend hours testing and comparing products and services so you can choose the best for you. Find out more about how we test.
As well as Amazon home decor, the online retail giant is generally my go-to destination for everything, including Nespresso coffee pods and other shelf-stable consumables I need quickly without leaving the house. Here, you can shop everything from OriginalLine and Vertuo pods from Nespresso's shopfront to Starbucks capsules made using the same quality coffee beans that you can smell in the shop.
$14.95 for 6
Reusable Nespresso Compatible Pods
Eco-friendly and cost-effective
Want to switch up your sips and help save the planet? Though Nespresso pods are recyclable, cut out the waste completely by creating a DIY coffee pod. BPA-free and 100% non-toxic, these caps can be filled with your favorite grounds. Simply rewash and reuse after you're done. This stainless steel version on Amazon is great if you have (or are going to buy) a Nespresso Vertuo Plus machine. According to the manufacturer, it lasts up to 10 years.
$42.50 for 50
Nespresso Morning Lungo Blends Variety Pack, 50 count
Nespresso yo'self
These colorful Nespresso capsules work out at just 85 cents each. Much less than a cup of joe in the coffee shop — and without the lines and the single-use cup. The lungo blends are best for making 3.7 ounces of coffee — ideal for "longer" drinks like a latte, flat white, or Americano. A good milk frother will help you achieve a professional-looking result.
$26.59 for 50
Gourmesso Flavored Espresso, 50 count
Have your cake and eat drink it
If you're someone who enjoys a pastry with your drink — you might enjoy these dessert-inspired Nespresso coffee pods. Featuring coconut, hazelnut, chocolate, vanilla, and caramel, these were made for sweethearts with a sweet tooth.
2. Target Nespresso pods
You know you've hit the bullseye at Target. The company stocks its own exclusive Nespresso-compatible brand (Good & Gather) as well as some more familiar products, like Starbucks, so you can replicate shop-bought coffee in the comfort of your own home. Now all you need is a TikTok-famous target rug to finish off your cozy cocoon.
$6.49 for 10
Good & Gather Signature Vanilla Espresso Pods, 10 count
Sweet price
Literally live the Vanilla girl life with these naturally-flavored pods from Target's own brand. 82% of customers would recommend these and reviews mentioned that they're just as good as the market-leading pods. Great if you've got a sweet tooth.
Best coupled up with the Nespresso Lattissima One, IMO.
$39.99 for 120
Bestpresso Coffee for Nespresso Original Machine, 120 count
Kosher and Rainforest Alliance approved
You can really have it all with this large selection of Nespresso coffee pods from Bestpresso. This 120-capsule pack is for if you live in a coffee-mad household or want to split the bill with your roomies to get 33-cent coffees.
Available as an unflavored variety pack, or if you'd prefer a chocolate/vanilla/caramel mix — head to Amazon.
$6.99 for 10
Café Bustelo Espresso Roast Coffee Pods, 10 count
Started from the bottom, now we here
Strong coffee for a small price? Try Café Bustelo for size. This Cuban-style café is a dark-roasted combo of Robusta and Arabica. And, it's been around for 100 years, so you know it's got to be good.
3. Walmart Nespresso pods
Save Money. Live Better. That's exactly what I'm doing when I go to Walmart — Nespresso coffee pods included. Like Target, it has its own Great Value line (which works with Keurig coffee makers) and stock the familiar finds I gravitate to. "Filter" through these for size.
$7.95 for 10
Peet's Coffee Espresso Capsules, Nerissimo Intensity 11, 10 Count
Packs a punch
If you like your java on the strong side, choose these capsules from another familiar coffee shop. Excellent for espresso drinkers, Peet's pods also make a great foundation for all coffee-based beverages. This one has an intense flavor, but there are a variety of strengths to choose from.
$8.98 for 10
Starbucks by Nespresso Original Line Capsules Blonde Roast Espresso, 10 count
Specialty roast
Save the awk name typos and have your brew served in your best cup with these Blonde roast espresso pods from Starbs. You usually have to pay a few cents extra for the "special" beans, so cut the cost with these capsules.
Got the Nespresso Vertuo Next? Try these round pods instead.
$14.34 for 10
Lavazza Avvolgente Nespresso Coffee Capsules, 10 count
Mambo Italiano
The trio of Central American, South American, and African coffee beans create tasting notes you'd see on a good wine menu. It's spicy and full of chocolatey flavor. And, despite the packaging, you don't need to use a Lavazza machine. It's a five out of 13 intensity-wise, so a great introduction to pod coffee if you're new to the game.
4. Costco Nespresso pods
Though being dragged around Costco by mom and dad was the bain of my life as a child, I legit LOVE this place for wholesale buys.
$37.99 for 80
Peet's Coffee Nespresso Compatible Aluminum Capsules, 80 count
Do the right thing
As well as Walmart, you can buy Peet's here, too. Make the most by buying in bulk with your Costco card, and save $7 with manufacturer's savings right now. Choose between standard delivery ( seven to 10 business days from the time of order), or same-day delivery via Instacart.
$39.99 for 60
Starbucks by Nespresso Original Line Variety Pack Capsules, 60 count
Star buy
Make your way through the whole Starbs menu at home with this variety pack. With three roast intensities, flavors, and sizes, these 100% recyclable Nespresso pods are perfect for making a professional-tasting brew without the long lines.
$39.99 for 60
Starbucks by Nespresso Decaf Espresso Roast Capsules - 60 count
Decaf but still delicious
If caffeine gives you the jitters, but you still like to enjoy a cup of joe, these capsules can tick the boxes for taste and enjoyment. Though it's a dark roast, it's described as caramelly sweet and suitable for if you enjoy a coffee as a nightcap, but don't want it to wreck your sleep.
---
You could always go direct...
A failsafe way to find Nespresso pods is to go straight to the retailer. Nespresso, Illy, and Grind do some great-tasting options. Each has its own respective pod coffee machine but you don't have to exclusively use a specific appliance to make coffee.
From $14.59 for 20
Grind Coffee Pods, 20 count
Get the London look
I've got a bean-to-cup coffee machine, but I won't turn down a cup of java made using one of these chic pods. You get seven delicious blends to select from, and the reusable pastel pink container even doubles up as a chic pod coffee storage option. If you're a committed coffee fan, you can sign up for a subscription to receive a tin, letterbox, or bulk bin of these super-cute caps. It works out 33% cheaper than buying on a single order.
Pair with the Grind One coffee machine for a match made in heaven.
$9.49 for 10
Illy Espresso Compatible Capsules, Classico Roast
Coffee is synonymous with Italy, so it makes sense to lean towards this Mediterranean brand if you want to daydream romantically about a European vacation involving lots of cafe visits! These small caps work with the Nespresso OriginalLine machines. We tried (and loved) the Illy Y3.3 Iperespresso coffee, giving it four stars out of five in our review.
$39.99 for 50
L'or Coffee Lovers Coffee collection, 50 count
French fancy
We recently tested the L'or Barista Sublime coffee maker (review pending) and can vouch for it making a super tasty cup of café. On its site, there's a good selection of caps designed for your everyday coffee, extra-strong espresso pods, and even a medium roast for decaf drinkers.
---
Where can I buy the cheapest Nespresso pods?
Wondering where you'll find the cheapest Nespresso pods? Well, obviously this depends on the current offers your grocery store has on, but if you're solely wanting to shop online, then we can recommend Amazon and Gourmesso.
Here are the cheapest Nespresso pods on the market right now, and we suggest stocking up while prices are this cheap.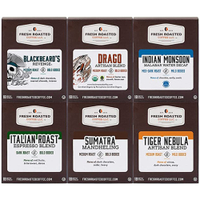 Fresh Roasted Coffee, Espresso Favorites Variety Pack, 108 Capsules | $40.95 at Amazon
Support a small business on Amazon with this 108-capsule bumper pack from the Fresh Roasted Coffee Store. With roasted almond notes in one cap and buttered rum in another, it's unlikely you'll get these gourmet nuances from the big wig brands. Plus, it works out at 38 cents a cup.
Where can I buy Starbucks Nespresso pods?
If you enjoy the Starbucks Siren's offering and want to replicate it at home, these are the places to pick up some pods. On average, these cost an average of 50 cents per serving so you're getting your fix for around a 1/10th of a store-bought cup. You're welcome.
Where to buy reusable Nespresso pods?
Like the first pick we featured, a durable cap that can be rinsed and reused has its benefits for you and the environment. Generally speaking, it's cheaper to buy ground coffee, and this route opens your palette up to a wider choice of coffee beans from big brands and independents. And, you'll save 365 caps a year if you drink just one cup of coffee a day.
Sealpod Reusable Nespresso Capsule (1 pod, 100 lids)
This food-grade, non-toxic, and corrosion-proof stainless steel coffee pod comes with 100 lids so you can sip on your favorite serves for even longer. You can even DIY blends by mixing and matching ratios of ground coffee.
Go green with the Bluecup starter pack. This introductory kit, with a patented design comes with two reusable capsules, 100 lids, a pod sealer, and a spoon ready to make a change to your everyday habits. They promise great crema and no water leakage, just as you'd expect from a pre-filled product. And, if you don't like the gritty feel of spent coffee when handwashing these, you can chuck them in your dishwasher instead.
Where to buy decaf Nespresso pods?
If you're more of a decaf kinda person, then we totally get it. Some of us like to be able to sleep at night while being jealous of people who can drink coffee past noon and snooze all night long. Here's where to get your Nespresso decaf fix:
Where to buy hot chocolate Nespresso pods?
Not into coffee? Hot chocolate it is, because this sweet treat has no age limit. Chocolat chaud, as the French call it, can be customized in so many ways. Flavored pods are available, or if you are a cocoa connoisseur, play around with different percentages to find the right drink for you. From syrups to whip cream, the combinations keep coming. Here's where to buy the sought-after Nespresso hot chocolate pods:
Can you use any pod in a Nespresso machine?
Put simply, no. By using a non-compatible pod, you could damage your machine and invalidate any warranty on it. Generally speaking, there are three popular types of coffee capsules. In this guide, we've featured the slim and stubby Nespresso OriginalLine pods, and the round dome-shaped Vertuo caps. And Keurig cups (aka K-cups) come packaged in a distinctive white casing. Note: The brewing and extraction methods of the Nespresso and a Keurig coffee maker are very different, hence why capsules are not interchangeable.
If you're yet to decide on which machine to buy, make sure to read our Keurig vs Nespresso guide.
Can I use Starbucks pods in Nespresso Vertuo?
As you've seen above, Starbucks has developed a line specifically for OriginalLine and Vertuo machines. These aim to mimic the roasts you'd associate with your favorite order including the infamous Holiday Blend. The pods are fully recyclable through the Nespresso recycling program.