You're going to need some ways to maximize countertop space in a small kitchen if you're left with a tiny worktop. When it comes to small kitchens there's one word that comes up again and again: storage, baby.
In any other room, you could freestyle on this front but kitchens are unique in just how much stuff there is to find a home for. Pots, pans, plates, bowls, appliances — and then there's always that drawer full of random stuff, you know? There's just a lot going on.
So, while great small kitchen ideas can really help bring the space to life, nailing your organization and finding slick ways of making the most of your countertop space is where you should start. Here, I've enlisted the help of some brilliant interior design experts and scoured the internet for the best examples of neat and tidy countertops to inspire you.
How to maximize countertop space in a small kitchen
Living in a tiny apartment or studio doesn't have to limit you to no worktop space. There are some pretty easy ways to organize your kitchen countertops so you have more space to work with.
1. Utilize the tops of your cabinets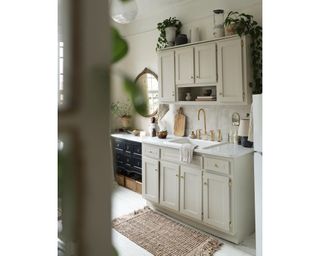 I love how influencer Hummusbirrd has optimized her kitchen by going one further and actually utilizing her cabinet tops.
This is a super clever kitchen cabinet idea because it doesn't detract from the aesthetic and friends coming over won't even notice. In short, it doesn't impact the day-to-day and is perfect for hiding large, ugly appliances.
Just make sure you invest in a handy step-stool, like this folding step-stool available on Amazon, so you can reach anything you store up there.
2. Embrace open shelving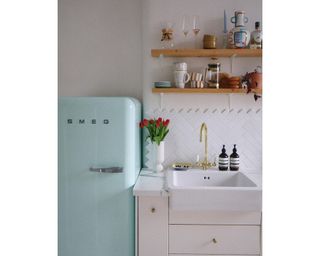 Candy Murray, Interior Style Manager at Soho Home, says that open shelving is both pretty and practical. "If you have some spare wall space in your kitchen then installing open shelving is a no-brainer," she says.
"Go for a style that suits your vibe; it could be rustic and wooden, scallop-edged or minimalist but it will add more to your kitchen's aesthetic than cabinets and actually create the impression of space."
That's right, with more space available in and around the shelves, you'll find that they open up the room and are easier to put into awkward corners.
3. Make your appliances part of the decor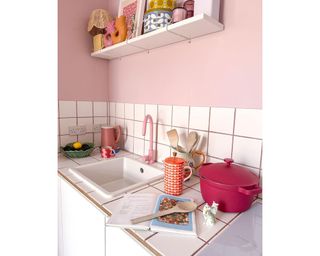 You know what they say — if you can't beat them, join them! If there's no getting around having some of your small kitchen appliances on the counter in your kitchen then just embrace the fact and make them part of the look.
I love how influencer Lindsey has invested in a colorful kettle, faucet, and dishes to make sure that every part of her space is on-brand. This way, the things you don't use as often (or don't like looking at) get first dibs on the cupboard space.
4. Install a hot water faucet
Now, this suggestion is pretty luxe, especially if you're living in a rented apartment or student space, but bear with us. If you have the means, the best way to tackle a small kitchen is to actually re-think the infrastructure. What changes would make the whole room more cohesive? Jessica Sims-Wilson, founder of House of Dawn Interiors, thinks a boiling water faucet is a nifty way to make your kitchen work for you.
"The best way to clear worktop space is to remove any large appliances and for some people, this might mean using a pantry but many of us don't have that," says Sims-Wilson.
"So, innovate different ways to get rid of clutter such as a hot water faucet. This can be swapped for your normal faucet, but has added functions so you can access boiling water instantly with no need for a kettle."
5. Treat yourself to some hanging baskets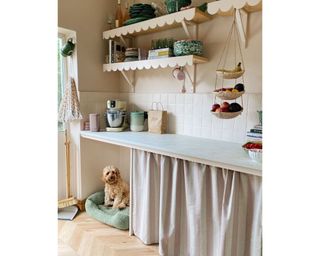 This is hands-down one of the cutest storage solutions I have seen for small kitchens. Instead of going through the effort to fit shelving, utilize what you already have by hooking a set of hanging baskets, like these three-tier baskets available on Amazon, underneath a cabinet, worktop, or existing shelving.
This example from influencer Charlotte Jacklin shows how well it can be done, with this lovely woven design that fits seamlessly with her kitchen. It's so easy to do and it can be taken down or swapped around with ease.
6. Make your sink more versatile
"Sinks can eat up a large part of your work surface so another tip in small kitchen design is to have an off-cut of your worktop made to cover the sink," says Jessica Sims-Wilson of House of Dawn Interiors.
"The idea is to pop the cut-off into place over the sink when you're not using it, which gives you lots more countertop space until it's lifted off when access to the sink is needed." Like magic, eh?
7. Use architectural features to your advantage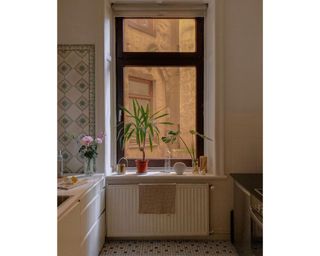 Look around your kitchen, are there any existing features that you can make the most of? Here, in influencer Sansnova's kitchen, a large window space is the perfect little perch for placing extra bits and bobs, freeing up the countertop.
Do you have anything similar? Think carefully about the organization of this space and while vases and decor are important, optimize storage baskets to actually use the space to its fullest.
8. Invest in floating storage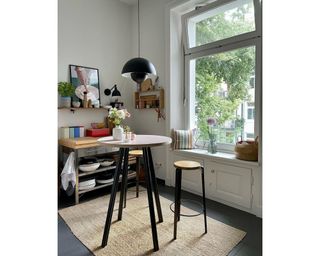 Leave all mention of countertops behind and think of where else you can store your kitchen appliances. This might mean looking past what's already there and investing in a new piece of furniture or storage structure that you can bring into the mix.
Why not go thrifting and find an old table that you can turn into an island, a smaller chest that can be pushed against a wall, or even something like this, with a catering feel?
Meet the experts
Candy Murray is the Interior Style Manager at Soho Home, Soho House's homeware brand.
Jessica Sims-Wilson is an award-winning interior designer and founder of House of Dawn.
Products to maximize countertop space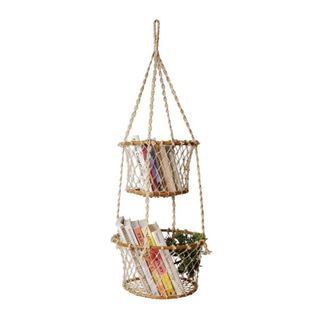 Boho
1. Made Trade Jhuri Double Hanging Basket
Price: $62
Crafted of natural materials like jute and wood, each basket is ethically sourced and sustainably made. These baskets can be pinned up in your kitchen and hold anything from fruit and plants to books and utensils.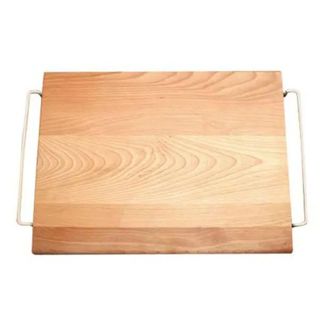 Versatile
2. Home Depot Over Sink Board
Price: $30.71
This handy board is so nifty because it has so many uses. Use it to prepare food, get your cocktails ready, and... hide your sink! Pop it straight over the top and voila, you've got a load more room.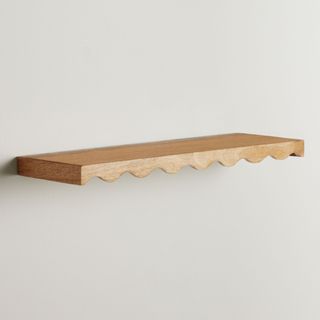 Floating
3. World Market Scallop Mango Wood Shelf
Price: $34.99
You can't beat scallop edge details for a pretty wall shelf. I like the idea of positioning them, one above the other, to double the cuteness.
FAQs
How can I add more countertop space?
If you've done all your can to to free up the existing space you have and it's just not enough, you may need to invest in some additional space. But don't worry, splurging on a small kitchen island, isn't too expensive and it can be so helpful in a tiny space.
How can I store items on my countertop?
One of the best ways to free up countertop space is to make sure everything you keep on there is properly organized. Start by making sure your plates and cookware are organized so they're not taking up room. Then declutter the rest of the space area by area.
---
Whether you invest in a few countertop storage boxes, new shelving, or pretty kitchenware, let us know how you make your small kitchen more effective, and tag us on social media!