I could write a love letter to my trusty Keurig coffee maker. In fact, my first Keurig served me nearly 10 years before I upgraded. It's still in perfect working condition, but today's newer models are just too good to resist. So, I'm here to help you find the best machine for your needs, when you're after coffee by the cup.
There's no denying the convenience of one of a single-serve coffee maker — and Keurig is a bonafide leader among this type of machine, plus the company also sells some of the best small coffee makers you can buy.
Quick menu
1. Keurig coffee maker reviews
2. FAQs
3. How we test
4. Where to buy
Keurig has, as a brand, made it beyond simple to get a cup of coffee (and other caffeinated drinks) fast. There's a Keurig machine for everybody. From coffee customizations to machines that take up barely any space at all to special combo machines with everything including iced-coffee capabilities, we've reviewed five Keurig coffee makers in total, and here we've ranked our favorites.
In our comparison, we've taken into account and reviewed the machines based on functions, special features, ease of use, maintenance, value, and more so you can buy with confidence when choosing among the best coffee makers you can buy.
The best Keurig coffee makers to buy in 2023
Why you can trust Real Homes Our expert reviewers spend hours testing and comparing products and services so you can choose the best for you. Find out more about how we test.
The best Keurig coffee maker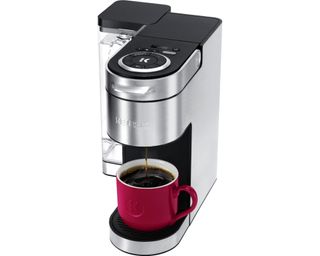 The highly customizable and sleek K-Supreme Plus Coffee Maker stands out for its sleek (and easy-to-use interface), compact body, coffee strength and temperature customizations, and new brewing tech.
In review
The K-Supreme Plus introduces Multi-Stream technology, which uses five needles instead of the standard one, like a rainfall effect, for better saturation and flavor. The difference in flavor here alone is one of the reasons why this Keurig is our absolute favorite.
Good to know
Just earlier, I mentioned how in addition to size, you can select brew strength and temperature. There's also an "Over Ice" button so you can have a chilled iced coffee, without worrying about diluting it. The Plus model has a massive 78-ounce reservoir that will allow you to brew as many as nine cups before you have to refill it, which is also easy to lift up and fill. Finally, for practicality, the machine shuts off automatically after five minutes and alerts you to descale after every 250 brews. Fortunately, descaling a Keurig machine is not as tricky as it sounds.
Real Homes rated: 5 stars out of 5 in our Keurig K-Supreme Plus review.
The best Keurig iced coffee maker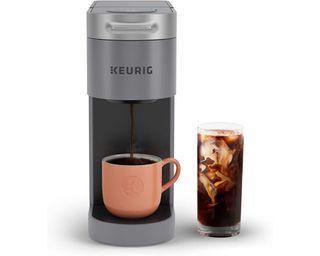 At under five inches wide, the Keurig K-Slim is a top pick for anyone with a smaller space. It's particularly useful, we will say, for someone looking for a quick cup of coffee near their desk or as a compact choice for already tiny college dorm rooms. Of note, it's available in two variations: the original K-Slim, which now incorporates the Multi-Stream Technology mentioned previously, or the K-Slim+ Iced, which incorporates a special built-over ice function.
In review
Very few compromises here with three cup size options and a 46-ounce reservoir for convenience. The K-Slim is available in black, white, or red, and you have the option to customize your machine when purchased directly on Keurig. The Iced model is only available in gray and navy blue, and it also initiates a 6-ounce brew if and when you choose the Over Ice feature. At this time, neither have any strength options for those who like their coffee a little bolder than most.
Good to know
The K-Slim effectively replaces a previous small-space favorite, the K-Mini, for the addition of Multi-Stream Technology truly ups the brew quality. Or, if you're more interested in the variety of having convenient iced coffee at home, the ICED is best equipped to brew iced coffee, as it's specially programmed to brew coffee at a hotter temperature to extract the full flavor before gradually cooling down for less ice melt and a vibrant flavor that's not watered down. Both are the same size dimensionally, but you will need to choose which function you prefer.
Real Homes rated 4.5 stars out of 5 in our Keurig K-Slim + ICED Single-Serve Coffee Maker review
The best Keurig coffee maker for the price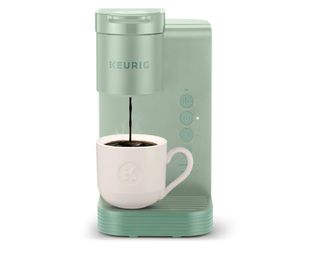 Full Keurig features and budget price? Yes, please! The Keurig K-Essentials Express offers the convenience of cup customizations and boasts a decently-sized water reservoir.
In review
The simple boxy design entails powering up the machine, adding a K-cup, and simply selecting your desired cup size from the buttons on the front. Soon enough, you'll have a hot cup of coffee. It's easy to remove the 36-ounce water tank, too. The tonal designs of the buttons do blend into the machine, but an indicator light shows you exactly which cup size you've chosen. In short, it's classic Keurig at an incredible price.
Good to know
The affordable model is the cheapest Keurig brand option on record. However, it's a popular item, and in recent months we've found availability to be extremely limited, but you may be able to find it in-store or online at Walmart. If you're less worried about buying brand new, Walmart also has refurbished offerings going for even less.
Real Homes rated 4.5 out of 5 in its Keurig K-Essentials Express Coffee Maker review.
The best Keurig Duo coffee maker
If you're the type who goes between needing a small cup of joe and a coffee pot big enough to fuel a small family, the K-Duo is the best of both worlds — and you won't need two coffee makers taking up precious space on your kitchen counter.
In review
The Duo will be your coffee home base, combining your favorite features of a standard drip coffee machine and a single-serve in one. For days when you need a vat of coffee, the 12-cup glass carafe should help you have your fill, with a hot plate that keeps coffee hot for two hours and pause-and-pour features for when you're feeling impatient. For your carafe of coffee, you can choose to brew 6, 8, 10, or 12 five-ounce cups using your favorite ground coffee. Similarly, you can choose to brew 6, 8, 10, or 12 ounces when you're brewing with a K-cup pod. The K-Cup "side" also has a stronger brew option.
Good to know
Visible controls make it easy to get along with this dual-feature machine. Buyers seem to appreciate the versatility of the coffee maker, but some note that the carafe is prone to dribble, drip, or leak when pouring into a mug. Others suggested measurement lines to know how much they're brewing. The drip side and the K-cup side share the 60-ounce water reservoir. When brewing, you'll designate whether you're using the pod or the carafe side.
Real Homes rated 4.5 stars out of 5 in our Keurig K-Duo single serve & carafe coffee maker review
The best Keurig coffee maker for milk-based drinks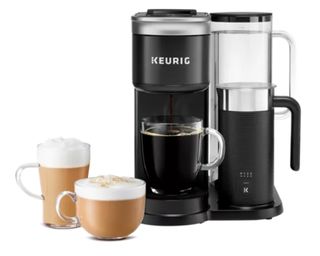 Activate your inner barista and turn ordinary K-cup coffees into specialty beverages with the K-Cafe Smart.
In review
Amp up your mornings with lattes and cappuccinos at home with the Shot button that brews a 2-ounce concentrated shot of coffee from a K-Cup pod AND a built-in milk frother! We should also mention it's dishwasher-safe, which makes for a wildly easy clean-up, and you can choose from hot or cold froth. Though, the specialty shot is not quite the typical espresso.
Good to know
We love that the K-Cafe incorporates all of our favorite K-cup features like cup size and a large water reservoir. However, it doesn't have the temperature control options like newer releases, but the ability to make lattes adds an extra element of sophistication to our work and school days. Note that, unlike most Keurig coffee makers that turn off after five minutes, the K-Cafe turns off after two hours, meaning that it's not as energy-efficient as the rest.
Real Homes rated 4.5 stars out of 5 in its Keurig K-Café Smart review
Best small Keurig coffee maker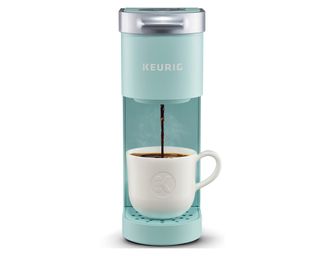 If you're looking for a sleek, compact coffee maker that gets the job done without any of the bells and whistles? Then this Keurig K-Mini Single-Serve maker is for you. It's especially great if a) you live alone and don't want to leave water sitting in a reservoir for long b) share a small apartment with your partner or c) have buddied up with a dorm roommate who shares your love of coffee.
In review
After removing it from the box, all that's left to do is take out the drip tray and add a cup of water. Then simply plug the (short) cord in, and with one press of a button, the machine will start on its own. From here you can choose to use ground coffee or K-Cups. It has one default setting and another "strong" setting. But be warned — our reviewer noticed a definite difference between the two cups she tried. So if you're a two-shot girl, use the stronger setting for your everyday cup. We loved the cord storage to tidy up the short wire when not in use.
Good to know
Just to manage your expectations, this isn't the quickest coffee maker (despite being small and having one job to do). And brew times can — weirdly — vary. On top of that, it can leak. If you can get past these few things, it makes a great portable coffee maker to take on a staycation, or fit in the snuggest of spaces. It also makes a great graduation gift or housewarming present.
Real Homes rated 4 stars out of 5 in its Keurig K-Mini Single-Serve coffee maker review
FAQs
How to recycle K-Cups
K-cups have a bad rap for not being the most sustainable coffee-drinking method since they create more plastic waste if not properly recycled. Keurig has taken steps to be more environmentally friendly and openly shares its sustainability initiatives. By 2025, Keurig hopes to convert all packaging to be recyclable or compostable, incorporate recycled plastic products into its packaging, and reduce virgin plastic use by 20%. It also has equally aggressive environmental measures in place to be zero waste, fully operate with renewable electricity sources, and significantly reduce water usage by 2025.
K-cups are recyclable but the recycling process is not as simple and requires more action on the end-user. The aluminum lid needs to be peeled off and the coffee grounds disposed of before the plastic pod can go into the recycling. Don't forget, used coffee grounds are great in the garden, and they're compostable, too.
Brands like Cambio Roasters have made it a bit easier to recycle K-cups with a move as simple as adding a peel tab on the aluminum lid for maximum convenience and utilizing tons of compostable packaging.
Keurig also offers a My K-Cup universal reusable coffee filter that you can reuse again and again with your favorite coffee grounds.
How do K-cups work?
We think of K-cups as a compact alternative to a traditional coffee maker. The machine's hot water saturates the pod's ground coffee via the needle puncture, flows through the paper filter, and gentle pressure extracts delicious hot coffee straight into your cup.
Additionally, the new Multi-Stream technology uses five needles instead of the standard one, like a rainfall effect, for better saturation and flavor.
What should I replace my Keurig with?
Keurig is a leader in the single-serve coffee maker space and is most commonly compared to Nespresso, making way for lots of Keurig vs. Nespresso conversations on our team. It comes down to preference, but we find Keurig machines to be preferred for those looking for convenience. The machines are generally less expensive and have more coffee pod options since Keurig works with over 75 top coffee brands You're also likely to find K-cups for sale wherever coffee is sold... they're that ubiquitous.
Nespresso may be the better choice, however, for those serious about espresso beverages. Nespresso coffee will also be more consistent quality-wise since all the coffee comes directly from Nespresso, as opposed to differing coffee makers. It also makes their availability more limited.
The Keurig K-cup technology is also available for use in third-party machines, which is why you'll see K-Cup-compatible machines from the likes of Cuisinart, Ninja, Hamilton Beach, and more. Our top choices continue to be the original, but these alternatives are useful for those who feel a certain allegiance to a small appliance brand or even a better deal, in the case of some other coffee makers.
How we tested these Keurig coffee makers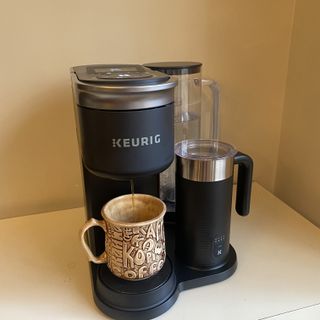 Our test kitchen is the perfect place to brew a cup of joe... or six. It's not the prettiest coffee shop-style spot but it does have plenty of sockets, sinks, and mugs to the job done. Together with our testing panel, we spent the day (a little wired) thoroughly reviewing each Keurig machine kindly sent to us, creating a variety of different coffee types to suit even the most discerning buyer.
Here are a handful of criteria we'll look at when rating a Keurig coffee maker:
1. Packaging and set-up: How easy is this machine to unbox?
How much plastic packaging is used in the delivery process? And, once we've taken the machine out of the box, how quickly it is to assemble if necessary.
2. First impressions of the product
The second criterion is to look at the product build itself. Here, we will evaluate the features, buttons, manufacture (including material finish), and colors available to the consumer.
3. The process of making coffee
What is involved in making all coffee types? How easy is it to identify and fill the water tank and capsule cavity? How long does it take for the hot water to heat? How loud/quiet is the machine in action? How effective is the milk frother if it has one?
4. Taste
We'll go through all of the coffee menu drink sizes that the machine is capable of making. If the coffee maker in question has a milk frother, we'll make lattes and cappuccinos and rate the milk texture and heat. If it's an iced coffee maker, we'll evaluate the strength of the coffee and see how much of an effect ice has on the overall flavor profile.
5. Cleaning and descaling
In short, the panel will assess where the used capsules go (i.e.: whether there is a waste bin for spent capsules), and how easy it is to maintain components. Can they be put in the dishwasher or must they be handwashed only? What is involved in the descaling program and does this Keurig coffee maker require a particular cleaning agent?
6. Cost-efficiency
We'll look at the wattage and see how much it costs to run the machine per hour. We'll also see how much capsules cost in the long run and if there are cheaper alternatives out there.
Meet our Keurig coffee maker testing panel:
Jaclyn Turner is our former ecommerce editor and reviewed the Keurig K-Supreme Plus, Keurig K-Slim + Iced Single Serve Coffee Maker, Keurig K-Express, and Keurig K-Café Smart at home.
Casey Clark is a freelance writer who reviewed the Keurig K-Duo single serve & carafe coffee maker at home.
Where to buy