There's nothing like the best Nespresso machine when it comes to making delicious fresh espresso from home. With simple single-serve pods, Nespresso machines are easy to use and require next-to-no maintenance, which is why many depend on them as the best coffee makers for day-to-day use.
Nespresso used to only make espresso capsules (which are still available) but recently launched a line of coffees that automatically brew to different lengths. The Nespresso Vertuo line recognizes different capsules using barcodes and automatically adjusts the brewing settings. This is ideal for those who want a single-serve coffee maker that can make longer coffees as well as espresso.
Quick Menu:
1. Nespresso coffee maker reviews
2. FAQs
3. How we test
4. Where to buy
See the differences between the Original and Vertuo machines, plus, a roundup of the best Nespresso machines. I've included a mix of machines that come in at a range of prices. Some have that classic coffee maker style with stainless steel finish thanks to collaborations with Breville, whereas others have high-tech in-built milk frothers to turn your espresso into a latte or cappuccino.
The best Nespresso makers, as reviewed and rated
Why you can trust Real Homes Our expert reviewers spend hours testing and comparing products and services so you can choose the best for you. Find out more about how we test.
The best Nespresso coffee machine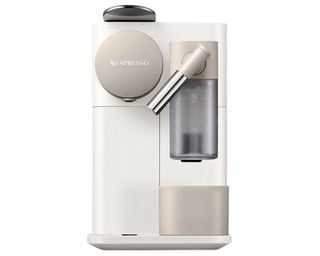 Neat, modern, and very smart, the Nespresso Lattissima One is one of the most versatile Nespresso machines on the market. It has three drink-size presets, and an automatic milk frother attachment.
Key features
While the operation is simple, the Nespresso Lattissima One makes a good selection of drinks. You can choose from espresso, lungo, and a third setting exists for making milky drinks. To use this you add your pod and also add some milk to the frothing attachment before pressing the dedicated preset.
Milk frother?
Yes, and it's great. It only makes one serving size of milk though, with no variation in textures, so you'll have trouble if you like your cappuccinos, but find a latte too milky.
The verdict
It's rare to find a pod coffee maker that has 19 bars of pressure, so the Nespresso Lattissima One is more capable than most single-serve coffee makers. It comes in a range of finishes and it is one of the most stylish coffee makers we've seen. When it comes to clean-up, the milk jug is detachable and suitable for chucking in your dishwasher (which means no rancid smells).
Real Homes rating 5 out of 5 stars: read our full Nespresso Latissima One review
The best feature-packed Nespresso coffee maker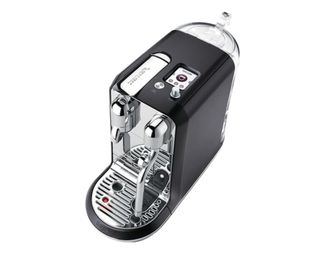 Want your Nespresso and your latte art too? Our hearts are set on the Creatista Plus, with its sleek barista-style steam wand to recreate your favorite coffeehouse beverages at home, stainless steel design, and intuitive user interface to guide you through preparation, settings, and maintenance aspects.
Key features
Three coffee sizes: ristretto, espresso, or lungo, plus step-by-step instructions to craft Cappuccinos, Cafe Lattes, Flat Whites, Latte Macchiatos, or just milk froth. Customizations on milk texture and temperature will bring out the barista in you. We also like the fact that it's not noisy despite being a high-pressure machine. The auto shut-off to save energy is handy, and it has an ultra-fast heat-up time, of 3 seconds.
Milk frother?
This machine has a convenient built-in steam wand, so you can have your pod-style coffee and practice your latte skills too. Even better, there are 11 milk temperatures to choose from and 8 milk textures. The icing on the (coffee) cake? The wand purges itself so it doesn't leave you with a dull cleaning job.
The verdict
The Creatista delivers great drinks speedily. Its stainless steel exterior looks incredibly high-end. It's a bit pricey but gives the closest experience to a true espresso machine, without the fuss of having to tamp, measure, or grind. It doesn't get better than this. Amazon buyers average it an outstanding 4.6 out of 5 stars, and praised "great results at the touch of a button," "beautiful and convenient" and it was even acclaimed as "the best single cup of coffee or espresso I've ever had." Meanwhile, we rounded it up to give it full marks.
Real Homes rating 5 out of 5 stars: read our full Sage Nespresso Creatista Uno review
The best value Nespresso coffee maker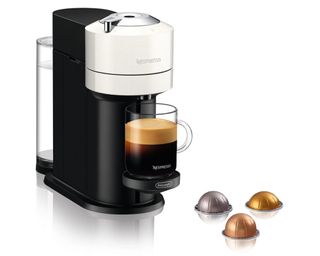 The compact and sustainably-minded Vertuo Next is made with over 50% recycled plastics and a space-saving design at just 5 inches wide. We're also quite keen on its curvy, crown-like aesthetic.
Key features
Six cup-size options. In addition to the sizes of the Vertuo Plus, the Next is also unique in that you can brew an 18 oz. carafe, built for sharing, though there are fewer pod options, and you'll have to purchase the glass carafe separately if you don't have a comparably sized container of your own. It also has a very fast heat-up time and an auto-off.
The verdict
Being able to brew a mugful from one capsule makes this machine a standout buy for fans of long drinks — although we confess that even we coffee lovers find the largest size alto more than we'd want in one go. The Next is also unique in that you can brew an 18 oz. carafe, built for sharing, though there are fewer pod options, and you'll have to purchase the glass carafe separately if you don't have a comparably sized container of your own.
On Amazon, the Vertuo Next scores a 4.4 out of five, with buyers, who love how easy it is to quickly make great coffee. They do, however, also note that the lid mechanism can be finicky to lock... it definitely does require using some force to latch and unlatch.
Real Homes rating: 4.5 stars out of 5 in our Nespresso Vertuo Next review
The best nespresso single-serve coffee maker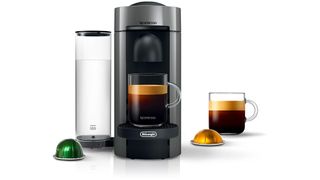 Vertuo Plus should be the Nespresso machine you consider first, offering up the best of both worlds when it comes to espresso and coffee. The neat Vertuo system can brew both coffee and espresso beverages to please the discerning coffee drinker who wants options.
Key features
Five cup sizes from the 14 oz. alto down to the 1.7 oz espresso means this machine can make the different coffees many of us prefer depending on the time of day. Note, the capsule you choose dictates the cup size, but brewing is the simple touch of a button. The fast heat-up time doesn't have you hanging around when you need a shot of caffeine before you head out the door. The water tank can be positioned at the back or on the left or right of the machine thanks to a rotating arm, which helps fit it neatly wherever it fits most comfortably.
Milk frother?
No, although there is a version that comes with the Aeroccino3 frother (at a higher price point) for latte and cappuccino lovers who don't already own one.
The verdict
Being able to brew a variety of sizes with this machine makes it a standout buy for fans of espresso and coffee — although we confess that even we coffee lovers find the largest size alto more than we'd want in one go, for one.
On Amazon, the Vertuo Plus scores 4.5 out of five. For a buyer who's previously been using multiple pods to make a mug of coffee, it's a big hit, "This machine is fantastic! Can't recommend it enough." There's also acclaim for the "lovely strong hot coffee" it makes, and the fact that it's "easy to use and clean."
Real Homes rating: 4 stars out of 5 in our Nespresso Vertuo Plus review
The best Nespresso maker for lattes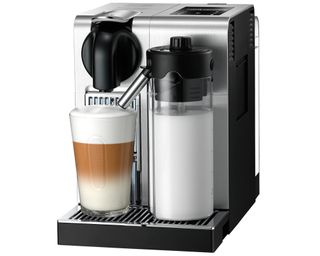 Invest in the Lattisima Pro to get your milky lattes at the touch of a button! No skills are required. It doesn't feel more luxe than this!
Key features
Choose from cappuccino, latte, and latte macchiato functions to make your ideal milky drink and, of course, espresso's on the menu, too. It makes nine different recipes at the touch of a button. Descaling and cleaning alerts help keep the machine ready to brew and froth as desired. It powers off automatically after nine minutes to save energy.
Milk frother?
This machine is made to suit latte lovers. Fill the milk container with the amount needed, and put it in place on the machine — it takes 15 seconds to heat. With a cup under the coffee outlet, the milk spout can be lifted to the required level for the cup. The texture of the froth can be adjusted, too.
The verdict
Coffee doesn't get much easier than this. It's pretty luxe to watch froth milk simultaneously dispense into our mugs. If your budget allows for it, we think you'll love this splurge, but you could also find happiness with any of the other options on this list. Many of us never choose black coffees, preferring a range of milky versions instead, and this machine meets this need perfectly. The prompt to rinse the system after making a milky coffee is a clever way to avoid hitches, too.
Amazon's conclusion? 4.6 out of five stars for this svelte machine. "Best coffee maker I've had" and "makes excellent coffee" are among the judgments. The design is also acclaimed as "very intuitive" and buyers also like the fridge-friendly milk storage jug, and the fact that it's dishwasher safe.
The best Nespresso coffee maker for offices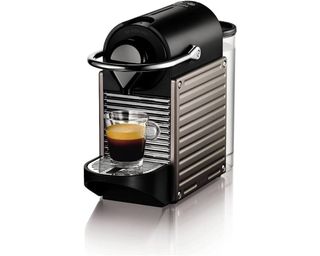 For those who want their quick and convenient fix of espresso, we present to you the pint-sized Pixie for cafe-style coffee in a snap.
Key features
Choose from 40ml of espresso or a 110ml Lungo at the touch of a button. It takes a rapid 25 seconds to heat up, so there's no hanging around, and the reservoir can fit up to 11 used pods. The machine is compact in size, helping worktops stay uncluttered, and it has a sophisticated style with its sleek metal casting. The descaling program takes just 15 minutes to clean the machine.
Milk frother?
Sold as an add-on — so it's completely up to you!
The verdict
If you're after high-quality espresso drinks, but don't have the space or the skill to fit in a big shiny barista-style machine — this is a brilliant choice. Amazon buyers agree. The model gets 4.7 out of five and high plaudits like "everything I need in my coffee life" and "the best coffee I've probably ever had."
The best small Nespresso coffee maker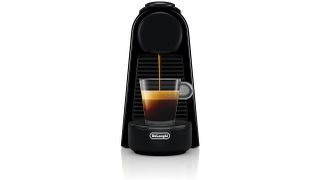 The Nespresso Essenza Mini coffee machine takes up minimal counter space in addition to some rich-tasting espresso while delivering a punch of color. And if you're wondering, yes, it's available in black too! Buy it on Amazon and you'll get a complimentary gift. Each Espresso machine includes a Nespresso Original capsule welcome kit with a range of capsules with unique aroma profiles.
Key features
This machine really is mini at H8.03 x W3.3 x D12.99. Some have even noted how they're feeling bold enough to take it with them in their carry-on when they travel, as it only weighs 5 pounds. We've also seen it in an Airbnb apartment. It makes espresso and the longer lungo at the press of a button and you can customize your brew. It heats up in 30 seconds, has a low energy mode after three minutes, and auto power off after nine minutes.
Milk frother?
No — this one is for espresso purists. It's also reflected in the price too. Though, you can still invest in a separate frothing machine if that's how you like your coffee on occasion.
The verdict
Small kitchen owners will love this petite machine — and the taste of the coffee. Like our other picks, it's a fast worker, and it looks great on a worktop as well. It comes with a very positive 4.7 out of five for Amazon buyers, with comments praising its performance like" It's very easy to use and it makes, I think, some the best tasting espresso and coffee that I've ever had. It was very surprising to me," to others expressing delight over its compact size.
FAQs
What is the best Nespresso coffee machine?
To recap... if you want the most versatility, we're keen on the Vertuo system, specifically the Nespresso Vertuo Plus as our machine of choice for its ability to make both coffee and espresso drinks, and we really like its design.
If money was no object, then we wouldn't hesitate to buy the Nespresso Lattissima Pro, which offers sharp looks and elevated drink offerings thanks to its automatic milk frother. But if you're just after a quick and easy espresso at the touch of a button, you'll find happiness with the Nespresso Pixie. Nespresso makes it just as simple to add on with its automatic milk frothers, which in all honesty, are the best complement to the machines.
What is the difference between OriginalLine and Vertuo Line machines?
Nespresso differentiates the two Original and Vertuo lines by suggesting that espresso purists stick with the Original machines, while those seeking the options for both coffee and espresso, should seek out its Vertuo machines.
The Original line machines utilized a traditional high-pressure 19 bar extraction system to brew a café-style espresso, whereas Vertuo models enable you to brew coffee and espresso drinks using its proprietary Centrifusion extraction method that rapidly spins the capsule inside of the machine and injects water to "infuse" the ground coffee inside. To add a further level of technology, the system reads a barcode on each Vertuo capsule to adjust the brew to optimize brew speed, temperature, extraction rate, and pressure.
Original capsules are typically cheaper per serving than Vertuo capsules, but the larger Vertuo capsules do offer the option for more versatility as they come in a larger variety of sizes.
Which is better a Keurig or Nespresso?
It's a question that pops up on Google, so we're going to answer it. We know you want to know the differences when it comes to Keurig vs Nespresso, the two dominating options in the world of single-serve coffee. Both are great and incredibly convenient, but where do they differ?
Nespresso caters to the espresso lovers crowd, while Keurig capitalizes on convenience, in terms of coffee and availability. The same K-cup also makes a range of cup sizes, with a smaller 6 oz. cup tasting bolder than a 12 oz. brew, while the Vertuo or Espresso pod has a predetermined size for optimal and consistent flavor results.
We think Nespresso offers a more premium coffee-drinking experience, however, you are limited to Nespresso-branded pods. Meanwhile, Keurig has licenses with hundreds of coffee brands for variety. They're also available to shop almost anywhere coffee is sold, while Nespresso capsules are typically only shoppable directly from Nespresso and their boutiques, as well as Amazon.
Keurig machines and their K-cup counterparts, in general, are less expensive than Nespresso, and most closely resemble drip coffee makers. Keurig also offers the option to use reusable K-cups that you fill with your own coffee grounds if you're looking to minimize the use of single-use plastics.
For those seeking pod-less single-serve coffee options, brands like OXO have made it possible to brew single-servings as seen in their OXO Brew 8-cup coffee maker, while we've noticed an increase in the interest around instant coffee and pre-portioned coffee packets that really only require hot water to make a cup.
How we test Nespresso makers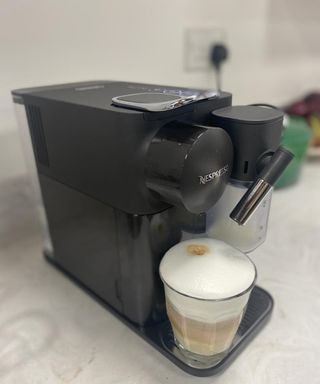 Our test kitchen is the perfect place to brew a cup of joe... or seven. It's not the prettiest coffee shop-style spot but it does have plenty of plug sockets, sinks, and mugs, to get on with the job at hand. Together with our testing panel, we spent the day (a little wired) thoroughly reviewing each Nespresso machine kindly sent to us, creating a variety of different coffee types to suit even the most discerning buyer.
Here are a handful of criteria we'll look at when rating a Nespresso coffee maker:
1. Packaging and set-up
How easy is this machine to unbox? How much plastic packaging is used in the delivery process? And, once we've taken the machine out of the box, how quickly it is to assemble (if applicable).
2. First impressions of the product
The second criterion is to look at the product build itself. Here, we will evaluate the features, buttons, manufacture (including material finish), and colorways available to the consumer.
3. The process of making coffee
What is involved in making all coffee types? How easy is it to identify and fill the water tank and capsule cavity? How long does it take for the hot water to heat? How loud/quiet is the machine in action? How effective is the milk frother (if applicable)?
4. Taste
We'll go through all of the coffee menu possibilities from an espresso, ristretto, and Americano. If the coffee maker in question has a milk frother, we'll latte and cappuccino and rate the milk texture and heat.
5. Cleaning and descaling
In short, the panel will assess where the used caps go (ie: whether there is a waste bin for spent capsules), and how easy it is to maintain components. Can they be put in the dishwasher or must they be handwashed only? What is involved in the descaling program and does this Nespresso coffee maker require a particular cleaning agent?
6. Cost-efficiency
We'll look at the wattage and see how much it costs to run the machine per hour. We'll also see how much capsules cost in the long run and if there are cheaper alternatives out there.
Meet our Nespresso coffee maker testing panel:
Christina Chrysostomou is our ecommerce editor and tests various coffee machines in every form in her home in Essex and at the Future Plc test kitchen in Reading. She tested the Nespresso Latissma one coffee maker.
Millie Fender is our head of reviews, overseeing of the home titles at Future Plc. She reviewed the Nespresso Vertuo Plus coffee maker.
Sarah Warwick is our freelance writer who specializes in homes content. She tested the Sage Nespresso Creatista Uno SNE500BKS coffee machine which is the UK equivalent of the Breville Nespresso Creatista Uno model.
Where to buy a Nespresso coffee maker
Nespresso is one of the top coffee maker brands worldwide. But as well as buying from the brand (in-store and online), these are some of our go-to retailers to pick up a machine and where to buy Nespresso pods.