The Technivorm Moccamaster is the closest thing I've found (appliance-wise) that can satisfy my craving for a cup of java from Monmouth coffee in London. Let's face it, as much as I love caffeine, I don't always feel like being squished on the subway for just short of an hour, to enjoy my favorite cup of Joe. But there's much more to this coffee maker. Aesthetically, it feels just at home in my space as my mom's retro record player or my wooden coffee table. I'm making it obvious that I'm into my mid-century modern interiors, and I love how this cool, timeless design trend really comes through in this dutch device.
Not to mention that the first iteration of this was made in the swinging sixties by industrial engineer Gerard-Clement Smit who worked with Douwe Egberts to sell these machines. Since then over 10 million Moccamaster units have been sold... That's a lot of coffee. Want to know what else is great about this drip coffee maker? Read on to find out why I stay 'in in' for coffee and espresso martinis while playing my favorite tracks (vinyl, of course).
TLDR: What I thought of the Technivorm Moccamaster
When I first saw our head of reviews, Millie, take this out of the box — I'll be honest: I didn't give it a fair shot. On first impressions, the 15-part machine looked way too technical for my liking. A little coffee-meets-Breaking-Bad — just way more legal. However, a few minutes after assembly, I warmed to it.
I liked that unlike some pods the paper filter bags and coffee grounds are (fairly obviously) organic waste that can go straight into your compost heap or food bin. Kudos for sustainability. And, should my clumsy self break any parts, I wouldn't have to say buh-bye to the machine (even outside of warranty). I could literally just order the Moccamaster replacement parts online. And, after half a decade of use, if it's gone kaput, the makers can repair the machine for around $59.
My favorite component is the dual-coil copper heating element with automatic shut-off when the brew is complete. Because when I'm back-to-back with work meetings, I've not been the best at switching off my appliances.
The only downsides I have are a) the price and b) the fact that some parts are plastic. However, Moccamaster does say that these are recyclable and that since its 55-year period on the market, this really is the best material for durability.
Testing the Technivorm Moccamaster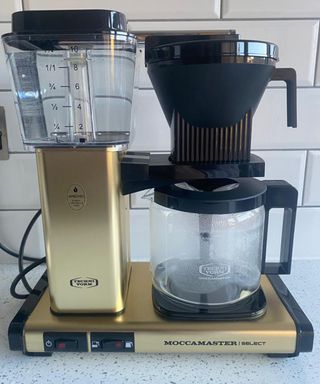 Hey, I'm Christina, ecommerce editor at Real Homes. Some might assume that I just eat and drink for a living, but I've got a real passion for coffee and geek out over the inner workings of small kitchen appliances.
I'm quite used to receiving my coffee in an instant, so it was nice to slow down and enjoy the experience of a drip filter machine. I'd almost go as far as to say that hearing the water heat and watching each drip drop is ASMR heaven.
I'm Millie, Head of Reviews at Real Homes. I've reviewed a lot of coffee makers over the years, but am typically partial to an oat milk latte made in my trusty De'Longhi Dinamica Plus.
Although I was apprehensive to try the Technivorm Moccamaster (it's big, and a little scary to a beginner) I was an instant convert once I realized how quickly it got to work. The flavor also wowed me. A wise person once told me to think of drip coffee as more like a tea, looking out for more subtle flavors and savoring every sip as opposed to throwing it back like an espresso. This is the kind of drinking you should be doing with the Moccamaster.
The techy bits
Model name: Technivorm Moccamaker
Model number: KB741
RRP: $359
Dimensions (in): H13.75 x W13 x D6.25
Weight: 6 lbs
Watts: 1400 W
Cost to use (per hour): 21c
Capacity: 10-cup machine
Colorways available: 21 colors including matt and metallic finishes
Water reservoir capacity: 42 oz
Time to brew: 6 minutes for 10-cup serving
Included: Descaling solution and instruction manual
Unboxing the Technivorm Moccamaster KBG Select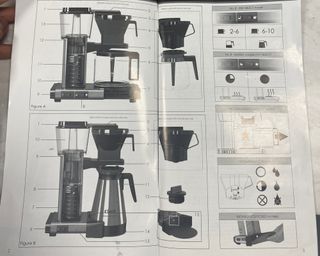 Assembling the Moccamaster is pretty easy. Put simply, here are the main components and what they do. Also provided in the instruction manual is a handy pictorial of how to place the components in the right position.
Water reservoir and lid: fill with drinking water, faucet or filtered — just has to be still
9-hole stainless steel outlet arm: looks like a showerhead, transports the water
Filter holder, lid, and bracket: hold the paper filter in place
On/off switch: For operating and disconnecting the power
Copper element: for heating water up to 96C
Glass jug: The vessel which will hold the finished coffee product
Footplate: Where the glass jug will be placed
How to use the Technivorm Moccamaster
If you're using the machine for the first time, you'll want to run it for 1-2 cycles using clean water (no coffee).
Fill the water reservoir with the amount of fresh cold water you need and replace the water reservoir lid.
Place the filter bag in the filter holder and put the required amount of ground coffee in it. The ECBC standard for the perfect cup of coffee is 60g / liter or 75g for a full 1.25 liter jug. A level Moccamater measuring spoon contains enough for 2 imperial cups of coffee, but you can tweak the dosage to suit your taste.
Place the filter holder on the bracket and position the outlet arm above the center of the filter holder.
Brewing a 5-cup serving of coffee
A 5-cup serve of coffee will fill half of the glass jug. But in hosting terms, this will cater for 3-5 cups of joe (based on the assumption that you've either got 8 oz or 12 oz mugs knocking about) in your cupboard or on display. We got our stopwatch out and stopped the clock at around 2.5 minutes which is pretty good going.
Making a 10-cup jug of coffee
Filling the glass jar to full capacity will take around 5 minutes. However, patience is a virtue because no matter how much coffee you make, the Moccamaster promises the "Golden Cup standard".
Coffee afficionados we are, but we're not going to pretend we knew what this meant so let's summarize. Essentially, it's a metric defined by the SCA to measure brewed coffee quality.
They say: "Coffee shall exhibit a brew strength, measured in Total Dissolved Solids, of 11.5 to 13.5 grams per liter, corresponding to 1.15 to 1.35 "percent" on the SCA Brewing Control Chart, resulting from a solubles extraction yield of 18 to 22 per cent."
Using the hot plate to keep a full jug warm
Of course, if you're not hosting brunch, there are benefits to making a full jug of freshly-brewed coffee if you're working from home. Because, with the cost of living at the moment, even flipping the switch on the most energy-efficient kettles can be costly over time — particularly if you're making individual cups and filling the water boiler to the brim.
We didn't quite have a proper thermometer to hand but found an aptly-colored meat thermometer in the drawers in our UK test kitchen. The manufacturers claim that the hot plate can keep coffee warm for 30 mins so we set an alarm on our smartphones, got on with some other work, and returned to the Moccamaster half an hour later.
The thermometer we used measured 66.2C (151F) which was a good drinkable temperature.
Cleaning the Technivorm Moccamaster KBGV Select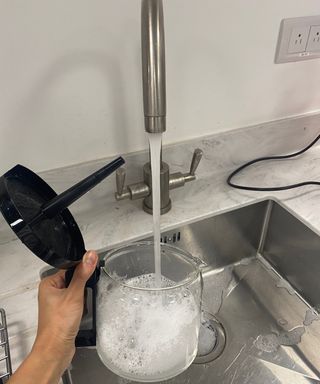 Despite its complicated-looking design, cleaning this coffee maker is a breeze. Once you remove the filter holder and jug, both can be hand-washed in the sink with a good dish soap and water.
As with rinsing anything kitchen-related, I prefer to use a reputable eco-friendly cleaning product, but Technivorm's instruction manual states that you can try the following dishwasher hack. Simply mix a dishwasher tablet and a little hot water (leaving the solution for one hour) before decanting and rinsing with clean water. You can pop the water reservoir lid in the dishwasher — just make sure it's top rack only as you don't want to warp the plastic.
Descaling the Technivorm Moccamaster KBGV Select
It would be a shame to let such a chic machine get clogged up with limescale and coffee oils, so make sure to descale your machine every 3 months / after finishing your box of 100 filter bags. Don't. Be. Lazy. It's super easy and if you CBA to read instructions, this short 3.5-minute video from Gail Willams, owner and VP at Seattle Coffee Gear is an easy watch.
ASMR alert: it will audibly gurgle and visibly bubble, but the results are super satisfying. This will get rid of all the gunk in the reservoir, jug, and spray arm. They used Dezcal which you can find on Amazon but ours already came with a sachet included in the box.
Is the Technivorm Moccamaster KBG select for you?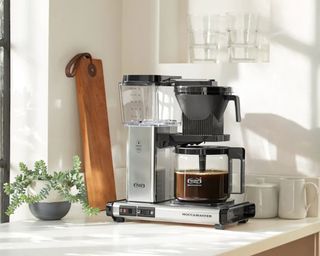 If you like to make pour-over coffee, but have a small kitchen where you have to choose between a kettle or a small coffee maker that's big on style — go for this. As you can see in the above alcove example, it looks great as part of a wider coffee bar setup (Technivorm too approves of using clear glassware to serve your brews in!)
Just picture the scene, your BFFs around the dining table, enjoying freshly-brewed coffee in cute cups, without the faff or cost involved with a bean-to-cup machine. In fact, you don't even have to imagine it as Moccamaster has created the scene of dreams in this YouTube video *Macarons not included*
If the price is the only thing that's put you off, consider buying a Moccamaster refurbished product. These come straight from their official site, are hand-tested by their own service technicians, and come with a 1-year limited warranty.
Alternatives to the Technivorm Moccamaster KBGV Select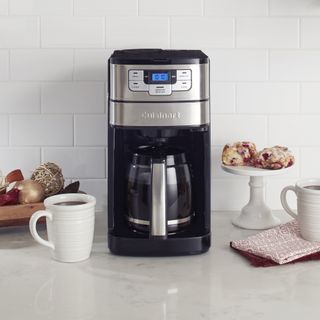 $99.95
Cuisinart Grind & Brew 12-Cup Coffeemaker
A larger capacity drip filter machine that's under $100
Water tank capacity: 12 cups
Dimensions (in): H15.16 x W11.2 x D7.48
Weight: 10.8 lb
Warming plate: Yes
Real Homes rating: 4.5 stars out of 5
Our Cuisinart Grind & Brew 12-Cup Coffeemaker review has all the other answers to the questions you have about this machine.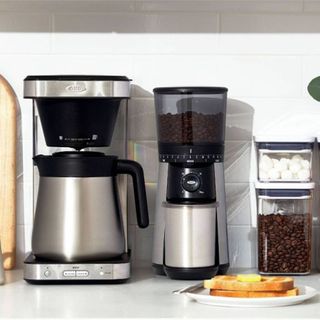 $199.99
OXO Brew 8-cup coffee maker
A cheaper and smaller alternative
Water tank capacity: 8 cups
Dimensions (in): H13.5 x W10.5 x D7
Weight: 10.2 lb
Warming plate: No
Real Homes rating: 4.5 stars out of 5
Read our OXO Brew 8-cup coffee maker review to see why it got this score.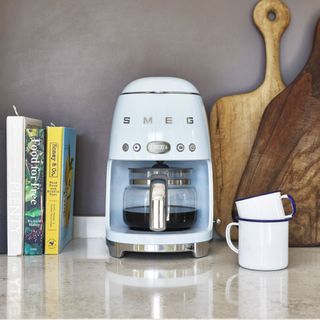 $210
Smeg DCF02 Drip Filter Coffee Machine
A mid-century modern contender
Water tank capacity: 10 cups
Dimensions: H14.21 x W10.01 x D9.65
Weight: 7.5 lbs
Warming plate: No
Real Homes rating: 4.5 stars out of 5
We've got a full review on the Smeg DCF02 Drip Filter Coffee Machine if a colorful statement coffee maker is what you're after.
About this review, and the reviewer
Christina is our ecommerce editor and resident foodie. You're bound to hear from her on a Monday morning telling you about the latest culinary adventure, whether it's trying out a restaurant she'd finally got a reservation for or stumbling across a food market. Her favorite coffee shop in the world is Monmouth Coffee in Borough Market in London though if she's in Spitalfields she opts for a spicy Masala Chai from Chai Guys.