Kourtney Kardashian's glass coffee mugs are an inspired choice, especially for someone like me who can't stop buying a random assortment of cups to drink my java from.
We might not have the same budgets for decorating our homes, but we're both the eldest and have slightly edgier modern design tastes. Therefore, I always like to scope out what she's adding to the rooms of her house.
The most recent find that is easy to source is her double-walled glass coffee mugs, which appeal to my two-lattes-every-day personality. Not only am I a coffee lover, but I also love a good coffee mug. My current selection is a mash of handpainted giant blue mugs with fishermen on them, a few cups with memes, and finds from traveling. It's messy, but I have a feeling these sleek, double-walled vessels will bring some order to my cabinet.
These are the cute coffee cups Kourtney Kardashian uses
According to her site Poosh, Kardashian works the Williams Sonoma Double Wall Glass Coffee Mugs into her morning and evening routines. So you can sip your coffee or tea of choice in the morning and wind down with some mushroom cocoa or wellness drink at night. Sign me up!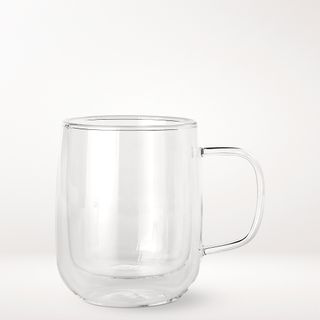 Double-Wall Glass Coffee Mugs
Price: $16.95 per mug
Serve up your favorite caffeinated drinks in these chic double-walled coffee mugs. They're lightweight but perfectly insulated to keep your sips hot but your hands cool.
What makes them even more perfect is their transparency. A lack of color means they'll fit squarely into any home style, whether you're a fan of boho or more minimalist kitchens. The transparent material also makes it easy to see if your honey has full dissolved or if your matcha powder is sinking to the bottom.
They're also a safer bet for anyone who's been scarred by ultra-hot mugs in the past. Nothing is more painful than grabbing a cup from body rather than the handle. With this specific mug, you can do either without a problem. The double-wall insulation cuts out the chance of burning your poor palms.
If you pop a cold drink into the glass, you won't have to sweat the resulting condensation. These expertly-designed iced coffee mugs won't leave you with dripping sides and rings all over your coffee table. They're even dishwasher-safe if you put them in on a gentle cycle. It's easy to see why Kardashian has these in her daily routine — and they're certainly being added to mine.
Shop similar clear coffee mugs like Kourtney Kardashian's
Like the look of these mugs? I've rounded up a few more mugs that are near-identical to the William Sonoma glasses Kardashian uses if you're wanting to weigh up all your options.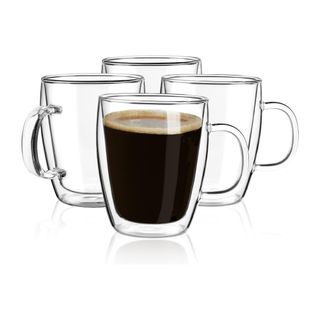 Amazon best-seller
Yuncang Double Wall Coffee Mugs
Price: $31.99 for 4
For an affordable set of four, this popular pick on Amazon is worth considering. It's backed with over 3,700 five-star ratings and they come in multiple sizes.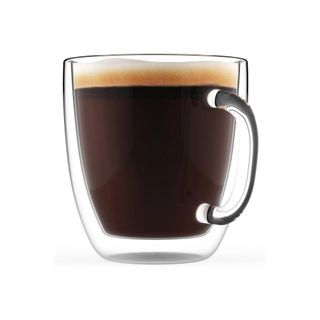 Sturdy
Seenda Double Wall Coffee Mug
Price: $6.99 for 1
This choice from Walmart has an exceptionally thick handle for a comfortable sipping experience. It holds around 11 ounces, and although it's durable it maintains the lightweight feel borosilicate glass is known for.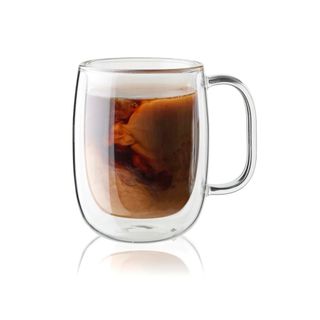 Microwave-safe
Sorrento Plus Glass Coffee Mug
Price: $59.95 for 4
Behold another sturdy set that's worth adding to your kitchen cabinet. They're constructed of mouthblown glass, and unlike the William Sonoma mugs, these can go in your microwave.
---
You're all squared away with cute cups at home now. But what about when you need to take your caramel macchiato on the go? These best travel coffee mugs have your back when you're in a rush.