Garden wall ideas can be just as decorative as they are practical. From building a retaining wall to not only keep soil in check but to match your garden's aesthetic too, to beautifying old, existing (and unsightly) boundary walls in your garden that you aren't able to replace – you have options.
Find much needed advice on the best materials to use for retaining walls, as well as the easiest ways to make your garden walls look nice using cladding, lighting, garden wall art, coverings and more. Whether you want to inspire yourself ahead of a new wall installation to better enclose your backyard and create more privacy, or if it's to make existing convivial areas in your yard nicer to look at, a little focus on garden boundaries is a must for modern home owners everywhere.
1. DIY a stone retaining wall for your garden
Building your own retaining wall means you can DIY yours to spec. We love the rustic look of this low retaining wall which frames the outdoor space and stairs, cleverly doubling up also as a perching seat right next to those garden beds.
2. Get creative with garden wall lighting ideas
Most garden lighting ideas work great at brightening up outside walls, we particularly love hanging string festoon lighting to add a boho vibe. We spoke with the experts at Essential Living (opens in new tab)about what makes a garden wall both practical, and beautiful, they say: 'To appreciate a garden all day and night, having outdoor string lights weaved in between your baskets will make any outdoor gathering more magical. Outdoor lights look so much better when they are draped in the middle. The way to do this is to make sure that your two hanging points (start and end) and exactly secured at the same level and give the string lights just a little slack.'
3. DIY brick garden wall planters
Planting is a naturally effective way to add interest to an outdoor space and to beautify normal looking garden walls too. See the continuation of the brick around the pack paved garden spot? This scene gets extra points for a coherent layout.
4. Paint a boring brick garden wall blue
'The first thing you want to consider colour, as the colour can hugely impact how something looks and feels. If you have an older garden wall and are you dissatisfied with the natural colour of your bricks, painting them will transform their appearance and when done correctly, can even improve durability.'
The pastel blue color here will create a really fresh and inviting backyard, and you can go lighter if you want to enhance the amount of space you do have, furthermore.
5. Line tall garden walls with trees for privacy
One of the perks of tall garden walls is the added garden screening that will help with overlooking neighbors but, it can be a little harsh. To lighten the look and improve privacy furthermore, consider lining those walls with trees or tall planting
6. Keep a modern garden wall smooth and neutral
A block plaster or poured concrete garden wall is best for a smooth finish if you like a modern garden look. Painting it in a neutral color will add to the sophisticated feel, and brighten up the space too. 'In summer, you can't go wrong with a white wall as it reflects natural sunlight and allows you to play around with brightly coloured outdoor accessories. Bolder colours also work extremely well in the summer such as purples, pinks, and orange which have hues of warmth creating a vibrant feel.'
7. Add garden wall art
With outdoor living here to stay, you can totally start accessorizing outside walls as you would inside! Think mirrors – especially great to make a small garden look large – and DIY art with trellis, old watering cans, pots and the likes.
8. Soften a stone wall with bright planting
The right garden plant ideas will see your outdoor space in bloom all year round, making it the perfect way to soften harsh borders and tall, old garden walls that can't be replaced too. Note how the white planting in these borders is complemented by the stained section of the garden wall, creating a lovely rustic display and finish.
9. Plant vertically on a garden wall with pallets
Using old pallets to DIY a cool green art display is one of the most vibrant looks around. Not only is is a big space saver in small yards, but it's also a lovely visual and sure to be a talking point.
10. Mix wooden cladding with greenery
The slatted wooden cladding garden walls surrounding this outdoor space add a modern touch to this period home. Teaming this with the green sectioned wall makes for a unique look that creates a cool enclosed space too.
11. DIY your own garden wall art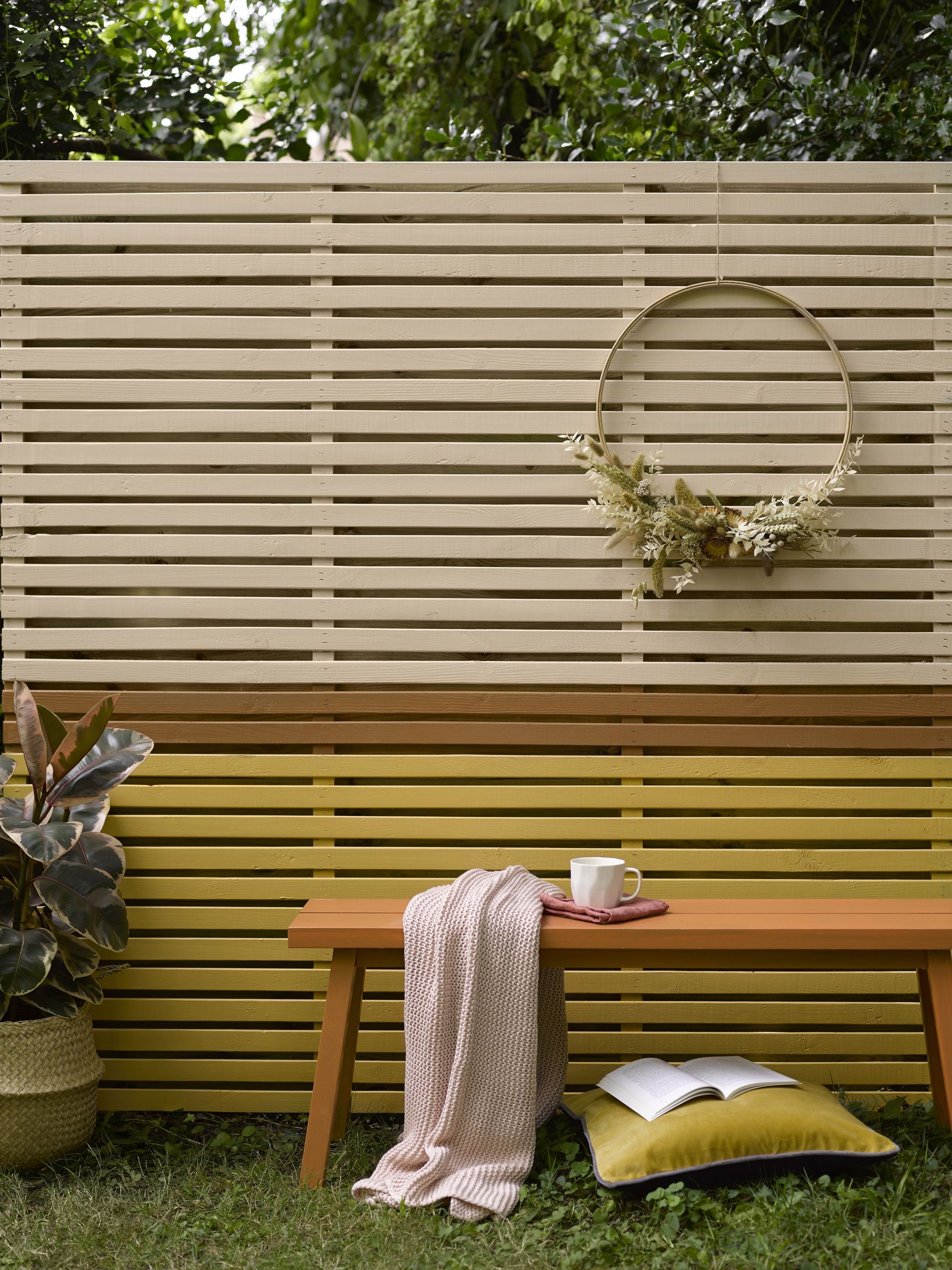 Accessories to help your garden wall look nice can be made by hand, no problem. Still have your Christmas wreath wire ring hanging around? Fill it with spring/summer flowers and hang it up for the perfect look. There's so much more you can do too: 'In terms of accessories, hanging baskets always work well, a trend we saw flourish in 2020 and set to be a hit for 2021. You want to achieve that burst of colour and texture that will really make an impact in your home or garden and last all summer.
A lightly coloured cone-shaped rattan basket is a popular choice, as not only does it look classy but will hold more soil and prolong the life of your plants. Begonias, Fuchsias, and Petunias look beautiful, particularly in May and June. If you struggle to keep living flowers when faced with a busy and hectic lifestyle then try artificial bloom baskets, looking equally beautiful without the upkeep.'
12. Grow up your garden walls
Garden walls can often double up as the best trellis ideas too so be sure to keep your climbers close by for an incredible display and plenty of green cover in not so long at all.
13. Choose a laser cut floral design
(opens in new tab)
The beautiful floral design on this corten steel panel is a great way to enclose your garden space with a beautiful near-opaque structure that is tough enough to withstand tough weather conditions too. Whether used as a screen to zone your garden or as a boundary fence, it will create a cool industrial look.
14. Hang planters high on garden walls
Lining up small containers vertically is a great way to conceal lifeless garden walls that you can really change. Plus, containing gardening means that you can change your display as and when you please!
15. DIY a standalone feature garden wall
Build a standalone garden wall to help zone your yard. Try filling your garden wall beds with gravel and a mixture of plants to add further interest and vibrancy to your DIY garden wall. Choosing bright plants against a lighter brick will also make a solo garden wall, stand out.
What are the best tools to use for a DIY retaining wall?
'Many people enjoy the cost savings and sense of satisfaction of completing a Do-It-Yourself (DIY) landscaping project and building a retaining wall is a popular choice, ranging from raised garden beds to taming hillsides and creating terraces or stairways.
For any project like this, there are some tools that are handy to have. A round point shovel is helpful for when you have plants to move, digging and starting a footing. A square blade shovel is ideal for putting in aggregates like gravel or sand and grading the area. A tamper is generally used for tamping down areas whilst a rake is handy for levelling out any base rock and a level can help you determine if the work area and retaining wall rows are level.
Additionally, having a hammer and a 5-pound maul is helpful to drive stakes into the ground.
Other optional tools can include a pick, depending on your type of soil, picks are useful to loosen hard and rocky soil and a caulking gun and adhesive can be useful if you want to glue finishing caps or add steps.'
To the garden walls!