If you want your backyard to look amazing this summer, these are the garden trends to follow this year. With a strong emphasis on sustainability and natural, 'it just happened this way' looks, 2022 is shaping up to be a vintage year for backyard trends and even micro changes to your planting scheme, patio furniture or garden layout can be enough to bring your outdoor space up-to-date.
Think designs full of personality and charm, with a thought for our changing climate always in the foreground, always.
Back in 2021, our backyard designs reflected our desire to escape – remember all those vacation-themed gardens and outdoor rooms? This year is embracing our gardens in different ways. 2022 is all about celebrating our gardens as living, natural spaces that we share with wildlife. These are small (sometimes tiny) but crucial players in the fight against the effects of climate change and nodding to their habitats within our own approach to outdoor living is what this year is all about.
Garden trends 2022
Of course, beautiful design and gorgeous plants are still central to garden ideas this year. Eco-conscious and beautiful is the trendiest garden look – we suspect not just for 2022.
1. Climate change-conscious garden designs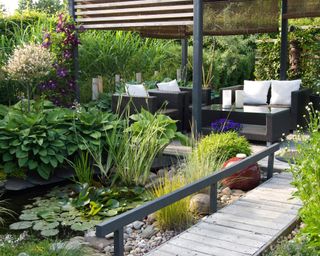 If garden trends for 2022 can be summarized with one word, it's sustainability. A sustainable garden can be many things. It can be a wildlife garden that creates its own thriving ecosystem, helping pollinators, hedgehogs, and amphibians. Increasingly, a sustainable garden also takes into account the changing climate and adapts to it.
If there's just one change to make to your garden in 2022, it's incorporating elements of a rain garden into your garden design. This can involve something as simple as planting up areas prone to water logging with moisture-loving plants, or you could go for a more extensive redesign that includes a water reservoir and improved drainage. Wendy Allen, an award-winning garden designer specializing in rain gardens, has told the BBC that rain gardens are a great idea because 'they cut down on water use, they reduce flooding, they filter the water, and overall they're a brilliant benefit to both the people who look at them and to rivers.'
2. Slow living and slow planting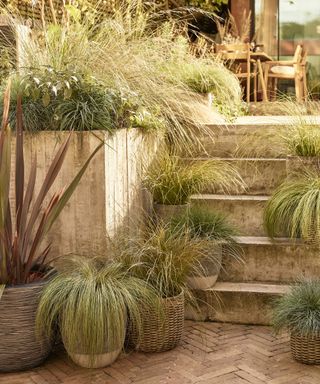 This ties in nicely to the second-biggest garden trend of 2022 – slow living. UK-based Dobbies' Horticultural Director, Marcus Eyles, describes the trend as 'a soulful theme that inspires us to slow down and appreciate the world around us. Muted tones and colours that change with the light, mirror the way nature around us ebbs and flows.'
This type of gardening is all about enjoying watching your garden plants grow and admiring the way they catch the light at different times of the day. Grasses are the perfect plants for this trend, and Marcus recommends planting Stipa tenuissima, Carex 'Frosted Curls' and Carex 'Prairie Fire' as part of 'this muted theme.'
3. Living walls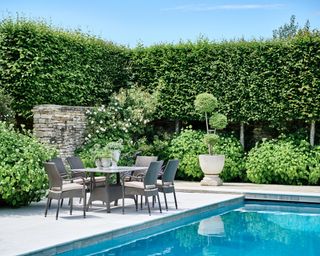 If you've always wondered how to create a living wall, this is the year to finally try it. Much more natural-looking than solid fences, living walls are in keeping with the current backyard trends that maximize on all available space for plants – this includes the vertical space in your garden.
And if you already have a garden wall or fence, this may be the year to cover it with rambling roses or disguise it with trees and shrubs.
4. Urban zen gardens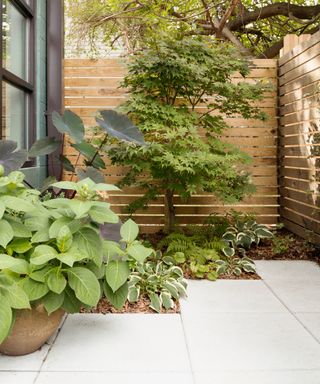 Japanese garden ideas have never really gone out of fashion, but this year will see the zen garden updated and made to look more contemporary and angular. Zen gardens traditionally embrace soft, curvy shapes, but in 2022, expect to see soft planting contrasting nicely with sharp landscaping.
Marcus believes that the zen trend 'ties in well with sustainability, as well as boasting engaging options for plants that look great on a balcony or terrace. Acer palmatum 'Katsura', Hardy Fern, and Ilex crenata 'Kinme' plants will inject some zen to your space.'
5. Balcony gardens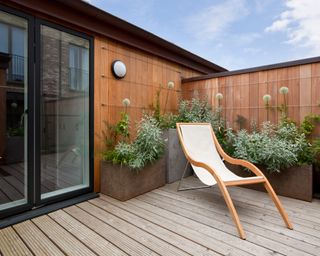 Have a balcony or terrace? This is the year you should consider creating a balcony garden. While small balcony ideas traditionally focus more on furniture, introducing even just a couple of planters will instantly bring this tiny urban space to life. You don't need lots of pots, or a wide selection of plants – just fill a corner with troughs and do a layered planting scheme with flowers and an evergreen.
6. Contemporary country style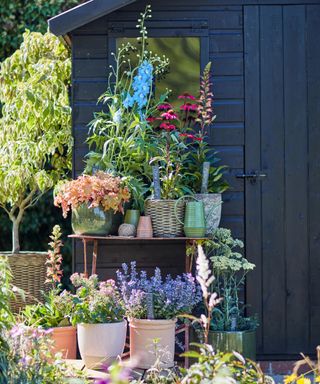 Cottage gardens are typically seen as a country pursuit, but this traditional garden style is entering urban and suburban backyards in a big way this year. Marcus explains that this look is all about 'growing new and unusual produce and plants in our gardens for a wild, rustic country feel.'
You don't need much space to recreate the romantic country garden in your outdoor space – you just need to be clever with your plant selection. Plants Marcus recommends for achieving the look includ 'Delphinium light in blue or white, Echinacea 'Sensation Pink' or Digiplexis 'Falcon Fire''.
7. Tropical garden planting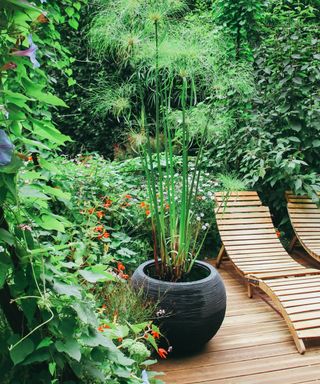 Tropical planting schemes have been popular for over a year now, but this year's tropical planting is more sophisticated than the palm tree bonanza from last year. Think exotic blooming vines, tropical bamboos, and subtropical evergreens. Tropical gardens in 2022 are less about imitating a vacation landscape and more about exploring rare and exotic plants.
8. Indoor-outdoor backyards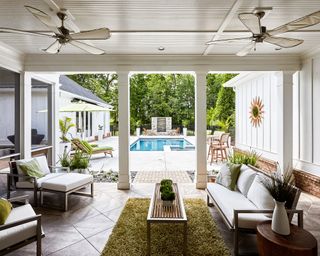 This is quite different from the outdoor room trend that saw patios and courtyards transformed into living room-like environments. Although outdoor rooms aren't going anywhere, we expect 2022 to return more to the idea of creating one continuous space. between the indoors and outdoors. The aim is to open the indoors to the light and fresh air outside, rather than to create an illusion of the indoors outside.
9. Repurposed garden rooms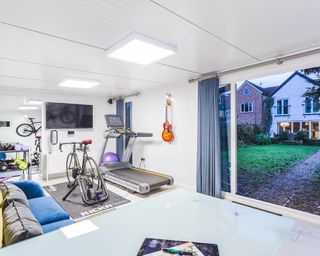 A garden room is always a luxury, and for those of us now mainly working from home, it's an invaluable opportunity to create some separation between our homes and our work – or workout – life. We garden garden room ideas tin 2022 to include home gym and home office transformations.
10. White planting schemes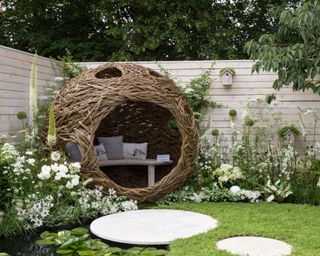 White backyard planting is still here in 2022, but it looks slightly different from last year's. Think delicate all-white planting schemes instead of all-white furniture and painted decks. White with natural accents is the on-trend look for this year. It's a less intense look than last year's, and all the better for it.
11. Tiny backyards with water features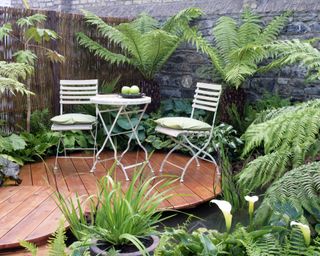 This year – the third of the pandemic – is all about valuing whatever space we've got, and filling as much of it with plants as possible. Innovative small garden ideas are entering mainstream garden design in a big way in 2022, with minimal structural designs and dense planting schemes the dominant look.
Interestingly, even the tiniest of gardens will sport garden water features in 2022, and these will look like tiny natural ponds rather than the concrete or stone water features we're used to from previous years. Expect to see water lilies in even the smallest of backyard spaces.
12. Midsummer night's picnics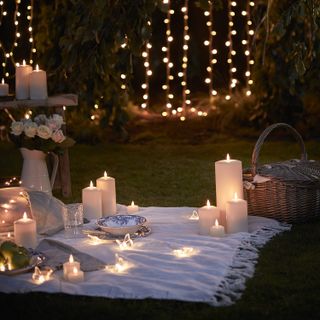 Using the garden year-round is one obvious post-pandemic garden trend, but we expect that gardens will get much more use round the clock, too, with evening garden parties becoming more popular. Spectacular garden lighting ideas will be central to transforming backyards into magical nighttime-friendly spaces.
If you can make your outdoor lighting climate-conscious, you'll be even more on-trend. Interior designer and Netflix's Queer Eye star Bobby Berk has named solar-powered backyard lighting his top backyard trend for 2022. He commented: 'whether you want to hang overhead cafe lights for ambiance, or uplights to create an evening glow, it's an investment you will not regret. I've been using solar lights for years now, and not only are they an easy installation, but they don't require any power, which means that you can add them virtually anywhere.'
13. Using native plants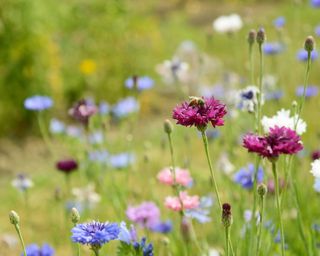 This trend very much ties in with the bigger overall trend for making our backyards more climate-conscious. For a long time, what we were growing in our backyards and gardens depended mostly on what we liked the look of, and it was common to find lots of plants from different continents grouped together. This eclectic look is now giving way to a more regional approach to planting, mindful of what traditionally grows where you live.
The owner of East Hampton Gardens, Michael Giannelli, told us that 'using native plants and veering away from invasive species' is an 'important trend right now.'
Aaron Lebowski, Certified Interior Designer for Juliei Salone, seconds this view and recommends adding 'native plants, which are easier to maintain than exotic species and will help attract more birds and insects.'

How can I make my backyard more appealing?
If you are looking at your backyard and it seems a bit dated, don't despair: you won't necessarily need a complete overhaul to make it look more interesting and contemporary. Lebowski has several easy-to-follow tips for a quick update:
Add shrubs: 'Shrubs can be used to add color and texture to a yard, as well as create privacy if placed strategically.'
Install a water feature: 'Water features are a great way to add ambiance to any space, and they can be made from simple materials like cement or rocks.'
Upgrade your fencing/walls/gateway structure(s): 'Repainting or replacing existing structures with new ones can make all the difference between a backyard that looks dated versus one that feels fresh and modern.'

What backyard trend is on its way out in 2022?
Gianelli tells us that 'unfortunately, the low maintenance garden seems to always come up.' The landscaping specialist agrees that we should leave the desire for a 'low-maintenance' backyard in the past, believing that a low-maintenance garden or backyard 'really doesn't exist. Any garden needs tending.'
This is not to say that you can't have a planting scheme that will need complicated maintenance or replacement with other plants every year. Gianelli recommends 'not designing into a "trend" but designing a classic, beautiful space. Classic lasts forever.'