Gazebos are a great garden fixture to invest in. From small garden parties, intimate wedding receptions, and big outdoor celebrations, there's nothing better for gathering under to shield you from the elements and quickly create a sectioned-off space outside.
Not just for ducking under when it gets a little drizzly, the best garden furniture pieces are the perfect windbreakers and can protect you from strong UV rays. Ultimately, when the weather is a little inconsistent, this furniture can stop you from getting wet, having hair that's suffered from the blustery breeze, and preventing sunburn.
Some of our garden gazebos are cheap and cheerful and others are an investment. When looking at the latter, you'll find some attractive features including sliding doors and decorative details. Whatever your budget, know that our picks take into consideration price, practicality, and pop-up appeal. Some are permanent fixtures that can stay erected in your external space all year round.
Gazebos for garden parties and backyard gatherings
Why you can trust Real Homes Our expert reviewers spend hours testing and comparing products and services so you can choose the best for you. Find out more about how we test.
'Both gazebos and marquees are great, flexible options for providing shelter in your garden. These structures can be made from different materials and secured to a variety of surfaces,' says Tristan Sisson, garden buying manager, Homebase.
'You can also choose whether you'd like panel sides or removable doors and windows – so whether you want shelter from the rain or shade from the sun, a marquee or gazebo is the perfect solution.'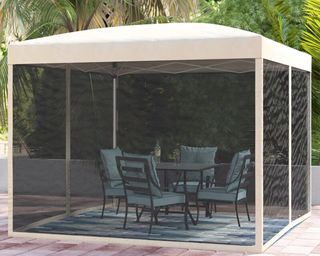 1. Clarion 10 Ft. W x 10 Ft. D Steel Patio Gazebo
Gazebo: 20' W x 10' D x 8' 4 13/16'' H | Colors available: 1
We've all heard of bringing the outside in, but this four-walled, cream-colored gazebo brings the indoors out (and away from the wind, bugs, and other inconveniences). Designed with mesh walls, you can create an intimate and canopy-like area for adults to eat or a cool contained kids' area. Rest assured you'll stay safe in the sun as these panels protect you from 90% of UV rays.
---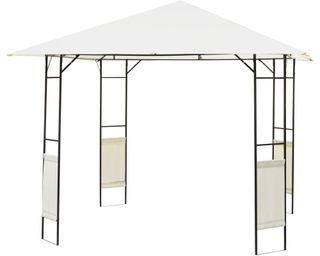 2. Outsunny Modern 10' x 10' Outdoor Gazebo Canopy Cover
Gazebo: 120 x 120 x 102 in | Colors available: 1
Eat and drink without the sun in your face and the wind in your hair with this outdoor gazebo and canopy cover. Modern in style, it comes without the conventional full-length panels so you can gaze at your well-groomed garden and manicured lawn - all while protecting your patio dining set from UV damage.
---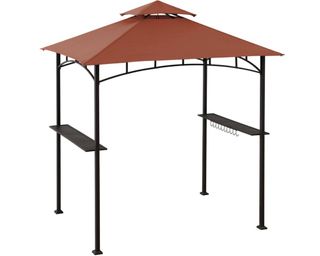 3. Arryanna 8ft. W x 5ft. D steel grill gazebo
Gazebo: 8' 1/16'' W x 4' 11 27/32'' D x 8' 6 3/8'' H | Colors available: 1
Create a dedicated space for your king (or queen) of cookout with this steel grill gazebo (shown in Terra Cotta Red). Perfect for grilling burgers and sausage links (even in the pouring rain), this cover will protect you from the elements. The best thing about this gazebo? You can get those grill marks on those meats without choking on smoke with the 2-tiered ventilated top.
---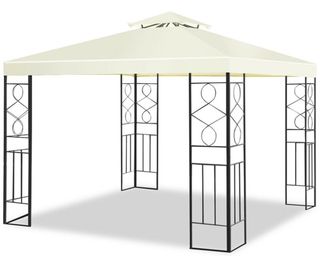 4. Wanme 10 Ft. W x 10 Ft. D steel patio gazebo
Gazebo: W10 x D10 x H6 8 ft | Colors available: 1
Gazebos aren't known for being the prettiest of things, but with this structure, you can have functionality with style thrown in. Just take a look at those steel footings with their decorative patterns. Compatible on all surfaces including grass Lawns, wooden decks, patios, and cement pavements.
---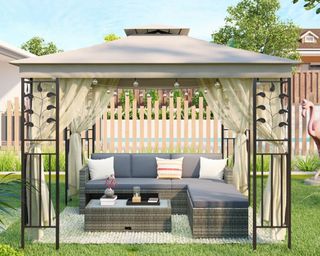 5. Debracat Vented Dome Top 10 Ft. W x 8 Ft. D Steel Patio Gazebo
Gazebo: 10' W x 10' D x 8' 2 13/32'' H | Colors available: 1
Is it possible to go gaga over a gazebo? It sure is with this model from Debracat, available at Wayfair. A Vented dome, decorative leafy details, mosquito-netting walls, and outdoor curtains all come together to produce this stylish shelter. And, double-side zippers in the nets and curtains make walking in or out of your chic space that little bit easier.
---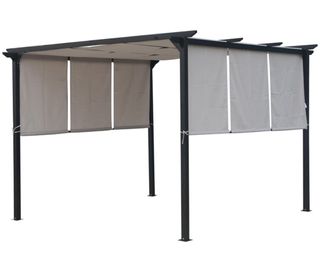 6. Arlmont & Co. Dequilla 9.5 Ft. W x 9.5 Ft. D Steel Patio Gazebo
Gazebo: 9' 7'' W x 9' 7'' D x 6' 11'' H | Colors available: 2
Different in design, this gazebo with rectangular panels certainly caught our eye. Shown here in grey steel (but also available in beige steel), this modern approach will offer a contemporary feel to your backyard. Make it super romantic by adding a set of string lights or climbing vines above for a picturesque pergola-esque feel.

---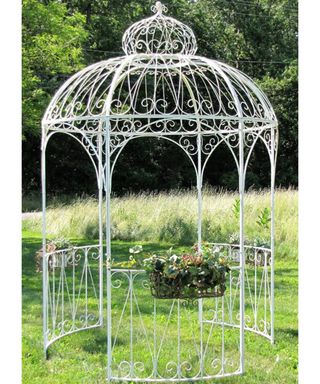 7. Zaer Ltd International iron patio gazebo
Gazebo: H41 x W79.3 x D15.4 | Colors available: 1
Be as free as a bird with this birdcage-shaped wrought-iron gazebo, available from Wayfair. This hand-painted structure is sure to make a statement in your backyard, especially when decorated with hanging planters. The perfect place to take photographs, it makes a super Instagrammable backdrop.
---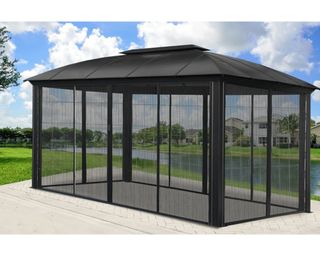 8. Paragon 12 ft. x 12 ft. Hard Top Gazebo with Sliding Screen
Gazebo: 12ft x 12ft | Colors available: 1
Open up a world of socializing opportunities with this hardtop sliding door gazebo from Paragon Outdoor, available at Home Depot. Though an investment buy, this aluminum-framed structure is far cheaper than most garden rooms and outbuildings and can provide a private space for a coffee or even a romantic date night outside.
---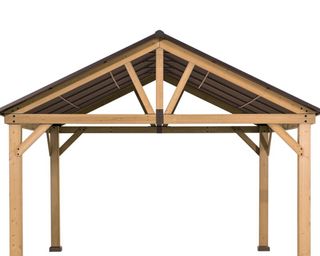 9. Avallone 13 Ft. W x 11 Ft. D Solid Wood Patio Gazebo
Gazebo: 13' 1 5/16'' W x 11' 9/32'' D x 9' 6 3/4'' H | Colors available: 1
Far from the flimsy tarpaulin-esque gazebos that flap at even the slightest of winds, this sturdy wooden gazebo from Wayfair is here to stay. Shown in black, but also available in a warm faux copper, this rust and water-resistant outdoor fixture can create an end-of-day or weekend oasis.
---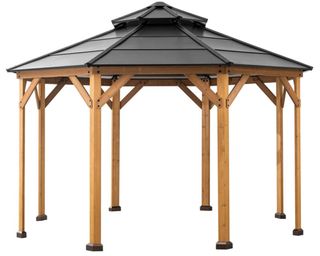 10. Sunjoy 13 ft solid wood patio gazebo
Gazebo: 13' W x 13' 1 13/32'' D x 10' 5 3/16'' H | Colors available: 1
Create an outdoor living room space with this octagonally-roofed, solid roofed patio gazebo from Sunjoy. This external structure, though a little expensive, will fare far better than its plastic counterparts, and looks good from Spring all the way to winter (where you might be lucky enough to see it wear a snow-topped hat!)
---
11. 10' x 10' flat hanging KD retractable tent outdoor pergola gazebo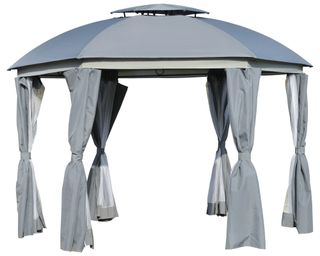 Gazebo: H109.2 x L144 x W144 in | Colors available: 2
Give your guests the VIP treatment with access to an exclusive lounging area, shown in grey. This special space can be given a celeb style treatment with the additional outdoor furniture, and some chilled wine (or even champagne on ice). The double-tiered domed roof will keep guests cool, while the mesh sidewalls turn this gazebo idea into a chic cabana. Also available in brown.
---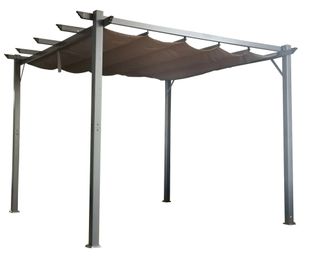 12. 10' x 10' flat hanging KD retractable tent outdoor pergola gazebo
Gazebo: 118"W x 88"D x 118"H | Colors available: 2
When the sun is shining, are you team tan or team shade? Whatever your preference, get the best of both worlds with this retractable canopy from Lowes' to create the right level of comfort for you and your guests. This flat hanging 10' x 10' has an SPF 30 coating on it to prevent sunburn (though you should be wearing sunscreen as well!) and makes a great place to give potted plants respite from strong rays and heat which can dehydrate them.
---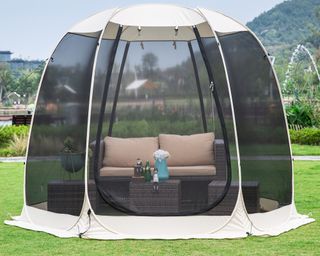 13. Alvantor 10' x 10' Screen House, Beige
Gazebo: L10 x W10 x H7 ft| Colors available: 1
Part gazebo, part tent, this portable pop-up structure can be used in your backyard or can be taken in the back of your automobile on fishing and camping trips. With fiberglass poles, it's super lightweight, and a budget-friendly option that needs little to no DIY experience, so perfect for a stress-free staycation! Plus, you'll be protected from all sorts of bugs and the sun with its SPF 50 protected surface. And, if the weather does turn a little crazy, it comes with 6 extra sandbags, 12 guylines, and 12 metal mounting stakes to stop in toppling over (or you chasing after it) when it's windy! What more do you need?
---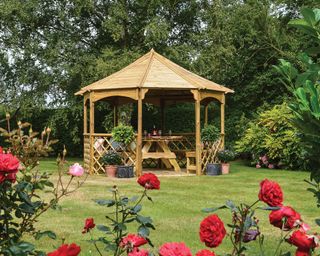 What shape gazebo should I choose?
'This is really up to you,' says Samuel Stoltzfus, president, and general manager, Country Lane Gazebos.
'Sure, you could use the gazebo's location to determine its shape, but it comes down to preference and creative vision. Certainly, there are some shapes better suited for particular functions, such as rectangular and square gazebos for hot tubs. Your choice of shape won't have a huge impact on the gazebo aside from minor details, such as a number of posts and square footage.'
'The most common shapes available for gazebos include octagonal, square, oval, rectangular, and dodecagonal. Some shapes may only be available in specific sizes, and vice versa, so be sure to ask the manufacturer if your shape is available in the size your project requires.'
How big or small should the gazebo be?
'Consider why you want to build the gazebo,' says Stoltzfus.
'Will it be used for large gatherings are smaller ones? Is it meant to be an intimate setting or one to hold many people? Now that you know what you want to use the gazebo for, its location, and its shape, you should be able to pin point a size that works for your needs. The two largest factors that will play into the structure's size, however, are the function and location.'
'The smallest gazebo would be somewhere around 8' x 8', generally determined by the shape. The largest sizes are upwards of 20' x 40' in rectangles and ovals, or even a 30' dodecagon, and of course, there are many gazebo size variations and dimensions between those. The shape will limit available sizes in most cases, but you can always ask if a certain shape and set of dimensions is feasible.'
How to create ambiance in a gazebo
'Lighting is a great way to set the ambiance, but it's important to carefully study the location of the lights and the effect you want them to have,' says Annabelle Luce, UK communications manager for ManoMano.
'Size, distribution, design, and intensity are key factors to consider and it is, therefore, essential to distinguish between the lights which illuminate the area and those which help set the mood. While you can use wall lights or lamps hanging from the gazebos to provide enough light at night, indirect lighting creates a magical atmosphere around you.'
'You don't want to be shivering as you sit and chat. An electric patio heater makes a wonderful addition to your outdoor area, providing you with both light and heat. It can be mounted to an outdoor ceiling or hung from a gazebo with the provided hook and chain for a stylish and chic modern look,' says Tanya Carter, senior digital marketing manager, Robert Dyas.