Learning how to make a small entryway look bigger is a clever way to trick the eye into thinking there's more than there actually is. Creating an airy and spacious-looking space will make guests feel more relaxed when coming into your home.
I have a small entryway that is just a narrow walkway, and it's just so cold and uninviting. I'm also renting, so I'm not in a position to start knocking down walls. So, if there's a way I can make it look bigger without having to upset my landlord, I will.
If you've been looking through small entryway ideas and think making yours appear bigger is the way to go, I'm here with the answers. I've spoken to experts to find out exactly how to make any small entryway look larger than it is, with tips and tricks that are suitable for rentals.
7 expert-approved ways to make a small entryway look bigger
From choosing the best paint colors for your small entryway to using decor cleverly, here's how to make your entryway look more spacious.
1. Enhance the lighting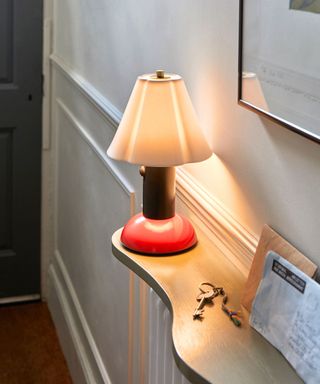 Darker spaces automatically look smaller, so it's a good idea to make your small entryway look bright and spacious. "This can be achieved through lighting both natural light and adding lighting if needed," says Melony Huber, interior design expert and founder of La Peony.
Melony Huber is a fashion and interior design expert, co-founder, and design director of La Peony, which is an ethical women's luxury brand.
Lighting such as floor lamps, table lamps, and LED lighting strips can all help achieve this. "Gentle ambient lighting turns tight spaces into majestic entrances," adds Artem Kropovinsky, interior designer and founder of Arsight.
Artem Kropovinsky is an interior design expert and founder of Arsight, an award-winning interior design studio based in New York.
2. Use lighter colors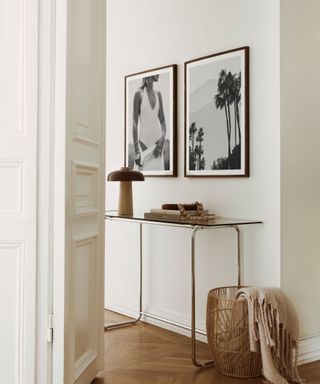 Huber also suggests keeping the color scheme bright. "Opt for lighter colors to make the space feel brighter and bigger. Dark paint and furniture tend to make the space feel darker and smaller."
For paint, flooring, and furniture, opt for light and neutral colors. "Some examples include white, cream, light gray, or pastel shades. These colors reflect light and create an illusion of a larger space," says Ana Coddington, lead interior designer at Archival Designs. You can also add pops of color through accessories and decor to prevent the space from looking too plain.
Ana Coddington is the lead interior designer at Archival Designs. She has over 10 years of experience with consultations, CAD software, and space planning, helping to create unique and stylish homes.
3. Add a mirror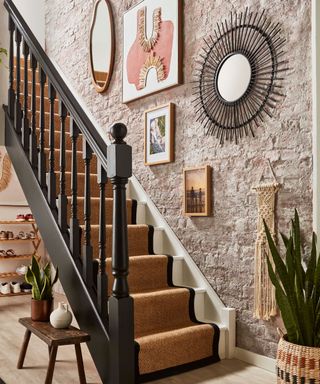 Using wall mirrors and floor-length mirrors are clever ways to make a room appear, thanks to their reflections. "Adding a mirror can make the room feel bigger — almost as if the room is longer and extended," says Huber. It's a great trick to add to a blank wall that serves as both a mirror and a statement piece. "They scatter light and deepen the space, making your entryway feel endless," agrees Kropovinsky.
4. Declutter the space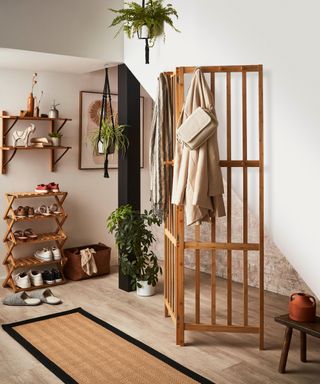 Too many decor pieces or over-stylizing the area will actually make it feel smaller. "Sticking to the necessities makes the space not only functional but appear bigger because you ultimately create more space," says Huber. You can still add pops of personality with personal mementos on shelves and colorful wall art — just make sure not to add too many.
5. Invest in smart storage solutions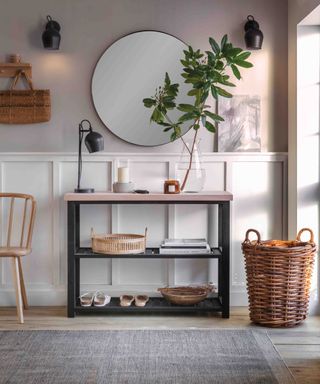 If you can't find a place to store items in another part of your home, invest in smart storage solutions for your entryway. "Look for compact and multi-functional options such as a small entryway bench with built-in storage, wall-mounted hooks or shelves, and baskets or bins that can fit under a table," says Coddington. These will not only help keep the area clutter-free but also make it appear more spacious by utilizing vertical space.
6. Clear as much floor space as possible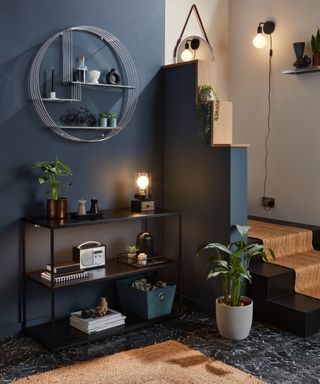 I know — it can be so easy to store your whole shoe collection on the floor. This isn't helpful functionally or aesthetically, though. "When you are picking out furniture pieces, try to give yourself as much of the walking area back as possible," says Huber. For example, for small space shoe storage, choose a shoe rack that takes up space vertically, rather than horizontally.
7. Choose slimline furniture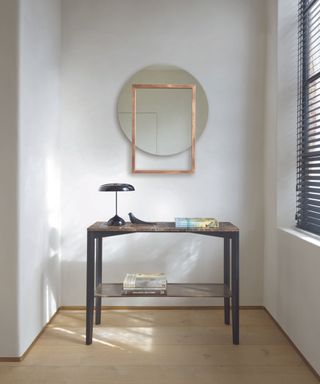 Opting for slimline furniture is a much better option than clunky entrance furniture. "Sleek floating consoles or shelves not only save space but also elevate the style," explains Kropovinsky. "Having a larger table will take up more of the room's footprint," adds Huber. This size of furniture will still provide enough room for keys, hat storage, and anything else you might need before leaving the house.
3 buys to help you make your small entryway appear bigger
Want to use our experts' advice in your entryway right away? Here are three buys that will help you do just that.
The prices below were correct at the time of publishing this article.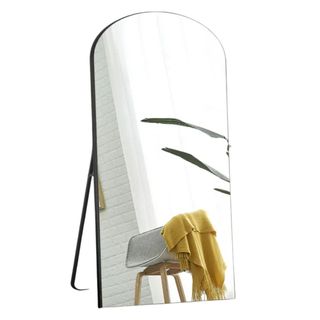 Versatile
1. NeuType Arched Full Length Mirror
Price: $155.88
I really like that this mirror has a stand at the back, so you can adjust how it fits in your entryway easily. Over 1,300 Walmart shoppers rate this mirror, with reviewers saying that it's gorgeous, great quality, and sturdy.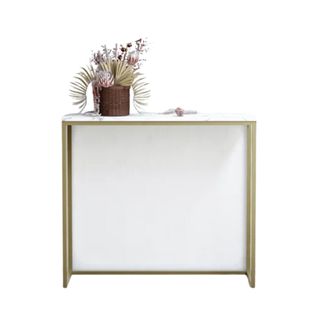 Luxe
2. Wrought Studios Bromford Console Table
Price: $81.99
Bring a touch of quiet luxury to your small entryway with this chic console table, that has a marble print and gold legs. Dress it up with trinket trays and flowers for an elegant finish.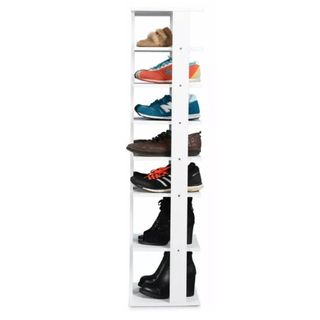 Spacious
3. Costway Wooden Shoes Storage Stand
Price: $46.99
Do you have a corner in your entryway that you're not utilizing? This vertical shoe rack has space for seven pairs of shoes, as well as a surface on top for keys or decor. It's made of lightweight wood, making it easy to move around if necessary.
FAQs
What furniture will make a small entryway look bigger?
Vertical storage solutions like shelves and shoe racks, slimline console tables, and mirrors will all make your small entryway look bigger.
Why is it a good idea to make a small entryway look bigger?
Making a small entryway look bigger will make it appear more spacious and open, which will make it more welcoming for visitors.
---
Now you know how to make a small hallway look bigger, you might be wondering how else you can improve the appearance of it. These expert-approved ways to decorate a small entryway are all great ways to make it more aesthetically pleasing.