Looking to revamp a dated entryway into a space that is more modern and welcoming? Look no further than our fantastic entryway ideas.
We've scouted out the most stylish and practical entryway ideas, so that your home's entry can really make an impact. The often small space is regularly overlooked but, as the first thing visitors see when they enter your home, it deserves some attention. That's right – it's not just a place to stash your best vacuum!
Luckily, as with the best hallway ideas, there are many affordable ways to give this sometimes neglected space a new lease of life. Lindsey Machado of Designed with Grace & Joy agrees. She says, 'You know that expression, 'You only get one chance to make a first impression'? Well, that holds especially true with the entryway of your home.'
20 entryway ideas to brighten up your home
Too often we let shoes, coats, and clutter take over, but these smart and modern entryway ideas will help you use this space to its fullest potential, all while looking its very best too.
1. Go monochrome with your entryway idea
This entryway oozes simple elegance. The go-to color in the majority of foyers (and this one) is white; it brightens up the space and makes it feel bigger, but it can feel a little plain.
Try adding accents of black to create some contrast and bring the space to life, without breaking the bank. You can also try jazzing up the classic black and white color scheme with a fun, patterned accent wall like in Lizzy's entryway pictured here. Soften the look with plants, pillows, welcome signs and a mirror, and you're ready to impress your guests.
2. Strip back original floors for a relaxed look
Stripped back floorboards are a popular feature that looks super stylish in a variety of homes and can even add value to your property. Here, the original floorboards have been sanded and bleached to achieve a really calming, Scandi-inspired finish.
Find out how to recreate this hallway decorating idea in your own home with our guide on how to sand floors.
3. Include a personalized wall space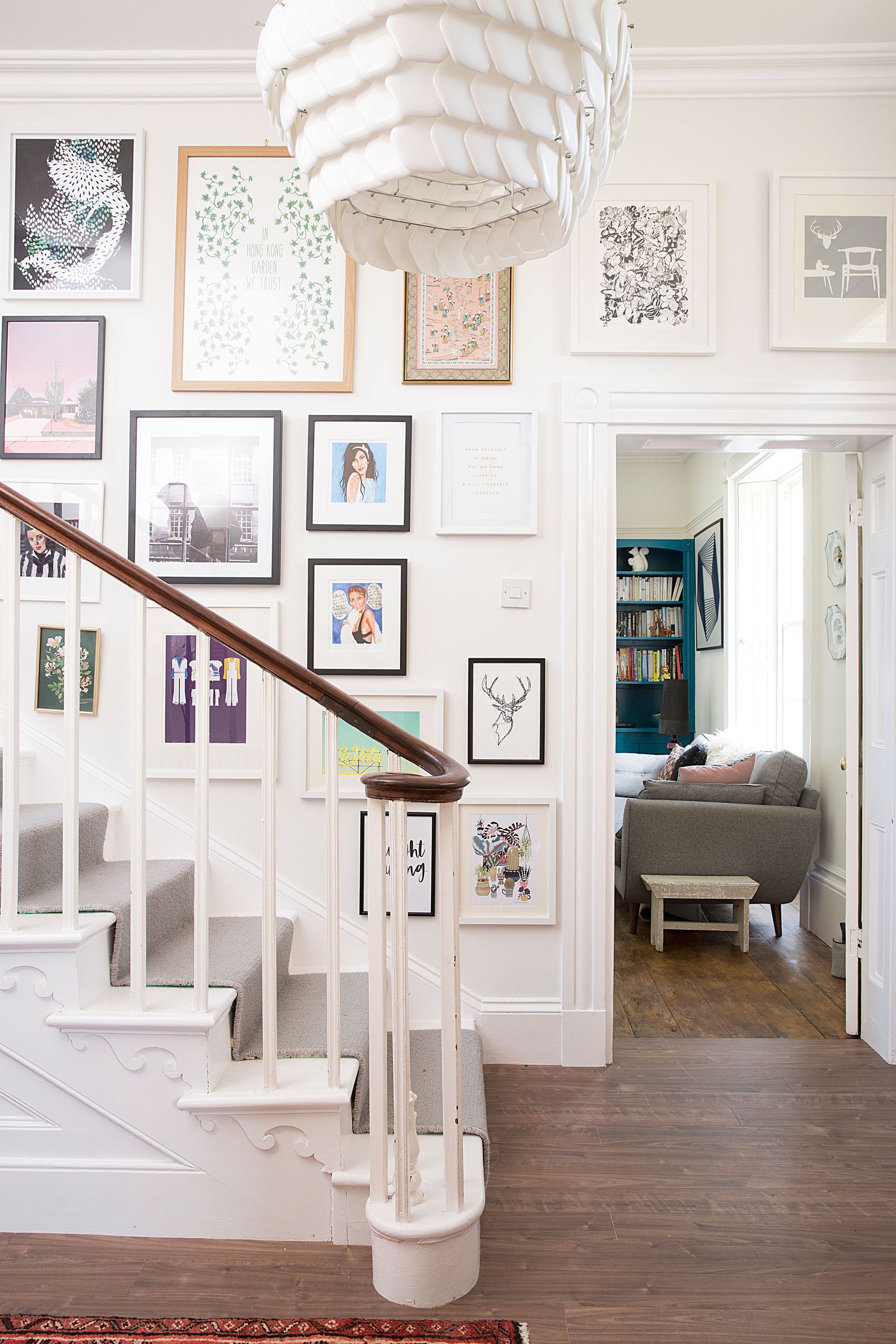 If you're not into adding dark hues to your entryway, you can also add interest to white walls by hanging a gallery wall for visitors to look at whilst they enter your home.
This is easy, inexpensive and can be updated each new season to refresh the look. You can use family photos, homemade art pieces, vintage pictures or mementos to show off your personality from the moment visitors enter your home.
4. Incorporate natural accents
We love the way Grace Oaks Designs has used beautiful wicker baskets to stylishly stow away clutter and keep the space tidy and visitor ready – in case you don't have room for a separate mudroom idea.
Kirsten Krason, co-founder of House of Jade Interiors says, 'One of our favorite things to source for an entryway are baskets to stash shoes. Inevitably you'll have guests or friends come in and take their shoes off, which creates a pile of shoes for people to trip over as they enter or leave your home.'
'We love finding an entry table that has open storage underneath for generously sized baskets for those extra shoes, so they stay off the floor. An entryway with storage doubles the functionality of your table and can also be beautiful.'
5. Choose statement lighting
We're not all lucky enough to have a large entrance hall but, a stylish statement light can impress even in a smaller space. The best hallway lighting ideas will not only be practical for everyday use, but will make for an easy, affordable update that can become the focal point of a room.
Often entryways don't get a lot of natural light. Choosing the right lighting options can be a game-changer, even if you're not into installing an accent piece.
Sarah Sain, of Sain Homes, believes, 'Good lighting is everything. You want your guests to feel comfortable at their arrival, and good lighting sets the tone for that calm and relaxed feel.'
6. Create an entryway office
If you think you don't have space for a home office, think again. You don't need to dedicate an entire room to use as an office. An entryway is often an underused space, so why not turn it into a cozy workplace? There are fold-away tables with stow-away stools that you can hide when not in use, or desks built into shelving units, or dual use closets where you can hang coats and attend meetings. You can even just add a small desk to an alcove like in the smart entryway office pictured.
7. Kit out drop zones
All too often an entryway can become a dumping ground for shoes, coats and clutter. Sometimes in a busy home cute baskets or hooks can be a good solution to not end up buried in the disarray of life's essentials.
Mark Lavender of M. Lavender Interiors suggests one of the best entryway ideas – 'If you have to create a small drop area, select a nice piece of furniture such as a chest or even an armoire that allows any items such as keys, coats, etc to be stored out of sight.'
8. Dress up practical seating
If you have enough space for an entryway bench, do it. It's so nice to have a comfy spot to put on your shoes or to wait for the rest of the family before heading out. As the cool weather draws in, keep your entryway ideas warm and snug by adding cozy throws and pillows in warm earthy tones - think wooly winter sweater for your entryway. We love the minimalist simplicity of Cindy's entryway pictured.
Chris Campbell of The Charming Bench Company says, 'The foyer or entryway is the first area in your house that your guests will typically see and that is why it is a great place to start for furnishing your home for the coveted "first impression" to last. And a fabulous way to furnish your entryway is to have a statement bench that is equally elegant and sophisticated.'
9. Add seasonal touches
Small seasonal touches like cozy baskets, dried leaves, cute signage and pumpkins make simple but effective fall decorating ideas for every space in the home. And, it doesn't need to stop there – a little refresh each season can create an inviting entry for friends and family whenever they come to visit. Why not try fresh flowers for summer, or festive decor for December?
Mike Katona of Shabby Chic House says, 'Adding a seasonal reef is a great way to spice up your entryway and also keep it fresh.'
10. Use bright and airy neutral tones
This entryway feels so bright and airy with its white walls, wood floor and neutral cushions and throws. We especially love the clever dressing up of this vintage wooden church pew with cozy textiles to make it comfy and inviting. Add some props like a wreath, jug and watering can and you are on to a winner.
11. Say 'hello' literally
A simple 'hello' can be very welcoming so why not add a sign to say just that? The signage in this entryway by myhomierhome.com is a super cute touch. Add family photos, a fun vase, a plant or two and any other quotes that inspire you, to create a space that is bursting with personality.
12. Take a pew with a stylish seating addition
Yvonne Keal, senior product manager, Hillarys, says: 'Bring in some seating with entryway bench ideas. A bench or a large chair, if you have the space, is perfect for slipping your shoes on and off and relaxing before you leave your house. To make your seating multipurpose, add a coat rail above your seating.'
13. Add personality to even the smallest of hallways
Even if you are working with the tiniest of hallways you can still add some interest and personality, plus some handy storage. Just look at this small space ⁠– a really compact console table and a shelf with a peg rail not only looks gorgeous but it means you can squeeze so much in.
We love the idea of putting a table lamp up on a shelf too. It means the light spreads further and you can save space on the table below.
14. Get country cozy
We love these simple, numbered crates that neatly store clutter out of the way, making great mudroom storage ideas also. You could even have one for every member of the family. The cushions, lantern and cute sign all add to the country cozy feel. Hanging a basket of flowers on the hooks is an awesome idea too.
Nikki Levy of Nikki Levy Interiors advises, 'My first tip for keeping an entryway looking nice is keep it clean. Don't use the entry as a dumping ground (i.e. place for mail, keys, sunglasses, etc.). It can very quickly look crowded and messy. For those homes that are more limited with space, I recommend designing the entryway as a mud room, where there is a designated place for everything.'
15. Every hallway needs a console table
Kim Emery, owner and designer, Clipper City House blog, says: 'For your hallway, I recommend a console table that is both beautiful and functional! The drawers are perfect storage to keep things out of sight and put away. These sturdy woven baskets with lids can also be used for storage. I personally have these baskets filled with toys, but you could also use these for throw blanket/pillow storage and more!'
Adri and Dahlman say: 'A great option for decorating hallways is to place a narrow console table in the middle of a hallway. It cannot be too deep because you will need to leave space to walk in front of it. A console table anchors the space, and then only the space above the console needs to be dressed up, as opposed to the entire expanse of the wall. Above the console table, a mirror or art can be hung.'
To add the perfect finishing touch, decorate your console table like a pro to make a defining statement in your entryway.
16. Style with a statement mirror
Adding a mirror is the perfect way to make the space feel bigger and brighter. We love all accent mirror ideas, and this gorgeous one is from cb2. It opens up the space and creates a stunning focal point that is sure to impress your guests, without having to redo the whole entryway. Plus it gives you one last chance to check your appearance before you welcome visitors.
Sarah Sain says, 'Big mirrors = timeless decor. Not only does having a mirror allow you to take a quick glance at yourself before opening the door, it reflects the natural light coming in from outside.'
17. Choose a classic monochrome scheme
You can't go wrong with a black and white hallway design or ceiling idea – it's simple and elegant. With a monochrome scheme in a hallway, we say, the more white the better, and just add touches of black here and there, as hallways tend to be darker spaces anyways and you don't want to enhance that by getting too happy with the black paint.
For an effective hallway decorating idea, try painting the banisters and using accessories to add in the darker hues but keep walls and floors light.
18. Make furniture a central feature
If you have the space, try arranging furniture in the center of the room like in this lovely entryway with the Penelope Table by Threve Mercantile. Staying away from walls can draw energy into the middle of the room and create a sense of space. Add a round table with a beautiful plant or vase to create a feature out of your furnishings.
19. Add quirky colors and shapes
Entryway ideas don't have to be too serious! Too often an entrance can be a neglected, boring space. Have some fun and go a little unconventional with fun patterned hallway wallpaper ideas, mis-matched accessories, modern side tables and interesting objet d'art.
Stephanie Lindsey of Etch Design Group gave us this tip, 'When selecting items for your entry, it's okay to mix finishes and patterns. Just let them contrast enough so the items aren't competing with one another.'
20. Repaint the door inside and out
We absolutely love the bold red door in this entryway by Guest House. Even if you have just a small foyer, painting a door with a fresh lick of paint is an inexpensive way to revamp the space. Choose a bright color that makes a statement and you can wow your visitors without adding anything else.
What looks good in an entryway?
This is a super versatile space. It's a room where almost anything goes, so give your entryway some personality by featuring great wall decor ideas and art, trinkets and more, in addition to those must-have functional items like entryway benches, storage pieces and the like. Plants and flowers can also be fantastic, of course.
Levy says, 'An entry is the introduction to the rest of your home. When we work with a client, we view the entry as setting up the interior design for the rest of the space. My advice, do not be afraid of drama and detail. This is not just a utilitarian space, but rather a place that welcomes both you and guests to your home. Take advantage of the opportunity to wow, surprise or impress.'
How do you make an entryway look nice?
It can be tricky to find the balance between practical and beautiful when it comes to entryway ideas. Lindsey Machado of Designed with Grace & Joy gives us some suggestions on how to make a functional entryway look nice. She says, 'Depending on the size and shape of your entryway, as well as whether you'd prefer function, form, or a mix of both, there are a quite few different furnishings you can incorporate into the space.
'One easy, no-fail addition is a narrow console table, as you don't want to block a lot of the walkway. This is ideal for being able to not only set down items as needed, but it's also very simple to accessorize. Consider going with a bold color or unique shape to add interest to the space. A bench is another functional and many times classy piece of furniture for the entryway, and a perfect place to both put on and store shoes.'
'If the bench you love doesn't have built-in storage, baskets are the perfect solution and can be tucked away underneath to hide shoes or anything else you want out of sight. Have kids with backpacks, or want a place to hang your purse or coat upon entry? Add some hooks above the bench, or even consider a hall tree/bench combo to be able to incorporate both options in one seamless piece.
'Lastly, if you have a rounded entrance or foyer, a small seating area (with one or two petite chairs and a side table) would accentuate the space perfectly. Again, it's all about considering not only what option you would use the most, but also what overall aesthetic you want to portray.'
How do you dress an entryway?
You have a functional entry, but how do you dress it up? It's the details that tie a space together, so we sought out some expert advice to give us some ideas.
Veronica of Design with Veronica Sanders says, 'I like to dress an entryway with bead garlands, plants, and soft textiles. Nothing beats stepping onto a soft runner rug and looking at a beautifully decorated entry as the perfect way to set the tone for a space. Adding a bit of nature with wood bead garlands and plants are always a smart idea. Plants also help to clean the air and add to a fresh aroma upon entry.
'Adding a few throw pillows and throw blankets to soften the space helps to create a homey vibe that's sure to put you at ease. Other decorative objects like books and figurines really level up the space as well. I like to do odd number groupings of 3, 5 or 7 to create visual balance and harmony.'
We also like to update small decor pieces in our entryway to suit the season. Annie Elliot of New Again Houses does too. She says, 'Decorating your entrance should consist of a few impactful, perhaps seasonal, simple items. For long-term accents that don't need to be changed with the season or holiday, wall art, accent rugs, and statement furniture pieces provide timeless decoration. For more seasonal items that can be changed easily and frequently, unique pumpkins and gourds, felt garland or seasonal flower arrangements are a nice touch. Don't be afraid to switch out your wall art with the season, too!'