Aside from letting you check out your wonderful reflection – putting a mirror in your hallway is one of the oldest design tricks in the book to help enhance a tiny space. And, if there's one room in the house that tends to be on the small side, it's your hallway entrance.
Naturally, one size doesn't fit all when it comes to adding a mirror to your existing hallway decor but thankfully, you'll be spoilt for choice when it comes to choosing the perfect design. Think ornate mirrors, frameless designs – some even come complete with built-in storage like shelves and hooks – and much more to help make the most of this decorative addition.
Hallway mirror ideas to stop and stare at
And don't just think that you need to fit your entryway with a static square or rectangular shaped designs. We've got shells, swivelling furniture and so much more. So, if you're staring at a looking glass that's lackluster, switch it out for something special.
Narrow hallway mirror ideas and wide wall mirrors – we've something for every nook and cranny. Just be sure to dispose of it properly, you know what they say about bad luck and broken mirrors...
'Mirrors have long been a creative design tool of interior designers for their versatility and ability to make a statement in almost any room of the house,' explains Owen Pacey, founder of antique emporium and restoration studio, Renaissance London.
'A well-positioned mirror transforms a hallway with their reflective powers to lighten and enlarge a space coupled with the element of interesting design.'
1. Brighten up a historic home with a mirror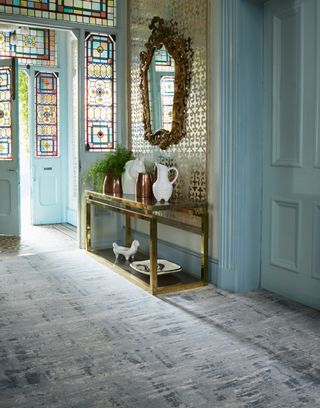 Historic homes deserve lots of natural light to better show off molding and any beautiful original features. Hallway mirrors can help.
This scheme ticks all the right boxes when it come to lighting things up. Pretty stained glass window panels, reflective wall coverings and more decorative mirror ideas will all help bring an era-appropriate interior design scheme together beautifully.
2. Go rustic with an unpainted wooden frame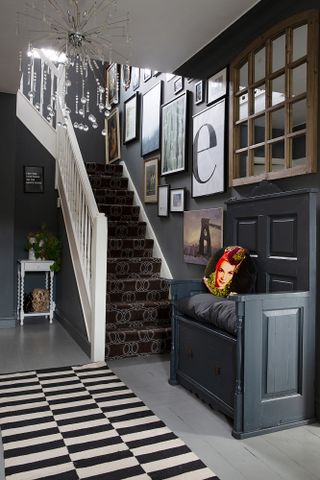 If you are blessed with ample hallway space, it can be tempting to adopt a maximalist design and throw a gallery wall, various carpet patterns and a statement light fixture at it while you're there.
But this doesn't necessarily mean you need to go OTT with your hallway mirror either. Here, an untreated wood framed mirror provides the perfect contrast from Farrow & Ball's Down Pipe and the glitzy glam of the glass chandelier.
3. Pay homage to retro fifties design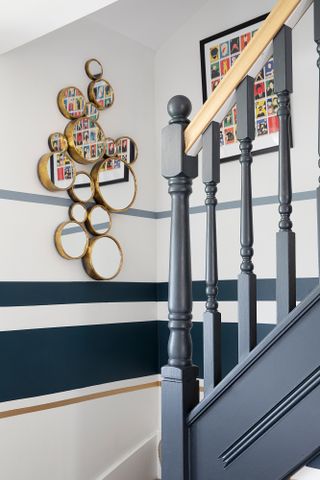 The fifties brought primary colors into our interiors, stripes into our fashion choices, an appreciation for round shapes and of course... pop art. So how about choosing design-led staircase ideas like a cluster of bubble style mirrors?
Here, the staircase balustrades painted in Farrow and Ball's Railings contrasts against a brassy metallic mirror. As a backdrop, striped walls painted in Timeless and Denim Drift, both Dulux, and Hague Blue, Farrow & Ball provide color and interest. And the striking colors of the pop art, quite literally 'pop' through the reflection of the circular panes of glass.
4. Be playful with a pastel colored frame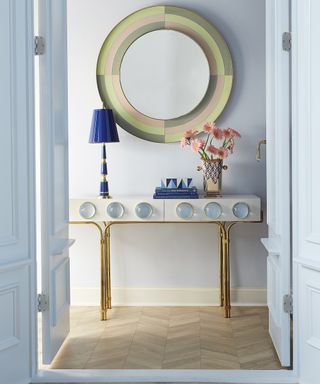 Featuring back-painted or reverse-painted glass panes recessed between a generous, double-banded brass frame, this Harlequin round hallway mirror idea from Jonathan Adler is the ultimate expression of modern American glam.
Muted pastel green and pink hues hit all the right notes – colorful yet quiet, edgy yet soft – while baby blue hallway decor adds an innocent and powdery finish.
It's also available in differing shades of blue for that quintessentially Mediterranean look.
5. Choose minimal and organic designs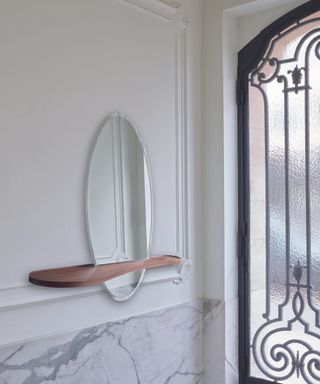 'The Bienvenue mirror stands as an avatar of the perfect butler: the purity of its oval shape, detail of its gleaming chamfer, and sinuous curves of the solid American Walnut shelf make it a piece whose presence is both agreeable and serviceable in every setting,' says Marie Christine Dorner, designer at Ligne Roset.
6. Add height with legs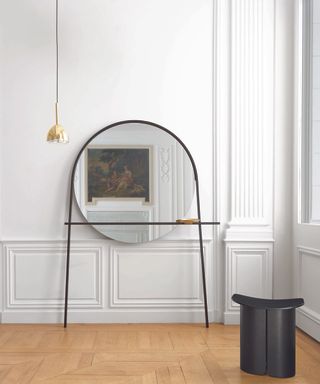 'Geoffrey is a mirror/console, the pared-down design of which renders it minimalist whilst its dimensions (H 75 1/2'' - 192 cm x W 58'' - 147.5 cm) make it quite spectacular!' explains Alain Gilles, designer at Ligne Roset.
'A mirror to check one's reflection, a dish for one's keys, a rail on which to hang a scarf or umbrella: Geoffrey is a highly graphic useful object which is at once stable and light, with a spectacular presence whilst 'opening up' the space around it thanks to its large mirror.'
7. Go hard or go home with a long floor mirror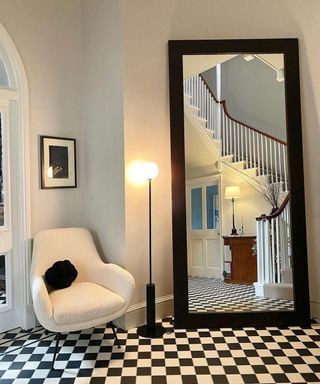 You can't go wrong with a large, black framed, floor-length mirror in your hallway. This chic staple has featured in fashionable homes around the country for its classic looks and appeal.
Asides from its size, its clean aesthetic means that you can dress it up or down like your favorite LBD. We are obsessed with the monochromatic flooring and the soft boucle chair from Made.com that this hallway mirror idea has been styled with.
8. Find the right angles with a swivel design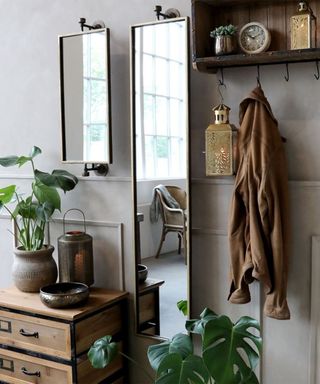 Since the rise of social media, it's all about angles and lighting for the perfect Instagram-worthy picture or selfie, so a hallway mirror idea is an essential part of the package.
Look your very best with the handy swivel function of these vintage-inspired swivel mirrors from Graham and Green, crafted from iron with an antiqued brass finish. Available in two sizes, you can the small or large mirror in a singular form or use both for double the impact.
Knowing how to light your hallway will achieve the most aesthetically-pleasing photo and video content, so go get those likes!
9. Go Art Deco with a shell-shaped smoked glass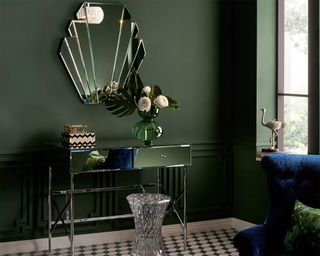 This stunning deco mirror is ideal for sitting over the best hallway console table, like this mirrored one that sits below. It's a striking design with a flared appearance and is perfect for modern and traditional homes.
Sumptuous and luxurious, this mirror is a fashionable twist to long established looks from the roaring twenties. Decorative details and statement pieces create a dramatic, opulent look creating the 'wow' factor.
A geometric carpet, emerald vase and velvet sapphire chair in jewel-like tones all add to the glam feel of this space.
10. Make a grey scheme go further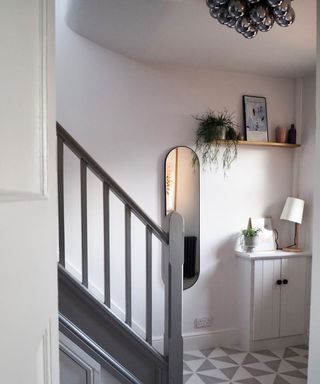 Hallway mirror ideas are a magical piece of apparatus that can work wonders in any colored space. But, a white and white and grey hallway is the perfect canvas for light to bounce off this glass surface.
'Cool, calm, patterned flooring and the beauty of a Gross 8 Pendant statement light by By Rydéns which sits flush and neatly to the ceiling – perfect for a lower ceiling height.' says Hilary Marconetto, founder of Hilary Marconetto interiors.
Here, she color matched Farrow & Ball's Wevet on the walls and Worsted on the woodwork to create this Nordic-inspired scheme.
Like this elliptically-shaped mirror? Get the exact one at British John Lewis & Partners or checkout Anthropologie for similar vibes.
11. Go vintage with antique glass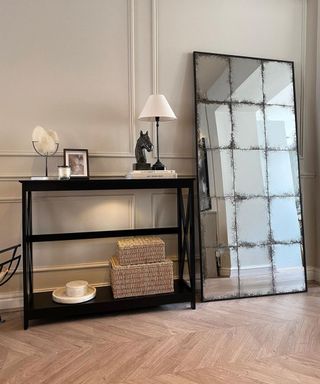 Antique glass offers a unique accent to bring contrast and personality to your hallway space. And we love this Odessa mirror by William Wood Mirrors in this entryway by @meganrosehome with 15 separately cut polished edge panels.
Combining old with new, she's incorporated this fixture into a Scandi-inspired hallway with light Herringbone hallway flooring idea, wicker baskets and... If you look really carefully, a book entitled "SCANDI RUSTIC". It's a literary piece that perfectly describes this scheme.
12. Go for an on-trend black framed design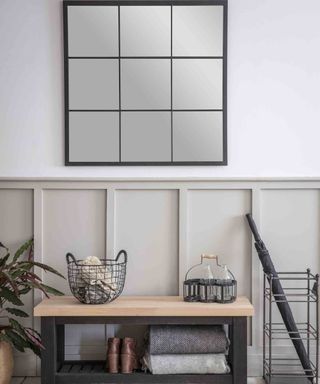 Just like shower cubicles and doors, hallway mirror ideas have caught the Crittall bug – and we are here for it. Cool and contemporary, this modern hallway accessory is defined by its black framing and needs no introduction.
The wall paneling, wire baskets, milk bottle holder and umbrella stand all loosely follow the cagey design in this scheme playing on square and rectangular shapes.
13. Choose something that you can get ready with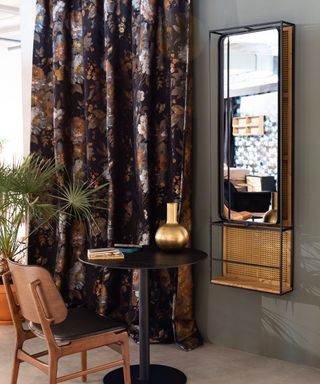 With a mirror and a small shelf, the Langres Large Mirror from Dutchbone is the perfect hallway addition. Ideal by the front door, the shelf is great for popping your keys (won't lose those again!) whilst the mirror allows you to check you and the family are ready before heading out of the door in the morning.
Incorporating two big trends in one, the simple black steel frame paired with the natural rattan webbing gives a chic industrial feel to this gorgeous wall mirror. So add some interest to that drab hallway and apply your makeup and outfit adjustments in style.
14. Use a mirrored coat hook in your hall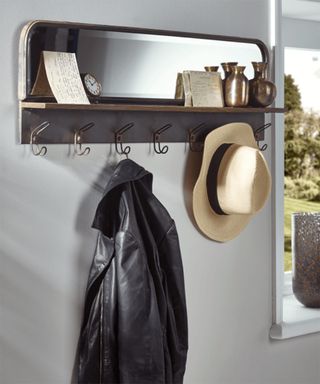 This multipurpose vintage look hook rack by Cox and Cox and has a narrow shelf for displaying decorative items and a wide, shallow hallway mirror idea to add light to your living space.
Inspired by industrial railway carriages, the metal frame has a burnished finish, while the seven useful double hooks each have an elegant, curved shape. Perfect for small hallways which lack storage.
15. Choose a hallway mirror with shelves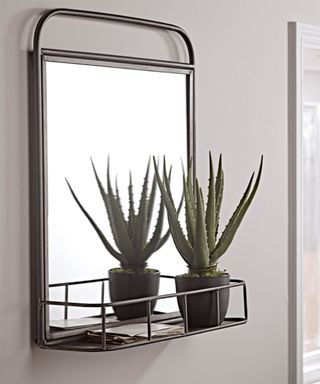 Made from iron with an industrial style finish and visible welding details, this attractive and practical hallway mirror idea features a handy shelving for storing and displaying you favorite items.
With a soft rectangular shape and generous mirrored surface, this statement mirror will make a perfect addition to your hallway.
16. Upcycle an existing mirror with paint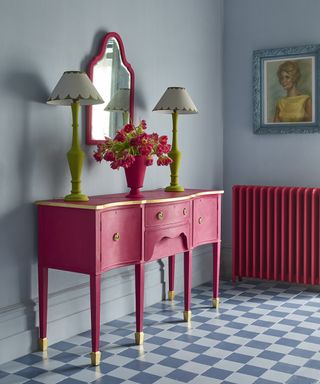 So far, we've focused on black, metallic and neutral designs – but that doesn't mean you can't experiment with color. Here, a framed mirror, radiator and dresser have all been given a lip-smacking measure of magenta pink paint. So, instead of going out and buying brand-new furniture, read up on how to paint furniture.
'If it means you're going to be able to live with a big piece of furniture that you've inherited or that has sentimental value but which you don't love then yes, make that furniture work for you and earn its place in your home!' says Annie Sloan.
'We're often told it's sacrilege to perform any adjustments on furniture that you live with in your home – I'm quite certain your great-grandparents would prefer you to love their old dresser rather than simply lumping it'.
17. Use multiple miniature mirrors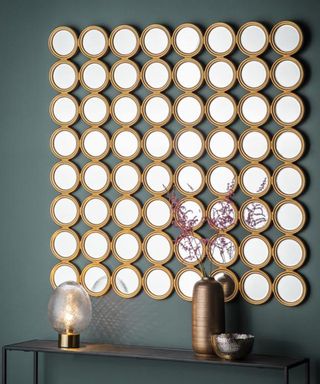 If you're in the interiors camp that believes that 'more is more' when it comes to hallway mirror ideas – get this before it goes.
The more the merrier (or 'mirrior' if you'll pardon the pun) is the vibe with this fixture. This contemporary Gallery Direct Carrington Circles Mirror features a whopping 64 individual mirrored pieces with stunning antique edged detailing, to instantly catch the eye and create effect. Both creative and stylish, this piece is for sure a conversation starter.
18. Break conventional design rules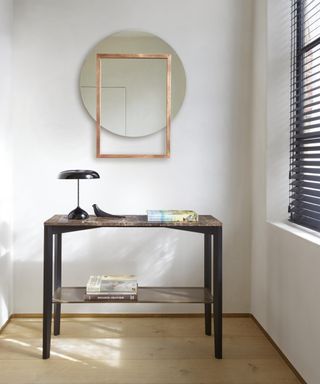 As a child, you may have remembered a wooden shape sorting game where you were rewarded for putting blocks into the correct holes. Fast-forward several years later into adulthood and interior designer are breaking the rules with rebellious designs that shouldn't work but do.
This hallway mirror idea by Ligne Roset is composed of a rectangular frame in natural varnished solid American walnut, round mirrored glass, and a wall fixing batten. Confusing, yet creative – it'll certainly get guests talking.
Should you put a mirror in a narrow hallway?
Totally. If anything, mirrors were made for narrow hallways.
'Narrow hallways and entranceways are one of the trickiest places in the home to decorate, with space at a premium making the most of them can prove difficult,' says Chris Harvey, interiors expert at Stelrad.
'Fortunately, DIY and interior bloggers of Pinterest love this type of challenge so we're not surprised to learn that the term "narrow hallway ideas" is trending!'
'If you're stuck for inspiration for your own hallway, it's well worth checking out some of the most pinned posts. We love the use of mirrors to create the illusion of space and we're pleased to see that people are incorporating their radiators by turning them into a decorative feature with added shelf space, after all, functional doesn't have to mean ugly.'
Are hallway mirrors a good idea?
Mirrors provide a multitude of benefits to hallways. Not only do they add decorative, stylish touches, but they also lend a space-enhancing quality to any room, making it feel larger and brighter.
'Floor-to-ceiling mirrors can give the illusion of high ceilings if placed in the correct position. Not to mention, tall and slender mirrors can actually create a multitude of optical illusions by mimicking a narrow hallway, which will make your room look even bigger.' Says Harvey.
'Don't be afraid of scale when it comes to choosing your mirror and do group them together in pairs, trios or clusters to make an impressive wall feature. And don't concern yourself too much with finding exact duplicates as groups of the same era add more personality. Antique and vintage mirrors have a dual purpose. They act as pieces of art, while also dispersing light effectively around the room,' adds Pacey.