No matter how big or small your space is, with the right hallway storage ideas in place, you can organize your entryway effectively. Hall storage is a must in every apartment, especially if you have a busy shared household with various sets of coats, keys, and mismatched shoes to stow away.
For the record, organizing a small apartment doesn't have to be boring, and we promise this is a clear storage box-free zone. Stylish and functional, the days of a messy greeting on arrival are done, and no more tripping over shoes when you only wanted to reach the bedroom...
Prices were accurate at the time of writing this article.
Hallway storage ideas for an entryway overhaul
1. Go preppy chic with a locker
If you're "clueless" about what hallway storage ideas to introduce to your entryway, then I'm here to help you pass your styling exam with flying colors. This locker idea is super cute and many of today's designs come in some dreamy pastel schemes to show off your personality from the get-go!
Compact
Mustard Made The Shorty Locke
Retro
Realrooms Shadwick 2 Door Metal Locker
Slimline
Ameriwood Home Novogratz Cache Single Metal Locker
2. Consolidate clutter with a console table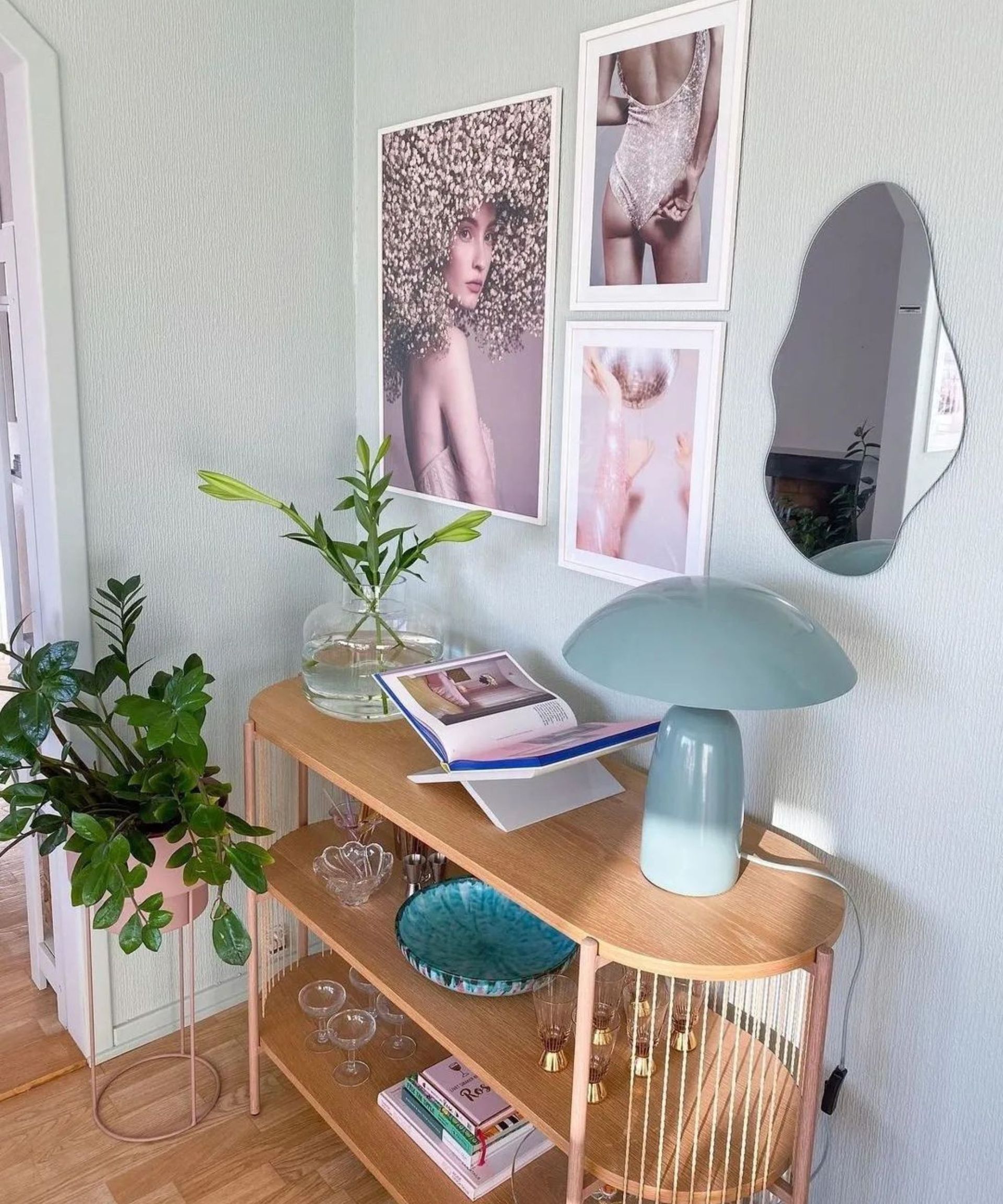 Consider your hallway console table as the preview playbook to give guests a li'l taster of what to expect. An aesthetic amuse bouche. An entrance entree, if you will. Here, Maria Skranes aka @interior_in_oslo has displayed colorful glassware and bowls (decluttering her kitchen in the process).
Tempered glass
Zipcode Design™ Edwin Console Table
Faux marble accents
Willa Arlo™ Interiors Leiston Console Table
Chrome finish
Wrought Studio™ Arlayne Console Table
3. "Shoo" away ugly footwear with stylish shoe storage
It's fine to exert that quiet luxury look with a pair of cute Birkenstocks or UGGs on display. But no one wants to see those nasty sneakers you sweat in at the gym, week in, week out — OK?! Pop those eyesores out of sight with a concealed shoe rack. I like the Ikea TRONES cabinet that's all over TikTok, but there are other alternatives out there.
Available in black or white
Mid-century modern
ZeHuoGe Natural Rattan Shoe Cabinet
Holds 18 pairs
Foundstone™ Wood Shoe Cabinet
4. Brighten up a dark hallway with a light colored ottoman
"To get the best storage on a budget, you need to have a plan," says Amber Dunford, associate art director, and lead stylist at Overstock.com.
"Know what items you're looking to store. Depending on how you want to showcase those items, you may want to look at multi-purpose furniture like a storage ottoman or a storage cube."
As seen on TikTok
On trend
Opalhouse™ Jungalow™ Maddalena Mushroom Stool
Removable lids
Mercury Row® Callum Upholstered Storage Ottoman
5. Pop a mirror above your storage to trick the eye
A quick and easy way to upgrade your hallway storage is to use a mirror on top of it. By doing this, you can instantly create the feeling of more space than there actually is. It's a common trick used by real estate agents and interior designers alike.
If you want to reflect on how to recreate this in your own home, be sure to check out our respective buying guides — especially our Target mirrors edit.
Style steal
Room Essentials™ Framed Door Mirror
Assymetrical
CONGUILIAO Irregular Wall Mirror
Anthropologie dupe
Fleur De Lis Living Anglo Arch Metal Wall Mirror
6. Maximize space with hallway seating benches with storage
If renting prevents you from drilling into walls, or if you want to create a more relaxed feel to your space, an unfitted storage unit is worth a thought. Opting for an all-in-one unit that combines a coat rack with hallway shoe storage and a spot to sit down maximizes space while functioning as an attractive addition.
Fancy a challenge? Buy or thrift a bench from the charity store and have a go at DIYing your own. Not enough time on your hands? Take a look at the trio below.
3-in-1 hallway storage
VASAGLE Coat Rack, Hall Tree with Shoe Storage Bench
Space saving
17 Stories Ceilean Freestanding Coat Rack
Concealed storage
Mercury Row® Hanner Steel Hall Tree with Shoe Storage
7. Prop a ladder shelf against the wall if you have a narrow hallway or studio
If you like the idea of a console table but your narrow hallway doesn't allow for it, propping a rustic-looking ladder shelf against the wall is a great alternative.
With shelves for displaying your top indoor plants, book storage, or storing everyday essentials; a hook to keep keys at hand and a ladder rung for hanging light coats and jackets.
Here's an apartment decorating hack — paint the ladder in the same color as your walls to camouflage it.
Wall Mounted
Karl home Ladder Shelf 5 Tier Wall Mounted Bookcase
Leaning
Five tiers
17 Stories Kanissa Ladder Bookshelf
8. Pick out wall hung hallway storage units to max out on space
Coupling a functional fitted coat storage unit with a stylishly decorated shelf (styled with zen-enhancing house plants, perfectly displayed pictures, and other attractive bits and bobs) is a great hallway storage idea if you're looking to add interest to your space.
Marble effect
Latitude Run® Floating Shelves
Hidden shelf
Sliding
Gillian Sliding Door Wall Shelf
9. If in doubt, add storage baskets!
Baskets are really handy for items you want to grab as you're going out of the door, like tissues, sunglasses, or wipes. Look for baskets with lids as they're great for stacking and also those that come with reusable labels — they take the guesswork out of reaching for items when you're in a rush.
Stackable
Xhwykzz 4 Pack Mini Pastel Crates
Versatile
Threshold™ Woven Natural Decorative Cane Pattern Small Basket
Highly-rated
H&M Cotton Storage Basket
How do you build storage in a narrow hallway?
Narrow or small hallways in particular are clutter magnets. Be ruthless about what lives in your hallway and limit it to the items you use regularly every day. Try to reduce what is visually on display to make the space feel bigger.
Lizzie Grant, founder of Declutter on Demand, a national professional organizing service provides her tips for keeping a clean and tidy space. She advises that: "Skinny storage in narrow hallways is best to give the impression of space. Try a shoe storage cabinet where shoes can be stored vertically rather than horizontally."
"Store coats in shallow cupboards with forward-facing rails instead of the usual left to right. If you do not have space for this, use wall pegs to keep coat clutter to a minimum and make your hallway look bigger. Extra coats can be kept in your wardrobe or in a coat cupboard under the stairs and swapped out as the seasons change."