A 1920s bungalow near Manchester was completely reinvented by Raynes Arhitecture with an extension and complete remodel of the floorplan
A two storey extension could be the perfect way to transform your home. It is the best way of increasing living space and bedroom accommodation at the same time. If you find that your home is too small, or you have a growing family, a two storey extension could be the right solution for you.
It may also prove more cost-effective than moving house or building a single storey extension or outbuilding. A two storey extension spreads the cost of the foundations and the roof – bringing down the average construction cost per metre squared.
Related articles: The ultimate guide to extending your home | 10 ways to cut the cost of your extension | How to design a single storey extension
How much will a two-storey extension cost?
Labour costs vary across the UK – and the design, build spec and materials you choose will affect the final price – but expect to pay from around £1,500 per square metre.
If you have time and good DIY skills, doing some of the work yourself will reduce costs. There are big savings to make through DIY, but it can prove a false economy if you take on too much work yourself.
The cost of project management is another big factor. A building contractor or architect will charge 15-20 per cent on top of the net cost of labour, materials and overheads.
Click here to find out how to manage your own project.
Remember to consider VAT, which is at 20 per cent of the labour, materials and services. If your individual subcontractors turn over less than the VAT threshold, they won't charge you any VAT on labour. This can result in a big cost savings.
The cost of fitting out your two storey extension will depend on the rooms within it.
For a kitchen, budget from around £5,000 to £20,000, depending on the specification; if you go high end, costs can increase significantly on this.
For a bathroom, factor in from around £4,500 to £11,000, according to the level of fittings.
For a shower room, plan for between £4,500 and £11,000, again depending on your level of fittings.
For flooring, budget in the region of £25 to £100 per square metre.
For wall and ceiling finishes not included in the build costs, set aside from around £85 per square metre for plaster or dry-lining plus paint.
Get a comprehensive extension cost calculation using our free extension cost calculator.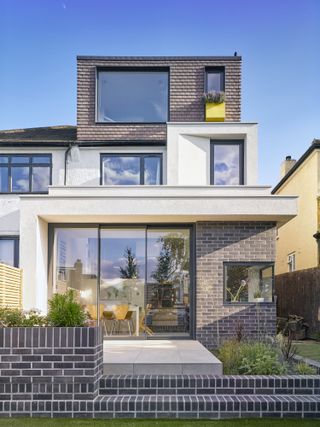 Will I need planning permission?
Many two storey extensions can be built under permitted development rights, without the need for a planning application as long as you stay within these restrictions.
Your extension can't be taller than the highest part of your exisiting roof
It must not extend beyond the rear wall by more than three meters
It has to be at least seven meters away from the boundry
It has to be built in materials to match the original structure
Further restrictions apply to homes in conservation areas (you will need to contact your local conservation office for advice)
If you're planning a larger extension or one that doesn't meet these criteria, you'll need to apply planning permission from your local authority. The fee in England is currently £206 but you may need to pay for extra reports, such as a Tree Preservation Survey, on top of this.
Even if you don't need planning permission, it's worth paying your local authority £103 for a certificate of lawful development. This can be useful when you come to sell the house as it proves the extension is legal and is covered by permitted development rights.
What do I need to know about building regulations?
You'll need to get Building regulations approval. These are minimum standards set to control health and hygiene, safety, welfare, convenience, energy-efficiency and sustainability of a building project. Each local authority has its own table of charges or you can use a private certified building control firm if you prefer.
The size of your extension will affect the fees for building regulations approval. Plan for from £250 for one to 10 square metres, and £900 for 80 to 100 square metres, whether you go for a full plans application with everything approved before you start, or a building notice application, where you need only give 48 hours' notice of commencement.
Party wall agreements
'If any neighbours who share a boundary wall with your property consent formally to the extension, you won't need a Party Wall settlement and can save money. If not, having a surveyor arrange party wall agreements for you typically costs from £700 to £1,000 per neighbour,' says Michael.
How can I find a designer and builder?
Always look for a designer, architect or builder who you feel comfortable talking to and can imagine yourself working with. Get at least three written quotes and then compare them carefully. You should also ask to see examples of the architect/designer or builder's previous work and speak to past clients.
Most architects, designers and builders will offer to manage the project for you for an additional fee of 15-20 per cent of the project cost. This will involve making sure all materials and trades are on site and the relevant time and managing the timescale and budget. You may want to carry out this role yourself but it can be very time consuming. You could save some of the 15-20 per cent if you do.
You can find architectural technologists on ciat.org.uk and architects via architects-register.org.uk or RIBA.
Trade bodies such as the Federation of Master Builders, can help you to find a contractor.
What should the extension be located?
The rear of a property is usually the best place to add a two storey extension on a terraced house or semi-detached property.
Where a property has a large outdoor area, as many houses on a street corner do, there may be the potential to extend over two storeys at the side. In some instances, an extension can wrap around multiple sides of an existing property.
If there are roof height restrictions, you could still extend into the roof space to form a one-and-a-half-storey extension. It may also be possible to dig down into the ground and build two storeys without effecting room height. This could result in a basement level or split-level design, and can work well on a sloping site.
The style, proportions and materials used for your extension may be limited by what your local authority will agree to. An experienced architect will be able to advise what you can and can't do. Victorian and Edwardian houses tend to suit both contrasting modern and complementing traditional extensions; homes built from the 1930s onwards, however, usually suit a more contemporary approach.
Will a two storey extension add value to my house?
If space is the reason you want to extend your home, look at local houses with the footprint your home will have after the extension. Adding an extension may cost more than the value it will add to the property in the short-term. But yet, it can still work out as much less expensive than moving to a larger property. Remember to factor in estate agent fees, legal fees, Stamp Duty and removals fees if moving is an option.
Properties are generally valued on the basis of price per m². To get an idea of local property values, find several properties that are similar to what you propose to build. Then divide the asking or sale price by the area of the property. This will give you an average value per m².
If you compare this with the average cost per m² of your extension, you can work out whether your proposals will increase the value of your property. Be aware that there is a limit to how much value you can add to your home, known as the ceiling value.