Pergola ideas are everywhere, and with good reason too. Whether you DIY your own structure or make a small investment with a kit, a pergola is a simple addition to your outdoor space that will turn a standard bit of your backyard, into a divine outdoor living space, complete with shade if you wish. Whether you've a lot of land or not, a lot of budget, or not, you don't need to spend a lot of time or money to make an impact.
Achieving your desired look is all in the decoration and, if you love to get creative then putting up a pergola on your patio or decking area will make the perfect weekend project. Best of all, pergolas don't usually need planning permission if it meets certain criteria (more on this below) so let us inspire you.
Are pergolas worth it?
We spoke to the experts at Made.com about all the wonderful benefits of adding a pergola to your outdoor space. They noted how, 'Wooden pergolas provide a stylish, permanent alternative to collapsible gazebos and parasols in the summer. They are perfect at creating an area that lets in a refreshing summer breeze while also providing protection from the harsh direct sunlight. A pergola, which would be at home in Japanese and Mediterranean inspired gardens, can also be used as the support for climbing plants and flowers, offering additional shade and elevating the appearance of the structure.' So they are very much worth it in our eyes.
1. Create an outdoor dining area under a pergola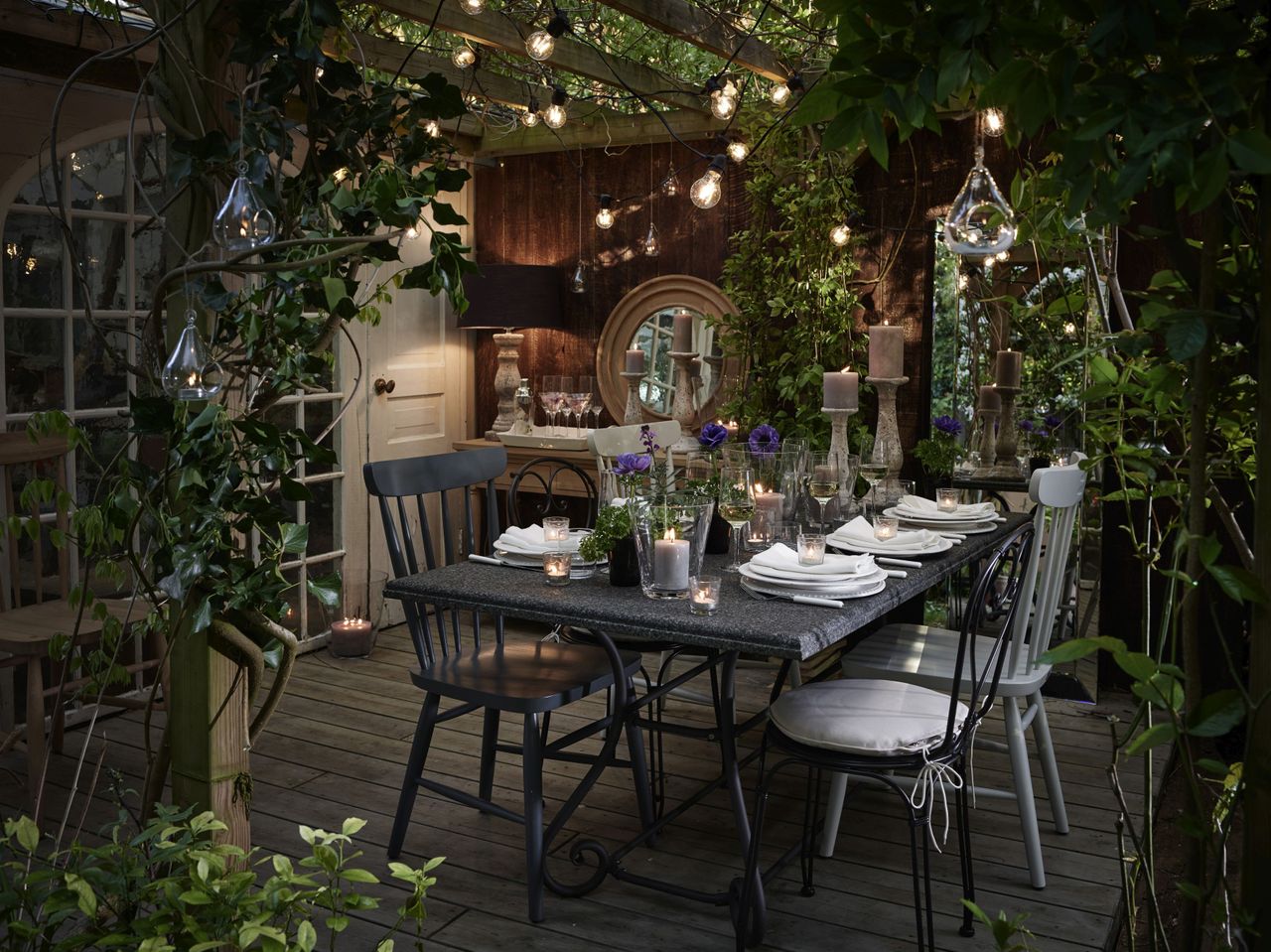 A pergola can be a great focal point in a garden and the perfect place to focus all your socializing too. Add a dining table underneath yours, string up the fairy lights, keep your outdoor kitchen close by and you're good to go.
When you are after more garden ideas be sure you head to our gallery next.
2. Take yours from day to night
What a dreamy setting, which will work just as well by day as by night. Lanterns add a fun decorative touch to this backyard pergola and keeping them solar powered means that they'll naturally illuminate this spot exactly when you need it – without costing you too much either.
3. Use brights to decorate a pergola
If you've gone for a super basic DIY pergola design as a more budget-friendly option, that's not to say that your pergola can't be the place to party! Brighten it up with bold soft furnishings and run pops of color from top to bottom using bunting, colored fairy lights and more.
4. Paint it blue and beautiful
If blue skies are your thing then why not make that part of your pergola? A splash of paint will have your entire outdoor space feeling fresh, and this is a great trick in gardens big and small to form a little cohesion with what's beyond your four outdoor walls. Dream big people.
5. Keep it cozy with cover
@layered.home created a really cozy setup under a pergola with a gathered covering. Perfect to soften the look plus, that burnt orange is making us dream of sunsets for days.
6. Define your yard space with a pergola
Go deluxe with your pergola and invest in a design which has metal roofing that you can open when it's bright, and close when it's drizzly. A solid structure is ideal to divide your outdoor space too, creating an area for dining and better defining the rest of your yard.
7. Stretch out your deck
For an outdoor room that feels like a natural extension of your home, you'll want to invest in a big ol' solid pergola, likely custom made, that stretches the length of your entire decked area. Mirror the construction with your furniture and you'll have one really sophisticated and functional backyard space going on in no time.
8. Copy your fence
Chances are whether you buy a fully formed pergola or a DIY pergola kit it will arrive as unfinished bare wood. And of course, you can leave as is and it will still look lovely, but you could paint it to suit your fence and other hard landscaping for a refined and cohesive finish. We love how @nest_number_9 has painted her pergola black to make it more of a feature in her garden.
9. Square the top frame for interest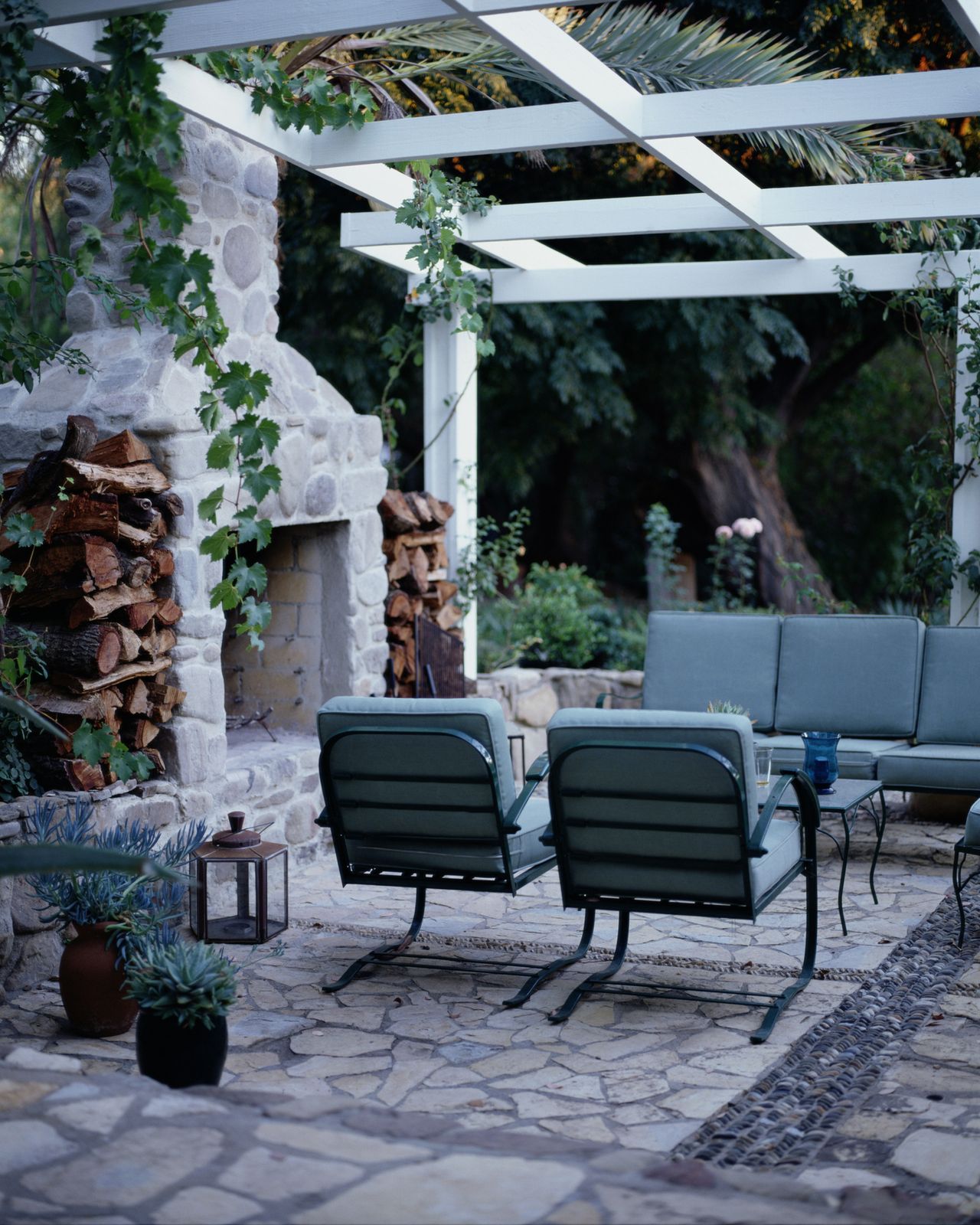 We're all about mixing up our pergola styles and we love the look of a square top frame. The modern structure and chic white finish brings the look of this outdoor space together really nicely. From the outdoor fireplace, to the stunning furniture and other decorative accents, it's a simple but effective addition.
10. Create an outdoor lounging space under a pergola
We love the boho feel of this outdoor set up; the layers of texture and neutral colour palette look so cool. Max out your outdoor living room furthermore with rugs, cushions, throws and soft lighting which are all key to really get the look.
11. Blend into the landscape with natural materials
For a pergola idea that really blends into the garden opt for a roof made from natural materials. You can pick up reed screen from DIY stores and just secure them in between the beams of your pergola structure.
12. Grow impact plants up and around your pergola
Another way to make your pergola feel more like part of your garden is to get plants growing up and around the structure. Plant garden borders to disguise the base of the pergola, and mix in some climbers too that will grow up and over the beams. Not only will this look lovely but will provide a natural shade too.
13. Add plenty of lighting to your pergola
Lighting is key to creating a pergola space that feels cozy and inviting, even on chilly evenings. String up the fairy lights, dot about some lanterns or even hang pendant lights from the beams – it's all about layering. Choose solar-powered lights that are super budget-friendly, yet sure to look gorgeous as they glow amongst the foliage.
14. Nod to rustic pergola vibes
We love how simple and rustic this pergola is with the light-colored decking and neutral colors of the exterior walls. It's seems like an extension of the house too, adding an extra dining space attached to the kitchen.
15. Build yours against a brick wall
For more wind protection with a covered pergola and to create a really solid outdoor living space, build yours up against an external wall. The characterful brick wall combined with the quality finish of the pergola design, nods to the industrial look in this outdoor space. And, we'd like to sit there too.
16. Add cover with natural landscaping materials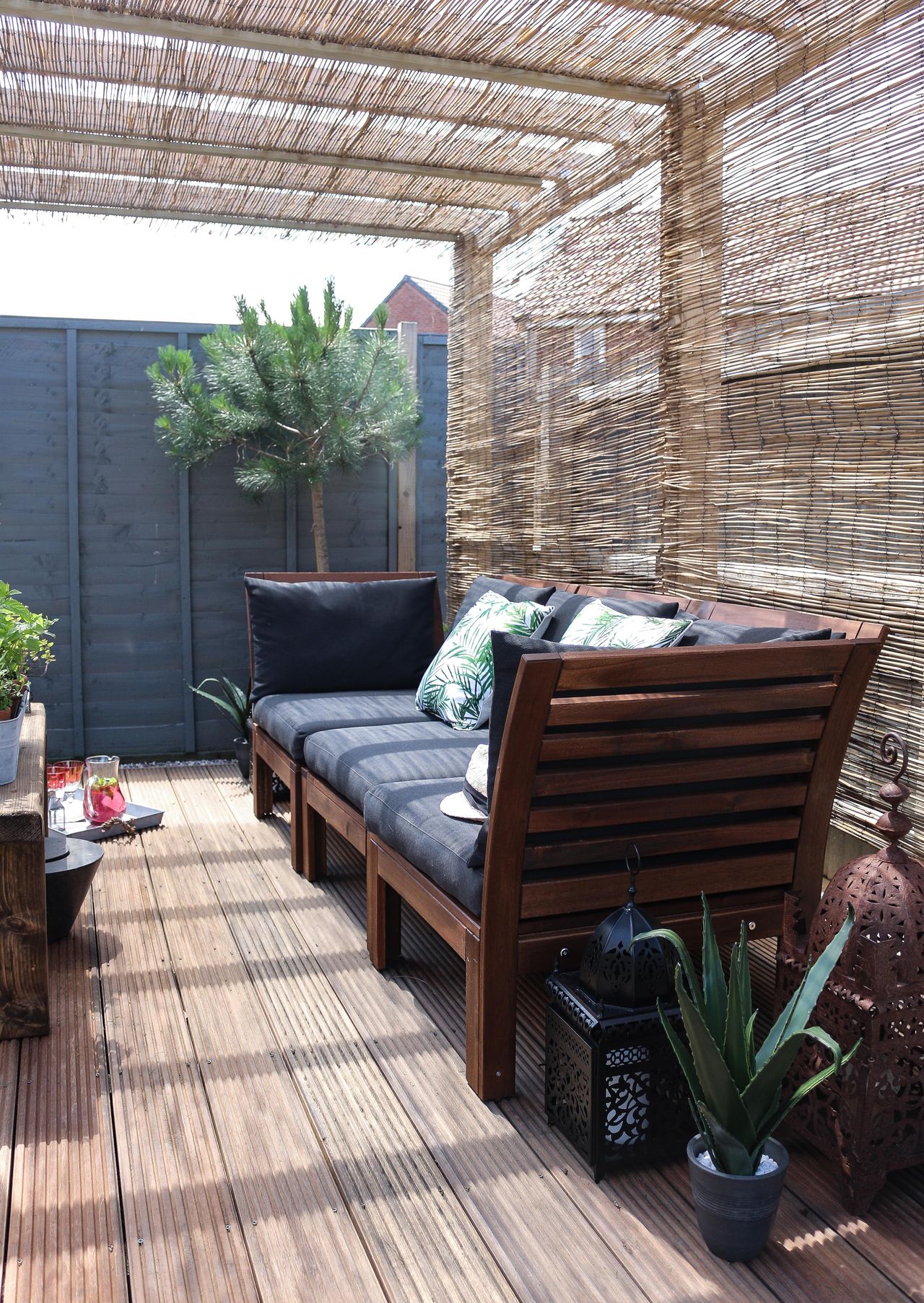 Enjoying a covered pergola doesn't need to cost the earth. Work with dear mother nature instead and opt for natural reed or even bamboo and not only will they bring beachy vibes along, but they will also add a little more privacy to your space too.
17. Let the inside do the talking
For a modern look, keep your pergola bold and simple. A plain black structure makes the perfect frame for an energetic space inside full of color, lighting and accessories. Such a setup is sure to make those summer days extra special.
18. Squeeze a pergola into a side return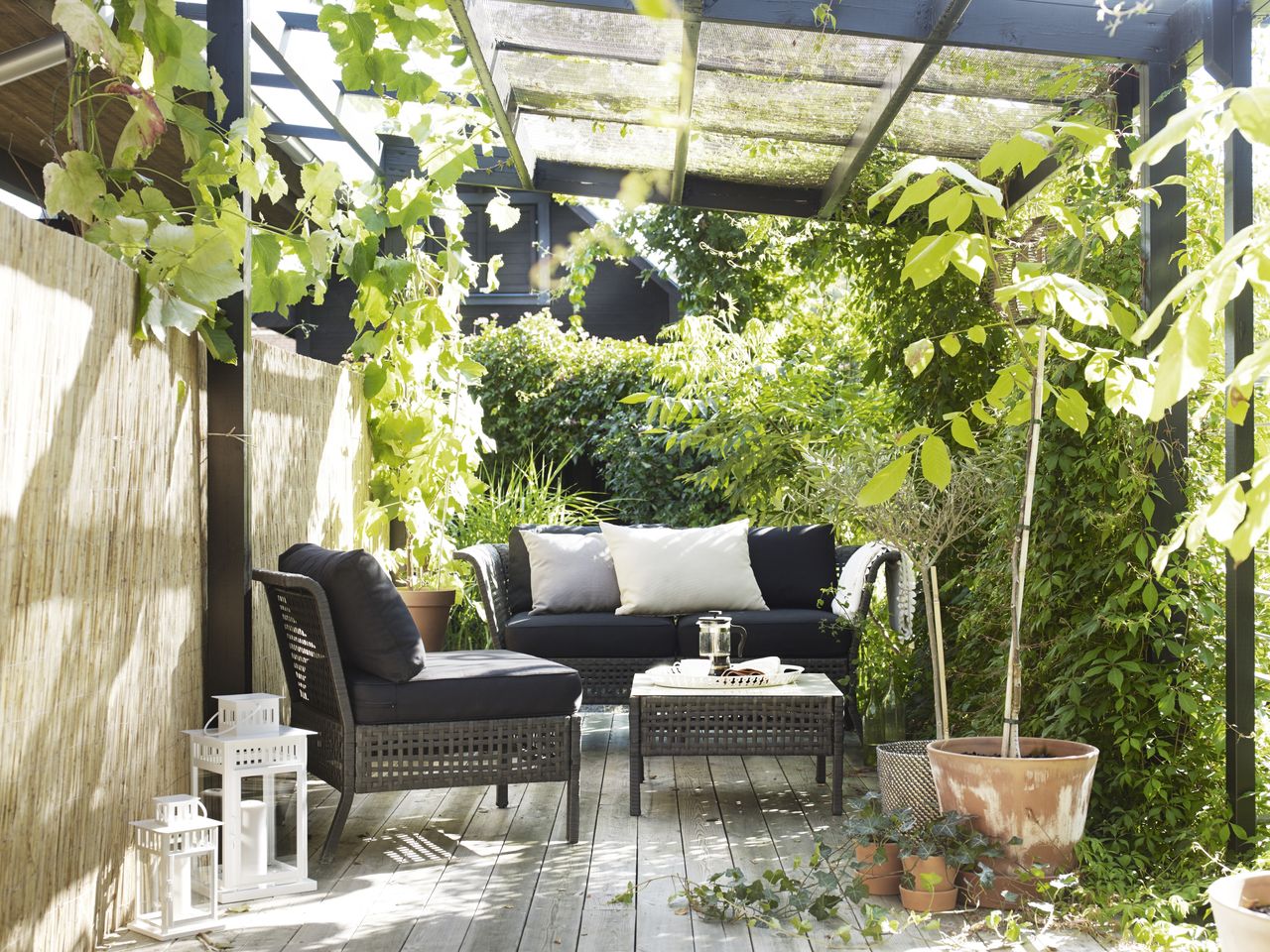 You don't need loads of outdoor space to add a pergola, so why not squeeze one into an unused side return? Making it a natural extension of your home. This setting also proves how pergolas and vertical gardening go hand in hand. Decorate yours simply using climbers and let them do their thing.
Do you need planning permission for a pergola?
If you're UK-based, you won't need planning permission for a pergola so long as it meets the following criteria.
Height is no greater than 2.5m (8' 2") unless it's a pitched-roof structure which ca be up to 4m high (13').
It's within 2m of your garden's boundary.
It mustn't cover more than 50% of the land around your house and existing outbuildings.
It must not go at the front of the house or in the side return.
You do not live in a listed building or in a conservation area.
The pergola is not to go on a raised platform like a veranda or balcony
If you want to add a pergola to a deck like many of our ideas showcase, the deck shouldn't be more than 30cm above the ground and again, it shouldn't take up more than 50% of the land including other extensions, outbuildings and decking areas.
A must for your outdoor space, not just in the summertime!