After the obvious garden furniture and greenery, outdoor cushions are the next best way to add a trendy feel to your garden space. More times than not, outdoor chair cushions (particularly pillows that can be placed on the floor) are cheaper than chairs and don't require much garage space when being put away.
Sometimes, even the best garden furniture can be a bit too functional, and lack style, so outdoor cushions for chairs are a quick and simple way to inject your personality into this space.
Whether you fall for florals, go for gingham, or jump for joy over jute, you can replicate your indoor interior style outdoors, or this space to create an entirely contrasting scheme.
We've searched high and low for the best outdoor chair cushions in-store and online. From chair cushions to poufs, patio lounger cushions, and scatter pillows– the world of outdoor cushions is your oyster.
---
13 outdoor cushions for an instant style update
Why you can trust Real Homes Our expert reviewers spend hours testing and comparing products and services so you can choose the best for you. Find out more about how we test.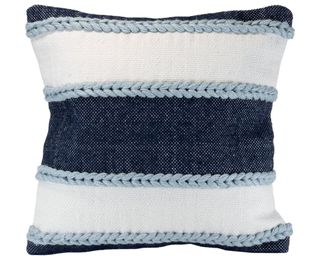 1. Hand Woven Decorative Outdoor Square Pillow Cover & Insert
Cushions: H20 x W20 x D5 in | Color options: 1
Eco-friendly products don't often get the best reputation for being stylish, but with its woven stripes and denim-look details, this recycled PET plastic outdoor cushion will look the part in a traditional or nautical-themed outdoor space.
Made with UV stabilized yarns, you can be sure that the material won't discolor or degrade when used in the sun. Includes a plump pillow with a removable cushion cover that can be spot cleaned.
---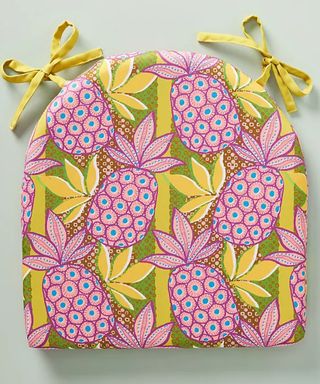 2. Anthropologie Pineapple Indoor/Outdoor Seat Cushion
Cushion: H1.5 x W16.5 x D17.75 in | Color options: 1
Bring fruity tropical vibes to your outdoor space with this bold pineapple motif pink and yellow outdoor cushion. Made from polyester, it has a quick-dry foam fill, so you won't have to worry about bad weather or spilling a drink on it.
It's perfect for pimping up a plastic green garden chair. To stop it from sliding, the tie closure feature is great to keep it fixed on your furniture. To clean, use a soft brush to loosen and remove dirt and debris, or use your best vacuum cleaner.
---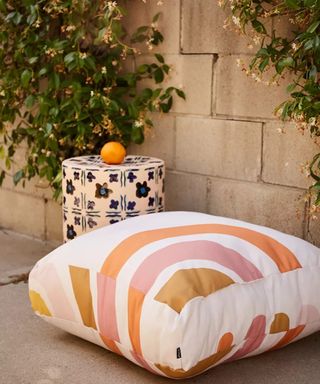 3. Urban Wild Studio For Deny Paint Rainbow Outdoor Floor Cushion
Cushion: H6 x W26 x L26 in | Color options: 1
Forget flower power – it's all about rainbows on outdoor cushions. If you've got children, or are young at heart, then this colorful floor cushion is a contemporary option will put a smile on your face without needing to sway to a primary-colored print.
The muted hues of mustard, pink, and orange are perfect for lazing about in the sun with an alfresco snack or beverage.
---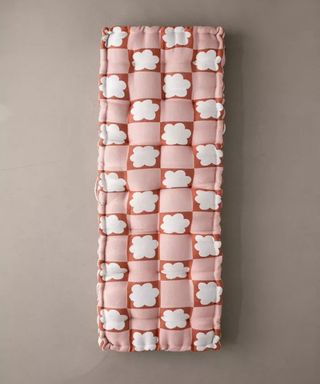 4. UO Rohini Floral Checkerboard Indoor/Outdoor Daybed Cushion
Cushion: H6 X W27 X L74 in | Color options: 1
Pastels, florals, and a geometric checkerboard design? We're knocked for six with this indoor/outdoor daybed cushion design... so much so we may need to lie down (specifically on it of course.) Pair it with your best daybed, add comfort to a wood or metal bench or simply flop straight onto it.
We love the garden party setup here and all you need is a good book (or *cough* a copy of Real Homes) to turn it into a reading nook. To style, couple with similar rose and rust textured accessories. A terracotta planter and wooden food trays are a match made in heaven, along with a chunky throw for when it gets chilly.
---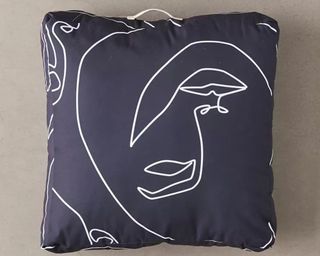 5. Explicit Design For Deny Faces In Dark Outdoor Floor Cushion
Cushion: H6 x W26 x L26 in | Colors available: 1
Line art is everywhere right now, from t-shirts to bedroom pillows, its minimalist approach creates quite the statement. If you possess a 'less is more' approach to you exterior styling, this monochromatic motif is right up your street. What's more a percentage of each purchase goes toward supporting art communities worldwide.
---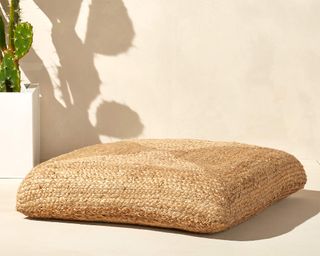 6. CB2 Braided jute outdoor floor cushion
Cushion: H5 x W28 x L28 in | Colors available: 1
Add some modern bohemian ambiance to your front or back yard with this jute outdoor cushion. Made for the floor, take a seat or create a boujie spot for your pup to sit in the shade, as one reviewer admitted to doing. Pooch-free home? Sit on this beachy bolster or use it as a fun, woven footrest.
---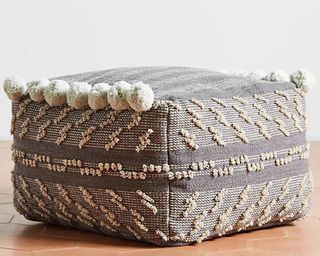 7. Anthropologie Callie Indoor/Outdoor Pouf
Cushion: H16 x W16 x D16 in | Colors available: 1
Our award for most multifunctional outdoor cushion goes to this Anthropologie Callie Indoor/Outdoor Pouf. Used in or outside the home, it's a 4-in-1 piece of furniture that can be used as a casual outdoor seat, footrest, ottoman, and coffee table. Combining substance with style, the contemporary grey design comes complete with tactile detail including playful pompoms.
---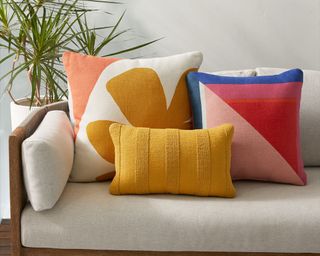 8. West Elm modern color block indoor/outdoor pillow set
Cushions: Various sizes (see individual product lines) | Colors available:
Whether you're new to accessorizing your outdoor space, or a seasoned stylist, take the guesswork out of picking and choosing different pillows and outdoor cushions with this pre-made mix of soft furnishings to add comfort, color and texture to your garden seating.
All pillows feature durable, weather-resistant fabric and a plush polyester filling. This set by West Elm combines florals with beautiful, summery color-blocking. Alternatively, if you don't want to buy them all, these outdoor cushions are also available to purchase separately.
---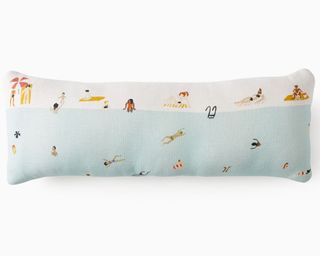 9. West Elm poolside indoor/outdoor pillow
Cushion: W14 x L36 in | Colors available: 1
Dip your toes into vintage design with this super-cute poolside indoor/outdoor pillow by West Elm. With its swimmingly-chic motif of sunbathers and divers, it's the perfect lumber pillow to lounge on by the pool. It's water-resistant, and the filling is made from 100% recycled polyester filling, made from recycled plastic bottles. Each pillow purchased keeps 38 bottles out of the waste stream.
---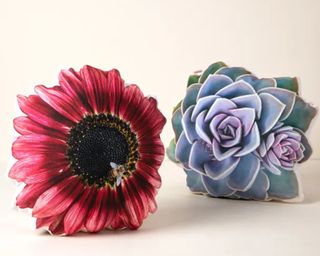 10. Uncommon Goods nature photograph outdoor pillow
Cushion: L6 x D15 in| Colors available: 2
If you're a poor plant mom or pops, these uber-realistic oversized floral outdoor cushions are bloomin' terrific. Requiring no watering or maintenance, these plant-shaped pillows are inspired by Sabine Hermann's photography. Choose between an on-trend succulent or sunflower, or better still, by both for a beautifully botanical backyard without the bad back.
---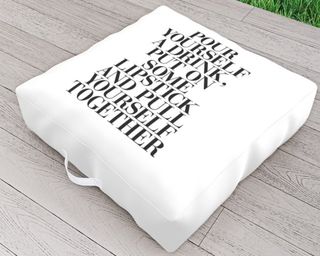 11. Society6 white slogan cushion
Cushion: H26 x W26 x D6 in| Colors available: 1
You can't go wrong with a slogan... And this sassy monochrome outdoor cushion is ideal for bachelorettes or if you share a home with your BFFs. Minimal in aesthetic, this punchy pillow is perf for independent women, or if you need a little motivational pick-me-up.
---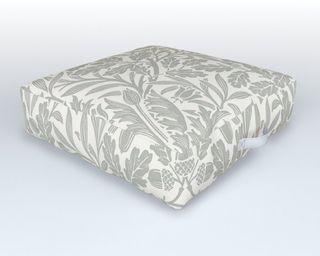 12. Society6 William Morris pure Acorn outdoor floor cushion
Cushion: H26 x W26 x D6 in | Colors available: 1
Want British designer vibes but on a budget? You cannot go wrong with this modern take on the traditional pebble grey and soft white William Morris print on this outdoor floor cushion. This super comfy and style-forward option comes complete with the artist's painterly works that are instantly recognizable. Notice the cotton twill handle that make it easy to move into the sun trap or shade.
---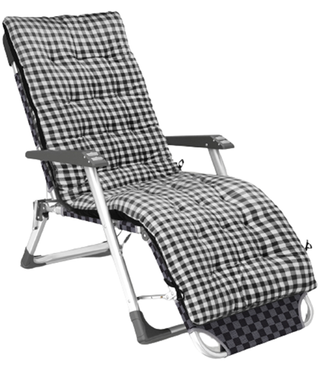 13. Walmart Gingham Patio Lounger Chair Cushion
Cushion: H67 x W19.7 x D2.5 in | Colors available: 4
Whether you call it gingham or lattice, there's no denying the classic charm of this pretty checkered print. Suitable for most patio loungers and long deck chairs, this sweet outdoor cushion design for your chair comes in four colorways; black/white coffee brown/white, green/white and red/white.
Soft and stylish, breathable and dry, the material wicks away moisture and sweat so you can lounge in comfort. It also comes with tie sides to keep it secure and to stop you from slipping off.
---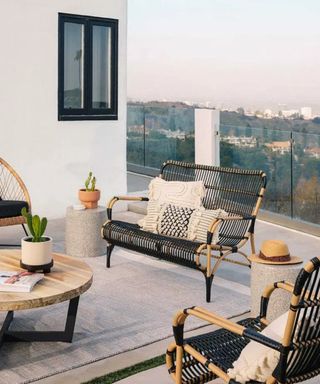 How to choose an outdoor cushion
'If you're just starting to save some outdoor furniture ideas to your Pinterest board, there are some things you'll want to know about before you get too attached to a specific look,' says Katie Fritz, content manager, Article.
' Just like with indoor furniture, there are certain pieces that work better for each individual and situation. Perhaps you're into the look of a particular fabric or cushion, but know that you're too busy (or lazy) to clean it regularly. Maybe you like the thought of sleeping away your summer on a mid-century outdoor lounger, but recognize that you're much more of a sit-up-and-snack kind of relaxer.'
'Whatever you're looking for, there's a cushion for you. Consider the following questions:
'You'll also want to think about how you actually spend your time outside. If you don't love your current patio setup, can you think of a time when you really enjoyed yourself on somebody else's? Maybe you loved laying poolside with your favorite book while on vacation, or maybe you enjoyed the alfresco dinner parties your friends held in their outdoor dining room.'
How to look after outdoor cushions
'Here are some proactive things you can do to avoid any outdoor cushion regrets,' says Fritz.
Keep them out of direct and prolonged sunlight: I can hear the questions now. "What's the point of having outdoor furniture if it can't be in the sun?" Okay, let us clarify: While the fabrics used for outdoor pillows and cushions are more resistant to fading than most indoor fabrics, they aren't magic. Give them a break when they're not in use, and either store them inside or under a protective cover. It's basically like sunscreen for your outdoor cushions. SPF now also means "Super Protected Furniture."
Protect from the elements: You're not exactly fighting to sit outside and enjoy some strawberry margs with the rain pouring down — and neither are your outdoor cushions. Pay attention to your local forecast and either bring your cushions inside, store them in a dry, sealed container, or shield them with a waterproof furniture cover. Outdoor furniture covers are also great for keeping your cushions free from messes like tree sap and bird droppings.
Fluff regularly: If your outdoor cushions have been stored over the winter season, they could probably use a little fluffing to freshen them up. Or, if you favor a certain seat over others and notice it's getting a little dented and slouchy, a good fluffing will restore it back to its original glory. Fluffing doesn't just make everything look fresh again, it actually extends the life of your outdoor cushions by helping to keep the cushion's filling evenly dispersed, which in turn ensures all cushion surface area receives equal wear. This also helps protect your outdoor furniture's frame from direct contact and wear.
How to clean an outdoor cushion
'No matter how careful everyone is, some messes are unavoidable. Here's how to deal with some after-the-fact issues,' says Fritz.
Clean regularly: We're not saying you have to do a deep clean of your outdoor cushions every time you want to relax outside, but a little general maintenance isn't going to hurt anybody. It's not fun to sit down on dusty leaves, dried up dirt, or any other gift from Mother Nature, so we recommend taking a soft bristle brush (or the little brush that came with your dustpan) and giving your outdoor cushions a quick sweep on a regular basis. This helps minimize the chances of any dirt or dust getting embedded in the fabric and causing abrasions or deep stains.
Treat spills and stains: If some of your gourmet ranch dip escapes your chip, you're not out of luck. Use an absorbent cloth or paper towel to absorb as much of the stain as you can. Then, mix a tiny bit of dish soap in a jar or bowl of water, and dip a soft cloth into only the bubbles. Gently dab to work the soapy mixture into the stain, and then allow it to fully air dry.
Machine wash if necessary: If you want to get a deeper clean, many outdoor cushion covers, are removable and washing machine safe. Just be sure to read the cleaning instructions for your specific piece to make sure your washing machine doesn't damage the fabric. Use a gentle detergent and hang to dry.
Replace as necessary: Sometimes even the best-laid plans go awry. No matter how much you work to prevent damage and clean up messes right away, accidents happen.
Why do you need outdoor cushions?
'Cushions may seem like small details but when it comes to transforming your space, they offer a quick and easy solution, and as the days get warmer their transformative power is no longer limited to indoors,' says Martin Waller, founder of Andrew Martin.
'As well as bringing much needed comfort to your garden seating, the addition of outdoor cushions allows you to blur the lines between interior and exterior helping to create a space that is often left unused through half the year, feel like a carefully considered living area.'