We've all spent a lot more time gardening this summer – and eyeing our gardens critically. One thing we at Realhomes.com have been doing is obsessively poring over Monty Don's Insta account, books and TV progs in an effort to improve our plots.
And we've realised one (of many) thing(s): one of the best ways to get more from the outdoor space you have is to go upwards with your planting. Climbers can add plenty of extra interest to a garden trained against fences or walls as well as any structures you want to add to the area. But which climbers will deliver when it comes to colour and fragrance? As ever, when in need of gardening inspiration, we turned back to the lovely Monty Don for garden ideas.
The gardening guru's Instagram feed (opens in new tab) reveals a fabulous array of climbing plants in his garden that have gorgeous blooms in delightful shades, and that we know have wonderful scent (shame you don't get that effect on Insta).
Keep scrolling to share in the loveliness and pick up plant ideas for your own plot. For more from Monty, you can visit his site (opens in new tab).
Love Monty Don's garden? Get the inside track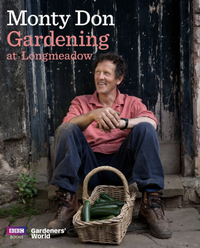 (opens in new tab)
Gardening at Longmeadow (opens in new tab) tells the story of the creation of Monty's garden. Following the seasons, Monty shares the magic of each of its areas and shares advice and insight to inspire every garden lover.
1. Go for a rambling rose
If you want a vigorous climber, a rambling rose could fit the bill perfectly. One of these can grow on a wall, fence, arch or pergola, ramble through bushes and trees, and even conceal an ugly feature of your garden.
We love the the rambler 'Malvern Hills' Monty's chosen here with its soft yellow blooms, and a musky fragrance. Even better, it'll produce flushes of flowers from late spring to early winter.
2. Be seduced by honeysuckle
Of all the scents of the garden in midsummer 'my favourite... is honeysuckle', Monty revealed in the Daily Mail (opens in new tab). If you're planting it in your garden, you'll find an array of flower colours to pick from, but how about the Lonicera periclymenum 'Belgica', which has white blooms with a red flush that age to a yellow shade?
Growing honeysuckle is also a great way to attract bees, moths and, with its berries, birds to your garden.
3. Enjoy a variety of rose fragrances
Rose aficionados will already know that there are different types of rose fragrance, including tea. And, yes, we're talking the aroma you get when you open a packet of fresh tea and definitely not the smell of tea bags. This climbing rose from Monty's garden, 'Alister Stella Gray', could be one to introduce to yours for a tea fragrance, and beautiful yellow flowers.
4. Opt for ravishing pink blooms
While some of the climbers in Monty's garden have more delicate shades, this climbing rose 'Mme Caroline Testout' introduces a deeper tint, and boasts big blooms, too.
It's definitely a plant choice to copy if you want show-stopping flowers and, as for scent, you can expect a fragrance that's sweet and light.
5. Delight in clusters of flowers
If plentiful blooms are what you're after, copy Monty by growing the rambling rose 'Félicité-Perpétue' in your garden. The small creamy white flowers grow in clusters that look fabulous – but it will only flower once a year, so enjoy them while they're there. When it comes to fragrance, the aroma of this rose is delicate and primrose-like. How enchanting!