Love having summer socials and looking for garden party ideas to make yours memorable? Whether your garden parties are all about the barbecue, gathering around an open fire, or simply enjoying a cup of tea with a couple of friends in a gorgeous setting, we have lots of inspiring ideas to help you throw a party your guests will talk about for months. 
And when you're done being inspired, hop over to our feature on planning and designing a garden from scratch for more clever ideas.
1. Create a garden party theme
If you're decorating your garden for the party, choosing a theme will make it punchier visually. Wish you were throwing a garden party in the tropics somewhere? Why not recreate a luscious tropical atmosphere with colourful accessories and a piñata. Add some bright cushions and hanging decorations, and you're good to go...
This garden party setting has been put together with the Boho range of accessories from Talking Tables. 
2. Pick barbecue that's ready to cook in three minutes
With the unpredictability of British weather a constant barbecue party issue, this one is a real find. The Lotus Grill from Cuckooland is ready to cook only three minutes after lighting – and it's smokeless, too (but don't worry, you'll still get that characteristic barbecue flavour in your food). Win win.
Want a bigger BBQ? A gas BBQ or perhaps even a smoker grill? Find all the summer's best barbecues in our buyer's guide.
3. Light up the garden for a night-time party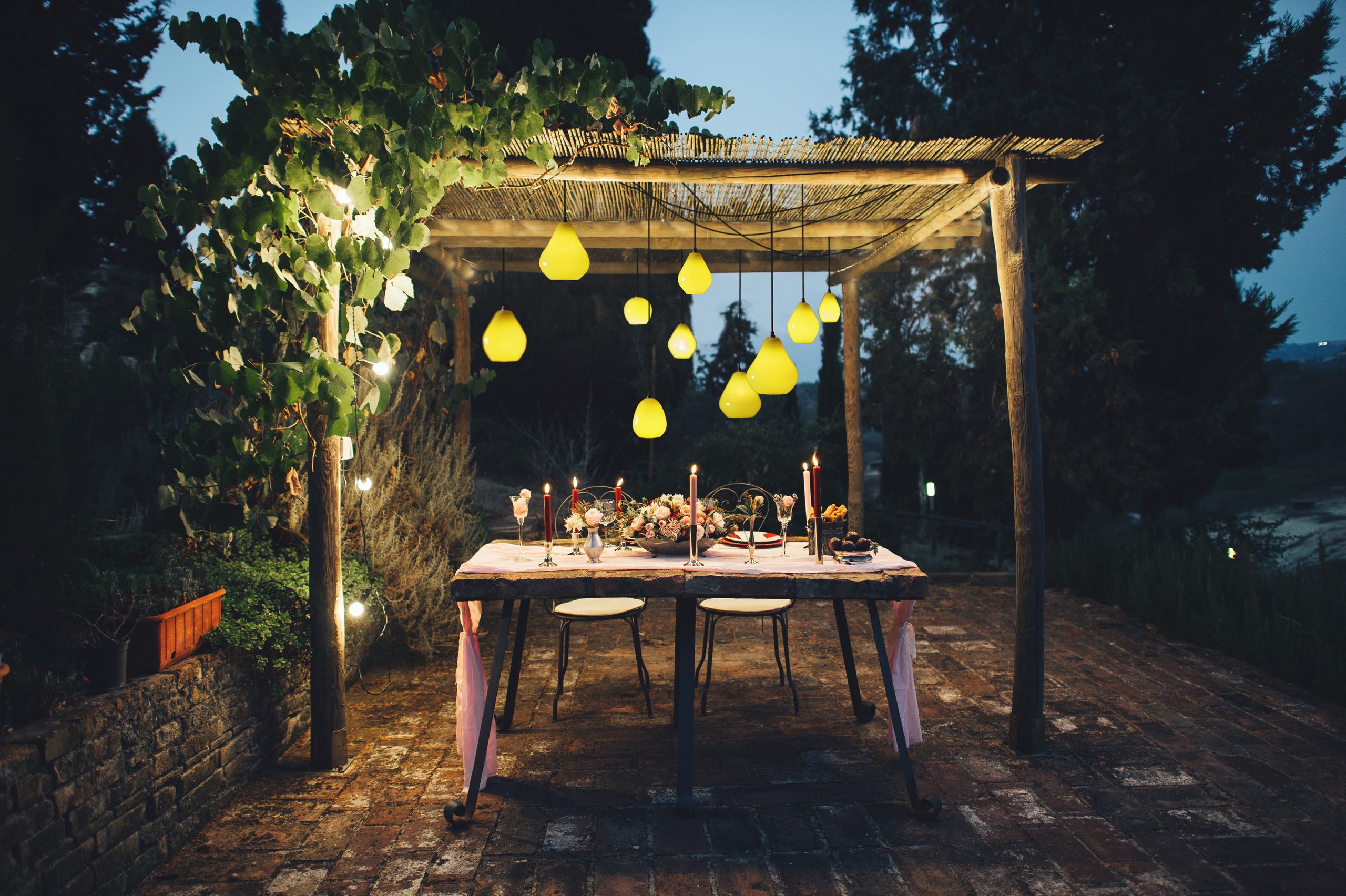 To make sure your garden party continues seamlessly into the evening, prepare with plenty of outdoor lighting. Mix and match different types, from tea lights to lanterns, for a really pretty, luminous effect. 
This garden (below) has been kitted out with outdoor lights from Lights4fun. 
Find out how to plan your garden lighting in our essential guide, and don't miss our pick of the best garden lighting: from fairy lights to wall lanterns.
4. Please a party crowd with fresh lemonade
Probably nothing screams 'garden party' like a lemonade dispenser. We love the Garden Party Lemonade Drinks Dispenser from Rex London – it's really, truly party-sized, too.
5. Find a fire pit for cooler nights
If you're throwing a garden party in autumn or winter, an open fire of some sort always helps to draw everyone together. Marshmallow toasting is one of the great pleasures of cold-weather partying, especially if there are children at the party. 
The Oxidised Cast Iron Fire Pit With Steel Stand by Garden Leisure is impressive and stylish, and generates 360°C heat, so that everyone will feel toasty, too.
Find the best chimenea for your outdoor space and our favourite patio heaters in our buyer's guides.
6. Throw a garden pizza party
Outdoor dining needn't be confined to the summer months; the trick to enjoying food outdoors throughout the year is having something that's quick to make, quick to eat, and won't require an elaborate table setting. 
The Uuni 3 Wood-Fired Pizza Oven with Stone Baking Board reaches a very hot 500°C in under 10 minutes and will bake an authentic wood-fired pizza in just one minute. Now that's what we call efficiency. Plus, its compact proportions make it a practical buy, too.
Explore the best outdoor pizza ovens in our buyer's guide.
7. Find garden seating that's comfy to sink into
Comfy seating is a must in the garden, party or no – and it's crucial for keeping everyone happy into the evening. We say padded with plenty of cushions is the way to go. 
The Marlow Aluminium four seater lounge set from John Lewis comes with generous seat and back cushions. Explore more welcoming garden seating with our guide to the best outdoor chairs.
8. Create a party ambience with an outdoor speaker
Want to really get the party started? You need music. And while you don't want to annoy all your neighbours with overly loud sound, a tinny old speaker won't do, either. 
The Ultimate Ears Megablast speaker has rich, powerful sound and has Bluetooth, so that you can stream your music to it from your phone or laptop. Find the best outdoor speakers in our buying guide.
9. Love garden party food? Build an outdoor kitchen
If you are seriously into your al fresco dining, then consider building an outdoor kitchen. This is a particularly worthwhile investment if you entertain frequently – imagine the time and effort saved by not having to carry endless dishes back and forth between your kitchen and garden. 
This very professional-looking outdoor kitchen is by Garden House Design. Find out how to design an outdoor kitchen in our guide.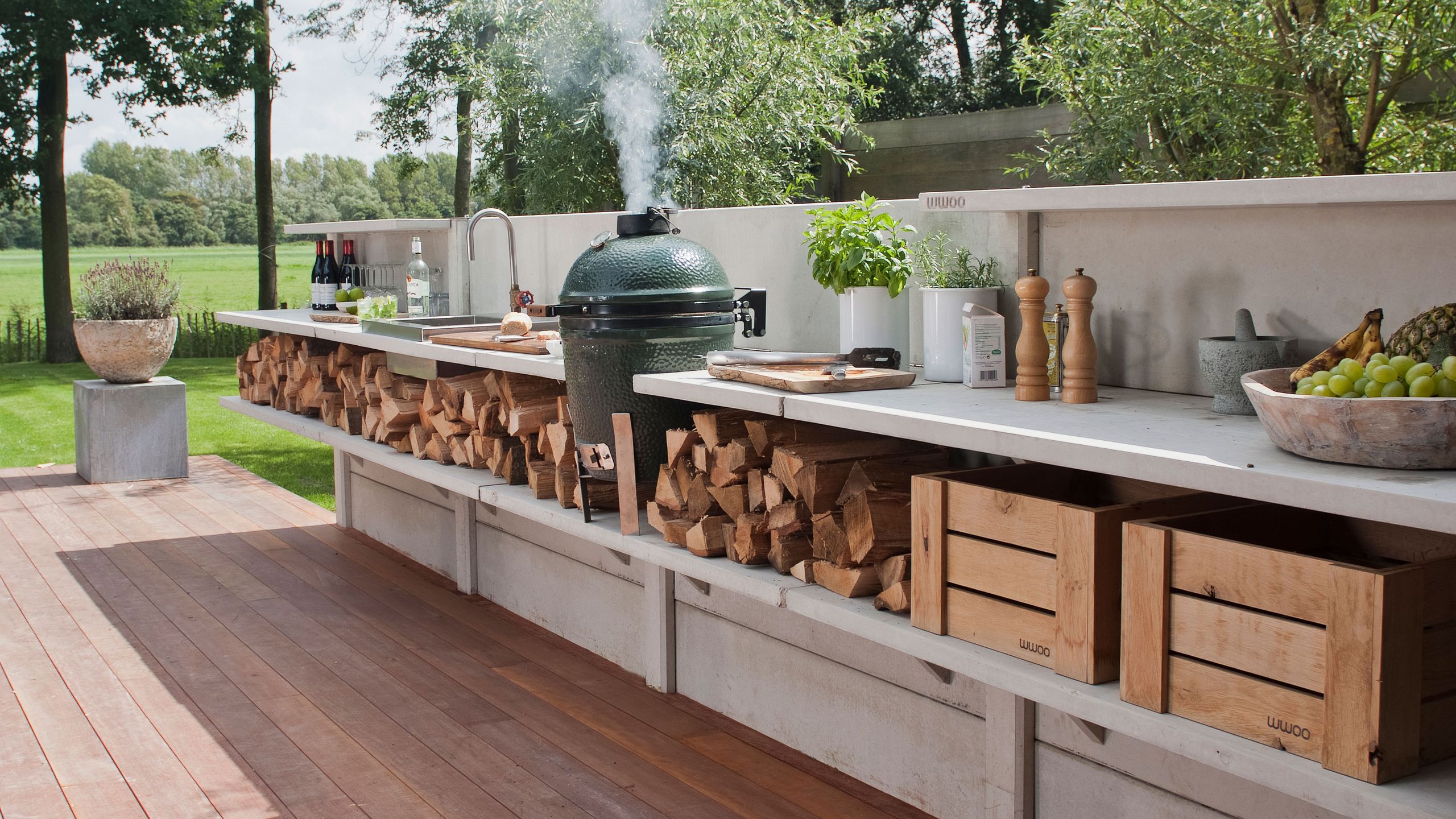 10. Outdoor projector
There's nothing like ending a successful party with a late-night film screening. All you need is some chairs and a quality outdoor projector – check our guide for a selection of the very best.
11. Create a poolside with bar stools (even if you don't have a pool)
Bar stools are fun and create a cool and intimate atmosphere; and – if you are very lucky and have a swimming pool – they can contribute to a poolside bar look that is just perfect for a garden party. 
The Hampstead Bar Stools from Garden Trading are sturdy, comfy, and chic – all you could ever ask for from a bar stool.
12. Create an outdoor cinema room
Go one step further than just getting a projector. If you REALLY love watching films with friends and family more than any other activity, and love being outdoors even during the warmer months, it might be time to start thinking about building your own outdoor cinema room. Our favourite Insta-queen, @Lisa Dawson demonstrates how it should be done – with plenty of cosy lights and soft furnishings. 
13. Find a great garden party dining set
For a complete garden party experience – think nice, long dinner, followed by a nice, long conversation – nothing beats a proper outdoor dining set. Set your expectations high: it should be well-built, spacious, and cater to all weathers. Oh, and, of course, it should be good-looking. 
We think the Bordeaux Rectangular six-seater set from Neptune ticks all the boxes as far as dining sets go. Explore more gorgeous outdoor dining sets.
14. Throw an impromptu cocktail party
There's nothing like a refreshing Margarita on a hot day – or a fruity mocktail, if alcohol isn't your thing. One thing's certain: no fab garden cocktail party is complete without a gorgeous cocktail shaker. 
The Woven Glass Cocktail Shaker With Gold Lid is from Rockett St George. 
Read more: