Looking for some lovely garden party ideas to quickly change your backyard into the perfect space for outdoor entertaining? You are in the right place! We have loads of gorgeous looks that you can recreate in your own space no matter what size garden you are working with. Even if your outdoor space is a balcony or a small patio, we have you covered too.
Whether your garden parties are all about the barbecue, gathering around an open fire, or simply enjoying a cup of tea with a couple of friends in a gorgeous setting, we have lots of inspiring garden ideas to help you throw a party your guests will talk about for months.
1. Make a garden party feel special with textiles
Why you can trust Real Homes Our expert reviewers spend hours testing and comparing products and services so you can choose the best for you. Find out more about how we test.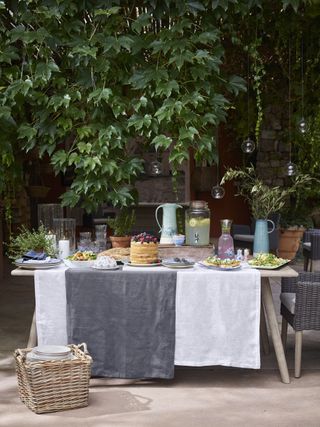 A really easy way to up your garden party game and make it feel like a really occasion is to simply lay down some lovely table linen. You want to blur the lines between indoors and outdoors and make the tables outside feel just as special as they would at a normal diner party. Layer a few table clothes on top of one another for a laid back, rustic feel and match your table decor to that country vibe with wooden chopping boards, Mason jars and small vases of fresh flowers.
2. Hang candles above a table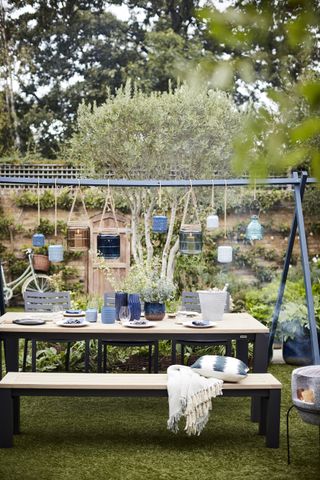 Love this idea! And imagine how special it would look at night, creating a lovely glow over the table. You could really easily DIY this structure using beams (or for a more rustic look use found wood) and then just hang candle holders at different heights to create a lovely atmosphere at the dinner table.
3. Decorate your tables with garden findings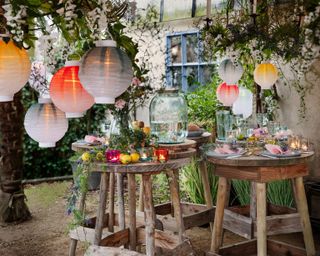 The key to create lovely, country-style table scapes is lots of textures, so place jars of flowers sporadically thorough out the food and plates and trail garlands so they fall natural off the sides. Rather than buy your greenery, have a look around your garden for decor and DIY your floral decor. This will create a nice link between the table design and the surrounding garden too.
4. Give your party a camp out vibe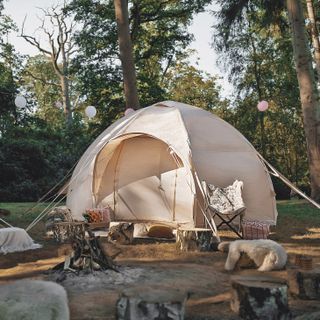 Even for adults, there's something so exciting about camping, and that feeling of a party turning into a sleepover. So pop up a tent or tipi if you garden and surround it with rugs, chairs and floor cushions to create a really vacation feel. Get a fire going too as it gets dark and hand out marshmallows as an after dinner treat.
5. Create a garden party theme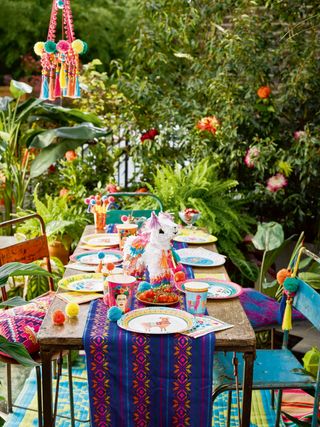 If you're decorating your garden for the party, choosing a theme will make it punchier visually. Wish you were throwing a garden party in the tropics somewhere? Why not recreate a luscious tropical atmosphere with colorful accessories and a piñata. Add some bright cushions and hanging decorations, and you're good to go...
6. Set up a shaded area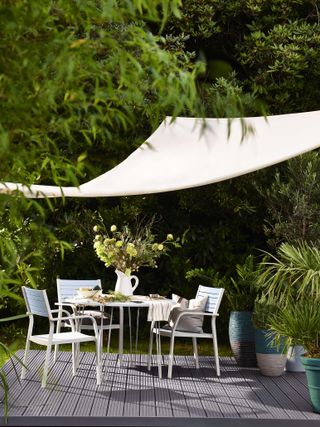 It always a good idea to create a shaded area at your garden party for people who don't like being in the sun for too long, or if your guests want a shaded spot to relax away from the main event. A parasol would do the job, but we are loving sail shades this summer, they are just so simple and stylish and add a bit of a beachy vibe to a garden.
7. Light up the garden for a night-time party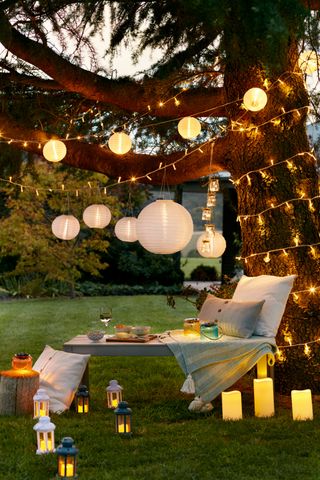 To make sure your garden party continues seamlessly into the evening, prepare with plenty of outdoor lighting. Mix and match different types, from tea lights to lanterns, for a really pretty, luminous effect.
8. Please a party crowd with fresh lemonade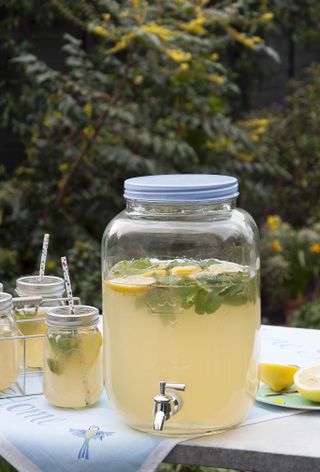 Nothing screams 'garden party' like a lemonade dispenser. Plus it adds such a cute rustic feel to a garden party. You can pick them up really cheaply on Amazon and make your own lemonade really easily using just lemons, sugar and water.
9. Find a fire pit for cooler nights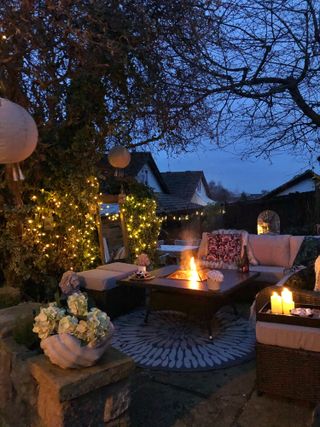 If you're throwing a garden party in autumn or winter, an open fire of some sort always helps to draw everyone together. Marshmallow toasting is one of the great pleasures of cold-weather partying, especially if there are children at the party.
10. Create an indoor feel with hanging lampshades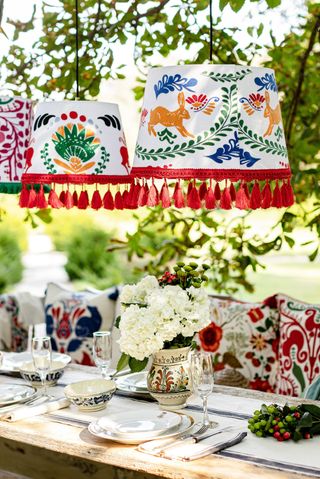 Give your garden party table a real indoor/outdoor feel by hanging actual lampshades above. You could just hang them from string to a tree and wind around some battery-powered fairy lights to create a more... rustic but equally lovely version of this beautiful set up.
11. Ensure your garden seating is super comfy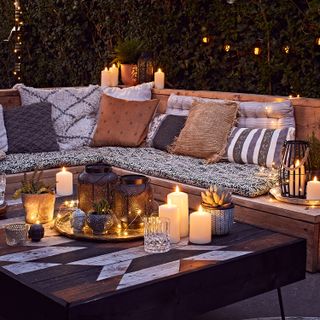 Comfy seating is a must in the garden, party or no – and it's crucial for keeping everyone happy into the evening. We say padded with plenty of cushions is the way to go.
If your seating is naturally hard, for example, a corner bench or metal set, get plenty of cushions and blankets to create a cozy atmosphere.
12. Create a party ambience with an outdoor speaker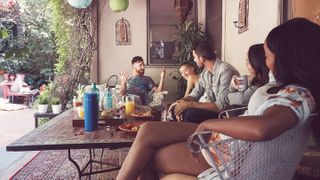 Want to really get the party started? You need music. And while you don't want to annoy all your neighbors with an overly loud sound, a tinny old speaker won't do, either. Go for a portable speaker that you can easily bring out into the garden and move it around should you need to. Then you just make sure you have a banging playlist ready to go!
13. Love garden party food? Build an outdoor kitchen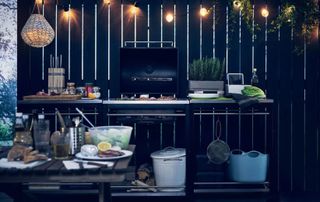 If you are seriously into your al fresco dining, then consider building an outdoor kitchen. This is a particularly worthwhile investment if you entertain frequently – imagine the time and effort saved by not having to carry endless dishes back and forth between your kitchen and garden.
14. Get an outdoor projector for garden movie nights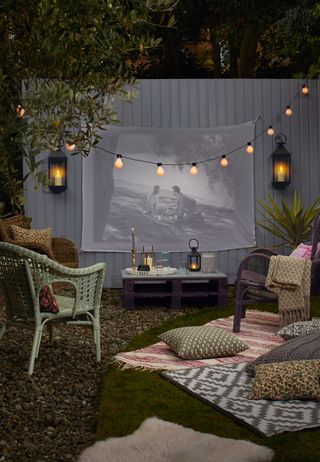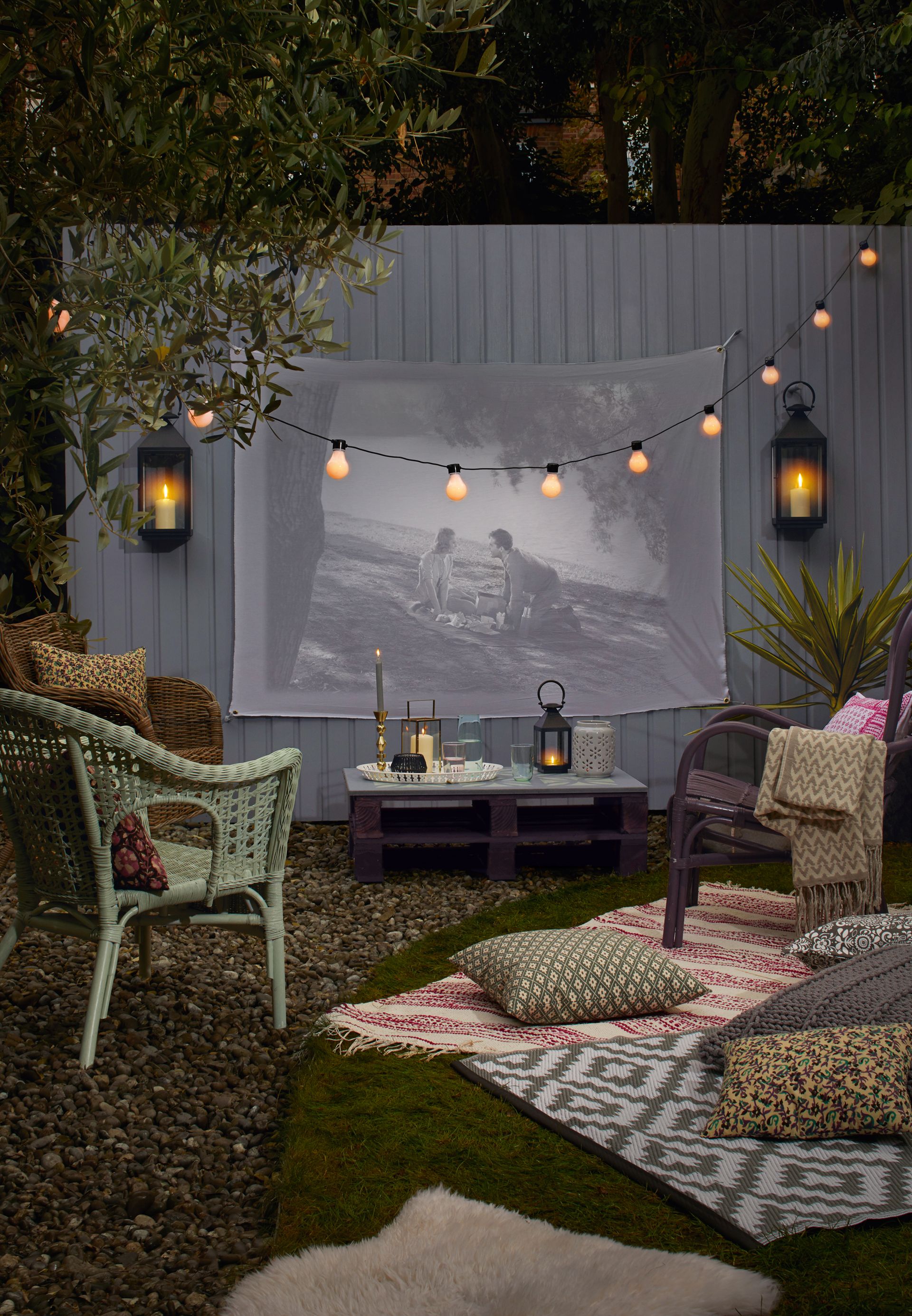 There's nothing like ending a successful party with a late-night film screening. Technically, for an outdoor cinema, all you really need is a sheet, or a white wall and an outdoor projector (if you're not sure what to go for, check out our guide to the best outdoor projectors), but we think it's the extras that make it all the more special. Basically, that means string up A TON of fairy lights, the more the better. We love the look of festoon lights and you could also add some lanterns to create even more of a lovely glow. And if you are feeling really extra, bring out your duvet and hang up a net canopy to create an almost outdoor bedroom. Dreamy!
Make sure your garden furniture is extra comfy by adding plenty of cushions and roll out an outdoor rug to create an even more outdoor living room feel.
15. Create home bar – instantly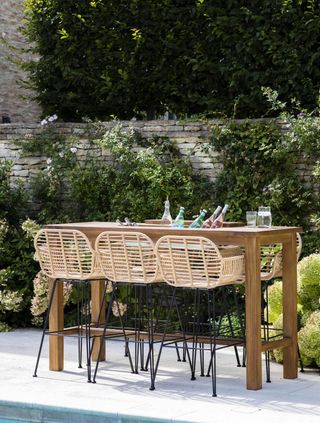 Bar stools are fun and create a cool and intimate atmosphere; and – if you are very lucky and have a swimming pool – they can contribute to a poolside bar look that is just perfect for a garden party.
16. Create an outdoor living room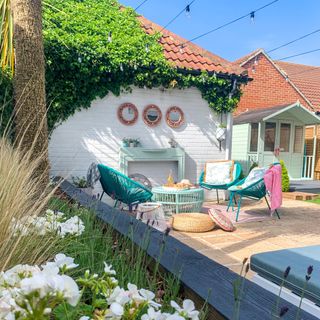 If you want to create a relaxed, laid-back atmosphere at your garden party, switch the tables for floor cushions, outdoor sofas and coffee tables. Add to that living room feel by adding plenty of throws and pop down a rug too. Be sure to avoid indoor furniture outside though – it's one of the worst patio decorating mistakes!
17. Find a great garden party dining set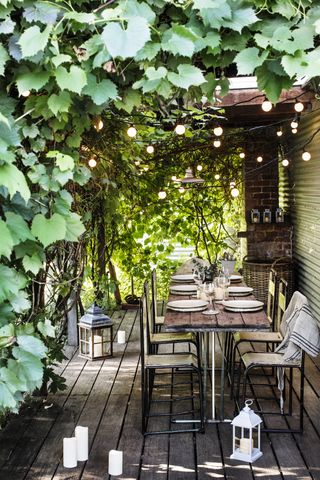 For a complete garden party experience – think nice, long dinner, followed by a nice, long conversation – nothing beats a proper outdoor dining set. Set your expectations high: it should be well-built, spacious, and cater to all weathers. Oh, and, of course, it should be good-looking.
18. Throw an impromptu cocktail party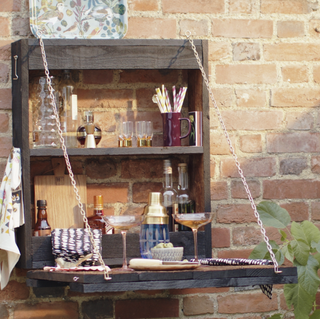 There's nothing like a refreshing Margarita on a hot day – or a fruity mocktail, if alcohol isn't your thing. One thing's certain: no fab garden cocktail party is complete without a gorgeous cocktail shaker.
19. Minimise food prep with a cheese board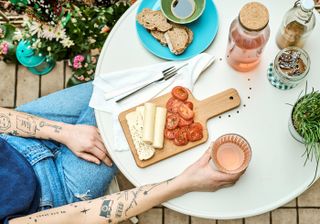 Don't fancy doing lots of cooking for your garden party? Especially if you'll be hosting in a small patio or on a balcony, big plates of food might not be practical. Instead, serve a chic cheese and charcuterie board that people can dip in and out of as they choose.
20. Go full rustic with low seating in a country garden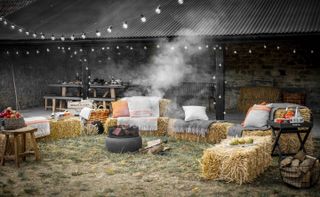 We admit that to recreate this garden idea in your garden you probably would need to live on a farm, but what could be more romantic than the idea of enjoying an evening with friends on some hay bales? If you don't live anywhere near any hay, try bean bag seating instead.
21.
22. Go boho and relaxed for an easygoing garden party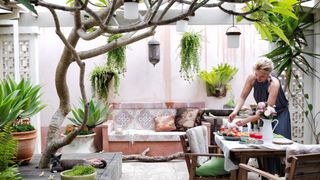 If you don't feel like hosting a sit-down dinner, but still want to make sure your guests are well-fed, go Scandinavian and create a buffet-style table with salads, sandwiches, and drinks. That way, you won't need to worry about everyone finishing eating at the same time.
23. Combine formal and rustic elements in your dining scheme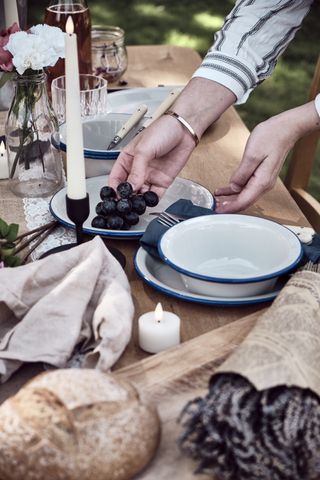 Garden design is all about mixing modern rustic and more contemporary styles at the moment, and the same goes for your garden party. Think combining rustic-style, linen napkins and cushions with more formal elements such as a candle holder and crystal glasses.
24. Be prepared for rain and shine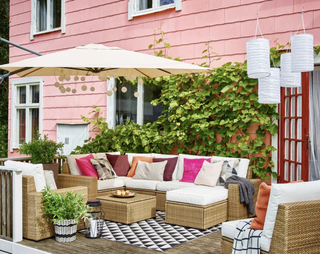 It doesn't matter where in the world you are, you can bet that, as soon as you set a date for a garden party, the weather misbehaves. So, we'd always advise preparing ahead for rain and shine. Gazebos are great, parasols look pretty and are forever useful and wind/sun sail shades are a quick fix. Whichever, just make sure there's enough shelter for all. Find more of the best garden parasols in our buyer's guide.