A blank wall, in our opinion, is a sad wall. So we've brought together all our favorite living room wall ideas to inspire you to get decorating that empty space. And minimalist, don't you go anywhere because when we say wall ideas, we don't just mean busy gallery walls and colorful feature walls, there are plenty of subtle ways to bring some interest to your blank spaces.
Decorating your living room walls, or any walls in your home for that matter, is such an easy project you can do yourself and can bring in so much personality. There are loads of budget-friendly ways to revamp a wall too if you are just after a quick, cheap living room update.
So whether you are after some stylish ways to cover up some not-so-pretty inherited wallpaper, or want to add some beachy vibes with shiplap, we have plenty of gorgeous living room walls to get you inspired.
1. Create a (minimalist) gallery wall
Let's start off with the classic way to decorate a blank space – a gallery wall. It's by far the easiest living room wall idea and can upgrade a space in just a few hours. Gallery walls as a trend has stuck for years now, but the most stylish ways to do them does change from time to time and right now, we are seeing less of that 'throw everything at your wall, prints, photos, framed and not framed,' very eclectic look and more of a minimalist approach.
It just looks more... sophisticated and expensive, despite being able to recreate the look for under $100. The key is to pick a color scheme so there's a cohesive feeling to all the prints, then stick to just two or three frame sizes and create clean lines within your layout.
2. Frame a gallery wall
We love how this gallery wall has been framed with a border of black around this lovely soft peachy hue. It makes this area of the open plan space feel cozier and smaller even, which isn't a bad thing here. The prints all work with the monochrome color scheme, but there's an informality there too where the prints overlap with the border, it's just a more interesting layout than if they all sat neatly within the framed edge.
3. Expose a brick wall
Exposed brick walls have long been seen as a holy grail of interiors, the perfect solution for creating a stylish, yet understated, feature wall in your living room. For some lucky homeowners, stripping away an ugly drywall is all it takes to reveal a beautiful brick wall that lends itself to a range of interiors styles; from country to industrial. This is a project you could do yourself, however, if you are a DIY novice or unsure what lies behind your plaster wall we would recommend asking a professional for advice.
And if you don't fancy exposing the literal building blocks of your home, why not just fake the look with wallpaper? Check out Wayfair they have loads of realistic, affordable options.
4. Get creative with mirrors
Mirror walls and displays are a really on trend take on the galley wall, and are perfect for living rooms that either don't get much light or have a darker color palette. A cluster of mirrors look super stylish, brings in that all important texture, but from a practical perspective they also bounce more light around a space making it feel larger and brighter.
5. Add a feature wall with wallpaper
If you don't have the creative skills to paint your own mural, add in some pattern and color with wallpaper instead. Wallpaper is a great option for those of us who can't commit and if your style changes frequently because it's really easy to put up yourself and not too tricky to take down either, especially if you go for a peel and stick option.
We're obsessed with the greens and pinks in this gorgeous wallpaper by British designer Lucy Tiffney.
6. Paint your blank walls black
We couldn't ignore paint. It might seem like a very basic living room wall idea, but if you go bold with your colors it can totally transform your room. Black living rooms are having a bit of a moment and we think paired with some creamy whites and wooden furniture to warm it up, it's a look that can work in any living room.
And if you want to just test out the dark side, why not try one wall to start with and hang some lighter colored prints in light wooden frames on top to tone down all that black. Give it a go!
7. Bring in texture with a shiplap wall
Ah shiplap, you can't scroll very far through Instagram without seeing some lovely light-filled space, probably not far from the ocean, filled with rattan furniture, and of course a shiplap wall. They just instantly give a room a more laid-back beachy vibe, and are a great way to cover a sad-looking wall. You can actually DIY the look yourself too using wood boards or you can pick up a kit (check out Lowe's for cheap options).
8. DIY herringbone paneling on your living room walls
And for something a bit more unique, check out this cool herringbone design. Again, really easy to DIY using boards and nails. In this living room, the boards have been left bare so you get that lovely natural texture but for a more subtle look, you could always paint it to match your other walls, so you still get that accent wall just in a more cohesive way.
9. Cover a living room wall with shelving
Break up the monotony of all white walls with a wall of shelving. Not only does it give you some added storage space, it's also an opportunity to add some decor and personality into your living room. Go floor to ceiling to really make your shelving a feature and think about how you style your books to make them more of a feature of the room. Try laying some horizontally to create a more relaxed feel, add in some houseplants, dot around some more decorative items like candles and vases.
10. Mix shelving into a well curated gallery wall
In a more neutral living room, where bold colors aren't going to work with your aesthetic, you really want your wall decor to be adding texture. And one way to do this is to bring plants into your gallery walls. Hang a shelf as part of your design to give the wall a 3D element and then perch your greenery there. Position larger houseplants underneath to bring in even more of that lovely natural texture.
Top tip to take from this living room: don't be afraid to bring your prints further down the wall. A load of prints just sat floating in the center of the wall can look a bit awkward.
11. Pick one piece of statement artwork
If you aren't willing to part with your all white walls, sometimes all that's needed to break up that sea of blank space is a single piece of artwork. And it needn't be super bold or colorful either, just go big and position it somewhere it's going to be the focus – above a fireplace or over the sofa would work best, an area of the room the eye is immediately drawn to.
12. Combine wallpaper and prints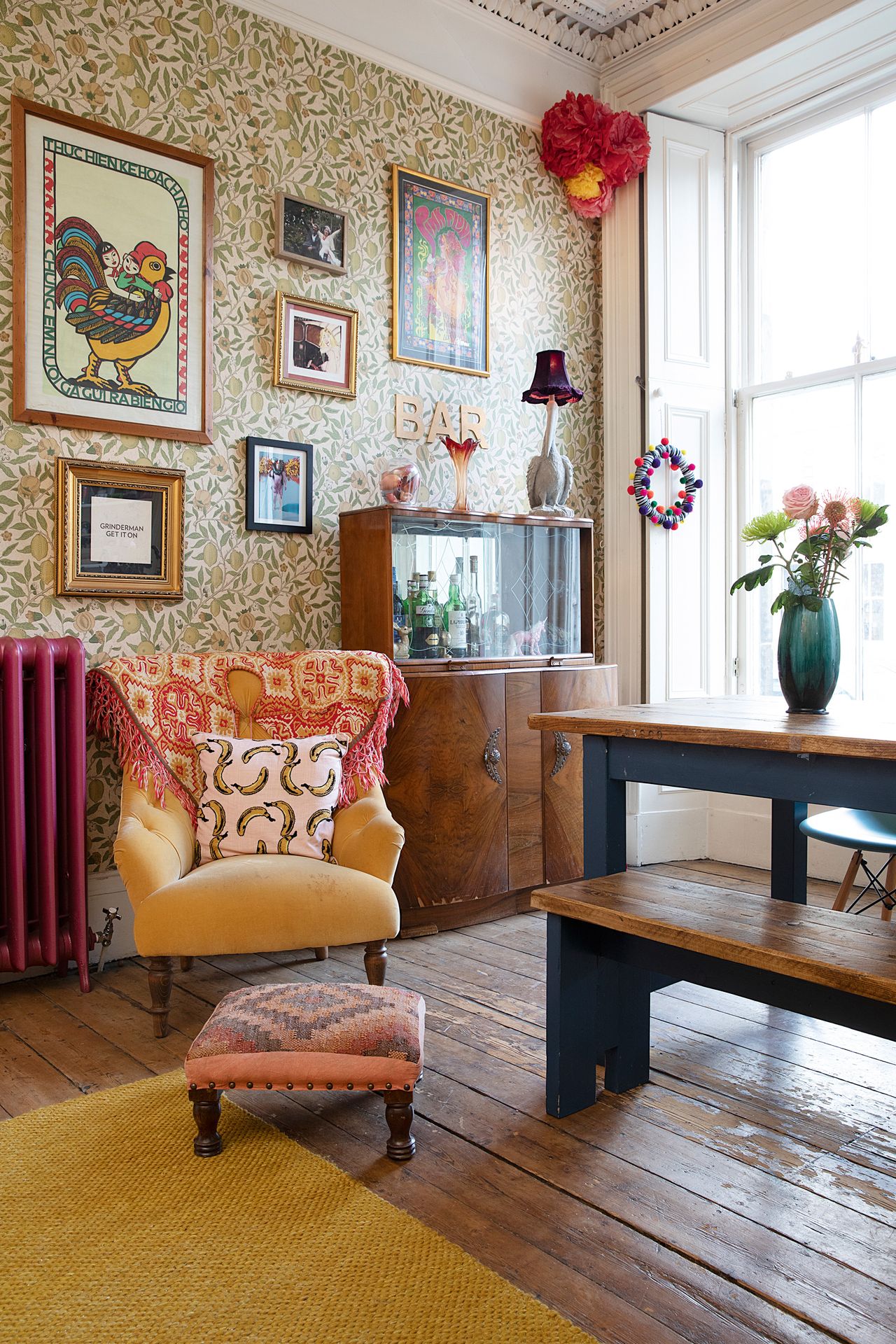 We've talked a fair bit about hanging prints, and about using wallpaper in your living room too, but why not combine both for a bang-on-trend maximalist look. We love the contrast in this living room with the very traditional wallpaper and then cool, quirky prints. There's is a bit of a color scheme going on with the warmer tones too which actually tones down the look keeps it feeling more curated and sophisticated.
Which wall should be the accent wall in a living room?
The best wall to make your accent wall will depend on the layout of your space and if you have any original features. If you have a fireplace in your living room, that's already an obvious focal point so enhancing the wall above that with prints or paint would be a good choice.
If you don't have any particularly features in your space, just see if any walls stand out. When you walk in the room are your eyes drawn to a particular space? Or try sitting on your sofa and deciding do you want to be able to see your accent wall while you are in the most used part of the room or would behind your sofa work best. Also think about where your furniture is, you'll want an accent wall to be mainly unobstructed so it doesn't feel too busy.