Growing up watching Disney movies, I've always wanted to organize a bookshelf like Belle. You see, the thing is — I have tonnes of books. But I often ghost them to scroll on my phone instead. That was until stumbled across glam bookshelf organization grid posts.
There's something about a fashionably-filled bookshelf that adds that je ne sais quois to a space — whether it's a home office or a cozy living room. But gorgeous book storage doesn't just happen. It takes a serious amount of thought and careful consideration to make it functional and fabulous.
I've rounded up a handful of expert-approved tips and hacks that will ensure your bookshelf looks great and functions properly to add a decorative element to organizing a small apartment. From being strategic with oversized books to clever color and decor placement — read on.
Start by putting heavier items first
When organizing a bookshelf, you want to be sure you place any heavier objects– like art books or storage bins on the bottom shelves, says Andre Kazimierski, CEO, of Improovy. Any lighter objects, such as paperbacks or trinkets, should go towards the top. This will create a more well-rounded effect and will also make the shelves sturdier and safer.
Declutter your shelves
Before beginning to organize a shelf (or shelves) of books, it's important to start by sorting through the books and purging or donating any that are no longer needed, says Stacey Agin Murray, Professional Organizer at Organized Artistry, LLC. Eliminate anything that isn't serving!
Consider adjustable shelving
"If you have oversized books in your collection, place them on a shelf that is adjustable," suggests Murray. "No adjustable shelves? Consider laying them down —spine facing outward and stacking a few one on top of another."
You could even go super-small with a 2-in-1 bookshelf/desk organizer!
Group your favorite books together
If you tend to pick up the same books over and over, you'll want to consider putting them all in one specific spot. "Group 'favorite' books together on shelves. They'll be easy to find when you want or need the comfort of a familiar or cherished book," says Murray.
Stack 'em up
"To break things up, and fit more books on the shelf, I like to stack books," says Jessica Nickerson, home styling and DIY expert. "You can use the stacks as bookends or even style the top with a picture frame or Tchotchke."
Consider vintage books
Want to fill out your bookshelf so it looks more put together? Consider shopping for second-hand books to grow your library quickly. "In the past, I've used Facebook Marketplace to find old editions of National Geographic for my husband," says Nickerson. "You can also grow your book collection by searching for 'antique' or 'vintage' books."
Or, if you deactivated your FB profile post-college — why not try eBay (FYI — it's not just for Boomers!)
Mix your books with other decor items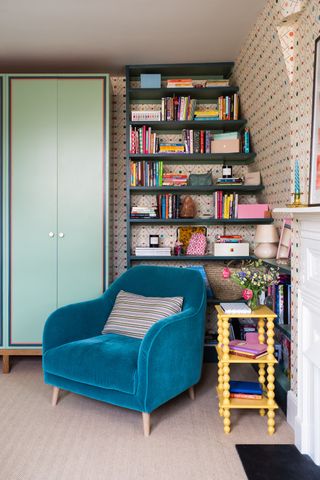 "We love to mix books with objects, lights, and even artwork," says Kate Guinness, founder of Kate Guinness Design. "Using a mixture of larger art books lying down and novels standing up works well — it's important to create balance rather than necessarily aiming for total symmetry."
I'm totally digging the multifunctional ottoman from Target below — it's perfect for small shoe storage, and you you can even organize books in it. A great piece of furniture for your hall or entryway.
Don't overstuff your bookcase
"Books are such an important part of a home, we love using them in our projects," says Guinness. "Not only do they make a space feel lived in but are a great way to insert pops of color in a room."
"The best way to ensure books will look good, regardless of whether you've organized them or not, is by sourcing the most attractive copies you can. Creating a picture-perfect bookcase is certainly an art, arranging them by color looks good whilst ensuring you don't pack too much in when combining them with other objects."
Embrace the rainbow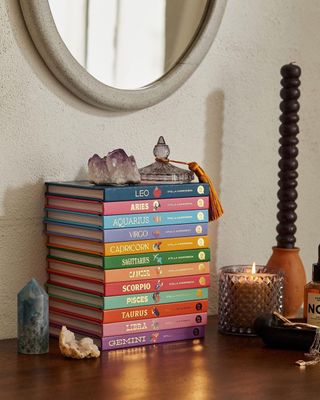 "If books aren't referenced regularly, forget alphabetizing and organize by color instead. 'I'm a big proponent of color-coordinated books," says Pattie Kelly, president of Inspired Home Interiors. "They are so pleasing to look at and we look at them every day, which far outweighs the 30-seconds longer it may take to find the one you want, which only happens on occasion. It's calming and pleasing to the eye, and makes a great Zoom background too."
Empty space is ok
"Every inch does not need to be filled with something," says Kelly. "Consider the empty space a breath before you start the next thing — we need to breathe and so do our bookcases."
Keep decorative items looking forward
It might be tempting to angle your decorative items toward the center of the room — but it might be worth keeping everything straight instead. "Fight the impulse to angle decorative items toward the center of the room," says Kelly. "It will look more sophisticated with items facing straight out from the shelf."
How should I style a bookshelf?
Go personal: "Books are personal items — place other personal items on your bookshelves such as framed photographs, decorative objects, and real or artificial plants for it to look less like a bookstore and more like a space dedicated to the things that you love and appreciate," suggests Murray.
Consider practicality: Although the latest trend is to style bookshelves according to the colors of the rainbow, it might be impractical if you do tend to reference your bookshelf often. Most people remember an author's name or a book's title as opposed to what color the cover and spine are. Style for beauty but also for functionality.
Think about oversized books: "If you have oversized books in your collection, place them either on a lower shelf or on a shelf that is adjustable. Lay them horizontally and stack them in an odd-numbered grouping, centering one on top of another," says Murray.
Consider bookends: Use decorative bookends to hold up groupings of books and to spice up your bookshelves.
How do I organize a bookshelf with a lot of books?
"Create pockets of 'negative' space where you can," suggests Murray. "Store taller books to the left and shorter books to the right to create space above the shorter books. An overstuffed bookcase can seem more airy with a bit of negative space."
Murray also suggests breaking up the visual lines of vertically stacked books with books stacked horizontally. Alternating the two groupings on shelves will create a pattern for the eye, making the bookshelf appear less stuffed.
How do I organize books like in a library?
Books in a library are often organized by the Dewey Decimal system in addition to being shelved in alphabetical and/or numerical order from left to right. "Unless a person owns hundreds of books, it's rare to see a numbering system in use in a home," says Murray. "To resemble a library, consider categorizing books on shelves by topic or alphabetically by author or title."
Similar to most libraries, you can also place oversized books on the bottom shelf while also keeping your bookshelves to a height that makes it easy to reach a book and read the titles on the top shelf without using a step stool.