Grey and brown are two colors that are often present all around our homes and they add balance to many interior spaces. But the thought of making them the key color combination in your living space can seem a little different and, daunting. However, when a grey and brown living room is done right, it makes for a super cozy and effortlessly stylish space.
Add a dash of chocolate or beige to your best grey living room ideas and it's a match made it heaven. The look can be executed in many different ways because, there are simply so many shades to pick from, and a plethora of trends to adopt. So one thing is for certain, no two lounges will look the same and, you'll easily be able to add a unique spin on your sitting room space.
Grey and brown living rooms that are beautiful
From light Scandinavian schemes to fiercely dark and dramatic family rooms, there's every reason to give in to ash, chocolate and charcoal hues. 'Set the scene with a statement brown sofa in leather or velvet, and then introduce one or two contemporary storage pieces like a bookcase or TV stand finished in a dark brown lacquer or veneer.' says Aneta Skoczek, interior stylist at Furniture Village.
'Slate walls and open-plan spaces are lovely, but sometimes they're crying out for some color. Dark wood has a natural warmth and stops your living room from feeling too cold.'
1. Create a homey Scandi scheme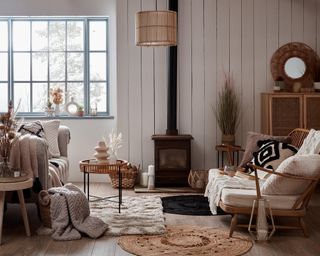 Our living rooms should be a comfy and cozy places that we can nest and find sanctuary in, whether we're sleepy, stressed or simply just want to spend time with family. Nordic interiors are the personification of this with their hygge homewares including tactile throws and light wood decor.
You don't need to try hard to incorporate these textures in grey and brown living rooms, as Mother Nature has done the hard work for you. Style your scheme with nature-derived materials including a light brown jute rug, rattan furniture and cute cane details.
'Showcase your effortless Scandi style with carefully curated accessories.' says Tom St Quintin, buyer at Furniture Village.
2. Use light grey and brown in a warm, clean scheme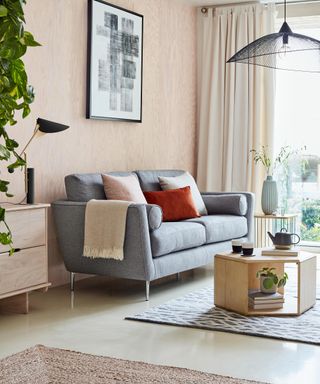 Pairing subtle grey accents with light brown hues in your drapery, furniture and even tapestry is sure to make your space more inviting. You can even break up grey by choosing patterned prints as seen in this living room's rug and by opting for living room lighting like ceiling pendants that are netted in design for more interest.
3. Make a statement with metallic finishes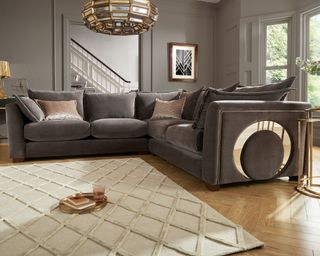 If you want to create a luxurious mocha brown and grey living room that's worthy of holding premium real estate on your Instagram grid, choose rich colors and cozy textures. A high pile rug is a must for more depth while adding gilded accents will bring a touch of glamour and modernity to your grey and brown scheme also.
'Gold, chrome or rose gold all work, but it's best to stick to one color choice to maintain visual coherence,' says Rebecca Snowden, interior style advisor at Furniture and Choice.
'As light reflects off these surfaces to brighten and visually enlarge the space, having thin-legged furniture with metallic finishes will present a look that's open and clean.'
4. Create a cocooning grey-khaki living room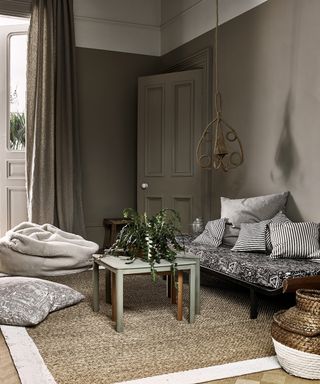 When collating inspo for grey and brown living rooms – don't be afraid to go to the dark side. By opting for a green-grey shade like khaki, you can create a cocooning den that'll feel deliciously indulgent instead, instead of muddy and murky. Perfect for designers whose first question is: 'Is grey paint is going out of style?' This particular shade is none other than color expert, Annie Sloan's, French Linen.
Mix with cleaner shades of sage green that'll bring together a fresh, forest hideout feel. Why not upcycle a nest of tables using green paint to add a splash of vibrant and verdant tones to this dramatic space.
5. Add a gallery wall to a chic chocolate and grey space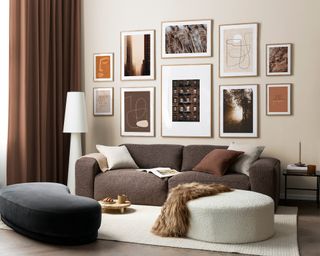 When creating a grey and brown living room, curating a gallery wall is much more than just hanging a few pictures here and there. You can have so much fun with these two colors. For example, mix greyscale photography with sepia styles or have fun with abstract art and line drawings.
It's a modern way to express your interior personality and get those cherished photos off your phone storage, reproduced from an old physical photo album or from your social media feed.
6. Create a light and dark contrast with charcoal grey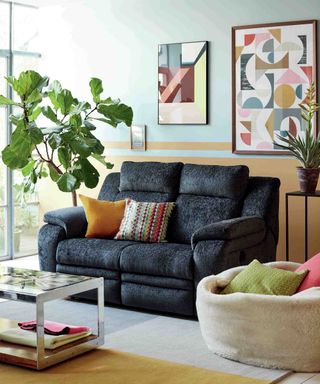 When searching for the best grey sofas, look to all the shades of grey... Including darker charcoals and anthracite.
Experiment with a contrast between light and dark with an almost-black furniture choice and honeyed tones on your living room wall decor. This fun grey and brown living room idea includes lots of little color pops scattered throughout the scene through the use of framed geometric wall art and a color-blocked rug.
7. Go retro with Seventies-style decor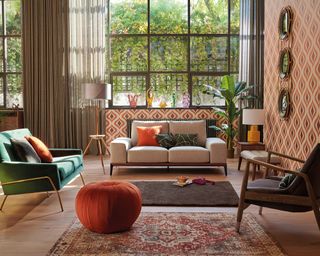 Earthy tones of brown, rust and terracotta are so synonymous with Seventies decor. But if you want to freshen up a retro and rustic living room, add groovy grey into the mix.
We love this brown and orange statement living room wallpaper which is so psychedelically-chic. But before things get a bit overly orange, the grey rug in the center of the room is there to break up this zesty scene.
8. Relax in style with an industrial Boho scheme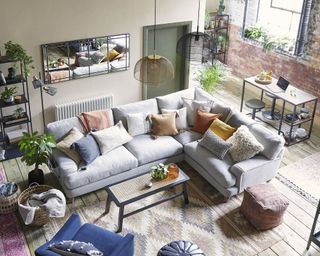 This industrial boho take on a grey and brown living room is perfect for a loft apartment design and is brimming with character. We're talking exposed brick walls, floorboards, and metal and concrete all round.
While industrial furniture has a warehouse feel, it's easy to make it feel snug with comforting grey and brown accessories.
Skoczek says: 'A pebble or slate-colored rug lifts the whole space and provides cozy comfort underfoot. Boost your mood with plants and vases, and don't forget to add personal touches like family photos and mementos.'
9. Add texture with boucle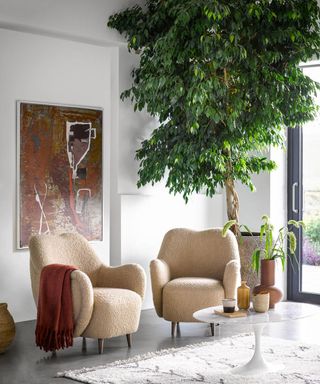 Biophilic brown and grey living rooms are one thing. But if you really want to elevate a woodland-inspired aesthetic, add cozy, bear-like, boucle.
Also known as teddy material, this looped yarn is the texture that your living room is literally yearning for. And that oversized indoor plant: the perfect conversation starter.
10. Create a modern farmhouse feel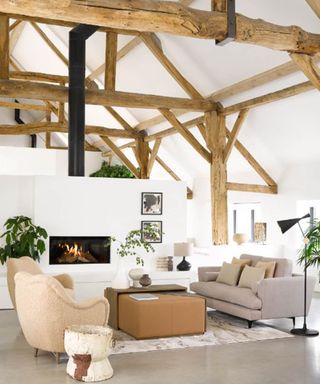 A wooden beamed, vaulted ceiling, and cozy cassette fireplace – is there anything dreamier than this modern rustic living room? It's got all the classic and familiar elements of a lounge space, but it's been given a contemporary makeover.
Position two types of sofa furniture opposite each other, and prop a coffee table or ottoman in the middle to create the perfect space to catch-up. From morning to evening this setup is perfect for casual cappuccinos and evening espresso martinis alike.
'Combine neutral walls with beige, oatmeal, and biscuity accents in your soft furnishings and round the look off with an abundance of throws and rugs in thick, cozy materials such as wool to create a snug, homely feel.' says Heather Hacket, design manager for Christy England.
11. Warm up a cool grey scheme with a tan leather sofa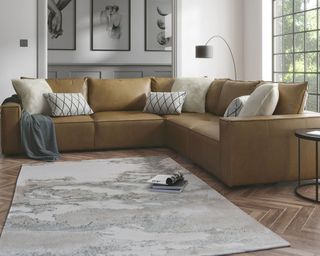 Just grey alone can risk feeling a little cold but complementing your scheme with a tan brown leather sofa is a great way to warm it up. The best leather sofa looks have been handpicked by our home experts, and we can promise there'll be no boring tumbleweeds blowing in your interior space.
12. Go industrial, but make it comfy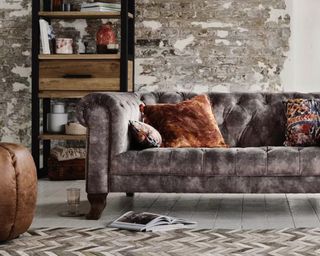 While industrial furniture has a warehouse-like and masculine edge, it's easy to make it cozy and feminine with comforting grey and brown accessories.
You can also lighten your space with concrete-effect accents like side tables and coffee tables. They're hardwearing but light enough to contrast against the darker tones of the look. Not to mention super-practical too.
And don't forget about your living room storage. Cabinets, bookshelves and dressers can be the be all and end all of your grey and brown living room if they're not styled correctly.
13. Add interest with a palm grey wallpaper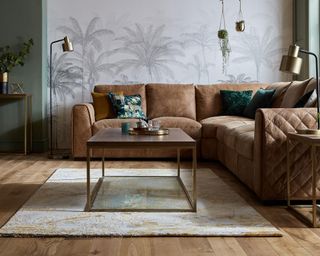 We can't all be blessed with interiors by the coast or a warm, tropical climate, but if you want to fake a balmy grey and brown living room, say hello to picturesque palm tree motifs.
This grey living room wallpaper is great for faking the fact that OK, we might not be living our best like by the beach, but a girl can dream right? Bring the tree scene to life with macrame and hanging plants. And, to add a boujie vibe to your Bora Bora daydream, brass fixtures are where it's at baby.
'There's something about brass and brown accessories which really elevate grey living spaces. Warm and earthy, they're perfect for shabby chic and more glam looks.' says Skoczek.
14. Opt for cozy carpet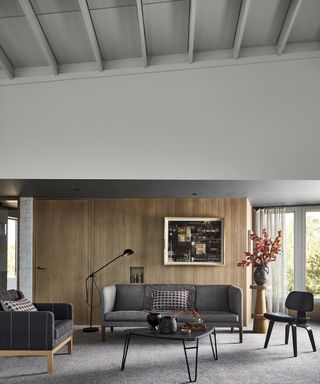 One of the most affordable and soft-to-the-touch living room flooring options, carpet is a budget-friendly and family-appropriate choice for grey and brown living rooms.
'Carpet is the perfect choice to give your home that cozy feeling,' says Punam Chada, buyer at Carpetright.
'Tactile underfoot, it not only feels cosseting but the natural insulating qualities make it an excellent choice throughout the home. If you want to create the ultimate in luxury, opt for a deep pile to create an opulent and relaxing space.'
How to maximize coziness in a grey and brown living room
'Decorate your living room with grey paired with natural elements,' says Annica Wallin, executive creative director, Desenio.
'Display your black and white posters in a collage, and mix in oak frames to elegantly add wood details to the grey decor. Oak frames paired with other accessories, such as wooden side tables, brown leather pillows, and green plants, make a living room more lively while contributing an elegant balance.'
How can I decorate a grey and brown living room cheaply?
Now the real fun starts. 'You can really go to town with accessories in a grey and brown living room,' says Skoczek.
'Remember, this look's all about texture. We're talking the softest velvets, extra-shaggy rugs, and lots of cushions - the more the better. As long as they're grey or silver.'
Can you have grey walls and brown furniture?
Using either brown or grey on the walls then furniture in the other part of this color duo is an easy way to introduce this scheme into your living room space. 'Neutral tones work just as well with a grey sofa,' says Joanna Thornhill, author at Oak Furniture Land.
'Choose browner shades for your walls, such as a beige or tan and match them with similarly toned accessories for a more Scandi-style look. You can also achieve this look with white walls to match your grey sofa, pairing this with neutral toned cushions and throws, or bright shades for a pop of color.'
'If bold is more your thing, reddish-brown tones are known to really lift and complement greys. Choose brick red or russet wallpaper as a feature wall, or go wild with all over color paint on the walls.'