It's amazing how some of the simplest DIY projects can be so transformative. It's all too easy to think that you have to tear down walls and start from scratch when you want to re-style a room or even part of your backyard. But sometimes, all you need is a micro change to breathe new life into your space.
Think: a little grout, stencils to mimic tiles, an innovative (but easy) way to glow up old chairs or a piece of furniture that looks a bit too new. Easy to do (and easy on the budget) – whether you have a couple of hours to entertain the kids, or if you want to spend the whole day dabbling in DIY – these pro ideas are sure to inspire you.
1. Paint tired looking tiles
A quick lick of paint will refresh most spaces and if your backsplash or another tiled space in your home is looking lackluster, this is a cheap, quick and very easy DIY job that will add a touch more style to your surroundings. We have a guide on how to paint tiles if this is the DIY project for you.
2. Upcycle furniture for a vintage look
We aren't all gifted with the talent of finding vintage gems in local flea markets... If that sounds familiar then make use of DIY ideas that help you fake it. Be the envy of your friends by upcycling drab furniture and giving it a vintage feel. This is where wallpaper samples come in handy...
3. Use pallets to make a vertical garden display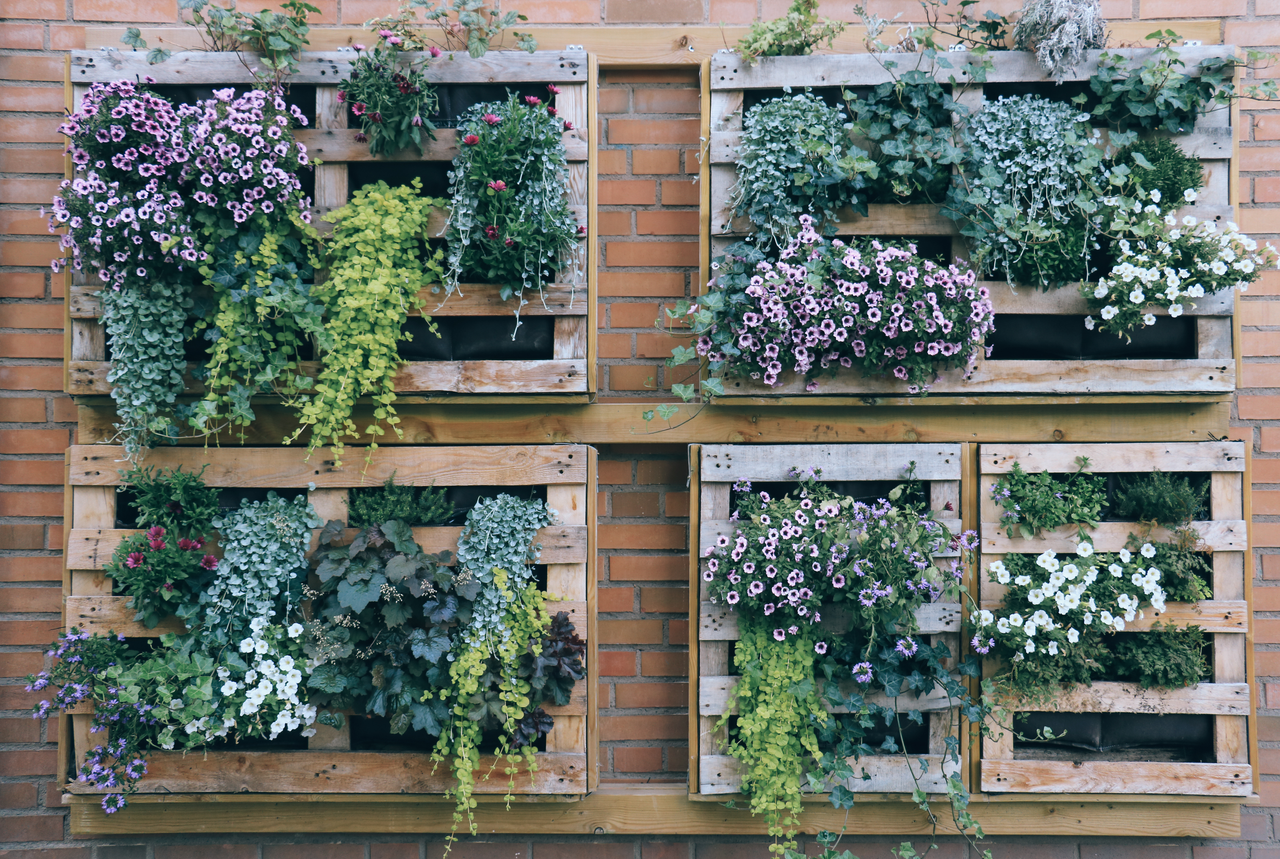 Leftover pallets lying around from a reno? Recycle them to make a gorgeously green DIY living wall. Keep them as they are and use trailing plants for lots of texture, and note that this is brilliant if you have plenty of space or hardly any outdoor space at all.
4. Build an outdoor bar
If you're up for a bit more of a challenge and have a weekend to spare, consider building your own outdoor bar with an easy step-by-step by Cuprinol. You need timber, your favorite paint, tools and then a little creativity when it comes to decorating the finished masterpiece.
5. Revive metal garden furniture with paint
Before replacing rusting and flaking garden chairs – you know the sort – consider giving them a new lease of life with paint.
6. Stencil your patio
At Real Homes we love a good stencil session, and DIY blogger Brooke Waite totally transformed her patio space with this cool and easy deco trick.
7. Stencil your floor inside too
You heard it, forget new flooring and take your stenciling inside for another one of the most budget-friendly and easy DIY ideas that you could definitely do in a day.
8. Make macramé
DIY wall hangings are a great way to add your own stamp on a room, not to mention a lot more affordable than buying them in store. So if it's raining outside, get creative with your crafting and make an impact with macramé.
9. Upgrade furniture with stencils for a DIY mid-century modern look
Another quick DIY project that will save you cash and time, using stencils on furniture will instantly perk up dated pieces. Check out our quick guide to stencilling furniture if you want a mid-century look.
10. DIY a makeup or toothbrush holder out of clay
The outcome is cute and this is a really fun DIY project that the kids can get involved with (and distracted by). You will need Polymer or Air Dry Clay (opens in new tab) (the latter is a no bake option) and we personally love Chezlin's youtube DIY (opens in new tab) video for this quick craft.
11. Build your own trellis with planter boxes
Making trellis is one of the easiest DIY projects going and Real Homes' Expert panelist Brooke Waite's method calls for your planter boxes that aren't in use...
12. Paint your kitchen the color of rosé
Grimy kitchen? Make it glow like your favorite wine, a very good rosé. Whether you do all the walls, or just one, it will add style to your space in no time.
13. Spray paint old (or new) picture frames
A literal five second job that will instantly add a pop of color to any space, grab your favorite colored spray paint and jazz up cheapy looking or boring frames for a stylish finish. Consider painting the inside border, too with this easy DIY project for more effect.
14. Give your tv stand a high-end makeover
If your TV takes center stage in your living room, ensure that your TV stand looks on point. Give our blogger's TV stand makeover with paint a whirl and watch how it adds more luxe to your living room.
15. Upcycle something you bought from IKEA
Whether you bought a wardrobe a really long time ago or found a bookcase at a flea market, upcycling those IKEA gems is still a super popular and clever DIY project. We are fans of this IKEA kitchen cabinet upcycle by Real Homes' Expert Jo Lemos, who made a cool DIY project out of his old kitchen as a cheap and stylish alternative to leaving it to the landfill.
16. Craft a super cute vase
All you need is paint, a good brush, a vase of choice and a few hours. We'll show you the rest in our simple vase DIY project how-to.
17. Replace cabinet handles with leather straps for a bespoke look
So easily and beautifully done. Pick up your favorite leather drawer pulls (opens in new tab) and replace old handles on kitchen or any other cabinet for that matter for a stylish, mid-century finish.
18. Twine your desk chair
If your WFH desk chair is actually one you've snagged from the kitchen, give it a new look with a coat of paint and a little twine too.
19. DIY a new headboard
You can get so creative with DIY headboards and it's the perfect way to give your bedroom a mini makeover without spending a fortune or losing too much sleep!
20. Make an accent wall your latest DIY project
If you're in a hurry, one of the easiest DIY projects to tackle in a day and that's sure to make an impact, is to paint an ombre or other feature wall.
21. Refresh your kitchen cabinets
When you learn how to paint kitchen cabinets properly, the world of décor is your oyster. Go bold with yellow or choose a more neutral color to inject some serious style into your cooking space.
22. Add character to furniture with a country style paint effect
Not just reserved for Shabby Chic lovers, who knew a few coats of paint and steel wool could create such a lovely country effect? Try your hand at it to add more character to your home in a matter of hours.
23. DIY rustic table name holders out of wood
If you've got a dinner party on the calendar and want to make it cute to boot, perfect your table décor with homemade name holders. All you need is a collection of old wine corks, or some spare pieces of dry wood. Cut them into shape carefully, adding a small slit in the top side, and there you have it. You could even paint them to suit the theme of your party if you have more time to give to this DIY project.
24. Use popsicle sticks to upcycle old furniture
This popsicle stick DIY worked wonders on this desk but it's a great way to jazz up other plain bits of furniture too. Think the Ikea BEKVÄM step stool for starters... And we could go on. Budget-friendly, resourceful and stylish, what more could you want from an easy DIY project?
25. Paint your garage door yourself
Why not up your curb appeal while you're at it? Simply painting your garage door(s) could be the final touch your home's exterior needs and it's an easy enough DIY project to do when it's not raining! You could up your game furthermore and paint it to have a wood effect...
26. DIY a hanging shelf with rope
Take your shelving ideas up a notch by experimenting with different ways to hang a shelf. Think leftover planks, spare rope, colorful accents and more for a cool display. For a different DIY floating shelf look, building contractor, Aaron Donovan of AD Services (opens in new tab) says, 'This is a simple project and the only thing you'll need is a drill (Or a really strong arm and a screwdriver!).'
Grab yourself some rope, cotton works well or sisal rope, around 25 ft long. For the shelves, an ideal size is about 8" wide and 24" long, about 0.85" thick. However, this is up to you and whatever you're feeling.
Next, drill your holes for the rope, handy tip here is to make some sort of measure for yourself when you're drilling on the different pieces of wood. We've seen people use paper cut outs with measurements to ensure they're cutting in the right spot. You'll want to use a ¾" drill bit and drill the holes about 1.5" in from the corner.
Now, you want to make the knots in your rope that will keep the shelves secure. Cut your rope to about 12.5" long and then fold it in half and begin making your first 2 knots, one around 11" from the halfway point and another about 13" from the mid point.
Begin to thread your rope through the 2 holes on the top shelf, then follow this up with a knot on the underside of each hole and repeat. In terms of hanging, you can use a variety of different options but in order to have the shelf have any practical input, you're going to want to use some sort of durable hook that is screwed into the wall.
27. DIY your shed with a new color
An easy way to cheer up your backyard space, and the view from the inside. Paint the exterior for a quick DIY project and if you have more time, think about painting the inside too...
28. DIY bath panels with cane
Cane anything just looks incredible. So modern and cool yet boho with all the natural vibes going. Victoria over on @thisenglishhome (opens in new tab) did an incredible job on her DIY cane bath paneling and it's a quick, low cost project very much worth copying.
29. Re-grout tiles with color (or glitter)
The glitter grout micro trend was a cool one and what a way to liven up plain tile? Use a grout pen to brighten up white grout between metro tiles or to simply (and cheaply) give yours a new lease of life in a matter of hours.
30. Make your garden path look beautifully aged with yoghurt
This is a trick that Monty Don used apparently, simply dilute some yogurt with water and brush it on to your path on a dry day so that the solution stays in place and you should then get a nicely weathered finish.
31. Propagate your houseplants for an indoor jungle – fast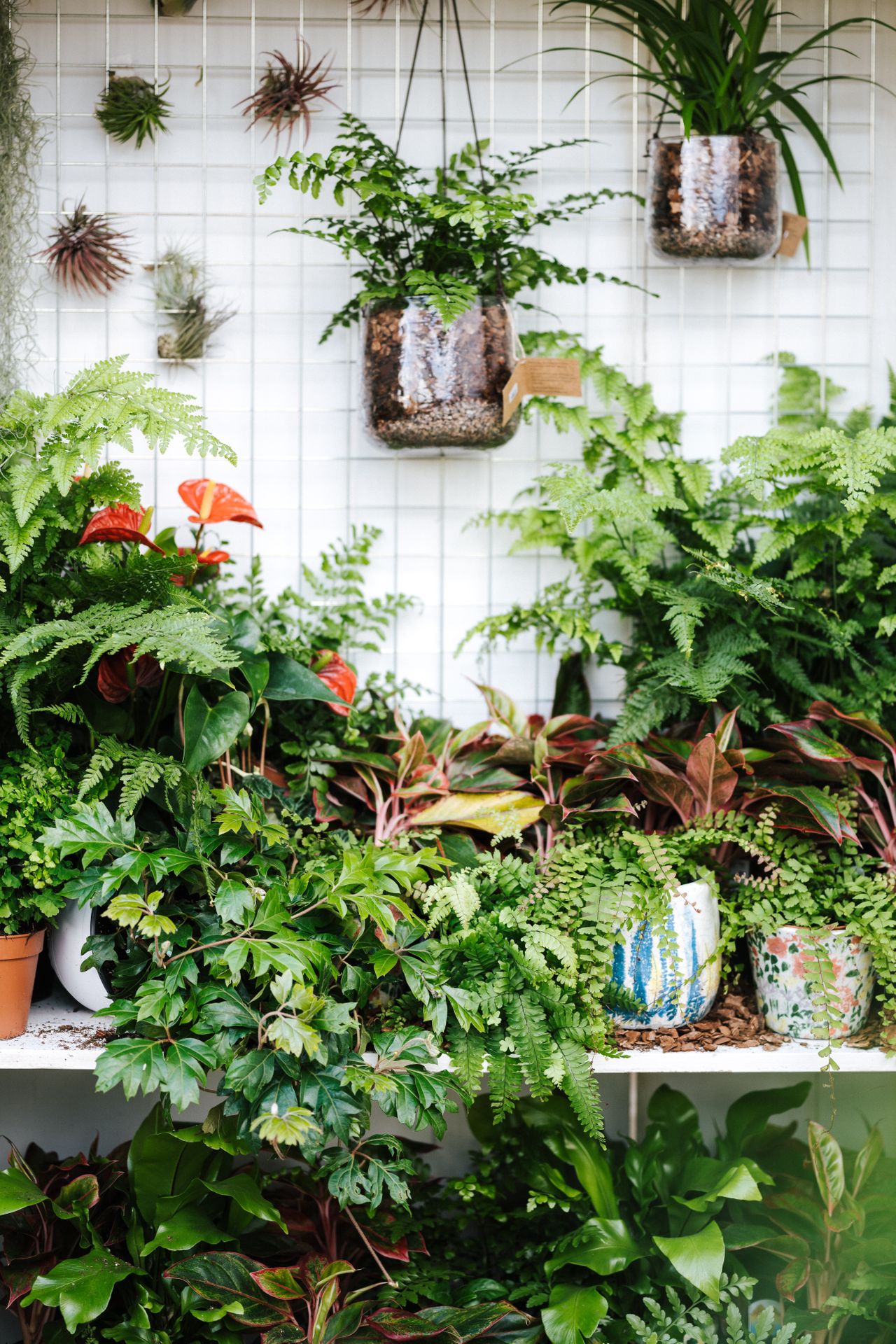 Multiply your favorites by leaf, root cutting or another weird and wonderful way and in a matter of weeks you'll have a veritable jungle in the making, for free!
32. Paint a faux dado rail
See how this fake painted dado rail creates a headboard in this gorgeous pink room? Copy this idea by measuring a quarter of the way up your bedroom wall and use masking tape to mark a straight line. Then just follow the same instructions above – paint, let dry, remove tape, done.
We think this look works best if you use a darker color for the lower portion of the wall and keep it lighter on top. But mix up your wall painting ideas however it suits you.
33. DIY kitchen storage jars with chalkboard paint
We couldn't do a DIY ideas feature without including some kind of storage hack, it's a Marie Kondo world and we're just loving living in it. This DIY project is a great way to make the most of all those pasta sauce jars you have been hoarding under your sink – just head over to our simple step-by-step DIY chalkboard Mason jar labels to find out how.
34. DIY an artistic chalkboard
So maybe our chalkboard wall won't look as glorious as Instagrammer Theresa Gromski's, but this super easy DIY project can quickly add a load of interest to your space. Paint a chalkboard in your kid's bedroom and let them go to town, or add one to your kitchen and use it as a place to write your shopping list, ooor paint one in your home office and turn it into a calendar or a massive to do list.
35. DIY lamps for the bedside and beyond
Love a good Ikea hack? This DIY project is for you. Get yourself an Ikea Ekby shelf bracket (opens in new tab), and a small pendant light of your choice, ideally one that plugs into the wall (Amazon sell loads of plug in pendant light kits (opens in new tab)). Wall-mount the shelf bracket next to your bed (or above the sofa or in the kitchen, wherever) and either thread the wire through the already existing holes in the bracket or wrap it around the bracket instead.
So, what are your weekend plans? 🛠