Entryways, in all types of homes, can usually benefit from much more space. But even if yours is very small and narrow, you'll often be able to keep a mudroom. And, by squeezing in the most functional mudroom storage ideas, yours will stay organized so that you can max out its purpose.
Classic storage benches and units are an obvious solution but, there are a few alternatives also that will help keep your favorite mudroom ideas looking neat and tidy to boot. Being clever with both open and closed storage will see you maximize your mudroom space without spending a ton of cash in the process. And, with so many stylish shop-bought or cool DIY looks to recreate, you're sure to add more personality to your home in the process.
Sarah Fishburne, Director of Trend and Design for The Home Depot says 'The mudroom has evolved into a multipurpose space for storing everything from sports equipment, seasonal gear, bags, umbrellas, and everything in between. An organized mudroom is essential for keeping your home decluttered.'
Clever mudroom storage ideas for an organized foyer
Gerri Chmiel, residential design lead at Formica Corporation says, 'Mudrooms are fun because they are low-pressure spaces you can truly personalize with unexpected colors or patterns to make it feel like your own. In addition, organization is key to designing a space that functions, especially because mudrooms can really set the tone for how you feel as you leave or enter your home.'
1. Built-in storage benches
Built-in mudroom storage benches will make for seamless organization. Letting you conceal less decorative items with a piece of furniture that adds design interest to the space also. DIY one to spec and combine with a shelf for a two-pronged approach to mudroom organization or, choose a standalone unit for a more budget-friendly option that you can move around as you please.
'Storage benches, like this Home Decorators Collection Laughlin Antique Blue Storage Bench, are versatile furniture pieces designed with lots of space for putting things away while also complementing the stylish parts of your home.' Adds Fishburne.
2. Modular wall units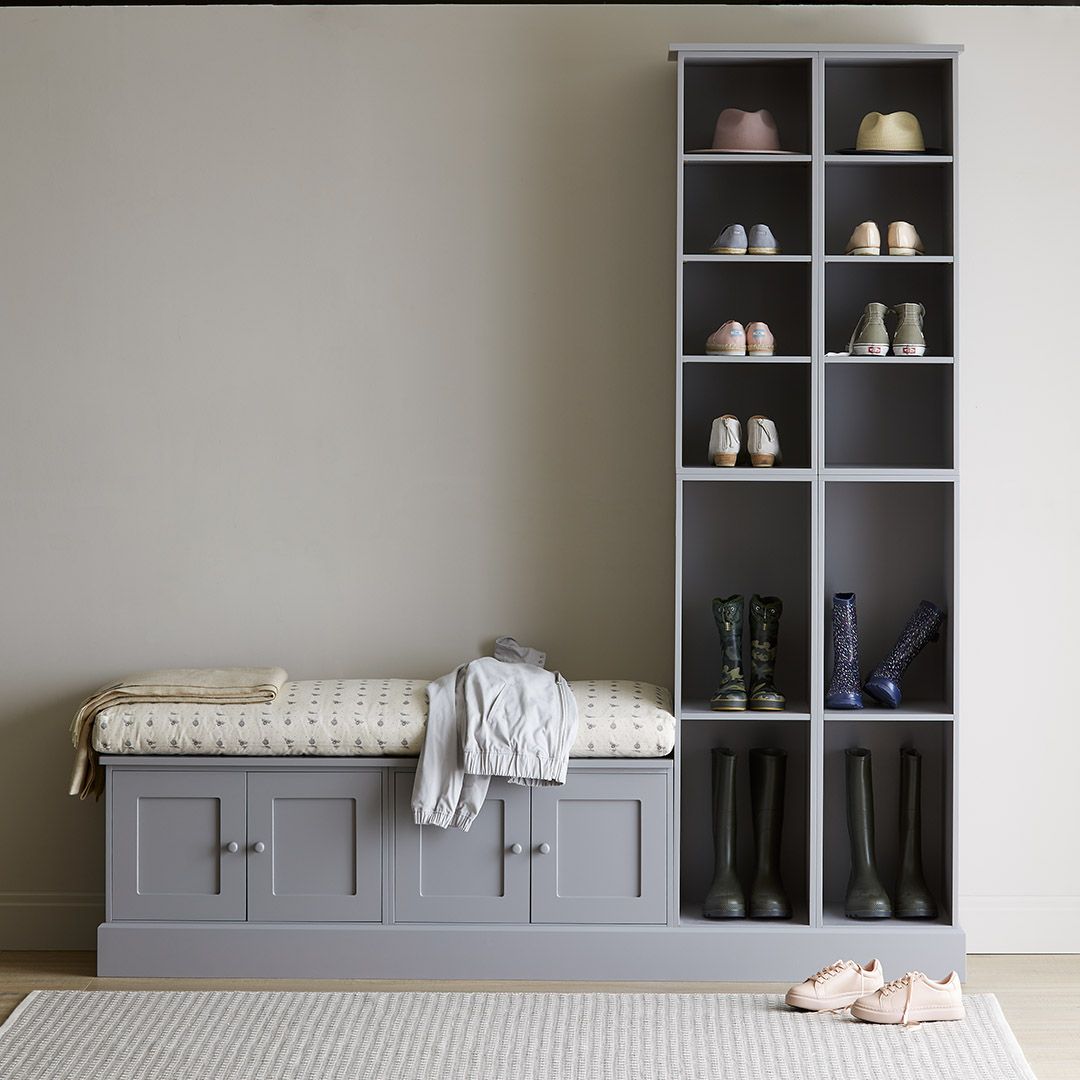 Modular wall units will let you tailor your mudroom storage to your household's needs without taking on a complete DIY project as such. Find a storage system where the base components can be used alone or fitted together in a row to create more storage and even mudroom seating for multi-functional purpose.
This modular unit is available on The Dormy House while The Home Depot has tones of modular options also.
3. Woven baskets
'If your style of bench seat has more open storage, you can easily add baskets or bins to the open shelves to increase your options. Decorative Storage Baskets are a great solution to keep things organized and contained while adding a creative touch.' Says Fishburne.
Tom Howley, Design Director at the eponymous kitchen company adds 'Traditional bench seating with integrated storage is a must. It's the perfect place to remove muddy boots and gather everything you need for the day. You can choose either a painted wood finish with removable seat cushions for comfort or opt for a thick natural wood seat that can be easily wiped down. We also like to include pull out drawers or leave room for baskets underneath, maximising every inch of space.'
4. Floor to ceiling storage
Howley says 'Floor-to-ceiling solutions are excellent for bulky seasonal outdoor items which may not be used often. You can incorporate shelving and baskets into tall cupboards for bags, boots and other paraphernalia, even personalizing these spaces for each family member.' Even a little paint or spare wallpaper can make each person's space totally unique and, be sure to fill every inch with shoes, spare toys and more to max out on the storage capacity.
5. Open storage
Howley says 'Open storage is ideal for coats and everyday items such as dog leads that need to be easily accessed. Hooks are simple yet can make a stylish statement when added to paneled walls or set below open shelving. Although you want to keep clutter to a minimum, floating shelves are a fantastic styling opportunity, especially when displaying your favourite hats or bags.'
6. Repurposed kitchen units
Installing a new kitchen? Before you throw away those cabinets consider how they could make great mudroom storage and if you keep your sink installed you'll make your mudroom even more functional by creating a part utility room.
7. Hall trees
Hallstands are so useful to keep in your entryway, letting you hang coats, bags and more with the combination of open shelving and hooks. So they are a no-brainer unit when it comes to mudroom organization too. 'You can keep clutter under control with a hall tree and their many storage options. One of my favorites is the Home Decorators Collection Aberdeen Hall Tree which offers a myriad of organizational options for everything you need on your way out the door; from cubbies and hooks to drawers and its cushioned bench that provides a comfortable spot to put on your shoes.' Says Fishburne.
8. Wraparound versatility
If you have a little more space to play with in your mudroom you can afford to get creative with bespoke options that cater to the whole family's needs – including those of any pets. An integrated dog bed, tall mudroom lockers, a storage bench and open storage means that everything will have a home to ensure your mudroom space is totally clutter-free in all seasons.
9. Simple storage hooks
'Install decorative storage hooks at different heights for umbrellas, clothing, and hats. Mount a decorative piece at eye level like this Alaterre Furniture Cornerstone 36 in. W Wood with Concrete-Coating Coat Hook with Shelf to update your space and hold items like keys and coats.' Adds Fishburne. The added bonus of a hook shelf is that you can display more decorative items that enhance your favorite hallway ideas too.
10. DIY family drop zones
Fishburne says 'A great way to keep a busy household organized is by creating drop zones for each member of the family (this can even include your pets). This is a great habit for the family to have a dedicated place to drop book bags, briefcases, dirty shoes, leashes. Kids are not too young to start this habit and they will take it with them throughout their lives. You can also personalize the drop zones by family members with cubbies, hooks, lockers – even partitioning off with simple board and batten molding to create individual spaces.'
We like the idea of keeping simple pull out baskets at ground level for easy access, for each family member. Add color and texture with accessories to add appeal and to encourage everyone to use this mudroom organization system to its full capacity.
11. Small shoe racks
If you have a small entryway mudroom, even adding in a couple of small shoe storage ideas like racks will help keep muddy boots off the floor and in their own separate compartment for a tidier appearance. 'Shoe racks, such as the Benjara 17.7 in. H x 11.8 in. W x 26 in. H Pair Black and Brown 3 Tier Wood Top Shoe Rack, will help keep shoes organized and allow air to circulate around damp footwear.' Notes Fishburne.
12. Wire mail drop spot
Everyone needs a mail drop spot to keep a mudroom organized and using a simple wire basket can make a fine solution to avoid scattered bills and more mail all over your mudroom floor. We love the idea of a chalkboard for life organization too in this mudroom space.
Chmiel of Formica adds, 'We've loved when families have used our Formica® Writable Surfaces creatively in mudrooms to create visual calendars that are custom designed to fit their family's needs and bring added functionality to the existing design of the space for every family member, regardless of their height or reading abilities. Writable Surfaces can even be applied in and around vertical cubbies for added organization and customization. Serene spaces naturally feel less cluttered, so consider selecting calming hues such as Liquid Glass or Moonstone.'
What should be stored in a mudroom?
Fishburne says, 'A mudroom is great for storing muddy or wet items you don't want in your house, but it can also be used as an entryway that reflects your home's unique style.' From shoes and coats, to umbrellas, dog leashes and more – your mudroom is that place where you'll drop any must-have items that you wouldn't be able to leave the house without but, that you wouldn't necessarily want to take through to your living room.
How do you maximize space in a mudroom?
'A tidy mudroom with plenty of storage options improves access and looks better overall.' Says Fishburne. 'Maximize storage space by adding built-in features like shelves, cubbies drawers, and cabinets. The Home Depot offers custom storage solutions for each room, including mudrooms, and can help design the space and to fit your needs.'
You needn't overcomplicate your mudroom storage ideas and if you've got narrow space to work with, the simple addition of a coat rack come shelf could be all you need to max out space. A seamless addition, pair yours with a small narrow bench beneath to stow shoes and a couple of decorative additions to make your mudroom space work for you.
How do you organize a small mudroom?
'In a narrow entry space, consider adding vertical shelving and Cube Storage to conceal pet supplies and sporting gear but still have them easily accessible. Open-top bins are ideal for holding items that you'll need to easily access. Choose bins with sturdy yet attractive handle designs for an easy-to-use option that still complements your design theme.' Plus, these make good small hallway ideas as they don't take up so much room so are perfect to fill awkward nooks with better purpose.