Picture the scene: you're hosting a Christmas party; the tree's seen better days, the dog pulled down the fairy lights weeks ago; every surface in your kitchen is covered in plastic tumblers and the alcohol stash that actually emptied your bank account suddenly looks like nothing; there are sad bowls of crisps dotted around your living room and Wham has just come on for the 40th time that evening. Sound familiar?
Well now we have haunted you with the ghost of Christmas parties past, you will be pleased to know that this year will be different, because we've got you covered with our top tips for throwing an awesome festive party. Seriously, these essentials will ensure you are met with an influx of 'Thanks for such a fab night (dancing girl emoji)' texts come the morning...
1. Provide comedy wigs and hats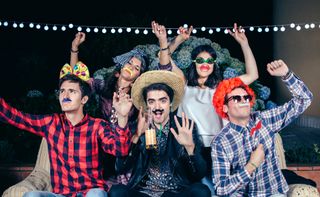 Don't ask us why – it just always gets people in a very silly mood, people that don't know each other are more likely to mingle, and it makes for great photos.
2. Make sure your decor is on point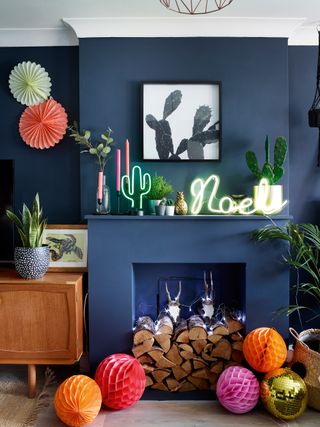 It's a party. You want it to feel like a party, so as well as a mountain of pigs in blankets and enough mulled wine to fill a swimming pool, that means oomphing up the Christmas decorations. We have put together loads of festive decorating ideas so hotfoot over to those for some inspiration... Otherwise, plenty of fairy lights (don't miss our design ideas) and over-sized paper baubles will add a splash of colour.
3. Consider sending invites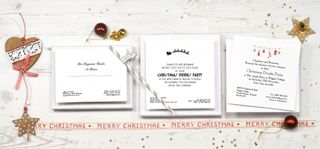 When it comes to Christmas parties, getting a date in the diary early is key and that is made all the more simple by sending invites! You can get some gorgeous ones online now that can be totally personalised to you and the vibe of your party. Check out Honey Tree for loads of options, plus they do personalised stationery which would be great for Christmas gifts!
4. Dim the lights, string up the fairy lights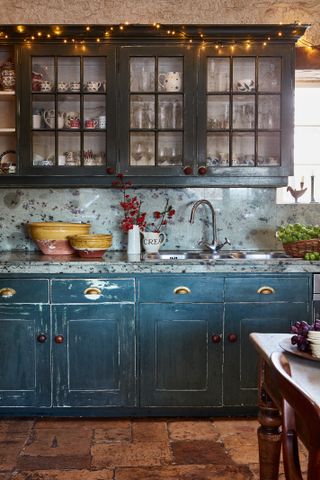 If you know your party will spill into rooms that maybe don't get as much attention when it comes to New Year's decor, just be sure to string up some fairy lights to keep the festive mood. Plus, no party will go with a swing if the lighting is too bright (party rule number one). Why not steal this idea from us and pin some lights and evergreen bits along your kitchen shelves and cabinets? Simple but super effective.
5. Make the house smell festive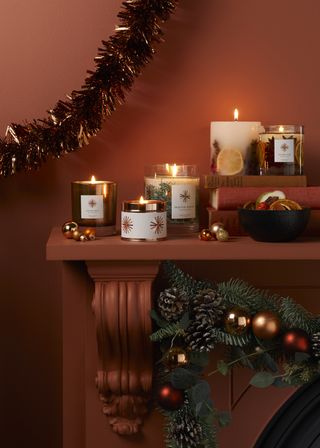 Light. Some. Candles. Easy peasy. Making your home smell like Christmas, is only going to fill people with more of the festive warm fuzzies, plus the mulled wine will help. Or, pick a good reed diffuser (our pick of the best is legendary). It's worth investing in a good air freshener, too, because that loo is going to be used rather a lot (sorry).
6. Prep the kitchen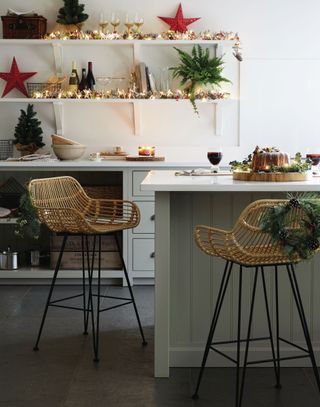 Speaking of the kitchen, we all know that at any party it tends to be where it's at. So prepare for that. Beyond making sure it's clean and tidy, ensure there is a good ambiance in there – bring some bedside lights down and dot them around the room, light a few candles, make sure there is some form music.
7. Style up a bar cart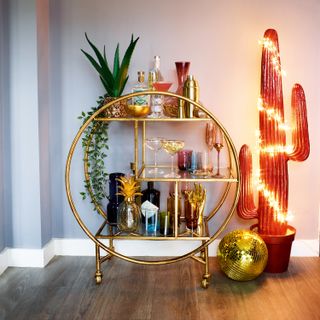 No longer a relic of a bygone era, the bar cart has long shed its Abigail's Party-esque past and become one of the most coveted pieces of furniture going. We've rounded up some of our favourites so you can go and find the best bar cart to suit your style and budget.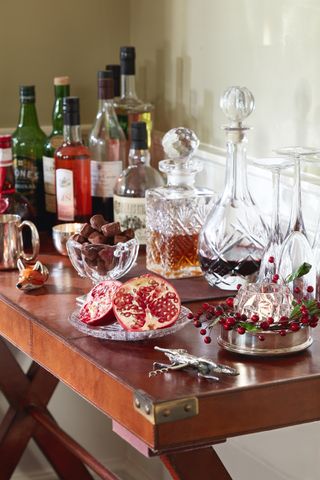 Alternatively, you could definitely just jazz up a sideboard or even a coffee table using these 10 tips for styling a drinking cabinet/bar cart/corner of the kitchen table/wherever you can find room for all the booze.
8. Get a cocktail shaker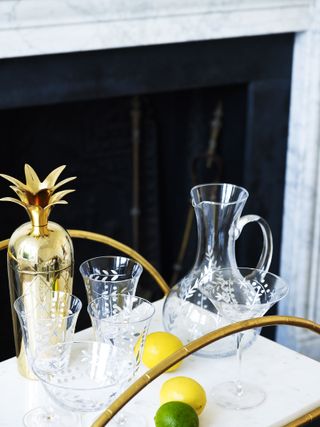 Because all good tipples are shaken not stirred, so if you only choose to invest in one piece of barware make it a cocktail shaker. The key with cocktail making at a party is not too get too carried away. If your mixology skills go about as far as a gin and tonic, then don't buy all the ingredients for a Long Island Old Fashioned Bloody Mary Iced Tea. Keep it simple. Research two or three different classic cocktails that will please the majority of people and have a few practices before the big night.
9. Make some bakes... and some punch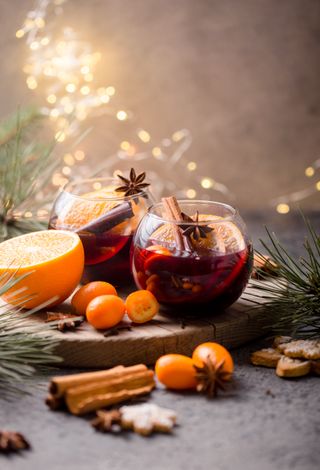 Your mixing bowl is going to be out anyway, so once you've whipped up some bakes for everyone to snack on, wash out the bowl and fill it with punch – you can use up all that leftover Christmas booze. Or maybe make two: one for drinkers, one for drivers. Why make a punch? Well, it's more exciting to drink something a bit different and the alcoholic one can get the party going really quite swiftly... (just make sure you label them).
Looking for easy recipes for bakes? We've found some lovely Swedish festive bakes that are easy to make en masse. And our pick of what booze to buy and drinks to make will help you with filling up the punch bowl.
10. Keep drinks cool, the easy way
Freezing grapes and berries rather than ice cubes to add to drinks has three distinct advantages: first, the berries make the drinks look (and taste) festive; second, you can free up fridge space by not having to chill as many wine/fizz bottles; third, the berries don't melt and dilute the drinks with tasteless water.
Putting ice cubes in a bucket for beers? Swap them out for frozen water balloons. They do the job just as well but avoid that big wet patch on the floor as dripping bottles are taken out of ice.
11. Get everyone to bring a dish
It's unlikely you're inviting people you barely know to a Christmas bash, right? So why not ask your mates to bring not just a bottle or two, but a dish, too? It's just about zero effort for them but will save you a whole load of prep time on the day...
12. Or just order all your party food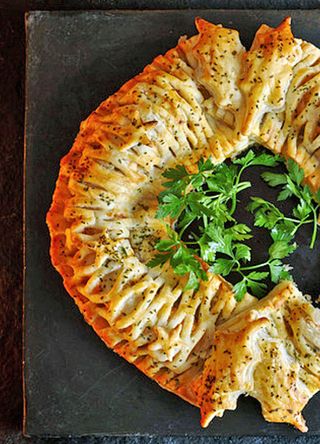 The supermarkets have some amazing party food this year! We've rounded up the best picks from Aldi, Asda, M&S, Sainsburys, Tesco, Waitrose so go and have a scroll through those – might want to do it with snack in hand. You can also check the last delivery dates for your Christmas food shop too.
13. Go all out on the table settings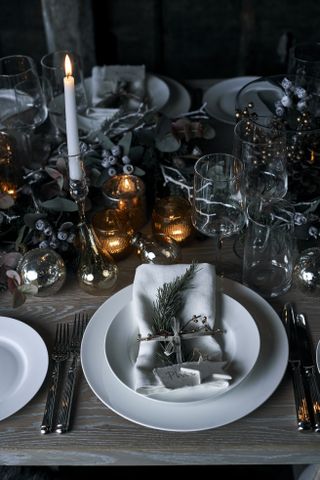 If you are having a sit down meal as part of your gathering, then make sure the table is dressed to impress. This doesn't have to cost a bomb and it doesn't have take too much effort either. You could do something as simple as strewing your table with some evergreen and lighting a few tapers. Go and check out our table setting ideas for more inspiration and find out how to set a table for a special occasion, too.
14. Have impeccable music in every room
Upgrade from playing music from your laptop and invest in some good quality speakers. Something that's portable like the Ultimate Ears Wonderboom would work – it's super small but the sound is impressive. You could also choose smart speakers, that will take the responsibility off you and let everyone pick their own music depending on where the vibe of the party is heading.
15. Save the arguments and a make a playlist
If you don't fancy the chaos of everyone shouting 'Alexa play Destiny's Child' maybe plan your playlist in advance instead. Try and anticipate the mood at different times of the evening, start with the typical festive tunes and then BOOM two hours in hit them with Crocodile Rock (or something similarly doubtful).
16. Plan for a tiny bit of organised fun
Just don't force it – this isn't Freshers' Week. Dot some quick-fire party games/a karaoke machine around the house and let them arise naturally when the time is right. John Lewis have a huge selection of party games, as do Firebox, if you are after something less er… PG.
17. Create a DIY photo booth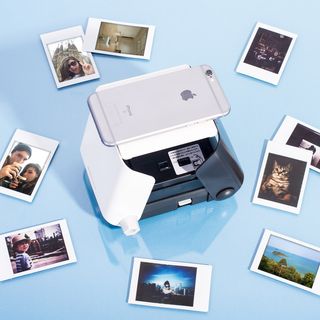 Add some glitz and glamour with a DIY photo booth – all you need is bright-coloured fabric to use as the backdrop, some nice lighting (fairy lights are amazingly forgiving on tired/hungover complexions), and a Polaroid camera (or your phone).
18. Invest in a slow cooker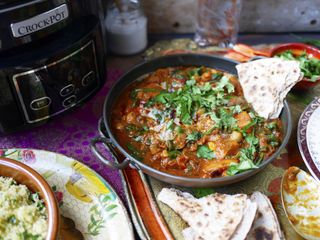 Yes, really. After midnight everyone gets the munchies, so if you're not serving food early, and the party's due to go on (and on), food around then is a must for a) fuelling their energy into the wee small hours or b) ensuring they sober up a little. No one wants to be rustling up tasty treats at that time of night, though, but prepping a hearty, alcohol absorbing, chilli (check out our super easy recipe) in the afternoon and putting on slow cook will make it effortless. Plus, we reckon that if you don't use yours for food, it'll be great for keeping mulled wine toasty. Aaaannnd, it'll be a valuable investment for January when you're trying to stick to that healthy eating resolution.
Check out our pick of the best slow cookers if you want to invest. Or scroll to see our top pick:
Best slow cooker: Sage Fast Slow Pro
Best slow cooker with timer delay: Tefal Cook4Me Connect
Best small slow cooker: Swan Slow Cooker Retro
Best slow cooker with hinged lid: Morphy Richards Sear & Stew Hinged Lid Slow Cooker
Best slow cooker for families: Crock-Pot slow cooker
Best budget slow cooker: Russell Hobbs Chalkboard Slow Cooker
Best oval slow cooker: Crock-Pot Slow Cooker 3.5 L in Red
Best Lakeland slow cooker: Lakeland 3.5L Slow Cooker
Best Instant Pot slow cooker: Instant Pot Duo V2
19. Hire a cleaner (or invest in kit)
Seriously, it's worth putting £50's worth of party budget towards a cleaner coming in the next day. Believe us, we've tried cleaning up a wrecked house with a hangover. We've also tried going out for brunch while a grateful teenager earns a few extra £££s doing the cleaning. The latter approach wins every single time.

At the very least, we beg you to consider investing in our pick of the best upholstery cleaners or the best vacuum cleaners. And if you are left to clean up yourself, check out our tips for how to clean up after a party.
20. Prepare for home time – and people staying over
The best plan for a festive party? Planning for every eventuality. The people who were going to stay over may well end up going home (so make sure you have local mini cab numbers ready), and those were adamant they would leave early may end up staying over, so have extra blankets/cushions ready to make them comfortable. Happy partying!
Looking for more party inspiration?