The best upholstery cleaner will instantly refresh your furniture and dislodge stubborn stains, whether they're old or new. Spills and marks are inevitable in a busy household, and even if your furniture is in good condition, it will benefit from an occasional refresh with a good-quality cleaner.
The upholstery cleaners in this guide come in every format imaginable: sprays, brush-on applicators, and bars are all covered, and there a few products that are equally suited to upholstery and carpets.
Once you're done, consider investing in the best vacuum cleaner too – a good clean starts with removing dust, crumbs, and pet hair, of course.
The best upholstery cleaners
1. Astonish Fabric Stain Remover
Best upholstery cleaner: for instant stain removal, there's no other product to buy
Specifications
Type: Spray
Brush included: No
Size: 750ml
Reasons to buy
+Works fast+No scrubbing required+Inexpensive+Cruelty free and vegan
Reasons to avoid
-Not suitable for use on flameproof or waterproof fabrics, velvet, leather or suede
Best for...
Although initially meant to be used on clothes to remove unwanted stains, this Fabric Stain Remover by Astonish works wonders on upholstery, such as sofas, but is also effective on curtains, carpets and rugs.
How to use
First soak up any moisture from the stain and then spray the product immediately, ensuring you cover the entire stain. Leave for 10 minutes and wipe with a damp cloth or if possible pop in your washing machine – it's as simple as that.
Results
Ideal for those times when you're entertaining and a guest accidentally spills something, this stain remover works super fast. Effective on wine stains, too.
Good to know
This product shouldn't be used on any flammable or washable upholstery including velvet, leather and suede.
2. Dr Beckmann Carpet Stain Remover
Best upholstery cleaner for scrubbing: complete with a brush, this carpet stain remover makes an easy job of tough stains
Specifications
Type: Scrubber
Brush included?: Yes
Size: 650ml
Reasons to buy
+Comes with brush+Easy to use+Works very good on tough stains such as blood, strawberries and dye
Reasons to avoid
-Some may prefer a spray
Best for...
Targeting areas. The Dr Beckmann Carpet Stain Remover is ideal for those who have kids or pets and often find themselves cleaning up messes around the house.
How to use
Before using, unscrew the brush head and pierce a small hole in the seal and then screw it back on again. Before applying product on the area that needs cleaning, brush off loose dirt and soak up liquids. Then, hold the bottle so that the brush is touching the stain and lightly squeeze until product comes out. Brush the product into the stain until you see results, and then leave for a few minutes. Remove residue with a damp cloth once done.
Results
This carpet cleaner does a pretty good job at removing almost any stain possible, from red wine spills on the sofa to tea stains on your favourite rug. It can also be used for easy cleaning of car seats.
Good to know
This product should be stored in an upright position to prevent leaking and the cap should be washed after each use.
3. Astonish Stain Remover Soap
Best sustainable upholstery cleaner: cutting down your plastic use? This stain remover soap can do the job while saving the environment
Specifications
Type: Bar
Brush included: No
Size: 75g
Reasons to buy
+Doesn't smell too strong+Cruelty free and vegan+Affordable+Can also be used on clothes stains
Reasons to avoid
-Some people may not want to get their hands dirty-Can only be used on fabric
Best for...
This is he ideal product for those who are trying to cut down their plastic waste. It's also cruelty-free and vegan.
How to use
Wet the stain and rub the soap onto a clean damp sponge or cloth. Use this to dab both sides of the stain and then, depending on the severity of the stain, pat dry with a clean cloth or sponge, or rinse by hand or machine wash according to the label.
Results
The fact it's a bar makes emergency spot removal an easy job, and it can be used on both coloured fabrics and whites.
Good to know
This product should be used on fabrics only.
4. Cleanly upholstery cleaner
Best spray upholstery cleaner: an easy to use natural upholstery cleaner
Specifications
Type: Spray
Brush included: No
Size: 250 ml
Reasons to buy
+Effective on any type of upholstery+No need for extra brushes+Cruelty free and natural+Smells great
Reasons to avoid
-Not the most cost-effective
Best for...
This nicely packaged spray is amazingly effective at both cleaning and deodorising upholstery. It's a tad pricier than some of the other options on our list, but it works very well and smells of lavender and eucalyptus.
How to use
Simply spray over the area that needs refreshing/cleaning, leave for five minutes, then blot with a cloth or paper towel.
Results
This is one of the only natural upholstery cleaners we were able to find that did an equally good job of cleaning large surfaces and spot cleaning.
Good to know
It is small in size and therefore not the most cost-effective, but it does the job well.
5. Vanish Pet Expert Carpet Care
Best upholstery cleaner for pet owners: a convenient foam spray for an instant stain solution
Specifications
Type: Spray
Brush included: No
Size: 500 ml
Reasons to buy
+ Spray and blot + Easy to get hold of
Reasons to avoid
- Most effective on new stains
Best for...
If you're forever trying to get rid of tough pet stains in your home.
How to use
Just spray and blot. It doesn't require a cleaning device, or diluting, making it the ideal go-to for those who don't have the time to mess around with excessive cleaning.
Results
A great go-to upholstery cleaner that works well on lighter stains to make them disappear fast.
Good to know
While some embedded stains require a tough cleaner to dissolve them, newer stains, such as a spillage or a pet accident should be easy to remove with this carpet/upholstery spray.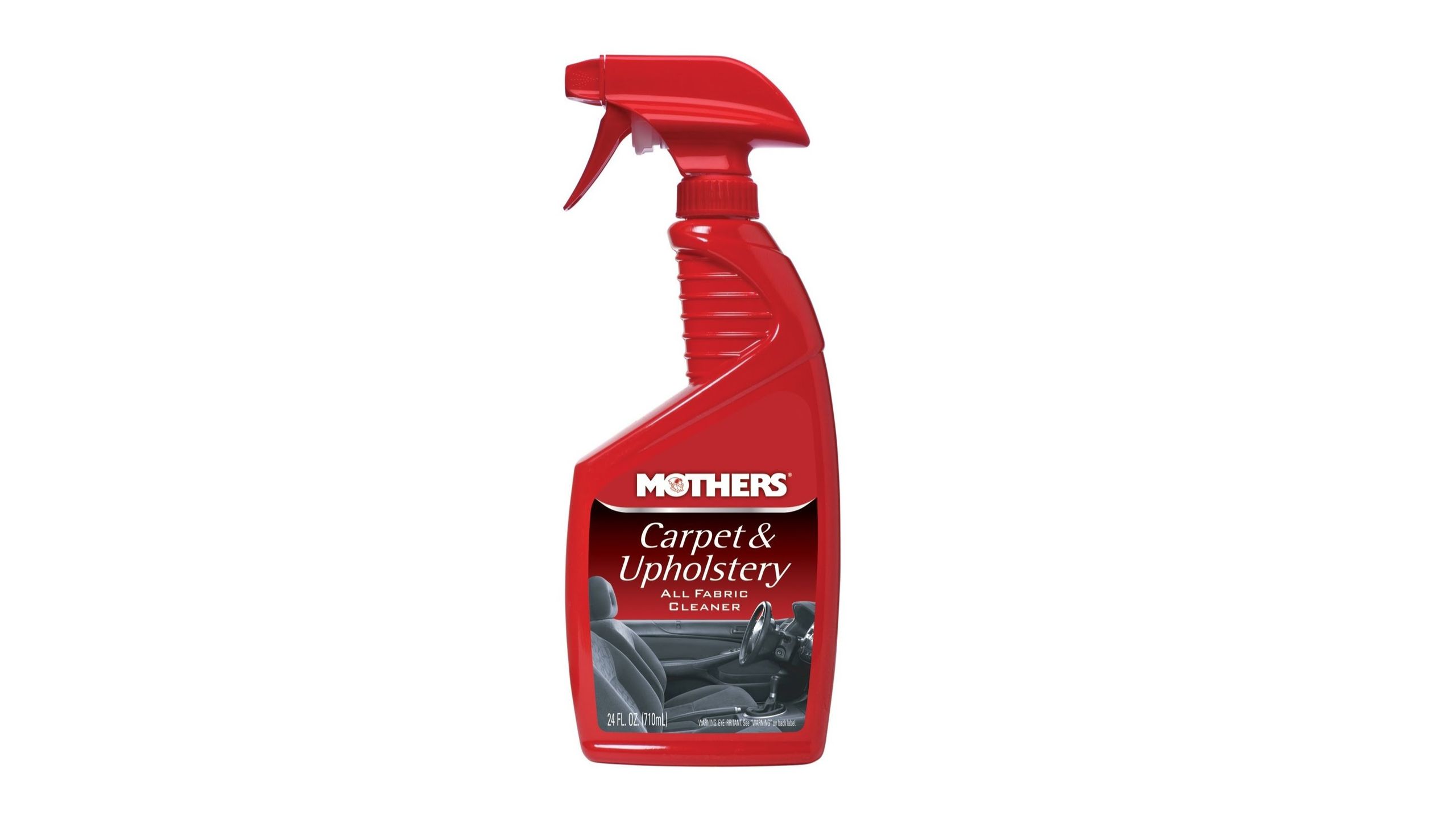 6. Mothers Car Carpet & Upholstery Cleaner
Best upholstery cleaner for multi-use: don't forget about your car's interior – keep that clean, too, with this car cleaner
Specifications
Type: Spray
Brush included: No
Size: 710 ml
Reasons to buy
+ Use on multiple surfaces + Easy to use
Reasons to avoid
- Not as strong as other cleaners
Best for...
While marketed as a car cleaner, it's great on vinyl, velour, cloth, carpet and even sheepskin, thanks to its pH balanced formula – although make sure you check the label of bottle before use, and use in a hidden area first.
How to use
Firstly, be sure to vacuum the stained area thoroughly. Liberally spray the cleaner on the stain, leave for a few moments and then scrub the area briskly with a clean sponge or towel. If it has worked, vacuum the area one more time to suck up any debris, and if it hasn't, repeat the process again.
Results
Okay to use in the car and at home, this is a fairly good all-rounder, although not as strong as others, which means tough stains take a few attempts to come out.
Good to know
While it works well on stains, it doesn't quite remove odours from them, so it's best to get some white vinegar spray for that department.
7. Armor All Carpet and Seat Foaming Cleaner
Best upholstery cleaner for cars: especially formulated for car upholstery, this cleaner is primed for removing dirt and grease
Specifications
Type: Foam
Brush included: No
Size: 500ml
Reasons to buy
+Effective at removing ground in dirt and grease +Also use on vinyl, rubber and plastic
Reasons to avoid
-Not particularly cost effective-Strong smell
Best for...
Whether you're looking to give your car a spring clean or want to make sure it's in pristine condition to sell, this should help you to bring your car interior back to its former glory.
How it works
Spray directly on to the stained area and allow it to set in. For those cleaning a carpet or indoor upholstery fabric, rub gently with a damp cloth or sponge. Any other surface, rinse or wipe with a damp cloth.
Results
From seats, mats and even your steering wheel (as long as it's not leather), it should remove marks and stains without fading the material.
Good to know
Unfortunately, a little doesn't go a long way with this product, and it has been known to leave a strong smell if you use too much, so be sure to open all your windows while using!
What is the best upholstery cleaner?
The Astonish Fabric Stain Remover is our top pick: it's marketed as a stain remover and is great at zapping even bad stains, but it's also a great all-round upholstery refresher, so essentially is a two-in-one product.
How to buy the best upholstery cleaner
Where to buy the best upholstery cleaner
Choose the right upholstery cleaner for your upholstery's material
Whether your upholstery is traditional or modern, a good upholstery cleaner will work its way deep into the fabric to give it a complete refresh. But, before you buy a product, check that it will suit the material you're cleaning. Leather upholstery, for example, can be easily cleaned of discolouration or marks, but you must use a leather cleaner rather than an all-purpose upholstery cleaner to bring it back to its former glory.
Read the care instructions
Before you use any upholstery cleaner, you'll need to make sure you read the label (or the paperwork) that came with your furniture so you can ensure that you're not going to damage the material – some furniture will require a water-based cleaner, while others require water-free products and others may advise against using an upholstery cleaner altogether.
Application
In our list of the best upholstery cleaners, we've provided you with a combination of shampoos, sprays and aerosols so you can choose the best cleaning method for you. Before you buy, make sure you double check the ingredients, and test it out on a hidden part of your furniture first to make sure that there are no adverse effects.
Store cupboard standby
When looking for the best upholstery cleaner, Amazon is a good place to start, as you can often get bigger bottles at a more cost-effective price. They're also incredibly accessible for those who prefer not to head to the supermarket shelves, or need an upholstery cleaner pronto!
More upholstery cleaning advice: