Best upholstery cleaners: Quick Menu
We're on the countdown to Christmas and thankfully, the best upholstery cleaners and carpet cleaning solutions are still on sale today — hurray! So if you're looking to shop for a stain-removing appliance, you should be able to save some money, if you hurry that is. Whether you live in a rental and are worried about not getting your security deposit back from your landlord, or have invested in a small couch for your apartment and the thought of getting a stain on it keeps you awake at night — an upholstery cleaner is a must-have. Let's not forget that recent Thanksgiving celebrations might have meant turkey trodden into the floor, cranberry sauce on the couch, and a gravy boat that sailed straight for the rug you layered under the dining table.
Trust me when I say that having a carpet cleaning solution in your caddy can be the difference between replacing your entire carpet or couch or salvaging your favorite furniture items. All it takes is a little elbow grease (or none at all if you invest in an electronic appliance).
I've never lived without an upholstery cleaner underneath my sink. In fact, when I run out, I always seem to spill something, typically my morning latte, the day after. So, this is your sign to invest in some of the best cleaning supplies for when accidents inevitably happen. Whether it's to clean a red wine stain on your favorite rug, or self-tan stains from your rental mattress, you won't believe how handy these solutions are. Luckily enough for you and conveniently enough for me, I've tested six of the best-performing upholstery and carpet cleaners. Excitingly two of them are discounted, with up to 41% off the usual retail price, so you can really "clean up".
Best upholstery cleaners to tackle stubborn stains
Why you can trust Real Homes Our expert reviewers spend hours testing and comparing products and services so you can choose the best for you. Find out more about how we test.
Best upholstery cleaner deals
Shop the current Amazon upholstery cleaner sale by brand just below:
Amazon deals on upholstery cleaners
FYI, those of you with a little more budget, a larger space (or both) will appreciate an upholstery-cleaning machine. Because, I've done my research, and if you're thinking about leasing, or paying for someone to do the job professionally for you: don't.
Based on cost-per-use, my girl math dictates that a device on offer will pay dividends in no time at all. Plus, owning an appliance outright has so many benefits. 1) You don't have to do that weird "first clean" before the cleaner (read: stranger) comes around. 2) You can clean outside of "working hours" and to your standards 3) It will be totally normal to undergo the task in your pajamas, and with your favorite playlist on Spotify.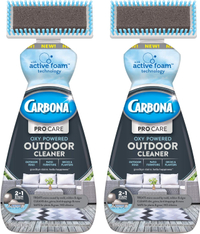 1. Carbona Pro Care Oxy Powered Outdoor Cleaner with Active Foam Technology | Was $21.99 Now $12.95 (save $9.04) at Amazon
If you need an outdoor textile cleaner, this foam formula is the one. It's great if you're looking to give your outdoor upholstery a good ol' scrub. We'd recommend stocking up now as this pack of two is currently 41% off.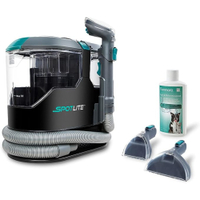 The best upholstery cleaners and carpet cleaning solutions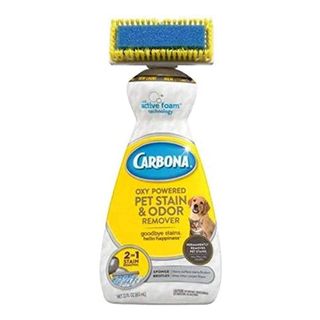 Built-in brush
1. Carbona 2-in-1 Oxy-Powered Pet Stain
+ Built-in brush
+ Safe for use around pets
+ Easy to use
+ Works fast
- Not for large stains
This pet-friendly carpet cleaning solution can be used pretty much anywhere. I tested it on a rug and my couch, and both times it managed to remove stains within minutes. It has a handy built-in scrubber brush that needs to be cleaned after each use, otherwise, it's super simple to use. It's definitely worth having a bottle of this in your cleaning caddy for cleaning up spillages fast, but it's not for deep cleaning an entire rug or a large part of a sofa. It does require a bit of elbow grease to get good results, but it smells quite nice and works fast.
Real Homes rating: 5/5 stars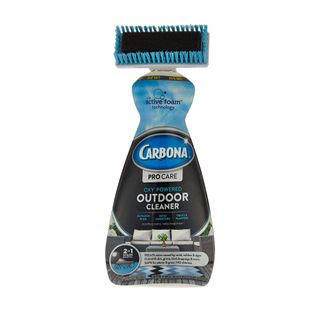 For outdoors
2. Carbona Pro Care Oxy Powered Outdoor Cleaner
+ Multipurpose outdoor cleaner
+ Biodegradable and nontoxic
+ Built-in scrub brush
- Not the best for cleaning large areas
- Requires elbow grease
This solution works on almost any outdoor textile you can think of. I tried it on a bunch of cushions I had accidentally left outside for too long. It can also be used for outdoor rugs and umbrellas. It can also be used on play equipment, PVC, brick, and statues. Simply squeeze the product through the brush head, and scrub. We let the solution sit for a few minutes in the sun, then sprayed everything off with a garden hose. This cleaner tackled mildew spots and wear on striped and white patio cushions that had been left outside all summer, although the stains on the white stripes and the fully white cushions required a little more attention to fully remove. And if you want to use this stuff for an outdoor sofa, then maybe use a larger brush to make this easier as the built-in brush is a little small.
Real Homes rating: 4.5/5 stars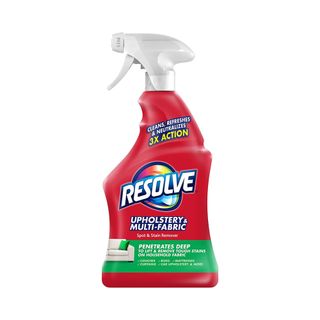 Spray
3. Resolve Upholstery & Multi-Fabric Spot & Stain Remover
+ Works fast
+ No scrubbing required
+ Inexpensive
- Safe to use around kids & pets
- Not recommended for velvet, silk, vinyl, or leather
This easy-to-use spray is amazingly effective at both cleaning and deodorizing upholstery. It can be used on all sorts of stains, from hair dye to pet mess and long-set-in marks on vintage pieces. Simply blot the stain, spray over the area that needs cleaning, and wait for five to 15 minutes for it to soak in. The worse the stain the longer you'll want to wait before blotting again. Our reviewer Jaclyn found that the results were impressive and said this cleaner exceeded her expectations on numerous different stains. Namely, she used it to clean pet vomit and it did an incredible job. The light scent is also fresh without being overwhelming. Just bear in mind that it works best when used on stains immediately.
Real Homes rating: 5 out of 5 stars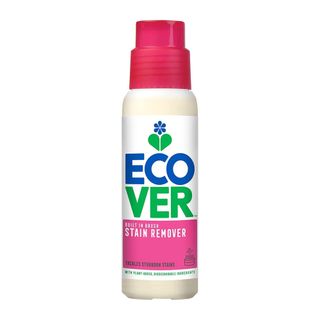 Plant-based
+ Plant-based
+ Biodegradable
+ Built-in brush
+ Vegan-friendly
+ Unscented
+ Recyclable bottle
- Not the best for larger stains
The pink-capped package might look cute, but boy does it pack a punch when it comes to lifting protein-based stains from clothes and any upholstered furniture that has a removable cover. Our reviewer Christina raves about it, and it's super easy to use thanks to its built-in brush. From removing curry stains to melted chocolate, it's powerful. Just make sure that before using, you moisten the stain and work it in with the brush. Then handwash after. We wouldn't recommend this for cleaning larger stains, as it requires some elbow grease.
Real Homes rating: 4.5/5 stars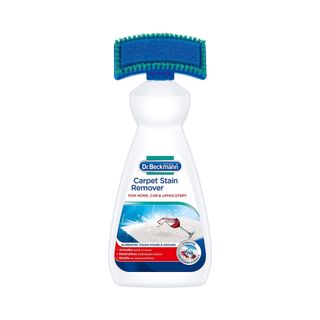 Carpet cleaning solution
5. Dr. Beckmann Carpet Stain Remover
+ Built-in brush
+ Easy to use
+ Ideal for those who have kids or pets
+ Works well on tough stains
- Not the best for larger stains
I found that the Dr. Beckmann Carpet Stain Remover does a pretty good job removing anything from red wine spills on the couch, to tea stains on your favorite rug. It was also a great stain removal solution for car seats. It's handy because it has a built-in brush like the Ecover stain remover, but it's not the best for large spillages. It's really handy to have in your cupboard if you have children or pets, but it might not be the main stain remover that you use. It's quite similar to the Carbona cleaner, really, but hence the name you might want to only use it on floors.
Real Homes rating: 4.5/5 stars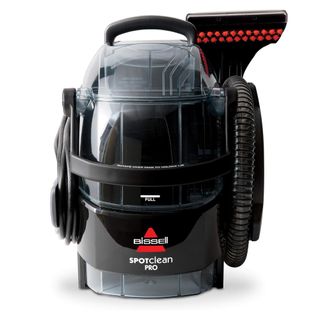 6. Bissell 3624 Spot Clean Pro
+ Portable
+ Effective on all surfaces
+ Satisfying process
- Expensive
-Requires cleaning
- Shampoo can cause serious eye irritation
If you're looking for an investment piece, rather than a cleaning product, then this is the best carpet cleaner machine for all types of stains and is an investment in keeping your home looking great. It uses hot water to lift those nasty stains and comes with two bottles of carpet shampoo. You can pre-treat and spot clean with this cleaner and it will truly transform the look of cushions, sofas, rugs, and more. Our reviewer Jen was obsessed, and the best part is that it's so satisfying to use.
You can read our full Bissell SpotClean Pro review.
Real Homes rating: 4.5 stars out of 5.
What to consider when choosing an upholstery cleaner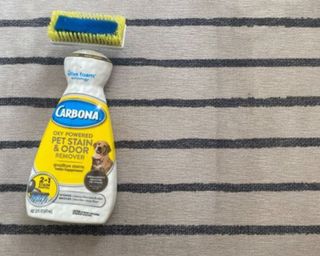 1. Find the right solution for your material
Whether your upholstery is a natural fiber or synthetic a good upholstery cleaner will work its way deep into the fabric to give it a complete refresh. But, before you buy a product, check that it will suit the material that you are cleaning. Leather upholstery, for example, can be easily cleaned of discoloration or marks but, you must use a leather cleaner rather than an all-purpose upholstery cleaner to bring it back to its former glory.
2. Be sure to read the directions carefully
Before you use any upholstery cleaner, make sure you read the label that comes with your furniture so you can ensure that you're not going to damage the material. In some cases, furniture will require a water-based cleaner, while others require water-free products, and some may advise against using an upholstery cleaner altogether.
3. Double-check the application
In our list of the best upholstery cleaners, we've provided you with a combination of shampoos, sprays, foams, and aerosols so you can choose the best cleaning method for you. Double-check the ingredients and do a patch test on a hidden part of your furniture first. This way you are confident that it will have no adverse effects.
4. Master your cleaning technique
The type of product is one thing, but you've got to finesse the way you use it for the best results. Some solutions have to be blotted in gently with a microfiber cleaning cloth, others have to be scrubbed in, using bristled brushes to work the product into the material, and a few have to be 'left to sit' for a short period of time. Try to use only what you need, as a) it can be wasteful otherwise, and b) excessive product might make dyed fabrics 'bleed'.
5. If it is a machine — check the specifications
There are loads of electronic upholstery cleaning devices out there. But to find the best one for you, you might want to assess the weight (to see if you can carry it around the home), and check the tank capacity. The latter might determine how much solution you will need to use (if any), and how often you empty the reservoir and replace it with clean water. Also make sure to check the length of the hose and cord length, as this may give you an indication of how easy it will be to clean the offending stains. If you know the wattage, you can also work out how much the device will cost to use per hour using this electricity cost calculator.
FAQs
What is the best upholstery cleaner?
The Resolve Upholstery & Multi-Fabric Spot & Stain Remover from Amazon is our top pick, and helpfully, the cheapest in our guide too. It's marketed as a stain remover and is great at zapping even bad stains, but it's also a great all-around upholstery refresher, so essentially is a two-in-one product.
What is the best way to clean a couch?
It depends on how dirty your couch currently is. If it needs a full deep clean, then you'll want to invest in a machine like the Bissell SpotClean Pro Upholstery Cleaner which you can buy from Amazon. If it's just a little bit gross, you should be able to remove your cushion covers and throw them in the wash. And with the fabric on the frame, you can try the pan lid trick. Not sure what we're talking about? Read more on the carpet cleaning hack we discovered on TikTok and tried for ourselves — it truly is a game changer.
How can I easily keep my upholstery clean?
It sounds simple, but frequent use of a powerful cordless vacuum cleaner or a good handheld vacuum cleaner will change how your upholstery looks. Use specialist attachments such as a crevice tool to get into cracks and corners, and don't forget to move your sofa out of the way and vacuum the back of it as dust will build here. When it comes to curtains, check their washing instructions and make a note to clean these in your washing machine (or by hand) once every six months. You wouldn't believe how much dirt sits on your curtains. As for rugs, the same goes for vacuuming but you can also use the aforementioned pan lid trick, and don't forget to vacuum underneath your rugs, too.
Our guides on how to clean upholstery and how to clean a carpet are full of expert tips and tricks.
Should I wait until after Christmas to buy an upholstery cleaner?
Historically, some of the biggest discounts have been spotted on Black Friday, Cyber Monday and after Christmas. Saying that, we at Real Homes compare prices and provide insight using the Amazon price tracking site, camelcamelcamel. This allows us to see the lowest and highest prices recorded and provide guidance on the right time to buy. For example, we've spotted the Kenmore SpotLite Portable Carpet Spot and Pet Stain Cleaner at a record-low price outside of the obvious promotional periods.
How do you clean upholstery that can't be washed?
To clean upholstery that can't be washed, such as a couch or mattress, using an upholstery or spot cleaner is the best way to effectively clean the piece of furniture.
What can upholstery cleaner be used for?
Upholstery cleaners can be used to maintain any form of upholstery, including to clean couches, refresh mattress toppers, de-gunk car seats, and revive carpets. Just make sure to check the manufacturer's cleaning and care instructions before using an upholstery cleaner on an item, and always spot-check on a small hidden area before use.
How we tested these upholstery cleaners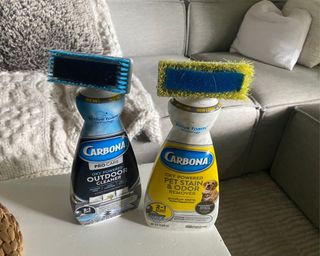 We strive to test everything we recommend at Real Homes, so with the help of our team members, we've managed to test all of the upholstery cleaners featured in this guide. We test these solutions and machines in our own homes, to clean real-life day-to-day messes that we're faced with.
But we don't go spilling red wine on our carpets and rugs on purpose, because that would be counterproductive. Instead, we keep them underneath our sink and use them when necessary, snapping photos as we go. We use them based on the instructions on the packaging and we'll always test them in an inconspicuous spot beforehand. Some work using enzymatic solutions to chemically break down the stain, and others come with scrub heads to physically agitate the upholstery fibers to help lift the stain out. In some cases, you can leave products to dry, but others need rinsing off. Do be sure to rinse your hands, or wear gloves (like this pair from Mr. Clean available from Amazon) when treating stains as some of the formulas can irritate skin — especially if you're someone that touches their face all day!
You'll notice this guide has a high-low mix of liquid solutions and machinery, and we've done this on purpose to ensure a clean home is accessible for everybody. If you do have the extra dollars to shell out on a device: go for it.
In this instance, we will assess the weight of the product, how powerful the nozzle suction is, and how easy it is to use (ie: is it an upright cleaner, or do you have to carry it?). Finally, once we've cleaned the offending stain, how easy it is to rinse the machine of the dirty water? As a heads up, while some machines come with trial or sample-size solutions, you might want to look at how much the bottles are normally, and how long they last to ensure you can keep up with the cost of cleaning. Using a non-branded / cheaper detergent may invalidate your warranty, so check your service documents before using any old cleaning solution.
And, in case you didn't know, some of our writers live with animals, so whether our pets have been poorly, had an accident, brought in a wild animal, or entered the house with muddy paws from their walks — we've dealt with all types of stain removal (whether we've made the mess or not).
Because of this, we might favor pet-safe cleaning products, or if the formula is biodegradable, organic, or plant-based. Ultimately, this is one of the most effective ways to get rid of pet odor in a small space, rather than simply masking the smell with one of the best air fresheners (which unfortunately can only do so much, and in some cases, distress our fur babies).
Meet our upholstery cleaner testers
Hi, I'm Annie and I live with a messy pet who likes to keep me busy. I tested the Carbona 2 in 1 Oxy-Powered Pet Stain to clean my rugs and couch, and the Carbona Pro Care Oxy-Powered Outdoor Cleaner to clean the cushions on my patio furniture. I've also used the Dr. Beckmann Carpet Stain Remover for years to spot-clean my rugs.
Christina tested the Ecover Stain Remover and for her, it's an under-the-sink essential. She uses it to target stubborn foundation stains on her blouses and clean her cushions when she's used them as a lap tray for lazy weekend brunches.
Jaclyn was preciously ecommerce editor at Real Homes, as well as our sister brands Livingetc and Homes & Gardens. Jaclyn tested the Revolve Upholstery Cleaner and her pet Reese gave it a run for its money. She also tested the outdoor cleaner from Carbona in her yard on some very tired-looking cushions.
Where to buy an upholstery cleaner
While we've highlighted some of the best upholstery cleaners, there are loads of other places you could shop including online retailers, home improvement stores, and direct from the brand itself.