Hosting this Christmas? Then you'll want to keep family from near and far, as well as friends, well fed and watered once they cross your threshold. But how to be sure what you serve up is going to get the thumbs-up from those around the table? Our guide to the best food and drink from the high street favourites, of course.
Asda is one of the top places to shop for all your festive fare – and it's seen plenty of wins in Christmas taste testing this year, too. What should you add to your trolley? Find it right here.
Asda Christmas dinner best buys
This bird will look and taste the part at your Christmas dinner. Asda extra special free range Norfolk bronze turkey took the winning slot in BBC Good Food's taste testing with the experts praising its 'moist, juicy and full-flavoured meat', which is precisely what you want, isn't it?
If you're after a breast joint rather than a whole bird, Asda extra special British turkey parcelis worth your attention. It has a luxurious pork, porcini and truffle stuffing and is finished with maple-cured bacon. It also claimed the runner-up spot in the BBC Good Food turkey centrepiece slot.
And talking of centrepieces here's one for vegan diners worthy of the name. Asda extra special vegan wellington can take a starring role in a Christmas tablesetting. It's made to serve three and the seasoned soya, mushroom and caramelised onion filling in puff pastry comes with rich red wine gravy.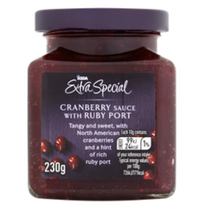 Cranberry sauce is an essential for the Christmas meal for many of us Real Homers, and like-minded diners should get themselves some Asda extra special cranberry sauce with ruby port. It was the number one for BBC Good Food in the category – and it's only £1.
Asda Christmas pudding best buys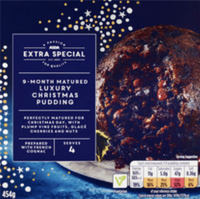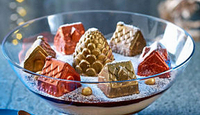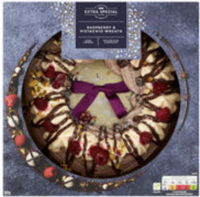 Here's another great option to serve up to those unconvinced by the merits of Christmas pud, and because it's a frozen dessert it won't have you spending any extra time in a hot kitchen. Asda extra special raspberry and pistachio wreath is made from chocolate meringue and finished with ganache, raspberries, chopped pistachios and a dusting of snow – of the sweet sort.
Asda mince pie best buys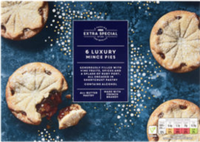 A high scorer in the Which? seasonal taste tests, Asda extra special luxury mince pies are treats worth stocking up on. Made with French brandy and all-butter pastry plus delicious mincemeat, these pies definitely float our boat, and we think you'll love them, too.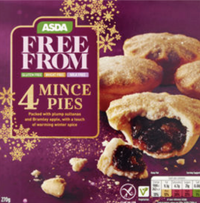 Need to serve up gluten-free mincemeat treats? Asda free from mince pies will keep guests happy with their vine fruit and apple filling, citrus zest, and warm wintery spices. Which? testers scored these highly in Christmas testing.
Asda party food best buys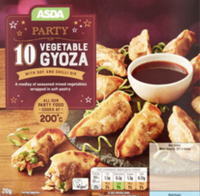 An easy win when it comes to pleasing the veggies at your Christmas do, Asda 10 vegetable gyoza are easy to prepare. The Japanese-style gyoza dumplings, which come with a soy and chilli dip, were BBC Good Food's winner in the vegetarian canapé category this year.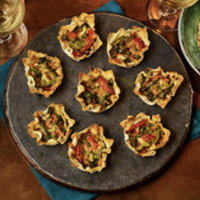 Another meat-free choice that'll look great as part of a party spread and please all-comers? Asda extra special vegan rainbow vegetable filo tarts contain swirls of spiralised vegetables in their filo pastry, and are finished with coconut and chilli dressing. Our verdict? Scrumptious.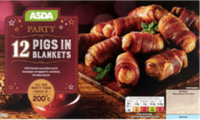 Why should the treats that are the trimmings to your Christmas dinner be limited to the day itself? If you agree it's a shame, get yourself Asda party 12 pigs in blankets to add to the selection of nibbles at your do. A cooking temperature that's the same as the rest of the party food range makes life easy.
Asda Christmas wine best buys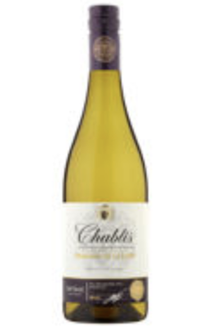 Looking for a wine to drink with seafood dishes this Christmas? Asda extra special Chablis Domaine de la Levée is a very dry white wine that would take on the role tastily, and is another from Asda's cellar that has caught the experts' attention. Oh, and if you buy six bottles, you can save 25 per cent.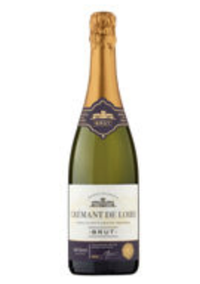 Much garlanded by wine experts, and only £8 a bottle Asda extra special Crémant de Loire brut would prove a brilliant choice to fulfil your festive fizz requirements. The store says 'fresh and vibrant with hints of citrus and apple', and we say, 'oh, alright, just a little top up'.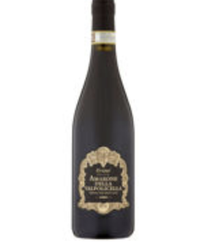 Asda Orbitali Amarone Della Valpolicella is also highly rated by wine aficionados. This red is full bodied and an ideal pair with Christmas roast meats and mature cheeses. It has complex aromas and layers of intense dried fruit, dark chocolate and sweet spice flavours, explain the tasting notes, which we wouldn't turn down.