It is the perfect time of year to invest in the best slow cooker, and our guide covers the top 8 you can buy for your kitchen, no matter the size or capabilities you need.
Many of the best slow cookers in the guide can be used to make curries, soups, stews, and cobblers. They're great at automatically switching to a keep-warm mode when you buy a digital version, and if you choose a manual version, you can buy a slow cooker for under $50 that will still do everything you need.
Of course, many of the best slow cookers these days are pair with pressure cooking, searing, and roasting. Some can even double up as the best air fryers. In this guide though, we focus on the top slow cookers from Crock-Pot, Breville, KitchenAid, Elite Gourmet, and Cuisinart.
Best slow cooker 2023
Why you can trust Real Homes Our expert reviewers spend hours testing and comparing products and services so you can choose the best for you. Find out more about how we test.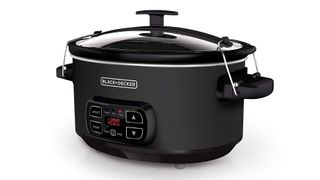 The Black+Decker SCD4007 is a large capacity slow cooker with a digital display and a fun and useful chalkboard finish.
What we like about it

Perfect for taking on the go or simply securing your meals tightly to prevent moisture escaping, the clip-on lid makes the Black+Decker SCD4007 both safe and versatile. This slow cooker comes with an in-built timer that switches automatically to a keep warm setting when your food is done cooking, meaning no overcooked meals, and your dinner will be warm whenever you want it.
The chalkboard exterior can be labeled for parties and potlucks, and the clear lid will allow you to keep an eye on dishes as they cook. You don't have to fill it up every time you use it, but with a seven-quart capacity, you have the option of bulk cooking meals or making sure there's enough for the whole family.

To make things even easier, the stoneware cooking pot inside this multi-cooker is dishwasher safe. And the cord is retractable to reduce counter (or cabinet) clutter.
Things to note
Although excellent, this is another fairly large appliance that could be challenging to store in some kitchens. But keep calm and scroll on--we have some more compact options to suggest.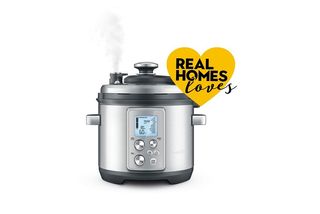 Get more for your money by going for the professional-quality Breville Fast Slow Pro, which is a pressure cooker and slow cooker in one appliance.
What we like about it

We love the Brevilla Fast Slow Pro's multi-sensor technology; just select your food type, and this slow cooker will adjust cooking temperature and pressure as needed. It also has a much safer, friendlier steam-release design that the pressure cookers of yore. Some of those appliances were, quite rightly, a little scary--but this one isn't.
The Breville Fast Slow Pro's lid is also removable and can be cleaned in the dishwasher, and the ceramic cooking bowl doubles as a serving dish.
Things to note
Although we love this multi-cooker for its ability to do everything--including slow cooking--very well, it is on the large side. So if you have limited space, it might be a challenge to store.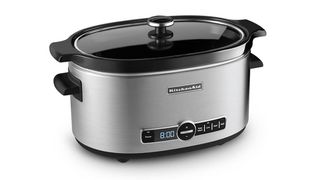 The KitchenAid KSC223SS 6 Qt. Programmable Slow Cooker only does one thing--slow cooking--but it does that one thing very well.
What we like about it
The KitchenAid KSC223SS doesn't come with all the bells and whistles of a multi-cooker. But it does do one thing -- slow cooking -- very well, thanks to an internal thermostat that helps it maintain consistent cooking temperatures, even on the low setting.
This slow cooker's controls are intuitive and easy to use: Choose from its three temperature settings, use the +/- buttons to set the cooking time (from 30 minutes to 24 hours), and go on about your life.
Once it has completed the programmed cook time, the KitchenAid KSC223SS will automatically switch to a "warm" setting, and the display will count up from zero so you know how long your food has been holding at warm.
This slow cooker's large, sturdy handles make it easy to move around, and the 6-quart capacity is enough to serve a family, or create days' worth of freezer meals for one or two people. Both crock and lid are dishwasher safe.
Things to note
This is a fantastic slow cooker. But if you want a more versatile appliance that can also do pressure cooking, searing and other functions, check out one of the multi-cookers we recommend in this buying guide.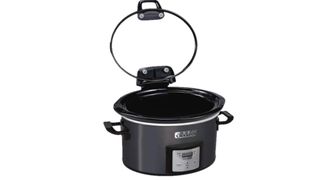 Ideal for cooking everything from casseroles and soups to meat dishes and chocolate pudding, the Crock Pot 4QT Programmable Slow Cooker gets the job done for under $30.
What we like about it
This trusty little slow cooker can be set to cook for anywhere from 30 minutes to 20 hours--ideal for having dinner ready when you get home from work or all-day soccer games on Saturday. The hinged lid makes serving and stirring easy--no need to worry about where you'll set the lid or what kind of mess it'll leave behind.

This slow cooker's 4-quart capacity cooks up generous quantities of food for get-togethers, family meals or putting leftovers in the freezer. The stoneware cook pot and lid are both dishwasher-safe, and the cook pot is oven-proof.
Things to note
It's hard to beat this price for a dependable slow cooker. But if you're prepping meals for a large family or want a little more functionality, it might be worth investing in a model that's larger, more advanced, or both.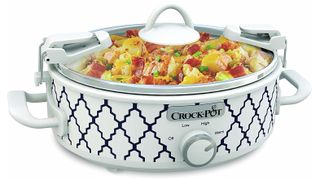 Short on space? The Crockpot 2.5-Quart Mini Casserole Crock Slow Cooker won't capitalize the countertop and has a deceptively large cooking capacity.
What we like about it
This Crockpot 2.5-Quart Mini Casserole Crock Slow Cooker design has a relatively small footprint, which makes it great for kitchens without a lot of counter space. Yet it still offers a 2.5-quart capacity, which makes it large enough for a family dinner, hosting a couple of friends, or meal-prepping for several days in advance.
Although this slow cooker is decidedly no-frills, with three temperature settings controlled by a single knob, it couldn't be easier to use. And if you plan to store it on the counter, the fun, patterned designs are a fun departure from the standard-issue stainless steel slow cooker.
Things to note
If you want an auto-off or auto "hold" feature to keep your food warm, it's worth investing in one of the slightly more techy models we've recommended.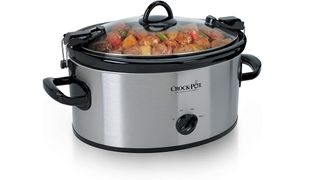 Here's something we learned the hard way: not all slow cookers travel well. The Crock Pot 6qt Cook & Carry Slow Cooker, on the other hand, was made for travel, with easy-grab handles and built-in clamps that hold the lid shut. Don't try to transport a gallon of hot mulled wine in your trunk without it.
What we like about it
This travel-savvy slow cooker is big enough to feed a crowd, and the locking lid and easy-carry handles make it ideal for tailgating, potlucks, or picnics. It's also one of the best-price models on our list, at around $35.99 for an ample six-quart capacity.
Things to note
This slow cooker's settings are very basic--but it's hard to beat its combination of capacity and travel-friendly features. So if your first priority is entertaining on the go, this may be all you need!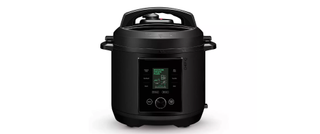 Just when you thought slow-cooking couldn't get any simpler, we present you the wi-fi enabled, pre-programmed CHEF iQ Smart Cooker.
What we like about it
Once you've downloaded the Chef iQ mobile app to your smartphone, you can control this smart cooker from anywhere. But that's just the start of its cleverness: It comes with more than 100 cooking presets for common ingredients, and an integrated scale even weighs ingredients for you.

Besides slow-cooking, the Chef iQ also has a pressure cooker function, and steams, boils, and sautés. Using the pressure-cooking feature? The appliance will automatically release steam when it's done cooking, via one of three methods tailored to the ingredients.
Things to note

This is one intelligent slow cooker! But if you're not going to really make use of the smart/mobile app features, you can save some money by opting for a slightly simpler model.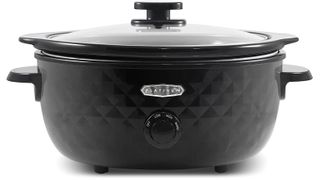 With a fun textured diamond exterior, the Elite Gourmet 6-Qt. Diamond Slow Cooker is a striking option for any home.
What we like about it

The tempered glass lid and stoneware pot can both go in the dishwasher. The dial to switch the temperature can also go Low, High, and Keep Warm.
With a capacity of six quarts, the stoneware pot is oval and large enough to fit most types of meat. It can also be used to keep food warm before serving to family, and because it's so stylish, you won't need to take the pot out of the base.
Things to note
With only 210 watts, the power is limited when compared to some of our other top picks.
What are the benefits of using a slow cooker?
For many dishes, using a slow cooker means you simply pop the raw ingredients into the pot, set it to go, and leave it until it's time to serve up;
A slow cooker can transform cheap ingredients into hearty meals that don't rely on tons of fat to be tasty;
You'll be surprised at what you can cook in a slow cooker: yogurt, oatmeal and a Sunday roast, for example. Find more ideas in our guide to things you didn't know you could cook in a slow cooker.
Slow cookers don't use a lot of electricity, despite being left on all day.
What can I cook in a slow cooker?
Slow cooker-friendly ingredients to have in your pantry
For those evenings when you just don't want to go to the supermarket/don't feel like making anything elaborate, the following ingredients can very easily be thrown in together as the base for a simple but delicious stew (no cooking knowledge required):
1. Canned tomato
2. Chopped carrot and celery
3. Cubed potato: best if peeled first
4. Canned chickpeas/beans
5. Stock. Choose veggie or chicken for even more flavor
6. Mixed herbs and salt, for flavor
7. Optional: Cubed chicken or beef
Perhaps the best question to ask here is what CAN'T you cook in a slow cooker? They make effortless dinners with a minimum amount of prep time, and they can do the cooking for you while you focus on other things.
A slow cooker is one of those essential mealtime gadgets that you might not realize you need--until you take the plunge and start using one.
All slow cookers work in the same way, although some have added technology to help fine-tune the process. They cook your food slowly at a consistent temperature, locking in flavor and tenderizing even the toughest ingredients to produce mouthwatering results.
Take slow cooker roast beef and slow cooker pulled pork, for example. These are quick, easy meals which will delight dinner guests. And why not finish off with a slow cooker rice pudding for a healthy dessert, breakfast, or snack?
Need some more inspiration? No worries: check out our best slow cooker recipes.
What is a good size for a slow cooker?
Slow cookers are available in all shapes and sizes but, as a general guide, most families don't need anything over a 7-quart capacity. If you're cooking for two, a 2- to 3-quart slow cooker is plenty.
A larger 4- to 5-quart option will feed a family of four, and those slow cookers with capacities of 5.5 to 7 quarts are great for serving large families, stocking up with leftovers in your freezer, or entertaining on special occasions.
How much should I spend on a slow cooker?
Because there are so many slow cookers out there, sorting through the many choices can be confusing--especially if you're on a limited budget. So, how much do slow cookers cost--and what do you get for your money?
As with any kitchen appliance, to a degree, you get what you pay for. But the good news is that slow cookers don't have to be expensive.
Budget slow cookers
At the cheaper end of the market (think $50 and under), you'll find models from Crock Pot and Black + Decker, both on our list above. You'll get basic features and you may find the slow cooker gets hot on the outside or that it's not as easy to clean as a more expensive model. However, they'll still do the job of slow cooking many dishes. And if you're new to this type of cooking, they're a good place to start.
What won't they do? You can't sauté in this kind of slow cooker, because they don't reach the required heat. So you'll need use a frying pan for this extra step, which helps give your slow-cooked foods a pleasing color. Make sure you scrape all the juices from the frying pan into your slow cooker, to capture the fullest flavor in your dish.
Blow -the-budget slow cookers
Bump the budget up towards and beyond $100, and you'll get a multi-functional appliance that might have pre-programmed recipes, smart features, go in the dishwasher, and may even be able to perform the functions of a pressure cooker, too (such as the Breville Fast Slow Pro).
Our advice? If you're new to slow cooking, start with the best model you can afford and be prepared to upgrade if you get hooked on this efficient, flavorful cooking method.