Aaah, slow cooker recipes: possibly the most tempting, mouth-watering, labour-free meals you can cook at this time of year. Why? Slow cookers are culinary magicians capable of transforming raw food into tasty dinners with the littlest of effort from you.
So if you've got a busy life, the slow cooker is your holy grail. Chuck in a pile of ingredients, go about your day and when you come back... you'll have a lovely meal waiting for you, and your family will be praising your genius cooking skills. Ha! Shorter evenings can't stop you! Dinner parties just got a whole lot easier, too.
In honour of Crock Pot (the original, iconic slow cooker) launching the new digital 'Lift & Serve' cooker, we are sharing their best slow cooker recipes. Keep scrolling...
Crock Pot Lift & Serve Digital Slow Cooker | Was £59.99 now £34.99
With the new digital slow cooker, set your cooking time from 30 minutes to 20 hours. Auto keep-warm means your dish is ready when you are and the hinged lid makes stirring and serving easier.
1. Sweet potato and coconut curry with chickpeas and spinach
This curry is lovely and mild with a touch of natural sweetness from the potatoes, however if you prefer some extra heat, add in some extra chopped chilli with the garlic. Team the curry with some cous cous or if you prefer rice, that works just as well.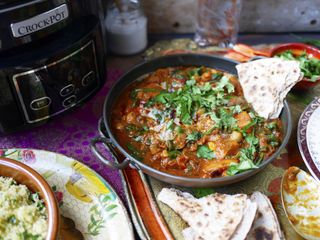 Ingredients:
2 tbsp vegetable oil
2 large onions, thinly sliced
2 large cloves of garlic, finely chopped
1 large red chilli, finely chopped
1 thumb sized piece of ginger, peeled and finely chopped
2 tsp ground cumin
2 tsp paprika
1 tsp turmeric
1 red pepper, deseeded and sliced
200g shredded red cabbage
1kg approx. sweet potatoes, peeled and cut into 1" pieces
400ml carton of passata
300ml vegetable stock
400ml coconut milk
400g can chickpeas, rinsed and drained
2 tbsp peanut butter
To serve – 100g baby spinach leaves, roughly chopped coriander leaves, 300g couscous
Method:
1. Heat the oil in a large frying pan and add the onion, cook for approx five minutes. Add the garlic, chilli and ginger and continue cooking for a further few minutes.
2. Lower the heat, adding the spices, stirring well to prevent any burning.
3. Spoon the mixture into your crockpot bowl.
4. Add the red pepper, red cabbage, sweet potatoes, lentils, passata, stock and coconut milk and stir to combine all the ingredients.
5. Cover and cook on high for four to five hours until the potatoes are tender.
6. Stir in the chickpeas.
7. Place the peanut butter into a small bowl, add a few spoonful's of the hot curry sauce and mix to a smooth sauce before adding to the rest of the pot.
8. Continue cooking for a further 30 minutes.
9. Before serving – place the cous cous into a heatproof bowl, add 300ml boiling water and cover to steam for a few minutes. Remove the cover and fluff with a fork, adding a little olive oil and some salt and pepper.
10. Stir the spinach into the hot curry and serve alongside the cous cous, scatter with the coriander leaves.
2. Vegan mac 'n' cheese
Ingredients:
2 litres of nut or plant based milk
150g tub of vegan style soft cheese
1 x 254g carton of single soya cream
500g macaroni pasta
300g grated style vegan cheddar cheese
1 tbsp English mustard powder
2 tbsp nutritional dried yeast flakes
Salt and pepper
Topping optional:
100g panko style breadcrumbs
100g vegan cheddar cheese
15g nutritional yeast flakes
1tsp mustard powder
Salt and pepper
Method:
1. Empty the milk into the crockpot bowl. Add the soft cheese and cream and using a hand whisk, mix until smooth.
2. Add the pasta, grated cheddar, mustard powder and yeast flakes and stir well.
3. Cover with the lid and cook on High for approx 2½ hours, stirring occasionally.
4. Remove the lid and stir well, adding in salt and pepper to taste.
5. For a crispy flavoursome finish, mix the topping ingredients together and sprinkle over the cooked mac 'n' cheese.
6. Preheat your oven/grill to high, and brown the topping until golden and bubbling.
7. Or simply bake the topping ingredients on an oven tray for approx. 15 minutes in a hot oven until golden, serve separately for sprinkling on top.
8. Serve as an accompaniment to a main meal or just enjoy its own simple loveliness.
3. Raspberry upside down cake
For this recipe you will need to grease and line the base and sides of your Crockpot bowl with some foil or baking parchment.
Ingredients for the sponge:
150g caster sugar
150g softened butter
3 medium eggs
150g self raising flour
Ingredients for the raspberry topping:
50g caster sugar
50g softened butter
300g fresh raspberries
Method:
1. Prepare the topping by placing the sugar and butter into a small mixing bowl. Use a hand mixer to whisk for approx one minute until combined.
2. Spoon onto the lined base of your bowl, spreading evenly to cover.
3. Top with the raspberries.
4. For the sponge, place the butter and sugar into a medium sized mixing bowl and whisk until light and creamy.
5. Gradually whisk in the eggs beating well between each addition.
6. Slowly mix in the flour, do not over-mix.
7. Spoon the sponge mixture over the raspberries and level the top.
8. Place a clean t-towel over the bowl before closing the lid, this will ensure your cake stays dry during cooking.
9. Cook on Low for 2.5 to three hours.
10. Remove the t-towel and lid and carefully place the inner bowl onto a wire cooling rack for approx 30 mins.
11. Carefully remove the cake using the foil sling which formed part of your bowl lining. Otherwise run a knife around the outside of the cake and invert the pot, carefully catching the cooled cake onto your hand before transferring to a plate.
12. Delicious served warm with whipped cream or ice cream.
Crock-Pot Express Pressure Cooker recipes
Crock-Pot Express Pressure Cooker | £70.12
Use the Crock-Pot express pressure cooker for the next two chicken recipes.
Buy the Crock-Pot Express Pressure Cooker in the USAView Deal
1. Teriyaki chicken brown rice bowls
Ingredients:
6-8 skinless, boneless chicken thighs
4 tbsp dark soy sauce
4 tbsp mirin
1 tsp sesame oil
2 tbsp dark brown soft sugar
1 tsp finely chopped ginger
2 garlic cloves, finely chopped
250g brown basmati rice
1½ tbsp cornflour
Method:
1. Place the soy sauce, mirin, sesame oil, sugar, ginger and garlic into a medium sized bowl, stir well and add the chicken, coating the thighs in the sauce.
2. Cover and marinate for approx 30 minutes.
3. Place the unwashed brown rice into the inner pot and using the cup measure provided, add 2½ cups of cold water.
4. Seal the lid and cook on the Rice/Risotto setting for 15 minutes. Once the time has elapsed allow the steam to release naturally.
5. Remove the rice to a warm bowl and add the marinated chicken and sauce into the pot.
6. Cover and cook on manual for 10 minutes, releasing the steam manually once the cooking time has ended.
7. Preheat your oven to 200ºC/180ºC for a fan oven (this step isn't necessary but gives your chicken that sticky glaze and golden colour).
8. Remove your chicken from the cooking pot using a slotted spoon; place this onto a suitable baking tray.
9. Select the Sauté mode and while the sauce is bubbling, stir in a little cornflour mixed with water to thicken.
10. Brush over the cooked chicken before placing into the hot oven. Cook for 10 minutes until a deeper brown glaze develops.
11. Add the brown rice to your warm bowls adding in your choice of vegetables and the teriyaki chicken.
12. Scatter over some sesame seeds and serve with the extra sauce.
2. Chicken fajita one pot pasta
To achieve a deeper depth of flavour to your chicken, try to remember to marinade the day before.
Ingredients:
600g skinless, boneless chicken thighs, cut into strips
50g approx. fajita seasoning
1tbsp vegetable oil
1 large onion, thinly sliced
800ml hot chicken stock
300g farfalle pasta
1 x 400g chopped tomatoes
1 green pepper, deseeded and cut into strips
1 red pepper, deseeded and cut into strips
1 yellow pepper, deseeded and cut into strips
To serve - sour cream, grated cheddar cheese, chopped jalapeños
Method:
1. Place the chicken into a suitable mixing bowl. Add the fajita seasoning (we used two sachets of the medium flavoured seasoning). Stir well to thoroughly mix and set aside for approx. 30 minutes.
2. Select Brown/Sauté on your pressure cooker and allow to heat.
3. Add the oil and the chicken and stir fry for approx five minutes, stirring occasionally allowing the chicken to brown.
4. Add the onion and continue sautéing for a further two to three minutes.
5. Pour in the hot stock, add the pasta and briefly stir.
6. Pour in the chopped tomatoes and do not stir.
7. Place the peppers onto a square piece of foil and loosely fold around, crimping the edges to make a parcel.
8. Sit the parcel on top of the tomatoes, (this prevents the peppers from getting too mushy)
9. Secure the lid and select Manual, high pressure, five minutes.
10. Once the time has elapsed, allow the unit to continue onto Keep Warm for a further five minutes, before carefully venting the unit.
11. Remove the lid, using a pair of tongs carefully release the peppers from the foil pack and empty into the bowl. Stir well to combine the ingredients.
12. Adjust the seasoning and serve ladled into warm pasta bowls.
13. Add a dollop of sour cream, a handful of grated cheddar and a scattering of chopped jalapeños.
Read more: