Everyone needs a bar cart at home right now, and while filling yours with alcohol is the way to go, how you style and decorate yours is really important too. We've pulled together our favorite bar cart ideas and inspiration to show you the best ways to put your liquor on show!
With these gorgeous mini bar (usually on wheels) set ups, you can forget pushing yours into a quiet corner until next Thanksgiving, because you will want to have yours in full use – at all times!
So, put down the Bud, and whatever mischievous cocktail or brew you're into, keep scrolling for our sweet ideas. Thinking of having yours in the lounge? Take a look at our living room ideas to inspire your complete set up.
1. Focus on function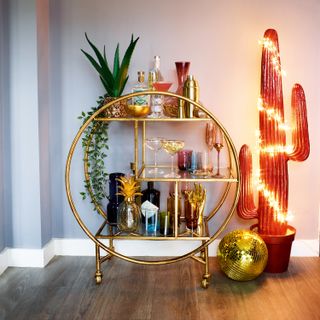 No matter what your style is there is a bar cart to match. So before you start thinking about what barware will look best beside all those empty booze bottles you are only keeping because they look fancy, check out our roundup of the best bar carts to find the perfect one to suit your style and budget.
Check out our design ideas page for more styling advice around the home.
2. Consider placement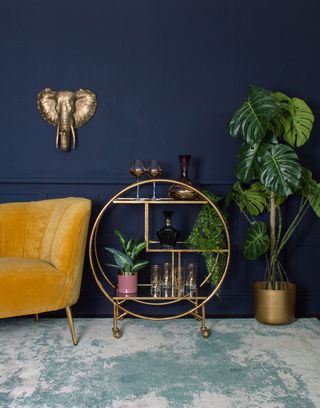 So you've got the bar cart of your Mad Men dreams sorted, choosing the right placement comes next. It goes without saying that you should avoid placing it anywhere people will bump into it, even if you do want it to be the centre of attention. Keep it to the edge of a room, you can always roll it out when everyone wants a refill.
Since the booze, sorry bar cart, will inevitably be a gathering spot you can also use its position to navigate people around different parts of your home. Avoid bottlenecks like the kitchen or the living room, and consider placing the bar cart in the hallway or foyer.
3. DIY your own bar cart
If you are really on a budget, take inspiration from @melodrama's awesome Ikea hack and fashion yourself a drinks' station from a bookshelf. Get creative and paint it in whatever colors you fancy and buy some separate metallic legs to add some glamor.
4. Adorn yours with drink essentials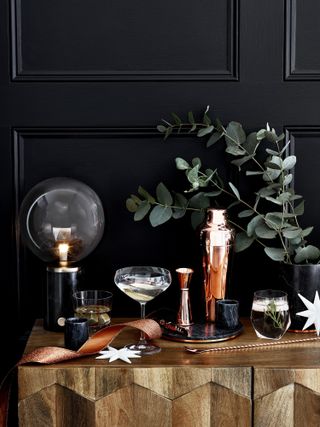 No we aren't talking about the alcohol, but what you will need to make your drinks on the spot. Always be ready with a bowl of lemons and limes and keep a small chopping board, knife and squeezer on the cart so you can refresh drinks without missing out on the party.
5. Mix and match glassware
There are few things in life more beautiful that vintage glassware so trawl all the thrift stores (virtually) and Ebay for a few special pieces. Then you can mix and match them with your plain Ikea glasses. If you are struggling to find anything secondhand, Anthropologie make some gorgeous glassware and no one will ever know the difference.
6. Go Bond with your shaker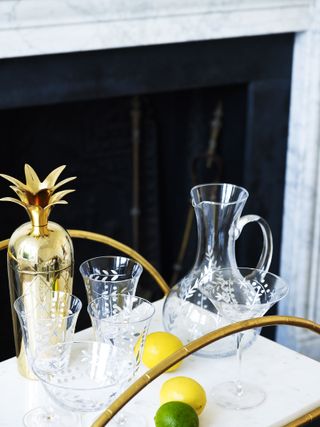 Bond did actually have a point. Most cocktails do need a good shaking not just a stir, so a cocktail shaker is a key part of any good bar cart set up. There are loads of great options out there, it just depends on whether you are after something that looks beautiful or is the best for the job?
If you are after something more pro, you'll want a Boston shaker – they are the ones made up of two parts that you will probably recognise from all those fancy cocktails bars. But if (like us) you are after something that just looks fabulous then this glorious pineapple number from Oliver Bonas is the one for you.
7. Use accessories for added interest
When picking out accessories for your bar cart, think about what will look most striking when on show. Why go for a plain stainless steel bottle opener when you could have marble and gold one instead? Colorful napkins also make a nice touch, as do some pretty paper or metal straws (bye bye nasty plastic ones) and paper garlands.
You could even stack up a few of your favorite cocktail recipe books – sure you have never actually made an Alabama Slammer or a French 75 but the spine looks lovely, and that's all that matters right?
8. Or, go for a more minimal approach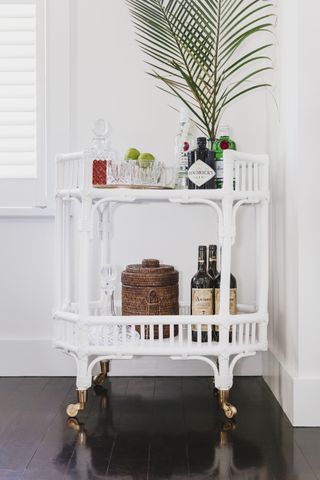 If you are more of a minimalist, only stock the essentials – gin, vodka, rum. Just kidding (kind of), but for a more simple, sophisticated look, all you need to keep on your bar cart is a nice simple set of glasses, a shaker or a decanter and a selection of aesthetically pleasing spirits. Steal some ideas from this trolley, and add a bit of a boho vibe with some palm leaves and rattan accessories.
9. Add in something living
Every bar cart needs something living (or at least something that looks like it's living), a potted succulent, some cascading house plants or a bunch of flowers will literally lift your spirits and throw a different texture into all that glass.
10. Change up your bar cart with the seasons
And of course, around Halloween, Thanksgiving and Christmas is when the bar cart comes into its own. We've seen some glorious fall/Halloween offerings all over Instagram, you could go all out with spooky Halloween decorations but even just adding a collection of pumpkins and squashes to your bar cart will do for a seasonal switch up.
As the festive season is probably when you are going to get the most use out of your bar cart, dress it up to the nines. Check out our Christmas fairy light ideas, or the best Christmas candles and remember plenty of festive foliage.
Looking for more decorating inspiration?