Knowing how to decorate a Christmas tree like a professional will make your home look and feel super festive. It's no secret either that decorating your fir – real or faux – is something of a sacred ritual in most homes over the holidays so just the simple act of putting up decs on every branch is sure to bring the whole family together.
Excitement is unleashed from the moment you get those boxes out from storage or pick up your Norman fir, to putting up the finishing touches – whether it's a traditional angel or another cute tree topper. Even if you are decorating solo this year, this joyful task will brighten up your home and your mood. The art of decorating a Christmas tree isn't hard to master, but there are few practical details to consider. Aside from picking out your favorite Christmas tree ideas to get you started, it's a simple 10-step method.
Even the most creative among us would struggle to make a sad twig of a tree look full of festive cheer, so make sure you choose the right Christmas tree to start with. Measure up to check that the tree won't overwhelm the space. You need at least half a foot to the ceiling for the topper and space around the sides to clear the walls and furniture.
If you are choosing a real Christmas tree, look for glossy leaves, then give the tree a tap on the ground (with the stump) to check it does not drop lots of needles.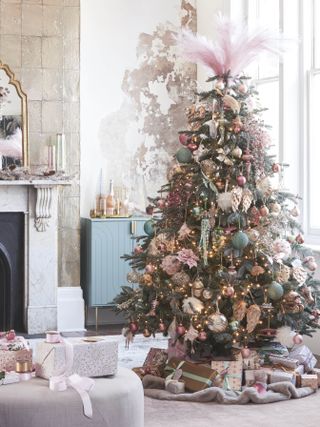 How to decorate a Christmas tree step-by-step
Decorating a Christmas tree should be all about festive fun. As Claire Wilks, Senior Buyer at Garden Trading, points out, 'there is nothing worse than trying to decorate your tree and feeling overwhelmed by messy wires!' Her top tip for decorating the tree is to do it 'in the exact opposite way that you will be removing items from it come January. Start with strands of dainty fairy lights, and any garlands you may be adding, and then move on to baubles and other hanging decorations. Pop the star on top as the last finishing touch.'
However, the devil of getting your tree to look perfect is in the detail of each step.
1. Decide where to place your tree
Your tree needs to be placed away from fires and radiators if you want to keep your Christmas tree alive throughout the festive season. It does need to be near to plug sockets. Ensure it does not obstruct doorways, or block too much light if you are positioning it in a window.
Tip: To protect your flooring, place the stand on newspaper or something waterproof. You can hide this with a tree skirt later on. If you are worried about tree resin damaging a carpet, find a large circular rug to place under the tree.
2. Clear some space and get your tree ready
Make room for the tree and a bit of extra room to work in. If you are using an artificial Christmas tree, set it up according to the instructions. For a real tree, you might want to put some sheets or newspaper down as you work to catch needles.
Position it in the stand and screw into place – this is often a two-person job. A six foot tree will need a medium-sized stand with a water reservoir. Cut the net from your tree and prune long uneven branches if necessary. Trees often have a best side, so turn to suit.
Tip: Only fill the stand with water once you are happy with its positioning, otherwise spillages are inevitable.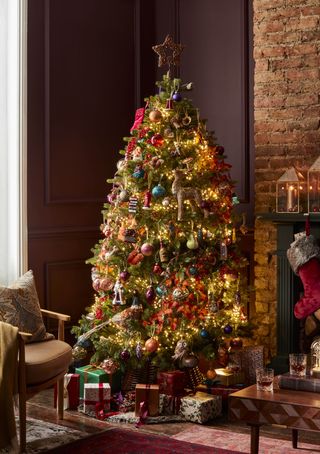 3. Add the fairy lights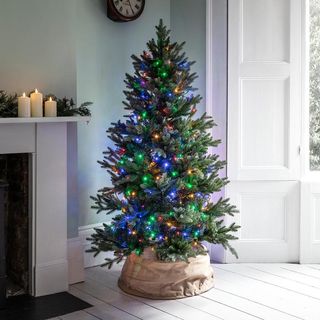 Check your fairy lights work before putting them on the tree. You will need 100 lights for every foot or foot and a half of tree. A six foot tree will therefore need 400 to 600 lights, but feel free to go for more if desired (you can never have too many...).
For a dense lighting look, start at the bottom of the tree and wrap the lights around the trunk to the top. Work your way back down the tree, laying the lights towards the outer branches. If you have gone for extra lights, you might have enough to do a third trip around the tree.
You'll also need to decide on the color scheme of your Christmas fairy lights: choose warm white or copper string lights for a cosy, traditional look, or cool white fairy lights for a more contemporary or Scandi scheme. Multi-colored fairy lights will instantly make your tree look jolly, even with minimal decorations.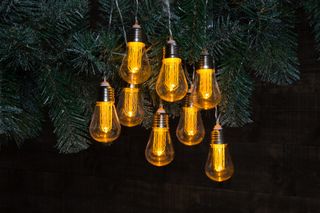 4. Add garlands, tinsel or string tree decorations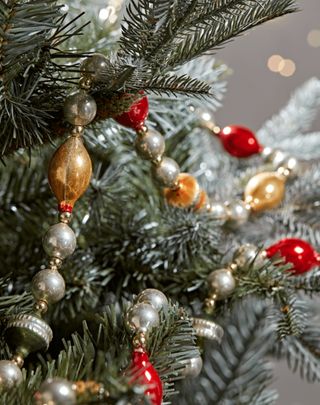 Garlands add an opulent, 'more is more' look to Christmas tree decorating schemes. Choose a traditional glass homemade Christmas garland for an enchanting traditional look; note that heavy garlands made from glass should always go on before you hang any baubles, but after your fairy lights.
Tinsel garlands can go on last and have a more casual look to them.
5. Start adding large decorations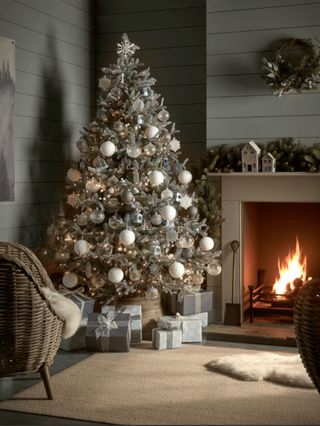 Get your largest decorations together and distribute evenly across the tree. You might want to keep the biggest nearer to the base of the tree for visual balance. It helps to add your decorations one color at a time so that you get a nice spread all over.
Having said that, if you tree is large and fluffy all over, especially if it's an artificial Christmas tree, it can handle large baubles closer to the top, too. If you're going for a more contemporary/formal decorating scheme, large decorations throughout the tree can look quite nice, so long as they're color-coordinated. For a more relaxed decorating scheme, only use smaller decorations on the top half of the tree.
6. Add smaller decorations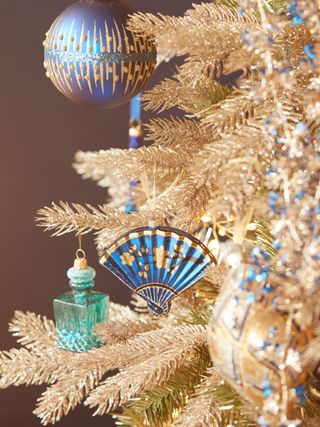 Now you can add any smaller decorations you have. Again, spread evenly across the tree for a good range of shape, Christmas color and type. Longer, daintier ornaments work well near the end of the branches, while chunkier objects look more at home nestled further into the tree.
Tip: Keep the lights on as you decorate so you can position twinkling decorations for maximum impact.
7. Dress with extra flourishes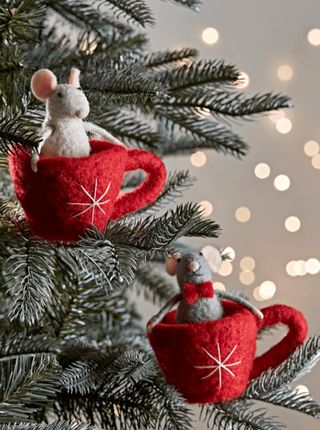 If you want even more texture, you might want to look to the latest Christmas tree trends and include bows, feathers, ferns, or even decorations made from felt for a slightly rustic look. If they don't come with hanging loops, you can simply tuck them into the branches, at least halfway into the branch to prevent them from falling off.
Tip: If you use any edible decorations such as chocolates or candy canes, keep them out of reach of pets. Chocolate is highly toxic to dogs.
8. The finishing touches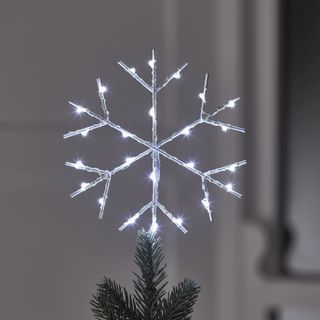 Next put on the Christmas tree topper, such as a star, angel or fairy. The best Christmas tree toppers come designed to sit on the top of the trunk, but you can use florists' wire to make it more secure.
Tip: A Christmas tree skirt can be used to hide the base of the tree. Large, fabric holidays skirts available on Amazon can be wrapped around the stand once you have finished decorating. If you are using a solid one, you need to position the stand in it before putting up the tree.
9. Maintaining your tree
Make sure the water reservoir on your tree stand is kept topped up. The average tree will need one to two pints of water per day.
A real tree will drop needles every so often. This can be exacerbated by the tree being too warm and, of course, it is best to get your tree closer to Christmas to ensure it looks its best on the big day.
10. Minimalism vs. maximalism: how to choose your tree decorating scheme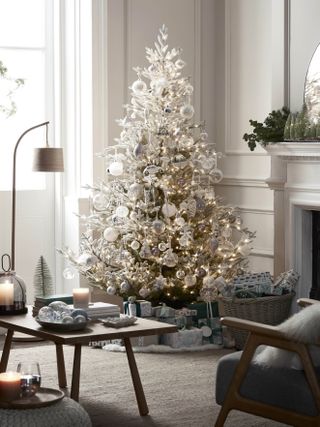 If you prefer a minimalist look for your tree, it's not necessarily about having fewer decorations; you can still have plenty, but choosing lighter colors and sticking to no more than two will give your Christmas tree a more streamlined look.
If you're after an opulent, maximalist look, on the other hand, you can mix and match as many colors and textures as you like – as the more bright colors, the better, whether you've got a modern or rustic Christmas decor theme going on in your home for the holidays!
Claire Wilks believes that 'when it comes to decorations on a tree, the more the merrier! The festive season is the perfect time to go over the top with your décor.'
What goes first on a Christmas tree?
Wayfair's Resident Style Advisor, Nadia McCowan Hill, told us that the first thing that should go on your tree is the lights: 'adding them first with lights switched on will help to make the lights as visible, and wires as invisible as possible.'
The next step is the baubles, 'which are best first laid out on the floor in color and size order. That way you can add any ties to new baubles rather than doing one by one attaching to the tree. As a general rule, largest baubles should be lower down and smallest at the top, adding them in pairs of the same type, so you can ensure they are placed as far apart as possible to avoid clusters of the same decoration.'
Tinsel, ribbons, and all additional non-breakable decorations go on last.
How can I make my Christmas tree look fuller?
Although knowing how to choose a Christmas tree will hopefully ensure you get the fullest, fluffiest trees possible, we all make mistakes sometimes, especially during the festive rush. If your tree is a little sparse or lop-sided, there are a few tricks for making it look fuller.
Nadia's top tips is to use 'faux greenery or garlands to add some fullness to your tree. These can be layered as you would tinsel. Alternatively, you could also use ribbon, spray picks, or pinecones to pad out any gaps.'
Claire adds that 'multiple strands of lighting in different colors and tones can really bring a tree to life and fill up those empty spaces toward the trunk. Baubles in a range of sizes can add depth and dimension. Finalize with hanging decorations of different heights to bulk out the branches.'
Should I put tinsel on my Christmas tree?
Tinsel: hopelessly outdated or fun? You decide! If you like it, go for it! Nadia said that 'tinsel has been enjoying a resurgence in popularity and can add some extra fun and sparkle to your tree.'
It might be a good idea to start with just a little, as according to Nadia, 'less is more' with tinsel. But then again, it's all about personal preference – 'if you want to go all out retro, the more the merrier!'
Do bear in mind that tinsel is a hazard for pets (cats and puppies especially seem to find chewing on it irresistible) and young children, so steer clear if you can't be there to supervise.